Microsoft will officially announce the voice recognition assistant 'Cortana', and it will be available from the end of April 2014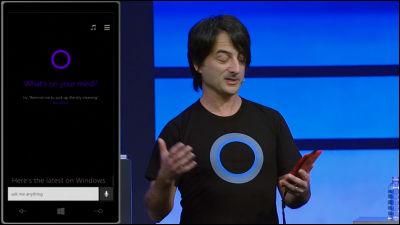 Microsoft was working on developmentSpeech recognition assistant "Cortana (Cortana)"Was officially announced in the developer conference event "Microsoft Build". Also, Windows Phone 8.1 running this Cortana was revealed at the same time that it will be released at the beginning of May even in late April or later.

Microsoft Build Developer Conference | April 2 - 4, 2014
http://www.buildwindows.com/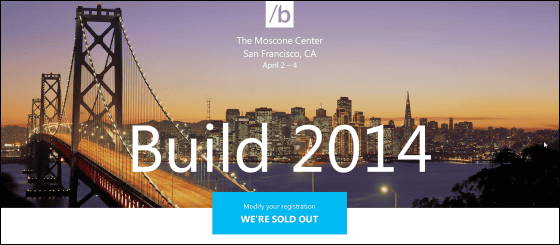 Microsoft Unveils Windows Phone 8.1
http://thenextweb.com/microsoft/2014/04/02/microsoft-unveils-windows-phone-8-1-personal-assistant-cortana-action-center-customizable-lockscreens/

Microsoft announces Cortana, voice-controlled assistant for Windows Phone 8.1 - Neowin
http://www.neowin.net/news/microsoft-announces-cortana-voice-controlled-assistant-for-windows-phone-81

Microsoft announces Windows Phone 8.1 with Cortana, coming in April | Ars Technica
http://arstechnica.com/information-technology/2014/04/microsoft-announces-windows-phone-8-1-with-cortana-coming-in-april/

Cortana is a speech-enabled assistant operating on Windows Phone 8.1, an answer from Microsoft to Apple's Siri and Google Now. It has an area called Notebook to analyze the user's personal hobbies and preferences, and will be able to provide accurate search results and suggestions. As a function, it is OK if you put together a combination of Siri and Google Now, OK, tell me about your favorite restaurant, manage and manage when the schedule is in, manage the weather of the destination In addition to answering questions about everything in the world, you can also launch applications and change settings.

In the demo held at the venue, when Cortana was allowed to check all mails, it also showed off the place where Cortana finds and notifies the flight schedule contained in it.

In terms of schedule management, you can also set off to turn off notifications when you are busy or during holidays, and during this time Cortana will be available to answer even if you get a phone call, for example. You can also replace the lock screen or extend it with third party applications such as Skype · Hulu · Facebook.

It is Jen Taylor who is responsible for the voice of Cortana.

Yup. It's me. Mixed in with some cool# MicrosoftFanciness. We 've got some recording to do !!

- Jen Taylor (@ jentaylortown)2014, April 2
Because Taylor is also in charge of Cortana role appearing in "Halo", I feel a little master chief when guided by this voice. The voice of Cortana announced is like this.

Meet Cortana: The New Windows Phone 8.1 Personal Assistant - YouTube


The announced Cortana is a beta version, Windows Phone 8.1 itself will be released around the end of April to the beginning of May. In the meantime it will be offered only in the U.S., then in the UK and China, and in 2015 will be available in other countries as well.