The release date of Windows 8.1 will be decided on 18th October, and the transition from the preview version is also possible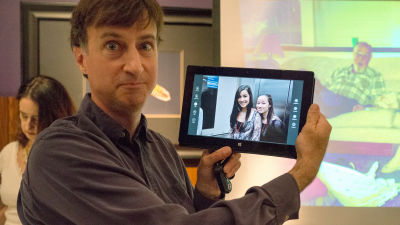 ByDavid Lee

It becomes a large update which will considerably improve usability of Windows 8Windows 8.1The release was decided on 18th October. Standards are New Zealand daylight saving time 18th at 0 o'clock, since it is worldwide simultaneous release, so in Redmond, Washington State where Microsoft head office is located,In Japan, download it on Windows Store from 20 o'clock on October 17It will be able to do.

Mark your calendars for Windows 8.1!
http://blogs.windows.com/windows/b/bloggingwindows/archive/2013/08/14/mark-your-calendars-for-windows-8-1.aspx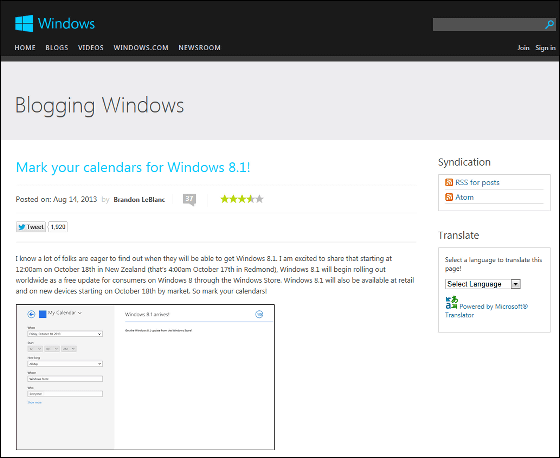 An announcement date on the availability of Windows 8.1 - The Official Microsoft Japan Blog - Site Home - TechNet Blogs
http://blogs.technet.com/b/microsoft_japan_corporate_blog/archive/2013/08/15/8-1.aspx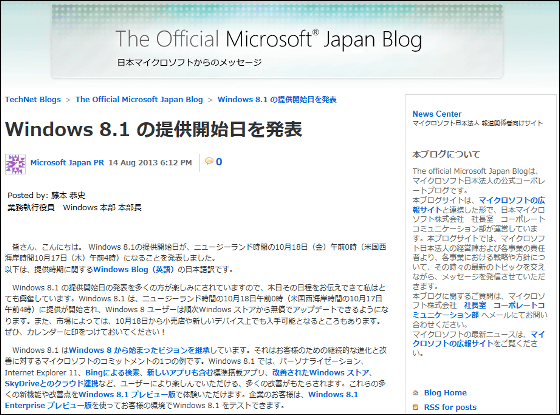 Windows 8.1 was developed as a code name "Windows Blue" "Tablet Specialized Windows 8". When it was called by codename, it was rumored that it might be released as a low price OS,It is offered as a free update to Windows 8 usersIt was decided.

In junePreview version releasedAlthough it is being used, when using it, the function which successfully follows the part which I thought as "why so much stepping is sweet" "I can not get it" is added in Windows 8, and from the beginning 8.1 As long as it is released in content, Windows 8 seems to have never been so critically acclaimed.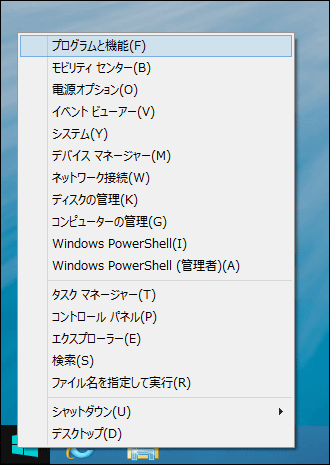 There is no need to uninstall anyone who already installed the preview version, it can update to the official version of 8.1 as it is. However, it is OK to leave the personal file such as the document file as it is, but it seems that it is necessary to re-insert the application.