Microsoft found out stealth marketing with "Xbox One" promotion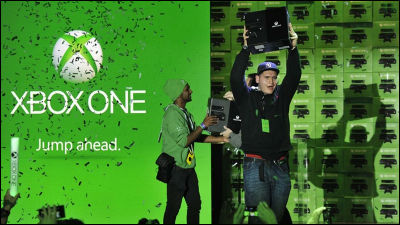 Microsoft's "Xbox One"Sony's"Playstation 4 (PS 4)Although the fight for hegemony of the stationary game machine market is spreading, as part of promotion activities of Xbox One,Stealth marketingIt has become clear that we are doing.

Microsoft Is Offering YouTube Personalities Good Money To Promote Xbox One - iGame Responsibly
http://www.igameresponsibly.com/2014/01/17/microsoft-is-offering-youtube-personalities-good-money-to-promote-xbox-one/

Stealth marketing: Microsoft paying YouTubers for Xbox One mentions | Ars Technica
http://arstechnica.com/gaming/2014/01/stealth-marketing-microsoft-paying-youtubers-for-xbox-one-mentions/

The existence of stealth marketing by Microsoft,MachinimaPosting movies on YouTube "MachinimaIt was discovered from the fact that it made a call to the user "Publish a movie that plays Xbox One and get pocket money!"

The contents of the mail sent to the user by Machinima is a campaign announcement that when you post a movie of 30 seconds or more to play Xbox One's game, 3 dollars (about 300 yen) will be paid per 1000 PV (1,000 views) This campaign will be held from January 14, 2014 until February 9 until the cumulative total of 1.25 million PV is reached.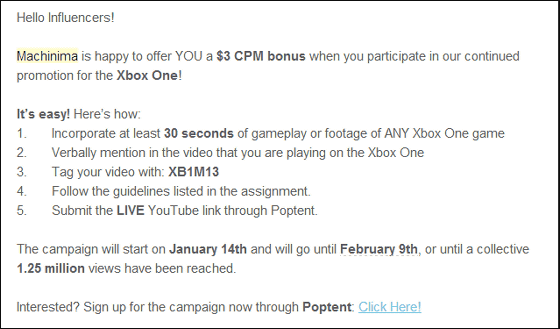 Furthermore, although it is currently being deleted, it is also clear that the Manager of the Machinima UK community had tweets that notify users about campaigns.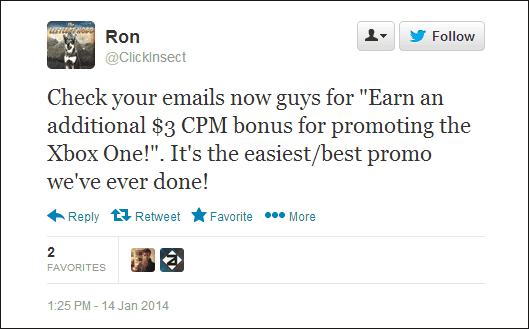 The fact that a user of Xbox One plays a game playing as a movie and receiving a return in accordance with the number of PVs itself is not condemned as a general compensation type advertisement technique. However, this promotion activity on Xbox One is a promotion activity that hides the fact that it is an advertisement, which is done by a third party rather than Microsoft that sells Xbox One.

Also,Ars Technica"In the current campaign, only the first 1.25 million PV is eligible for compensation, but since the movie itself will continue to be published after the campaign is ended, promotion activities can be performed without additional compensation for movie posters It is not fair in terms of that. "

In addition, it was recorded in Machinima's e-mail that became clear that Microsoft paid Machinima as a promotion cost of 1.25 million PV to Machinima, but Microsoft had recorded other money It is not clear whether we paid for Machinima.

A new generation of stationary game machines that fierce sales competition will be released by Xbox One by 2013Over 3 million, PS4Approximately 4.2 million unitsThe battle is nearly equal as of now. Sony also gets excited by getting PS 4He was involved in a super movie movieThe marketing competition of both camps is extremely fierce, such as becoming apparent.

Stealth marketing is not a praised method, but it is certain that various marketing activities will be carried out in the future for the sake of taking over hegemony. Game fans seem to be able to say that it is necessary to carefully check the authenticity of information.