"Nexus 5" I bought on Google Play broke because it made me want to repair it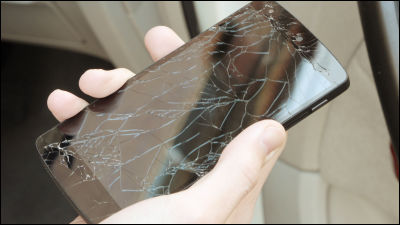 "Google released from"Nexus 5"Is a SIM free terminal that users can freely choose their carriers,Google Play, OrE-MobileIt is a smartphone that can be purchased from. Despite being a SIM-free terminal, since it is about half the price of a major carrier model, it attracts attention from the beginning. The reporter himself also used Nexus 5 purchased from Google Play, but since the display part was damaged damaged, it continued to be used in danger without repair.

If you need a repair of a smartphone or mobile, you can bring it to the shop if you are a carrier model, but since Nexus 5 purchased on Google Play does not have shops, there is not much information on how to apply for repair, I do not know whether I should apply for repair or contact LG Electronics, the manufacturer of Nexus 5. So, I decided to test why Nexus 5 was damaged, and actually try out Nexus 5 for repair

◆ Accident verification
Nexus 5 Fall accident occurs when getting off the car. When sitting on the seat, I put Nexus 5 sandwiched between the right thigh and the seat why.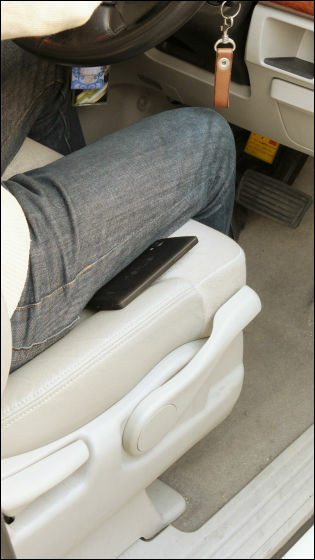 You may have prevented a catastrophe if you placed Nexus 5 on the left side of the seat, not on the right side.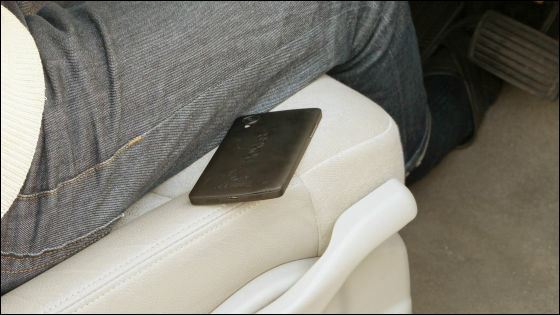 At that moment when I tried to get off the car, "Kan!" Sounded, so looking down, the face-down Nexus 5 is lying on the asphalt.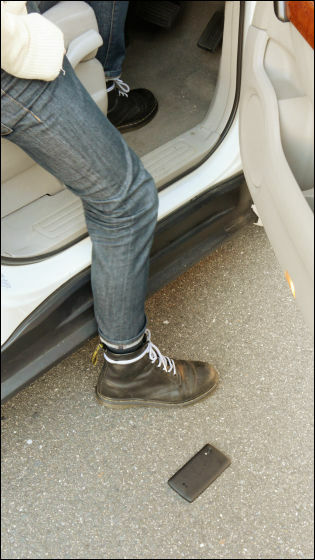 While picking up Nexus 5 while saying "I'm probably okay if it sounds right now" ......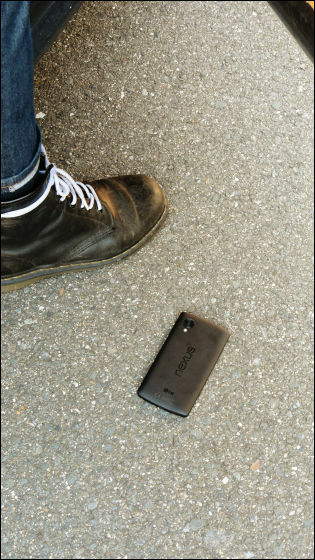 There was a spider web like crack all over the display.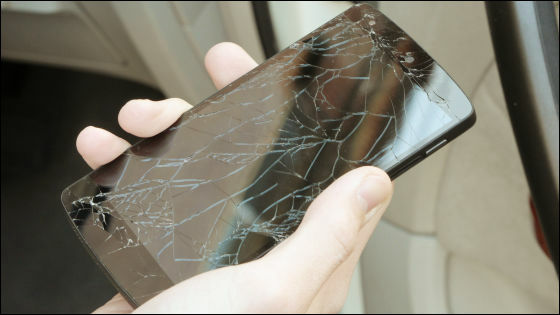 ◆ Damaged condition · Operation check
I will take a closer look at how actually it is damaged.



There is a lot of fine cracks in the front left front, just the part where the front camera is mounted.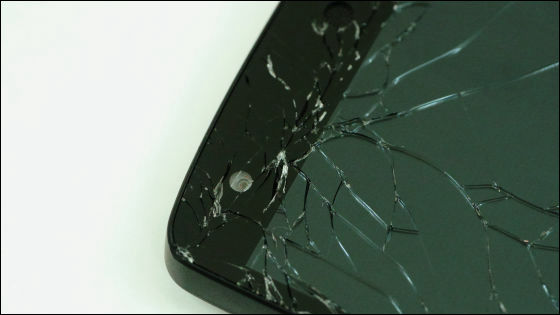 There is a deep scar that the air enters in the front right upper part.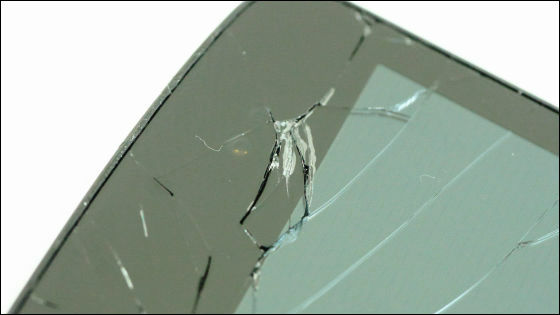 However, small cracks are not found around the upper right part of the display.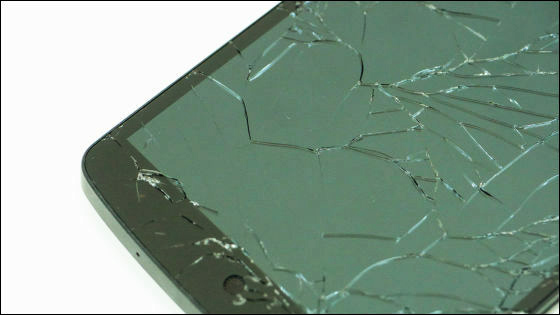 Fine scratches are seen in the front left bottom.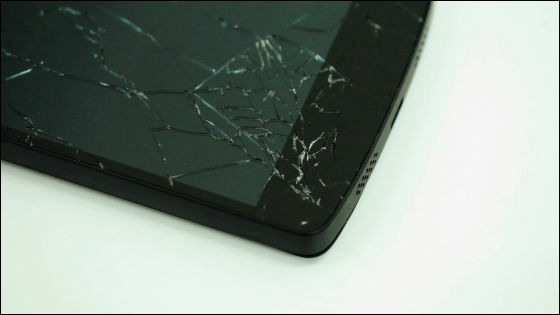 The bezel part seems to have peeled off the display.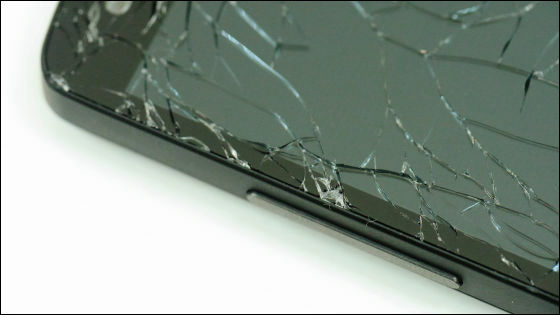 After checking the breakage condition of the display, when looking at the bottom of the main body, we found a part that is raised to the right.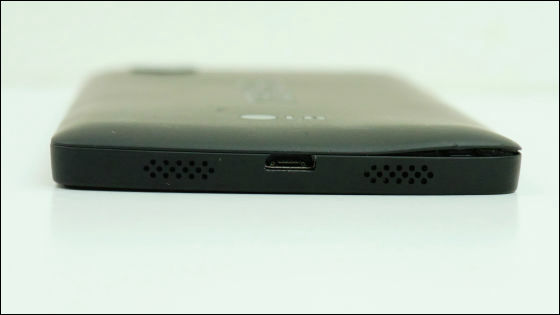 The panel behind the body is peeling off, and you can see the part you can not see on your smartphone.



Scratches on the back camera were not seen.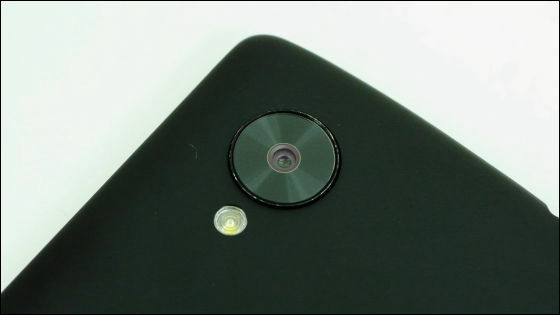 In order to check the operation, turn on the power and start without problems.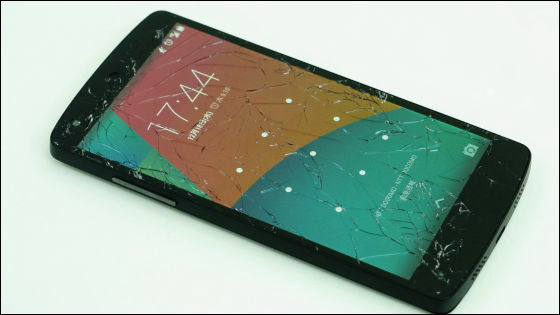 Google Chrome also started successfully.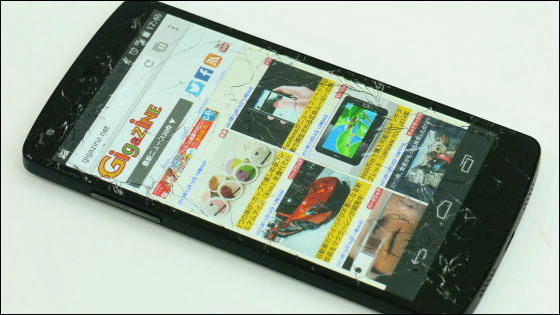 Camera which was most uneasy also has no problem in operation.



Since the back panel was peeling off, I will check if it can charge properly.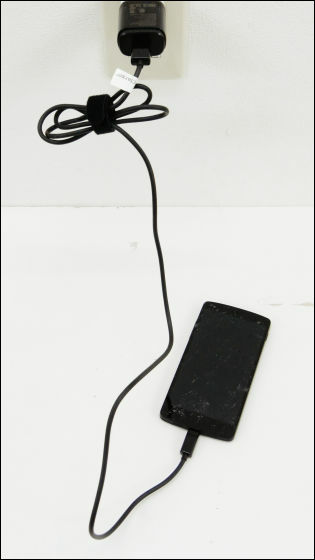 I am relieved that the charging mark is displayed. Furthermore, I tried calling, but there was no problem.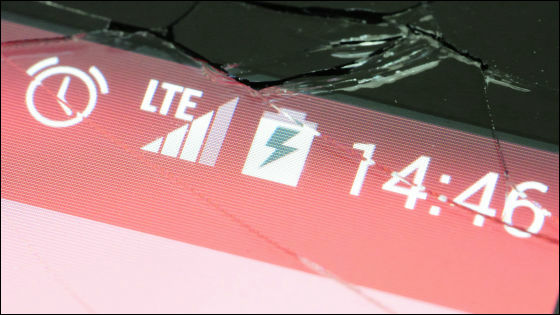 ◆ Application for repair
Normally, if it breaks down, you can bring it to a carrier's shop etc. However, since Nexus 5 purchased on Google Play is a SIM-free terminal, the method of repair application is unknown. How do you deal with Nexus 5 repair "Google Play hardware support teamI will contact you by phone.

Contact the Google Play hardware support team - Google Play Help
https://support.google.com/googleplay/answer/3053039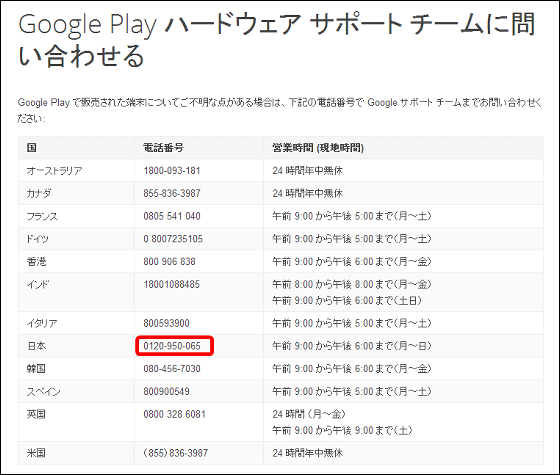 I inquired by phone and said that repairing Nexus 5 is accepted by manufacturer LG Electronics rather than Google Play. So, please refer to the "LG Mobile Customer Consultation CenterI will call you and apply for repair.

LG support desk: support · inquiry phone number | LG Electronics · Japan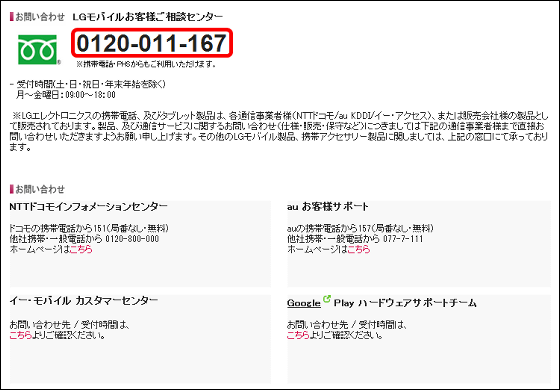 Calling LG Mobile Customer Consultation Center, Nexus 5 repair is "Nexus 5 main unit"Purchase details"Notes with contact information"In Tokyo metropolitan area"LG Mobile Service Center"It turned out to be good to send. In addition, repair of the display becomes negligent damage, so it becomes out of warranty subject, it does not know unless you look at it once, but it seems to cost about 20,000 yen.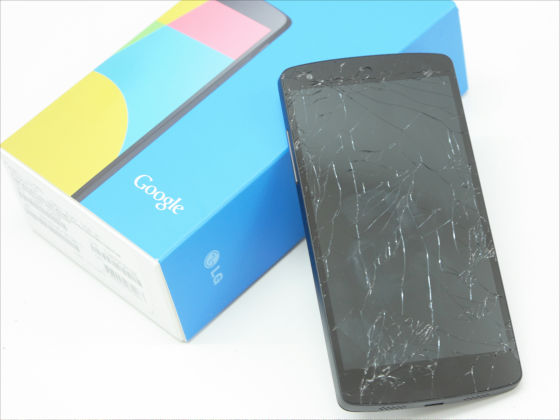 ◆ Backup
To remedy Nexus 5 and smartphones, etc. for repair, back up. To back up Android-powered smartphones, you can save all the data on smartphones, such as contacts and images "MoboroboSoftware which is convenient, you can check the backup method from the following article.

"Moborobo" which can easily backup data in smartphone with simple UI - GIGAZINE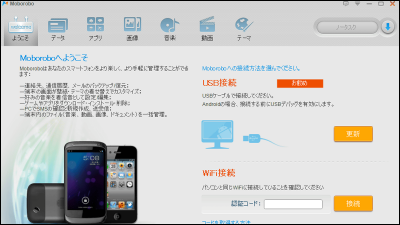 To back up using Moborobo, you can select "From developer options for Android smartphone" to "USB debuggingAlthough it is necessary to turn on "Nexus 5", "Android 4.4"Developer option" is off in the initial state. The method for turning on "Developer option" of Android 4.4 is as follows.

First, tap "Settings" from the main menu.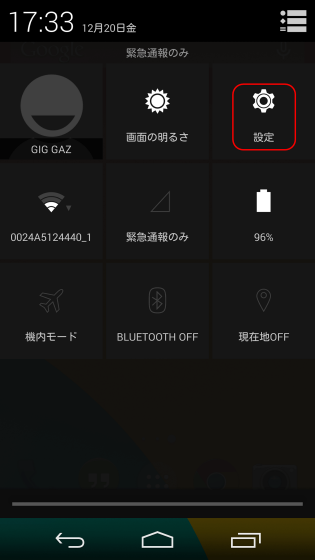 Tap "terminal information".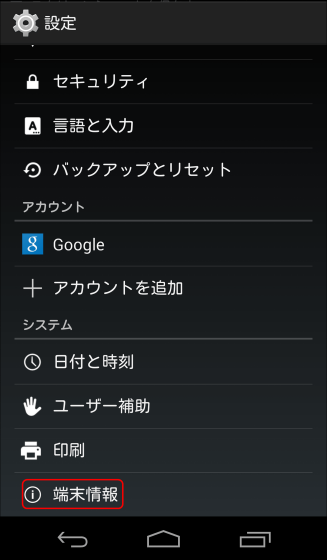 Tap 'Build number' at the bottom of 'Terminal information' 7 times in a row.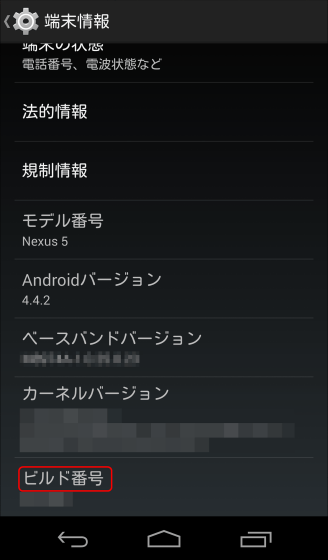 It is successful if you tap the "build number" continuously for seven times and you get the message "You are now a developer!"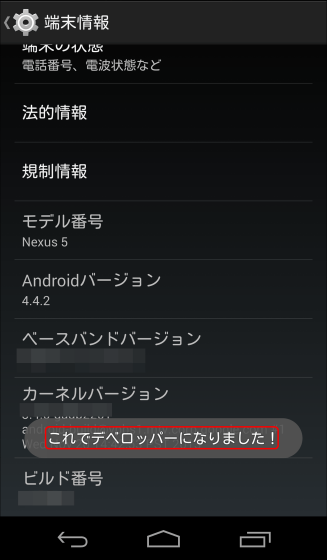 Return to "Settings" and tap "Developer Options" displayed.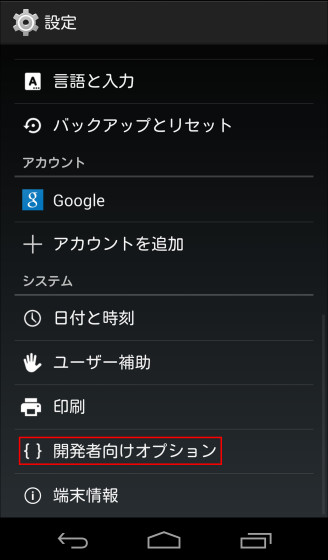 Check "USB debug", Moborobo is ready to use.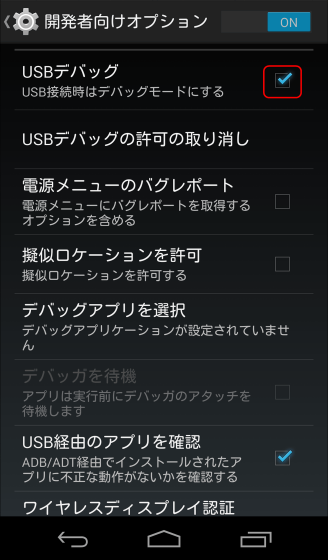 ◆ Packing · Delivery
To send it to the LG Mobile Service Center, use the box where Nexus 5 was originally included.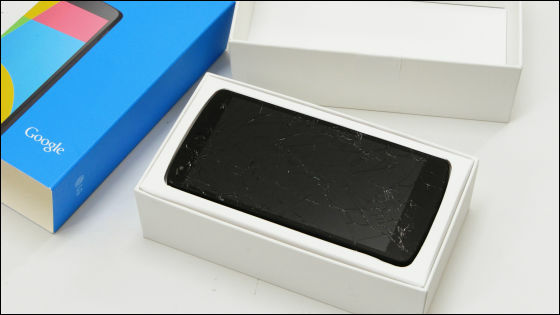 When I ordered Nexus 5, I received a "Order Details"If you send it along with the body," necessary for repair "Purchase details"When"Notes with contact informationYou can save time and effort to prepare separately.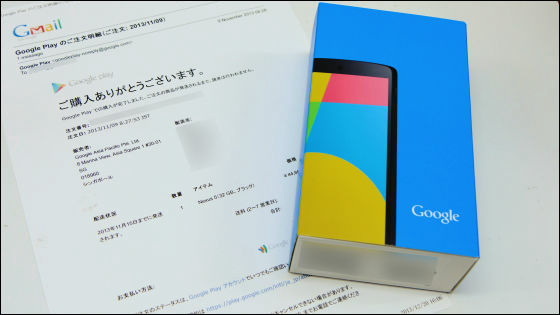 In a cardboard boxOrder DetailsPut it in ... ...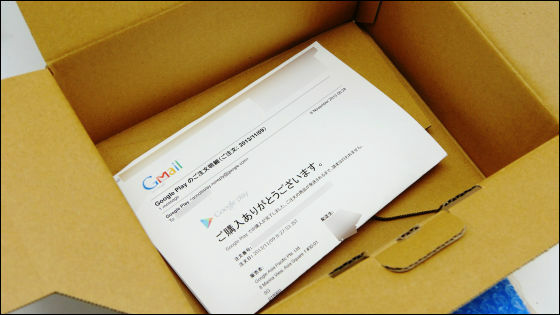 Enclose Nexus 5 and cushioning material.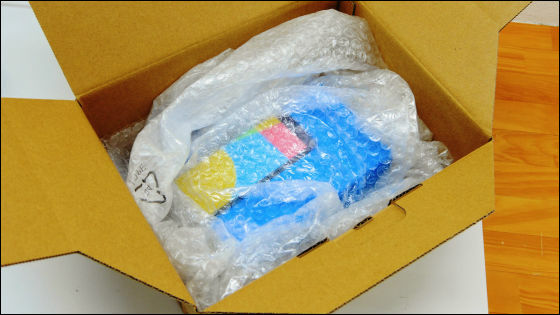 After that close the cardboard box and send it to the LG Mobile Service Center OK.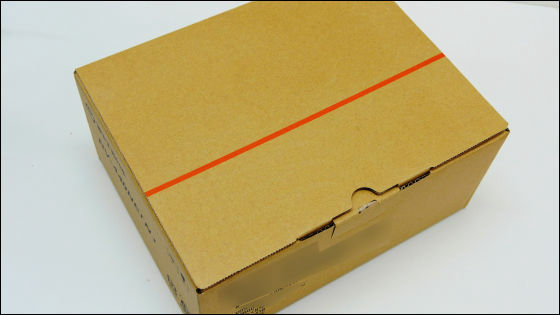 When Nexus 5 arrives at the LG Mobile Service Center, after checking the damage, we will inform you of repair costs etc. by phone or e-mail. It usually takes 3 weeks to repair the display, and it will take more if it is a busy period. If you drop and destroy your smartphone, it will be user's negligence and will be out of the scope of product warranty, so when using expensive smartphones, use a protective film or protective case to minimize breakage Measures to control to the limit are essential.