Apple acquired Tweet Analysis Service "Topsy" for about 20 billion yen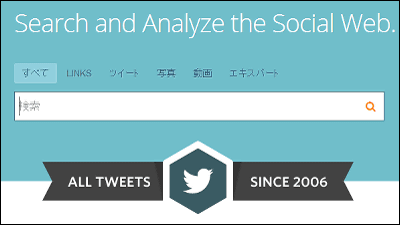 It was revealed that Topsy, the biggest Tweet analysis service in Twitter, was acquired by Apple at more than $ 200 million (about 20 billion yen).

Twitter Search, Monitoring, & Analytics | Topsy.com
http://topsy.com/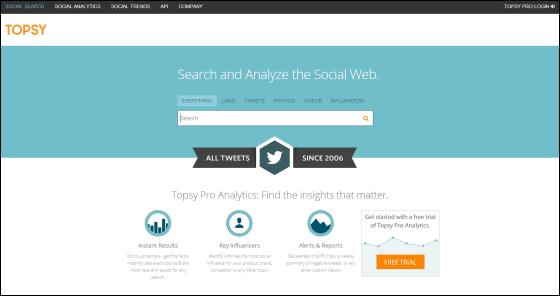 Apple Buys Twitter Analytics Startup Topsy Labs - WSJ.com
http://online.wsj.com/news/articles/SB10001424052702304854804579234450633315742

Apple buys Topsy, a Twitter search and analytics firm | The Verge
http://www.theverge.com/2013/12/2/5167906/apple-buys-topsy-twitter-analytics-search-engine

Apple acknowledged that Topsy acquired over $ 200 million (about 20 billion yen) for the Wall Street Journal's interview, but "it is sometimes to acquire a small technology company , I will not normally explain about its purpose, "he did not reveal the purpose of the acquisition.

Topsy is the largest tweet analytics service that can search how many tweets are being made for arbitrary URLs and keywords, and can investigate who is influencers that spread information. Some of Twitter's search APIs can get all public tweets "Firehose", which provides real-time search of tweets Yahoo! · Google, Microsoft and others use Firehose by contracting with Twitter. In domestic in 2012NTT DATA signs Firehose contract. Topsy is also one of the sites that can use Firehose.

In the Wall Street Journal, we estimate that Apple will be able to use Topsy to target ads more finely, and also to use it for notifying new products and information.

By the way,Evaluate Topsy's Twitter search algorithm is very good like Google's web search algorithmIt is being done. It seems that the acquisition of 20 billion yen was a very cheap shopping for Apple.