It turned out that the SNS ``Pinterest'' that can bookmark images is intentionally raising the display ranking of Google image search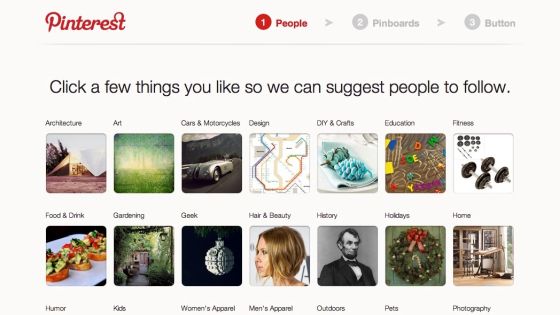 by Gustavo da Cunha Pimenta

Search engine optimization (SEO) is essential to increase the number of website visits. Social media to bookmark images on the Internet Pinterest is making full use of advanced SEO technology, to obtain the search data ' scraping and is raising the display ranking of Google search by', dealing with such as automation of SEO RankScience in the CEO of Says Ryan Bedner .

Deconstructing Pinterest's reverse-image-search SEO growth hack | RankScience
https://www.rankscience.com/blog/pinterest-image-seo-growth-hack

Bedner rated Pinterest as a company that 'has been incredibly successful with the growth of SEO for years.' A post on Pinterest called ' Demystifying SEO with experiments (Elucidation of SEO through experiments) ' also influenced Mr. Bedner, CEO of SEO company. ``Pinterest's pages are indexed on Google by over 800 million pages, and every time I hear about SEO tactics that work for those large sites, I'm intrigued,'' Bedner said. I will.

The SEO technology of Pinterest that Bedner was interested in this time is reported by SwiftOnSecurity who sends security related information on Twitter. SwiftOnSecurity is surprised to find that images uploaded to Pinterest without metadata or descriptions are reverse-searched by Google for scraping images and automatically add metadata and descriptions. I will.

How does Pinterest hack Google?

It appears every photo a user pins is reverse image searched, consolidated into a single entry on their site, the text captions are stolen, and then embedded hidden in the page.That Google indexes.

If so, it's the greatest SEO scam of all time.pic.twitter.com/fMPdYC74le

— Swift⬡nSecurity (@SwiftOnSecurity) May 8, 2020


The scraping of Pinterest is done as follows. As a first step, SwiftOnSecurity posted an image on Twitter with comments. SwiftOnSecurity's post is indexed by Google.

'Upon a mantle of flesh God mediates his plans for the fallen Earth.' pic.twitter.com/rSnsyn3uug

— Swift⬡nSecurity (@SwiftOnSecurity) October 13, 2016


Since Pinterest automatically scrapes the image metadata based on Google's information, the content posted by SwiftOnSecurity will be scraped to Pinterest. And SwiftOnSecurity's post is automatically added to the image page on Pinterest.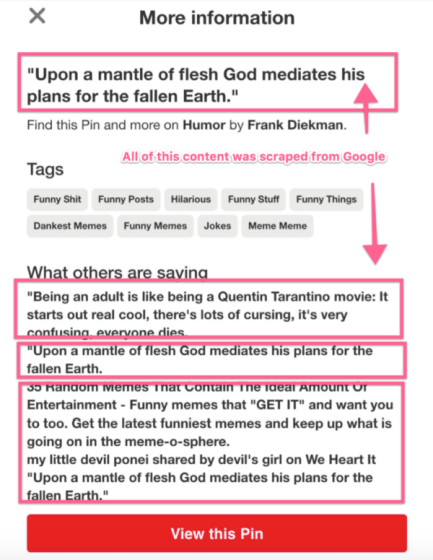 Mr. Bedner said interesting thing about scraping that Pinterest is doing is that 'Google is difficult to scrape, it is difficult to scrape hundreds of millions of images so that it is not blocked' 'Google finds suspicious SEO, problematic site "Points that impose a penalty on "Pinterest is a listed company, and penalties affect a company's stock price". The display ranking in Google search is higher as the understanding of the content by Google and the description of the content of the site are similar, so reverse search for image description from Google raises the display ranking of Pinterest. It leads to that.

'There's no doubt that Google is conducting an internal investigation,' said Pinterest's action. Although it is unknown whether Google will actually give any penalty, Bedner says that if this action is neglected, it will be understood that Google's internal image search crackdown priority is not high.

There are also negative opinions in the SEO community, such as 'the source of information is hard to see' and 'it is both clever and evil'.