"History of jeans in Japan" that shows the history in Japan at a glance from the birth of jeans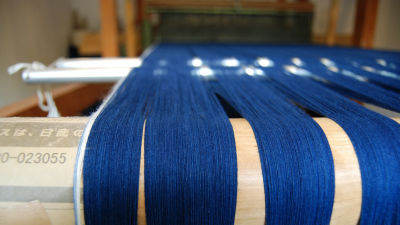 ByDan

Jeans is casual wear familiar to many countries around the world, it goes without saying that it has gained tremendous support, but the processing technology of jeans in Japan is very expensive, so that the export of products and overseas people come to study . Jeans history and processing procedures for such fastener manufacturersYKKI'm introducing it graphically

That was fashionable then! Infography that uncovers the history of jeans in Japan | Products & Services | YKK Snap Fastener Co., Ltd.
http://www.ykksnap.co.jp/products/infographics/history-of-jeans.html

Serge de Nimes (Serge de Nîmes), which was exported from France to the United States in the 19th century, is said to be the beginning of jeans (Origins of ItalyThere is also a theory of). After that, it occurred in America around 1850gold RushOveralls by denim fabric were loved among workers gathered in California by. In the 1900s, under the influence of the cowboy movie that was prevalent at the time, jeans that had been caught as labor wear until then will become established as one of fashion.




In Japan, Levi signed a foreign trademark in 1905. In the Great Kanto Earthquake that occurred in 1923, it seems that jeans were included in the supplies and called "Hong Kong pants". After the war the jeansBlack marketIt will be on the market.




In the 1960s jeans import started due to deregulation. In Japan, wash the glue that had been left in the manufacturing process once and ship itWash processingJeans were released in the world for the first time. Production of domestic jeans starts in Okayama, and it will be sold also at department stores.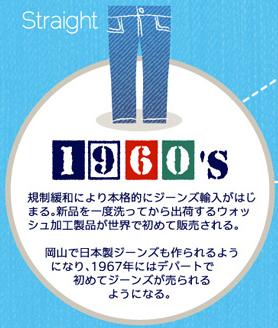 In the 1970sStudent MovementYahippieFashion is popular. Women liked jeans and liked it and became a symbol of youth culture. Almost all materials can now be produced domestically.Bell BottomJeans which the hem spread is said fashionable (boot cut) also popular.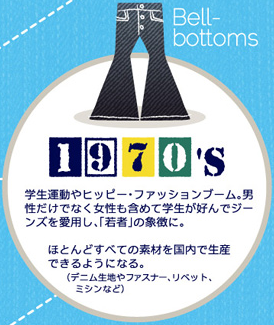 In the 1980s, color pants, pedal slims, chemical wash jeans were popular. Besides chemical wash, it has also become a trend in recent years. From 1984Best jeanistSelection of the first generation has also started, the first prize winnersHiromi Township·Yuko Asano·Tanio Taro·Shigesato Itsoi.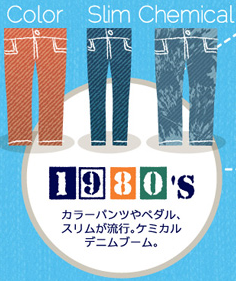 In the early 1990s when the collapse of the bubble began,RayonSoft jeans with fun is prevalent. In the latter half of the 1990s a clothes boom occurred, Levis's vintage501Etc. traded at high price. Technologies to process new goods in vintage style also develop. A high-tech sneaker boom such as Nike Air Max came up and many styles to match with jeans were seen.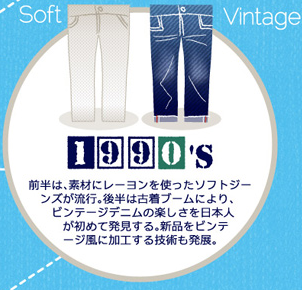 After 2000, the imported jeans department of the department store is booming. Among females, boots cuts and low-rise jeans that emphasize style are popular, and tight jeans are popular among men in the late 2000s, and even now it is mainstream making somewhat tight.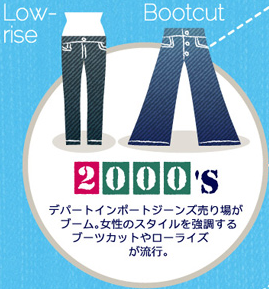 From 2010 onwards, jeans with stretch processing,GULow fashion jeans such as 980 yen of fast fashion brands such as are popular. Whether there is also such a fashion fashion epidemic, in 2011 the domestic jeans manufacturerBobsonIt seems that some jeans makers are struggling, such as the bankruptcy.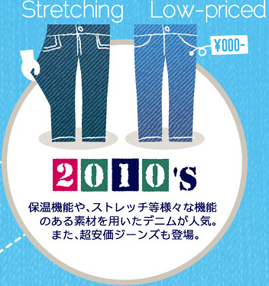 Production volume of jeans has gradually decreased with the peak of 2001, but the number of production seems to be on a recovery trend after 2011.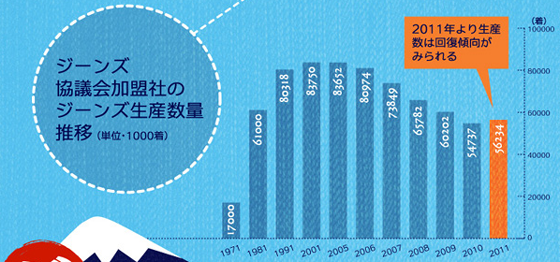 In Japan, processing of jeans which has been done since the 1960's. It is Japan that went for processing for the first time to make it easy to wear jeans called raw denim.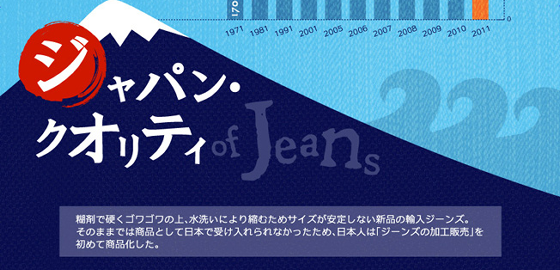 Used for jeansIndigoIn Japan there was a history that continued from the Nara era, Edo period was also used as a coloring agent for working clothes. The British who came to Japan during the Meiji era is called "Japan Blue", and the dyeing technique seems to have been higher since then.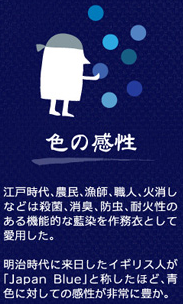 Especially when dyeing yarn used for jeans leave it white without staining insideCrisp whiteThe technology is high, Japanese are said to have particularly good sense of delicate work such as indigo.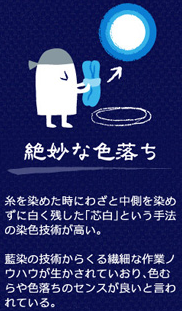 Various technologies such as stretch denim, perspiration, and cool feeling have been developed, and overseas manufacturers entrust the production of fabrics or come to study.



The history of processing of jeans is like this.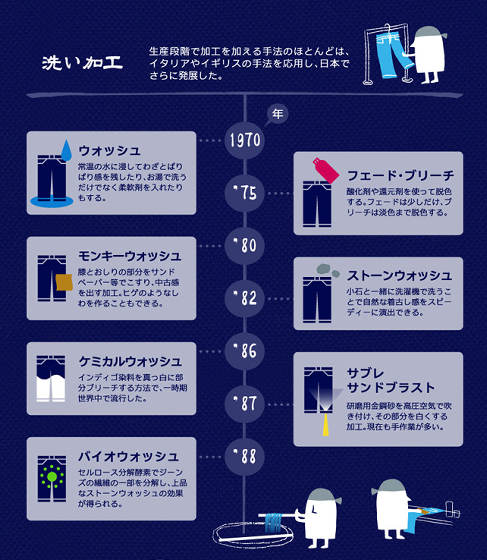 In the 1970's, wash technology developed using glue with glue at room temperature water, hot water, softener etc developed.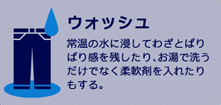 In 1975, a technology to decolorize using oxidant and reducing agent called fade · bleach was also born.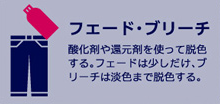 In 1980, the processing technology "Monkey Wash" was born to rub the knees and butt parts with sandpaper etc. to give second hand feeling.BeardSkillful technique to make small wrinkles like.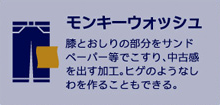 In 1982, washing with a pebble washing machine, a stone wash which gives a natural wearing feeling was born.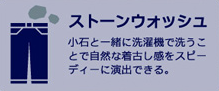 The chemical wash that became popular in the 1980s was also popular in Japan at that time, but now it seems to be treated as an outdated item, so there is not much to see.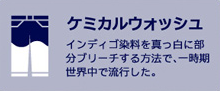 The sub-resident blast that was born in 1987 is processing to whiten a part of the jeans by blowing wire mesh for polishing with high pressure air. It seems that this processing is still done manually now.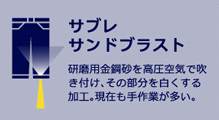 The bio wash that was born in 1988 is a cellulolytic enzyme that decomposes a part of the jeans' fiber and is a technique that can obtain an elegant stone wash effect.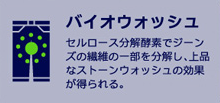 In Japan, Fukuyama in Hiroshima Prefecture, and Ihara and Kojima in Okayama Prefecture are famous as jeans production areas. WhileA factory where you can visitThere are also. It is a technology that is proud of the world, so if you like jeans you may want to visit the site.