Kentucky flavored fried chicken to eat fried home shop "chicken tei" taste review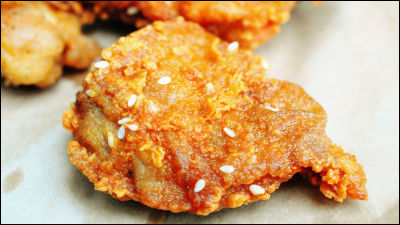 A take-out specialty shop "chicken tei" which sells seasoned fried chicken such as "Original Chicken" of Kentucky Fried Chicken opened, so you can buy what kind of menu you are dealing with in what kind of store I went to.

Kentucky Fried Chicken | New Concept | Chicken Tea
http://www.kfc.co.jp/info/torikaratei/index.html

There is only one shop yet so far, we need to go to Daiei Himonya store in Meguro-ku. The place is here, along the Tokyu Toyoko line Gakugei University Station and Tokyo Metropolitan University Station, along the Meguro street.

View Larger Map

Daiei Himonya store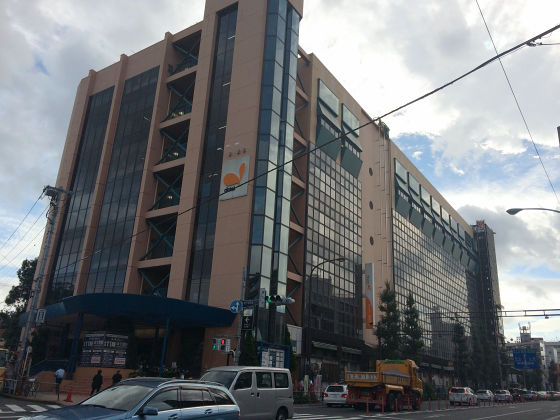 When I go to Daiei, there is a stick of "Opening the first shop from Chicken."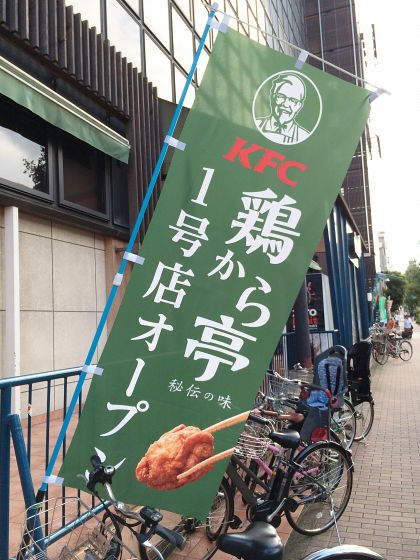 At the entrance facing Meguro-dori, there is also a signboard signifying a large opening.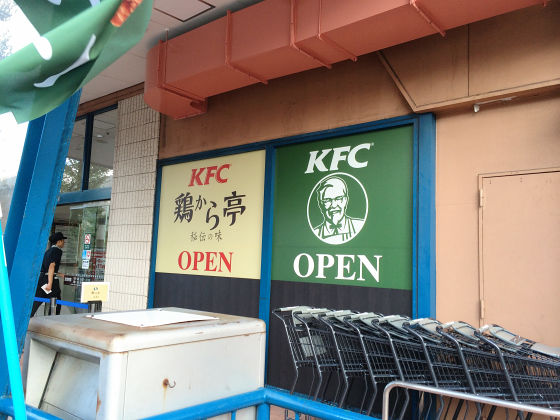 From the entrance on the 1st floor of Daiei, the place from chicken will come soon.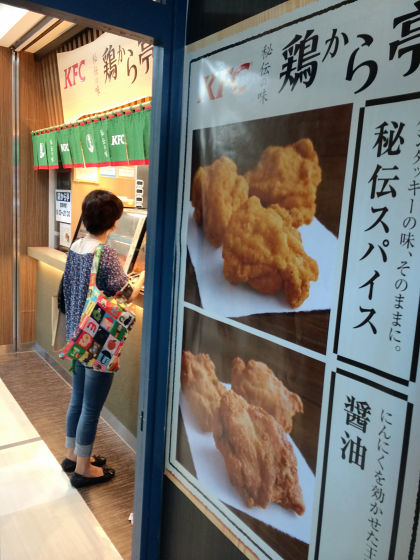 Because it is a takeout specialty store, the size as a shop is only about the counter of the shop of general Kentucky Fried Chicken.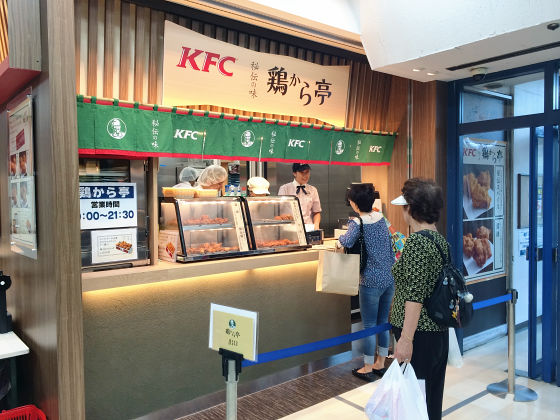 "From Kentucky, we have a special shop for picking rice well."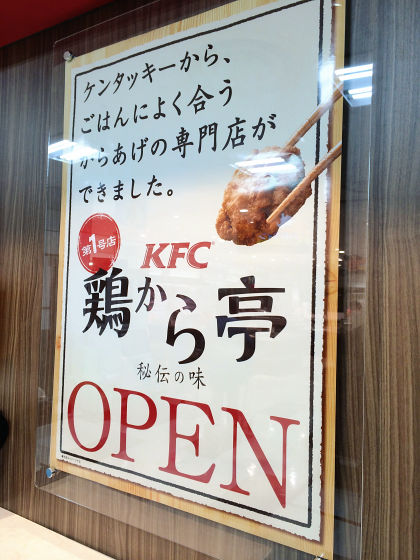 We handle all four kinds from special chicken. There is also a taste companion pack that became together with the original chicken, but the box lunch was not sold from your favorite chicken.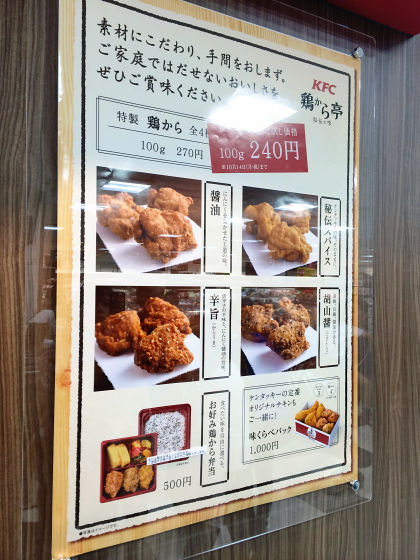 For karate fried, 100 g is sold for 270 yen, but purchase in units of 1 is also possible. Approximately 35g - 50g per piece, there are slight variations in size.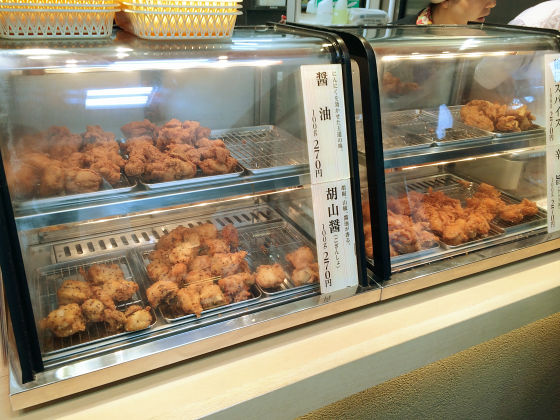 Purchase four kinds of fried chicken, bags that are put in can not be distinguished by the same design ... ...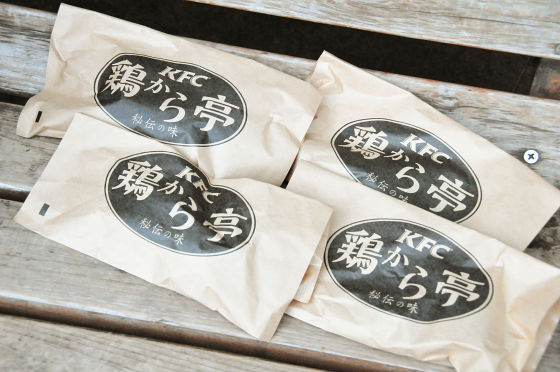 There is a sticker on the back.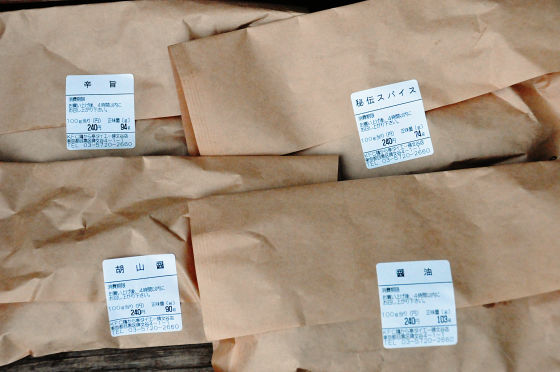 The taste is secret spices on the upper left, soy sauce on the upper right, spirit at the lower left, Huyang Sake at the lower right.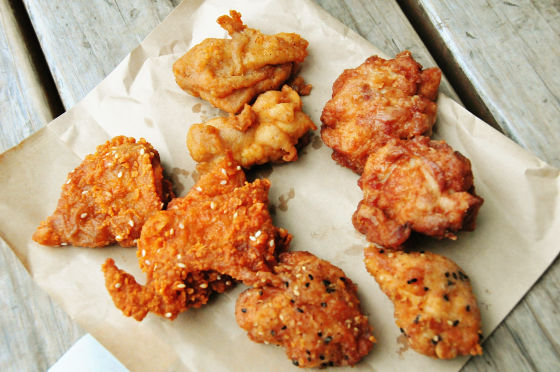 Secret spice seasoned with spices used for "Kintakki Fried Chicken" Original Chicken ".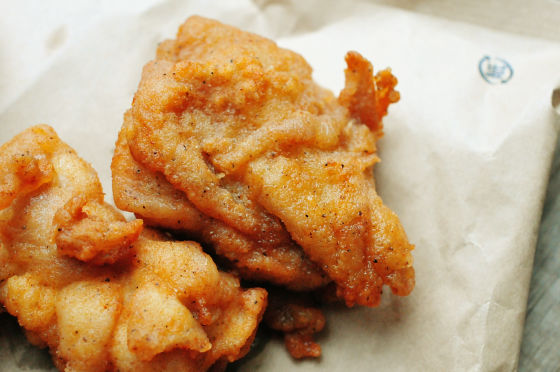 It looks like an original chicken, but because it is deep-fried, bones are not contained and it is very easy to eat.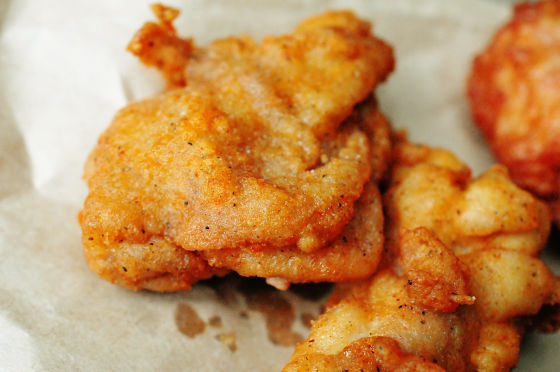 Soy sauce is a bit dark in color.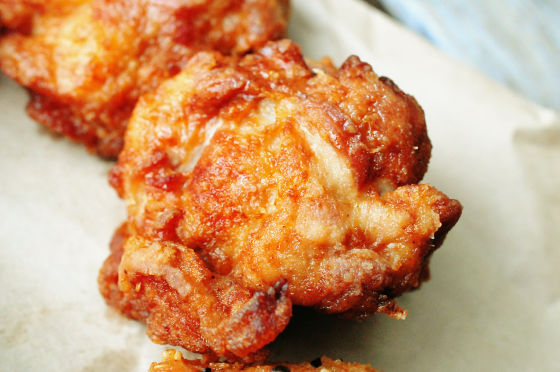 This is more like a deep-fried chicken than orthodox chicken rather than Kentucky Fried Chicken. Speaking of fried chicken often on the street is this taste.



Sharpness is as the name suggests, "Sharp chickenI used clothes with a bit of spicy like used in ". It is not as tasty as hot as the inside of the mouth burns because of the spicyness of the pepper strain which is about to end.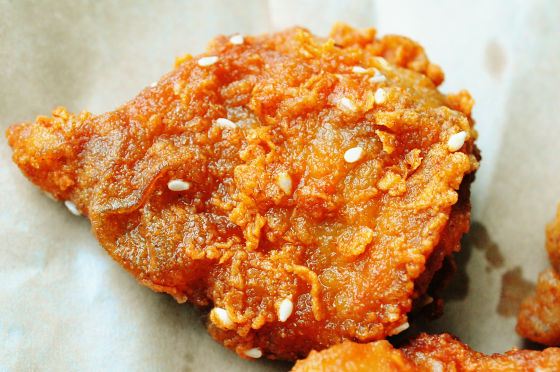 The last is Hu Shan Sake, the name is derived from using pepper (pepper) · Japanese pepper · soy sauce.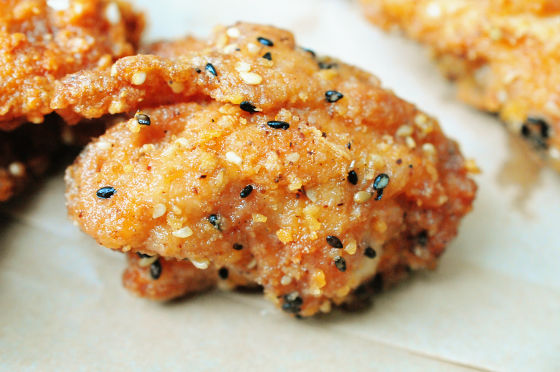 While it is based on soy sauce, it is made with accent with pepper and pepper. Each product has its own unique taste, and if you compare it eating, you may find your favorite deep-fried chicken.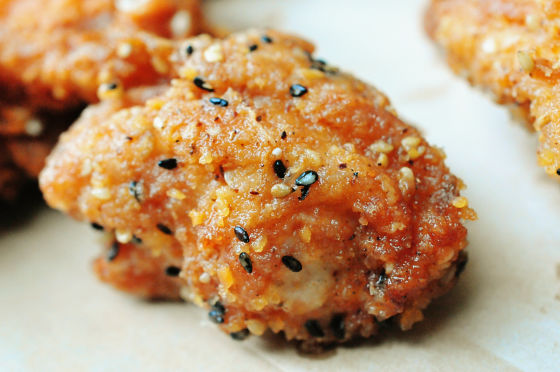 However, it is rather handy summer rather than chicken fried chicken, if it is a supermarket, it can be purchased from around 100g128 yen to around 198 yen, so if you are told that it is 270 yen at 100g, it has a quite expensive impression. If it is supposed to be a general vegetarian way of buying with fried chicken meat that fits the rice, at least it is a place where I want a setting of about 200 yen at 100 g.