The cost difference between iPhone 5s and iPhone 5c turned out to be about 2600 yen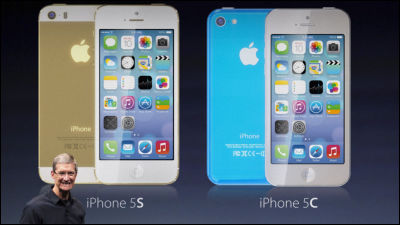 ByMartin Hajek

The total sales volume of "iPhone 5s" and "iPhone 5c" of the new iPhone which is on sale from 20th September 20 isOver 9 million units in 3 daysThen, it shows a good start. IPhone 5s is sold as a new high end model of the iPhone, iPhone 5c is sold as a low price version, but when IHS of the research company disassembled and found the cost, it turned out that there is not such a big difference in cost of the two units did.

Teardown Analysis Shows iPhone 5S Costs At Least $ 199 to Build - Arik Hesseldahl - News - AllThingsD
http://allthingsd.com/20130924/teardown-analysis-shows-iphone-5s-costs-at-least-199-to-build-173-for-the-5c/

According to a report released by IHS, the parts of the 16 GB iPhone 5s are $ 191 (about 19,000 yen) and those of the 64 GB are 210 dollars (about 20,800 yen), which is almost the same as the iPhone 5 of the previous model And that. We added an assembly fee of 8 dollars (about 790 yen) to this price,The cost of the iPhone 5s 16GB model is 199 dollars (about 19,800 yen)It will be. The selling price of only iPhone 5s' terminal is $ 649 (about 65,000 yen) - 849 dollars (about 85,000 yen), depending on capacity.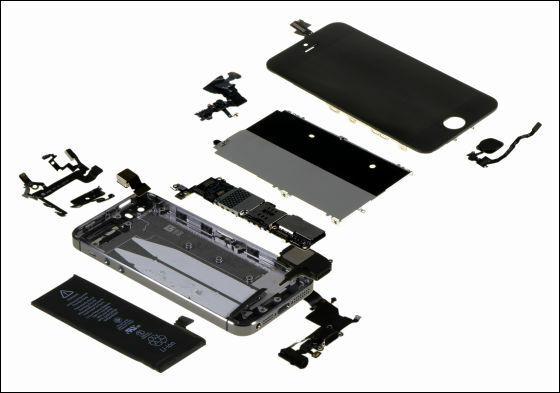 Among the parts of the iPhone 5s, the most expensive parts are display parts for $ 41 (about 4000 yen). Supplier is Sharp, Japan Display, LG etc. In addition, the fingerprint authentication sensor which is a new function of iPhone 5s was $ 7 (700 yen).

Meanwhile, it was found that the iPhone 5c sold as a low price version was disassembled and the cost including the assembly cost was determined and found to be 173 dollars (about 17,200 yen) to 183 dollars (about 18,800 yen). The price of only iPhone 5c's terminal is 549 dollars (50,000 yen) to 649 dollars (65,000 yen).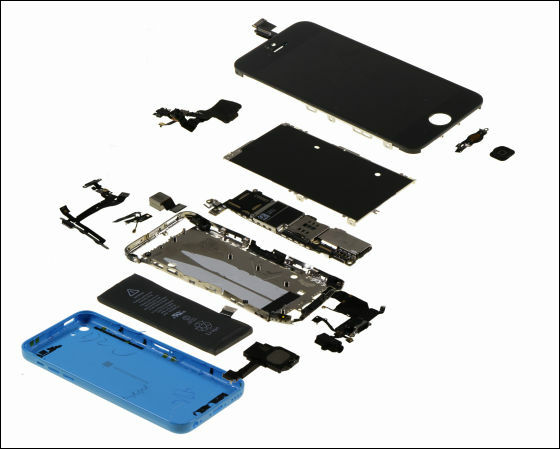 Andrew Rassweiler, IHS analyst, said, "There was no big difference between iPhones 5s and 5c, except that it has a fingerprint authentication and a 64-bit A7 processor," he said in fact Two units have the same display / camera / flash memory chip. Both A7 and A6 are supplied by Samsung Electronics, and the price is 19 dollars (about 1900 yen) and 13 dollars (about 1300 yen). Memory chip adopted by Korean SK Hynix, Samsung Electronics, Elpida.

According to Rassweiler, Apple is on two new iPhonesRF chipIt seems that they spend a lot of time and money on them. Companies supplying RF chips to Apple are Qualcomm, Skyworks, Avago, RF Micro Devices, TriQuint Semiconductor, a total of five companies, and Apple can support multiple frequency bands by combining RF chips from multiple companies It seems that it seemed to be.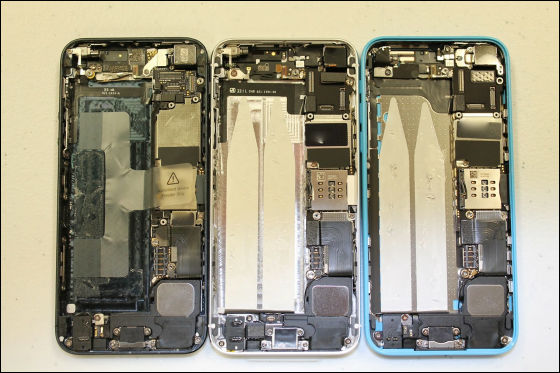 Actually, the iPhone 5 supported five LTE bands, but the iPhone 5s and 5c covered 13 LTE bands. According to Rassweiler, Apple will develop smartphones covering the worldwide frequency bands in the near future and capable of handling any type of wire - thread network.