Free service "IDphotoGenerator" that you can make your own resume certificate photos easily with a printer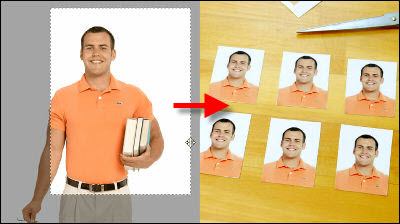 Certification photos used for resumes and passports are priced at several thousand yen when photographed at a photo gallery and hundreds of yen for speed photographs, and often cost sometimes when printing out a lot. In such a case, it is possible to easily cut out a part of your favorite photo and make a certification photo with your printer at homeIDphotoGenerator"is.

Ideal for job hunting! How to cheap print certificate of your resume by yourself (TOEIC · passport is also supported)
http://shoumeishashin.strud.net/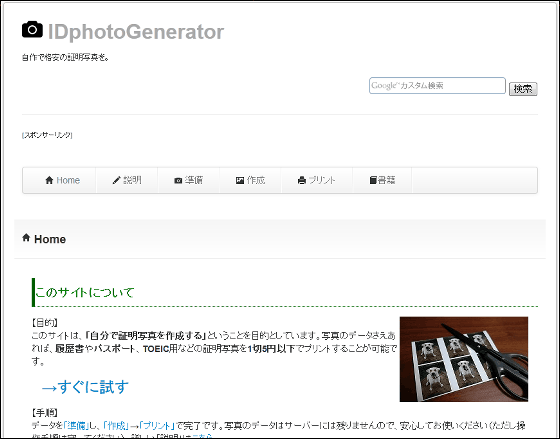 To create a certification photo, click "Try immediately" on the top page.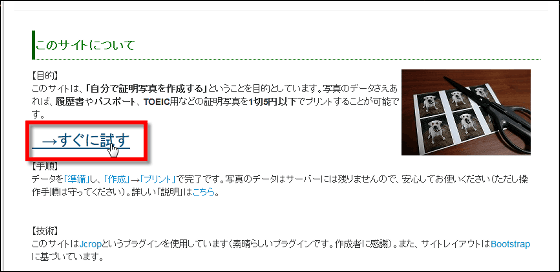 First of all, choose a picture. Click "Browse" to select the file saved on your PC and click "Determine Photo".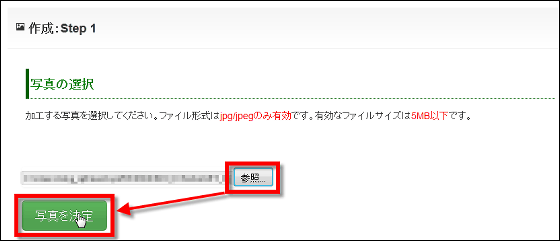 I will create a certification photograph using the following whole body photograph.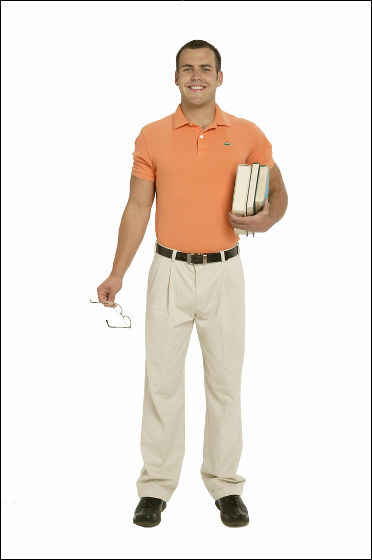 By Meathead Movers

Two types of certification photos can be selected: resume (30 mm × 40 mm) and passport (35 mm × 45 mm). I selected my resume this time.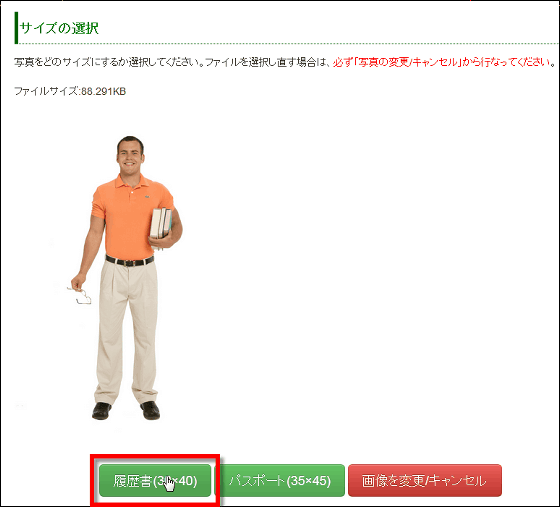 Since you can freely specify the selection range with the cursor, look for the part that is right for cutting. Please note that the area selection may not be effective when Internet Explorer is used, so please enable script and ActiveX control at such time. Region selection is enabled by reloading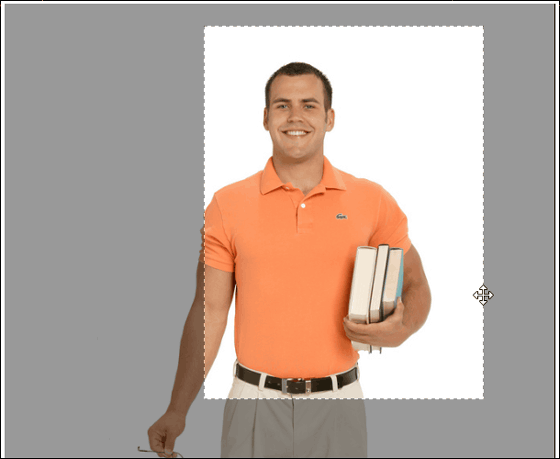 With this, OK, ... ...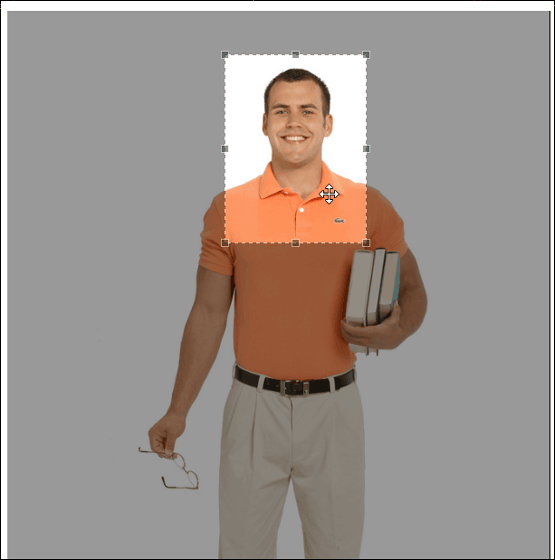 Click "Determine area".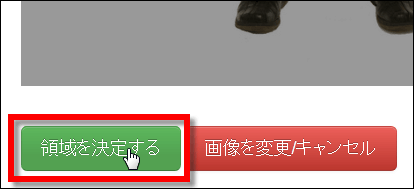 A certification photo was displayed on the screen. If you save this picture on your PC, you only need to print it and it's OK.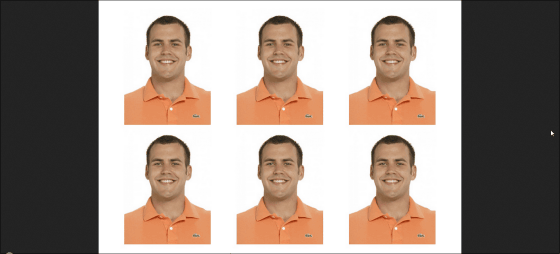 If you are using Firefox, select "Save picture as name" from "File" in the upper left of the screen because "Right click → Save picture as name" is not saved well. In the case of Internet Explorer, if "Save image as name" is displayed, only png and bmp are displayed in the file type, so set the file name as "XXX.jpg", specify the extension yourself and save it Please do it.



After saving, the next is actually printed. When printing, prepare glossy photographic paper instead of plain paper.



When I print it ...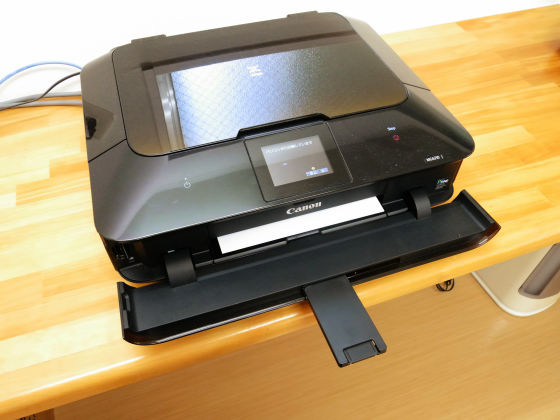 Like this. If you turn the paper direction upside down and print it again, you can effectively utilize the remaining bottom part and use it without waste.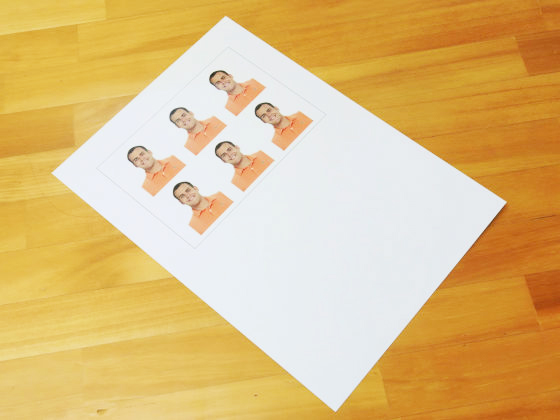 Cut it with scissors and it will be completed.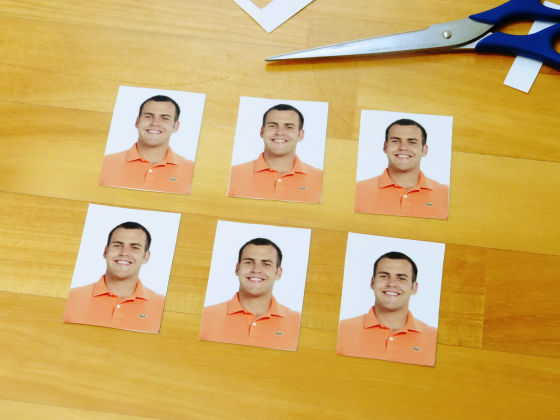 It is convenient to make quickly even when it is necessary to have a photograph for examination such as TOEIC examination as well as being helpful at the time of job hunting activities where a large number of certification photographs are necessary but there is no time to go for shooting.