SOFTBANK MOBILE also performs tethering with iPhone 5, 7 GB limit a month at 525 yen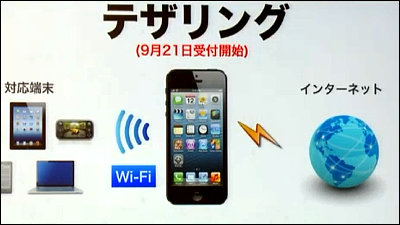 "SOFTBANK MOBILE Corp. Press Conference" was held from Wednesday, September 19 (Wednesday) at 15 o'clock, President Masayoshi Son said about tethering on iPhone 5Tethering, let's do it.We declared implementation.

I will do "SOFTBANK MOBILE Corp. press conference" today from 15 o'clock on Wednesday, September 19 (Wednesday). | SoftBank

According to my grandson, Twitter on this week and iPhone 5 with a tethering function but with SoftBank rushed to the opinion as to whether it would not provide it, and when I tweeted "Last night to discuss" last night, It is said that he received Tsukkomi saying "I am the same as a politician."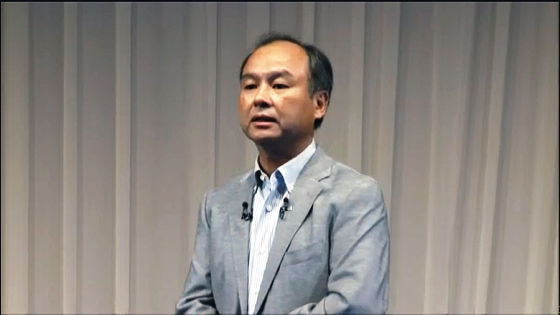 About this, we announced that we will perform tethering, clearly "The answer is" let's do "."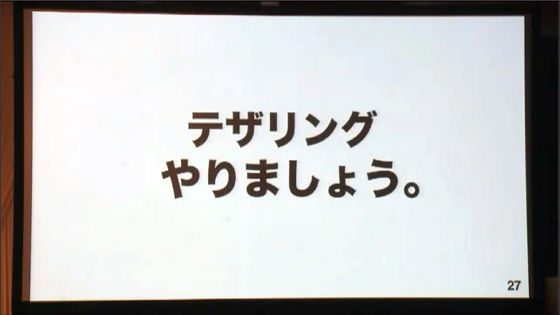 The acceptance start is September 21, the service start is January 15, 2013.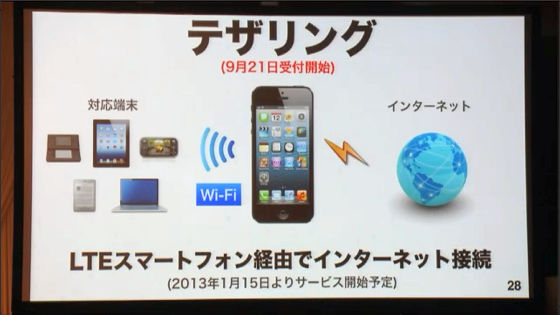 The price is 525 yen per month, provided for 2 years for free. Please note that purchasers of LTE smartphones are targeted.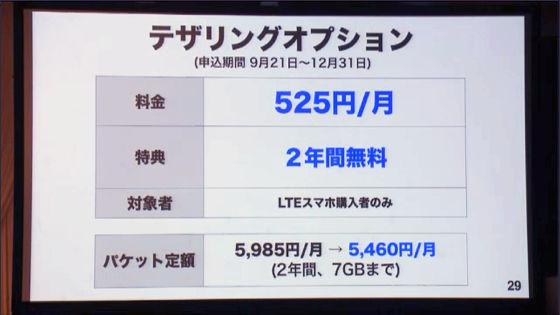 SOFTBANK MOBILE decides to offer packet flat rate service for iPhone 5 for ¥ 5460 per month for unlimited use and there is no communication limitation,Upper limit of 7 GB will be applied when performing tetheringAnd that.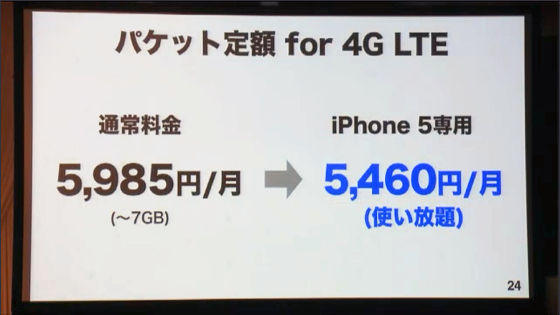 By the way, the venue of this day is like this. "Mobile broadband for as many people as people" is a familiar copy.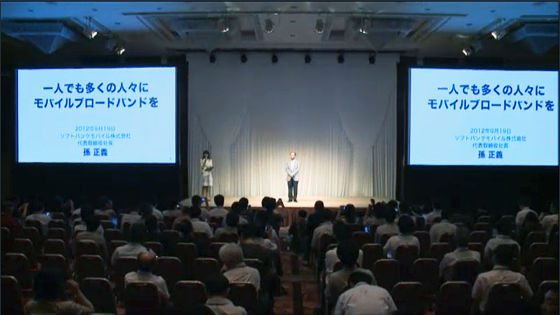 Masayoshi Son: President:
Just four years ago, iPhone appeared as the first year of mobile Internet. A lot of smartphones were born in the world, resulting in a lifestyle revolution and a work style revolution.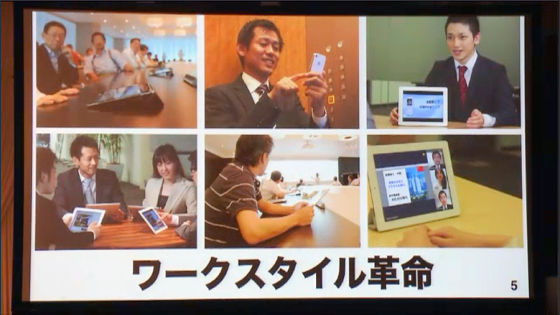 Grandchild
Right now my lifestyle and work style have changed to the point that I can not live without an iPhone myself.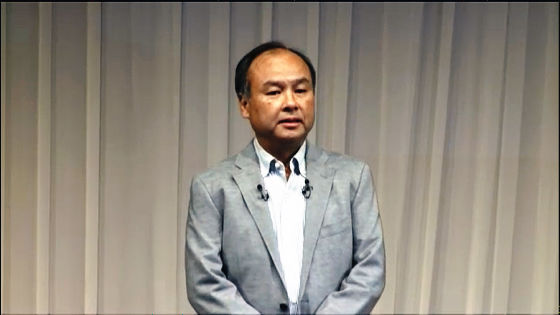 Grandchild
Softbank Mobile's biggest problem, "Platinum Band". This can start the 900 MHz service from July, the establishment of the base station is progressing rapidly, and I am doing my best to continue to grow one after another.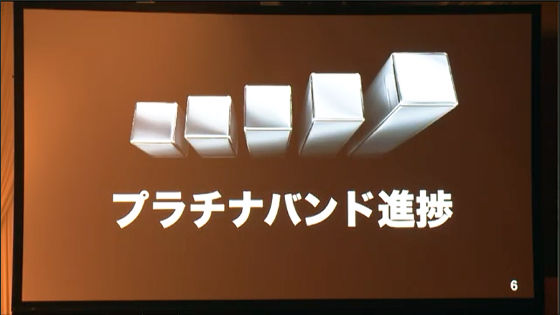 The corresponding area looks like this.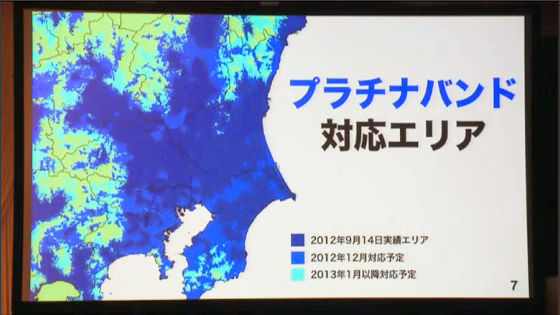 Grandchild
Construction is progressing at a faster pace than the base station was originally scheduled. The construction plan being applied is about 41,000 base stations, currently 6300 stations. It will reach about 20,000 more during the current fiscal year and will increase more next year. I am very satisfied with this progress. I think many of our customers will realize that SOFTBANK's radio waves will become better from now on.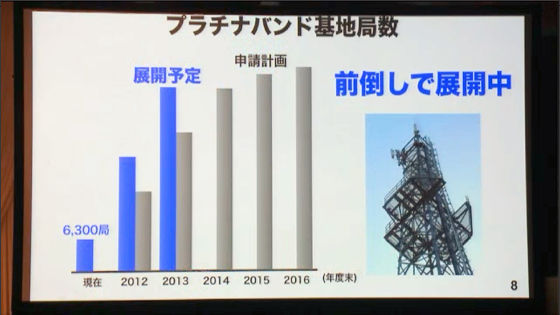 Grandchild
As a concrete example, for example in the case of a suburban university. Until now, radio waves arrived faintly in the orange place, there were parts where the radio waves did not reach if it was a part of the building that was behind the scenes. As soon as the Platinum Band opened, the area was out of range, and it became Bali 3, Bali 5 at a stroke.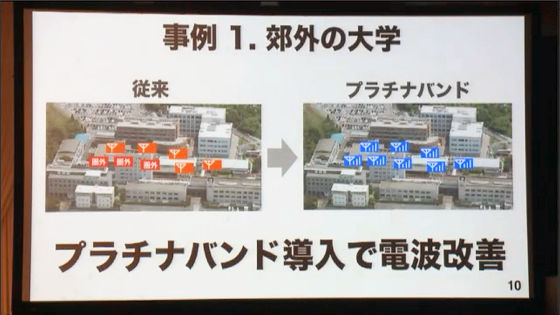 Grandchild
Even in hospitals in urban areas, radio waves have come so far as they are out of range or where radio waves are staggering.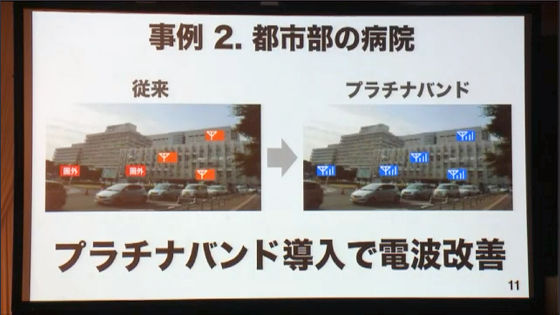 Grandchild
Or a suburban golf course. In the same way, from the situation where the radio waves do not reach, we started to enter as much as you can. Anyway, there are many examples that the base station of the platinum band improved as soon as it opened.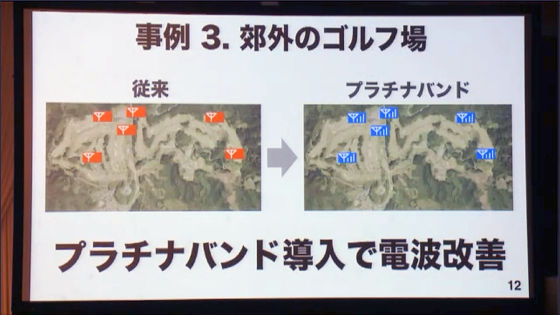 Grandchild
"What on earth are the same towers, with the same mobile terminal, no matter how much invention is required without a platinum band, I do not need any technical ingenuity, I got permission, got a radio wave, will it be so good just by that?" I knew the power of the platinum band by how hard this was made. Even in mountainous areas, the reach of radio waves has doubled, despite the same base station and same tower.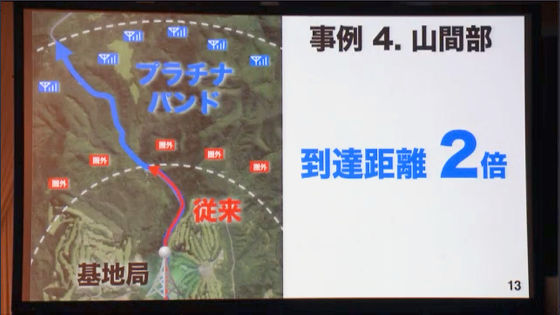 Grandchild
Furthermore, the Wi-Fi spot is also increasing one after another in order to improve the radio condition, and now it is 310,000. This is one answer to the radio wave problem so far.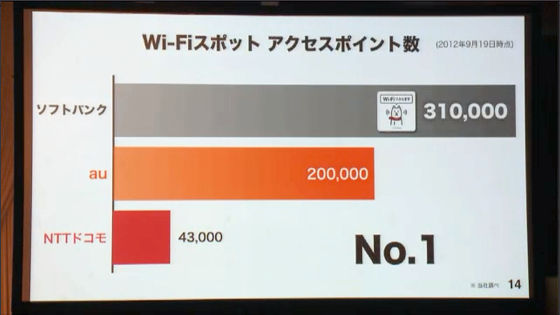 Grandchild
Toward the next revolution. Just having just returned from abroad last night, the iPhone 5 was announced last week. From this year, I think that full-fledged deployment of mobile broadband will come all over the world. The key word is "LTE".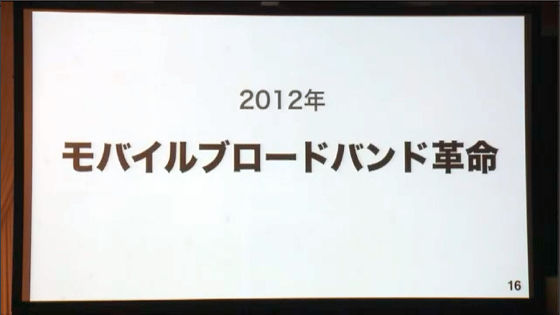 Grandchild
SoftBank 4 G LTE will start from September 21 on the day after tomorrow. Then, you will have to debut the iPhone 5, a terminal with LTE in the smartphone.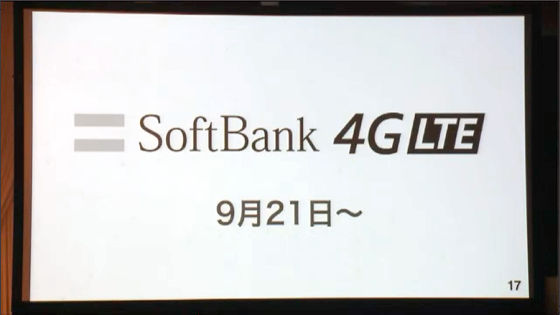 Grandchild
LTE radio wave received by iPhone 5 is 2 GHz in Japan. Even in SoftBank, even KDDI who is offering it as a competitor, the frequency is 2 GHz. The radio wave band is also upstream 5 MHz width, downlink 5 MHz width 10 MHz, the theoretical maximum speed is 75 Mbps per base station. This is the number that each other has.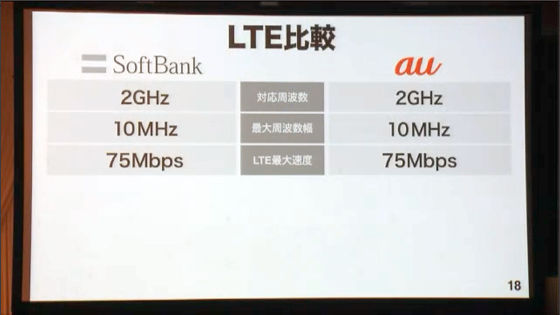 Grandchild
"KDDI is LTE and the population coverage rate reaches 96% in March next year," there was a report that KDDI is preceding in LTE. So what about SoftBank, but how is it?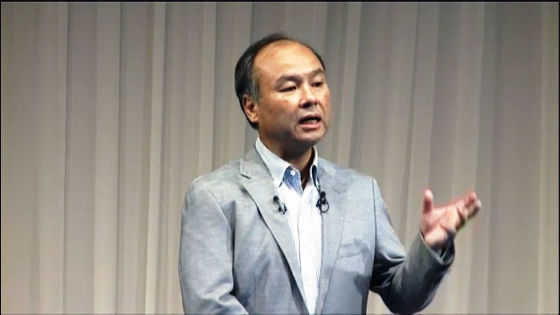 Grandchild
IPhone 5 can receive 2 GHz. In this part, 96% of "800 MHz" KDDI says is including LTE which iPhone can not accept. Actually as the same terminal, with the same LTE strength, which is the area of ​​the LTE area will be wider. In March of next year, we want to realize 91% real population coverage rate in LTE. I think that this is possible. The number of base stations is 10673 base stations. We got a license with the same ruler as KDDI, we are 10,000 and KDDI 4516. We are ahead of KDDI's time more than twice.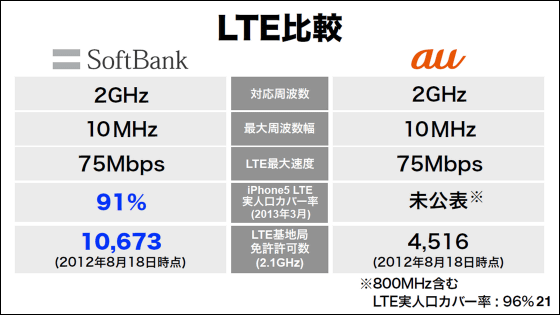 Grandchild
We do not announce what we have not announced, it is natural, but as we take the style of developing business under the water silently as the management policy, we have to say how much base stations for iPhone 5 are prepared I have not made any professions. This time, I would like to reveal again that I was actually making base stations for iPhone 5 silently. Actually, it will increase more than 10,000 stations more. For the moment it is only this that gets a license.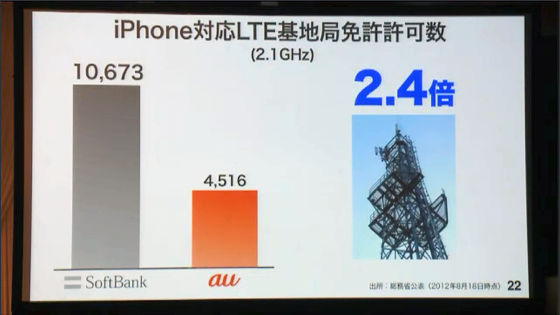 Grandchild
I'm building a base station for iPhone 5 at a rapid pace with construction rush. Speaking of SoftBank's construction rush, we are promoting both LTE and the platinum band at the same time. Therefore, the real population coverage rate corresponding to iPhone 5, the correspondence area is like this. I wonder if you are competing with KDDI in a good way. Because we are getting the same electric wave permission from each other, we are trying to compete with each other at the same 2 GHz. I receive a lot of attention. Since the platinum band also got permission, the platinum band base station is built at a stretch. When looking at the pace of one year, two years later, the radio wave of SoftBank gets sharply better. "Let's receive it and let's stand".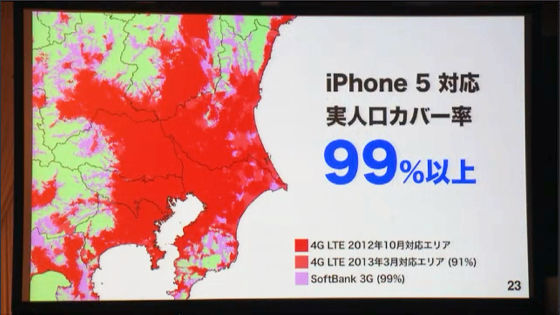 Grandchild
As for the packet flat rate, the packet flat rate for iPhone 5 is 5460 yen a month for iPhone 5, against the fixed price for ordinary LTE. KDDI has a limit of 7 GB of traffic here, but we prepared a program of 5460 yen for all you can use.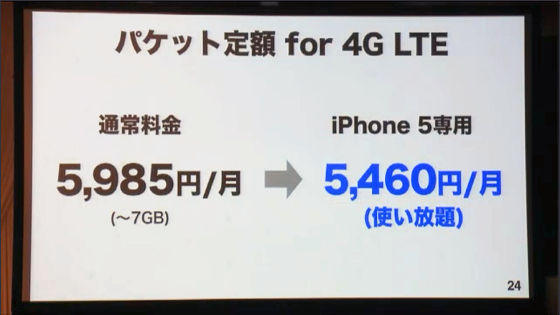 Grandchild
The iPhone 4S has already been released, but in fact when you investigate speed with many third party media such as Nikkei Trendy and Nikkei Newspaper, SoftBank's iPhone 4S is twice to three times faster than KDDI It is said that it was seen in most areas. In fact it is 2 to 3 times faster to actually use both terminals at the same place.



Grandchild
LTE will come further. Since we are 2 GHz each other, we believe that it can be seen here and there that the coverage area of ​​LTE is wider than KDDI in general, generally fast, regarding this speed problem.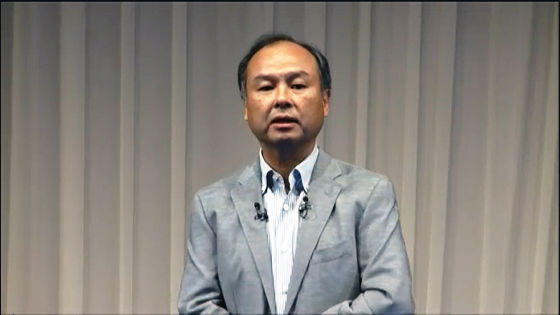 Grandchild
When calling from SoftBank line from LTE smartphone 24 hours call fixed amount 500 yen. For iPhone 5, you can talk for 24 hours at option cost of 500 yen per month. Application period is from September 21. This is until the 31st of December in a form like a campaign, but after that I want to think further afterwards. The start is scheduled for January 15 next year.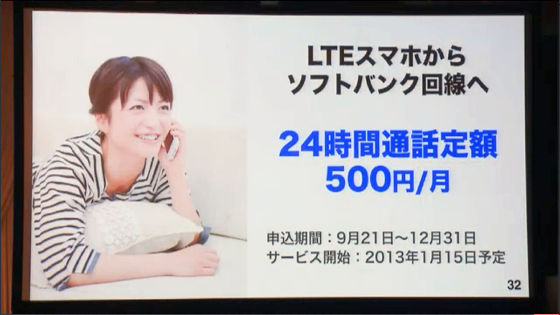 Grandchild
Regarding price, "LTE smartphone BB discount" by wanting further expansion of discount. Customers who are in the White BB will have a further 3980 yen. It is the same program as KDDI's value set.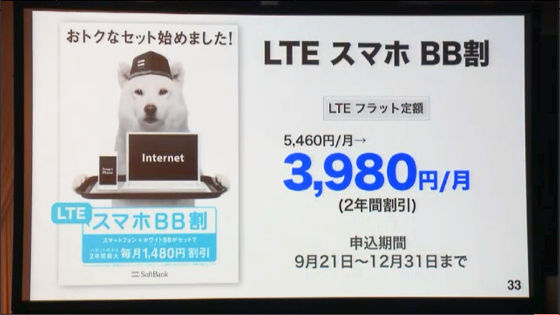 LTE Sumaho Family Discount Campaign. The unlimited packet flat fee is ¥ 1980 per month, and applications are from September 21 to November 30.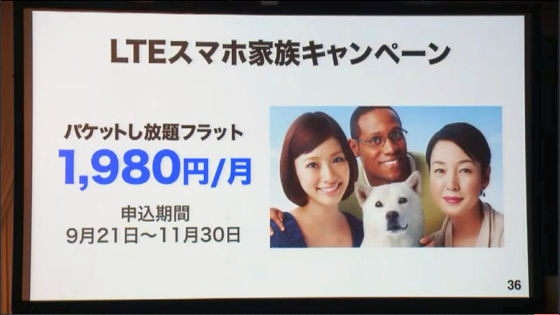 This is applied when the family changes the model of the smartphone that the user himself is using now to LTE smartphone, and the family uses the smartphone before change.



The trade-in program was announced along with the launch of iPhone 5, but the opinion that I want you to raise trade-in price, "I want you to trade in 3G and 3GS" was given to President Son at that time.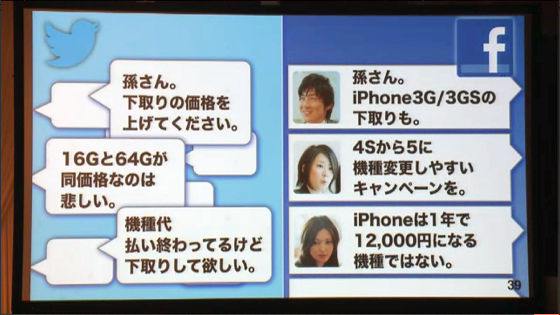 In response to this, "Let 's strengthen the trade - in of the smartphone."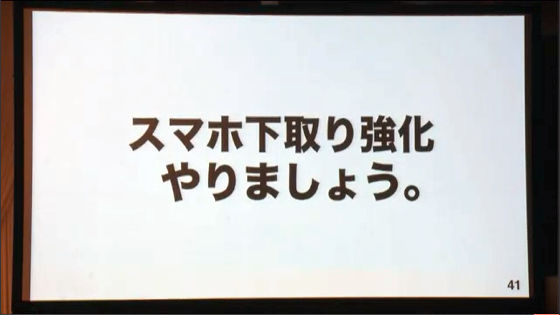 Enhance smartphone trade-in for LTE smartphone subscribers from September 21.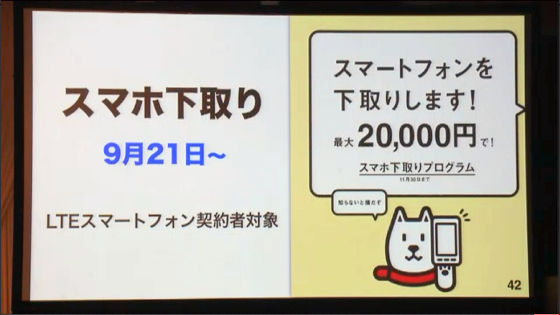 The schedule of this kind of commercial will flow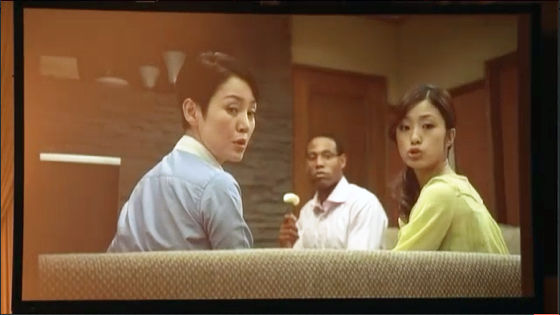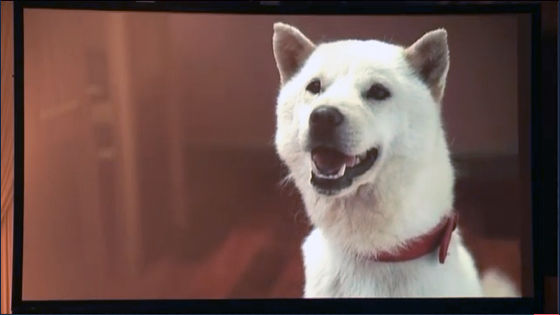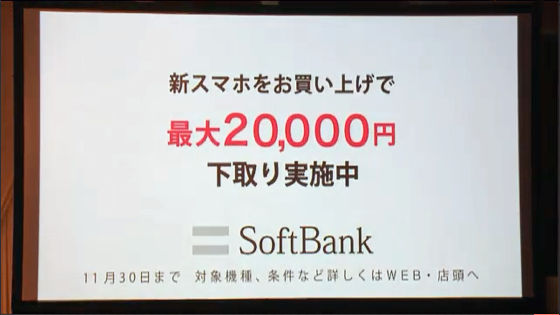 Trade-in list. In addition to being raised in price than originally announced, iPhone 3GS, iPhone 3G, Android smartphone made by HTC, and Android smartphone made by Dell are subject to trade-in.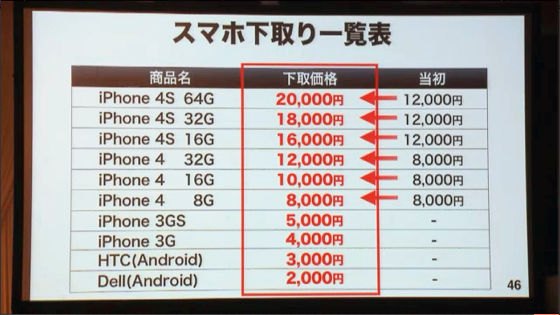 Because trade-in also exists, the monthly fee is real and it is considerably cheap.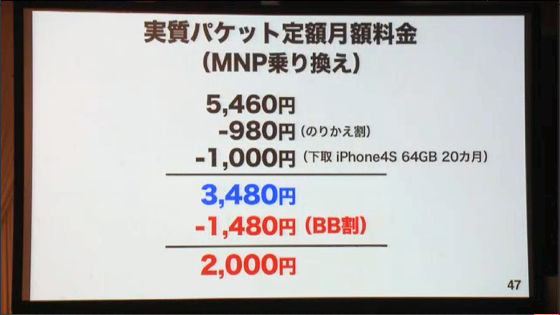 Since there was an opinion that "only people on the transfer are preferential, users from the past do not get", so that the fee will be cheaper when changing models.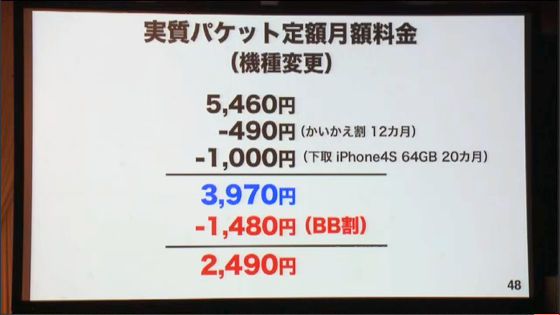 President grandson who shows confidence in measures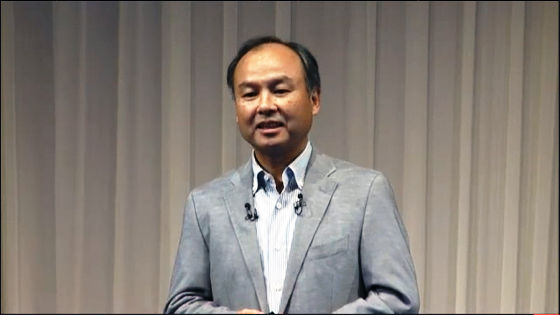 Packet flat-rate monthly fee looks like this for each type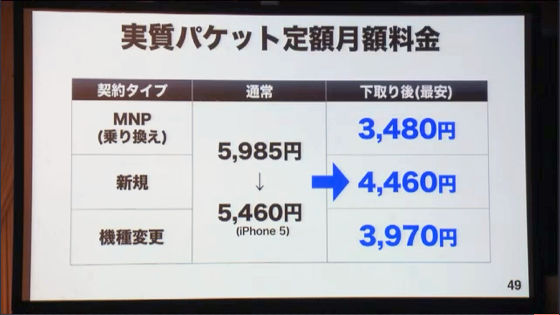 In summary "fast" "cheap" "wide"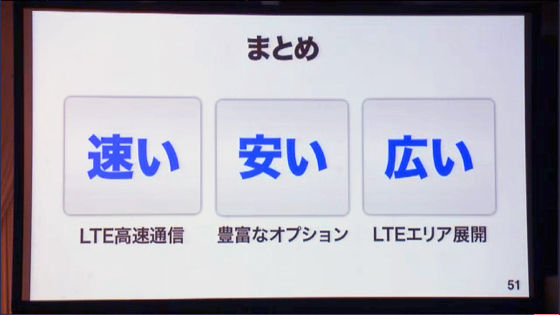 The following is a question and answer.

Freelance Kamio:
I remember that there was no tethering item in the SoftBank version of iPhone 5, but when is the update done?

Grandchild
Service in is January 15 next year.

Kamio:
Will it be updated so far?

Grandchild
Yes

Freelance Ishino:
When talking with Miyagawa CEO before, "Tethering is tough" was a story, but what was the reason why you were able to ban it? Also, why will it be carried out after a span of three months?

Grandchild
As a basic idea I have managed to "beat the network". From the latter half of last year to this year, there are present conditions that other companies caused nationwide network problems 10 times and received administrative guidance, but SoftBank has never experienced a national network problem. There are ten or more times other companies have failed, but the biggest reason for this is the sudden increase in network traffic caused by smartphones. SoftBank has done traffic management with extreme caution. There is also a thing that has made judgment carefully about tethering. However, this time iPhone comes with LTE, LTE is about 3 times better data traffic performance. Even if you use the same radio waves in the same base station, you have the capacity of about 3 times more traffic flowing. With the spread of iPhone 5, you can offload (reduce load) to iPhone traffic centered on iPhone, which was used at 2.1 GHz. It is quite possible to make LTE's surface development a certain number in about three months. More than 10,000 LTE base stations are licensed, and will be completed next spring. Because KDDI is less than half of it, soft bank is 2.4 times. It is assumed that data traffic can be offloaded there. If it is possible, consideration was given to whether the service can be realized without inconveniencing general users even if tethering is possible. Both LTE itself and KDDI, communication is rattling. This is because there are few terminals. When the number of LTE base stations is small, a new enormous number of packets generated by tethering overflows to 3 G users. If it is too much, it is assumed that more crowded roads get crowded, so we have judged carefully against LTE.

As our thought, if we should not bring out the nationwide disability easily so as not to disturb the 3G network users, do not take administrative guidance once from the Ministry of Internal Affairs and give them pride There. Is not it more responsible network management to start after the surface development becomes possible? Maybe it seems like a late janken, in fact, it is Janken afterwards. However, I have to do it carefully. This is responsible adult network management.

Freelance Ishikawa:
The start of tethering is January 15 next year, but is the option application limited until December 31?

Grandchild
We are doing the same thing because other companies are also doing the campaign of canceling applications until December 31 and freeing 525 yen of tethering to be free.

Ishikawa:
Will another company follow you if it extends?

Grandchild
That's it

Nihon Keizai Shimbun Kaneko:
Third-party LTE has published 37.5 Mbps area and 75 Mbps area, but in SoftBank, is such a public announcement?

Grandchild
Yes. (Yes)

TV Asahi Shibata:
It has nothing to do with iPhone 5, but with government's energy and environmental policyVirtually zero nuclear policy is virtually censored by the Cabinet decision. A view on this.

Grandchild
That is not a big deal. I think that it is what the people desire to carefully examine policies.

Freelance Mikami:
Notation that is not an iPhone 5 in the form of "LTE smartphone fixed amount", but will it apply if LTE smartphones come out elsewhere?

Grandchild
Yes. Let's do it.

(Questioner unknown):
Is there a goal that it is to stop the countermeasures of other companies in the same industry or make it impossible to compete with the previous announcement? Also, if another company takes countermeasures before the launch, is there a competition against it?

Grandchild
It is SoftBank with anything. It can be anything.

TV Tokyo Fukao:
Did not you judge implementation of tethering as of September 13? Or did you decide to do it from January 15 at that time but did not announce it?

Grandchild
I have been considering it since last year. I could not say how carelessly we were discussing what kind of circumstances we were considering, but we have decided to make base stations rapidly, and if we have done enough it may be possible to ban tethering I was waiting for the release of the iPhone 5 (to complete the base station) with the thought that it is real situation.

Fukao:
Did not you make a decision yet on September 13?

Grandchild
I agree

Weekly diamond Kojima:
Service price is higher than KDDI in price increase, higher than docomo, is it considering the profit of 2016?

Grandchild
Although the LTE price is set for each company, what is important to us is "fixed price", but what is the price the user ultimately pays? Speaking of the price we pay attention to saying that we are cheapest. To put it this way, it is 1000 yen cheaper because there are trade-ins, etc. in comparison with KDDI's iPhone 5 in terms of transfer discounts.

(Questioner unknown):
In the part of the real packet charge, the new was the highest, but in the place of saying "Mobile broadband to as many people as possible", I think that this is an enclosure measure rather than a new delivery.

Grandchild
It is true if all are the same price, but at least it is cheaper than newcomers at least for other companies. It means that we are particular about cheapness. It is "cheap" "speed" "breadth", I would like to understand simply. . Also, if it is said that "smartphone LTE family" is 1980 yen, it is cheaper. Because it is not another company.

Nihon Keizai Shimbun Onishi:
Regarding various price cuts,ARPUI think that it is a requirement to lower profits by lowering profits.

Grandchild
All profit increase already professed has been incorporated in price as well. It's okay.

Onishi:
How will you cover downwards?

Grandchild
Because more users will be added. It can be done by shifting from a conventional terminal to a smartphone or reducing terminal cost or over 700 billion over a variety of total factors.

Freelance Sano:
About trade in. There are also iPhone 3G and smartphones made by HTC, but are not subject to Sharp etc? Also, how do you use trade-in?

Grandchild
Global terminal is the feature of trade-in this time. That is the hint of the answer. In flat terms, even in second-hand smartphones, I would like to thank you for using it wonderfully outside of Japan. In Africa and Latin America and the like, the iPhone will be around 600 dollars to 700 dollars in terms of worldwide price. When buying it it means that it is higher than monthly salary. Then you can not buy it. But I want to use the iPhone. Even iPhone 4 and 3GS are also appreciated if you look at people from those countries like 3G. I also use scarce resources, so if people can experience the wonderfulness of the mobile Internet rather than merely making it a garbage mountain, is not it better to utilize it? I made such a mechanism.

Trade-in of second-hand goods is also done in part of Akihabara, but if the quantity is 5 or 100, it will be judged as it is, but do not assess the characteristics of this program each time. It is uniform if it is 4S. There is no scratches by antique shop handling, there is no cable, because there is no manual, it is no good, since there is no box, 1000 yen will be subtracted, that is not the case. The power supply is turned on, the glass is not cracked, just that, if it is proper, no assessment is done at all. Buy it for as long as 20,000 yen or 12,000 yen. Moreover, it is hundreds of thousands, in some cases it is in units of millions. Nationwide this program nationwide at SB shops and mass merchandisers, nationwide in a casual way. Japan's largest trade-in program is realized. Moreover, CM will flow on nationwide TV, I think that it will be the biggest program in history of Japan. It was that prepared preparedness and size and logistics.

Nihon Keizai Shimbun Kawakami:
About the price. As Friday, it was 5460 yen per month and it was the same as KDDI strangely. What kind of opinion did you frankly have? Today, KDDI is superior to KDDI in terms of communication, and has launched a new campaign, is that KDDI as strong as a rival?

Grandchild
Of course, all competitors are highly appreciated. Comrades of the information revolution, a respectable rival that shares the same 'information revolution' ambition, this is the same not only for KDDI but also for docomo and e-mobile. Because we do things by thinking overnight in order to compete, the principle of competition in capital society is wonderful.

(Questioner unknown):
What did you do specifically on the fact that national scale disability has not occurred? Do you notice the situation of other companies as seen from Mr. Sun, that this is an issue?

Grandchild
We began handling the iPhone in Japan as soon as possible. As a result, efforts on smartphones are the fastest. As a side effect a huge amount of data traffic got into our network. An average of 10 times to 20 times more traffic per unit than conventional folding terminals. Today is 20 times. When 20 times more traffic is received per user, network management and network capacity until then will overflow everywhere. We were fortunate to have experienced a sudden increase in smaho data as soon as possible, so we reconsidered thoroughly in the nationwide network, multiplexed everything, increased the capacity of everything by 10 times and 20 times, and improved to a cascade. So I think that it has been a pioneering thoroughly about 4 years ago so as not to cause a nationwide scale disturbance, so in the past one or two years I did not cause a disorder even once.

Reuters: Murai:
About the reservation situation of iPhone 5, it was a story that it is overwhelming quantity, but I do not ask for concrete figures, but have we secured sufficient amount to be sufficiently distributed at the time of release on the 21st? Or are reservations too late with lots?

Grandchild
Compared with the previous iPhone, the amount of initial arrival from Apple has become much bigger. However, the biggest booking ever exceeding that is coming at once. So, the first arrival is already sold out by reservation, sold out state. The first arrival is already sold out by people who have already made reservations. After that, there is a stock again one after another. The situation of the arrival speed and the number of reservations.

Murai:
When can I get around those who booked after selling out?

Grandchild
I do not know.

Murai:
Are you late for October?

Grandchild
Depending on the number of arrivals and the number of additional reservations. There is no doubt that it is out of stock worldwide.

Murai:
Some people do not get it on September 21?

Grandchild
That's right.

Toyo economy:
Regarding the terminal strategy, although smartphones could be centered on iPhone, it is said that they will also distribute music and movies at a joint venture with Avex the other day. Will it stay at the center of the iPhone or make it diverse?

Grandchild
Various types of LTE terminals will come out in the future. A new product release will be coming soon, and LTE Sumaho comes out one after another as a matter of course. Among them, as myself and SoftBank, it is also fact that iPhone 5 is impressed that it is one of the best products.

Toyo economy:
Specifically, are you thinking about the change after starting LTE service?

Grandchild
I do not know until I try it

MM Research Institute:
When using the tethering option, how much more than the 7 GB limit is handled? Are there trade-in items used for domestic use?

Grandchild
I do not consider using trade-in items for second hand in the domestic market. The data is completely erased so that the user can check at the shop at the time of receipt. With cleanup and insurance, we are thinking mainly about directions to use overseas rather than domestic, so that newly used people can use it comfortably. If there are many requests to utilize trade-in second-hand goods in the domestic market, there is no possibility of starting in a form that can be distinguished clearly. I am thinking about reusing overseas mostly, as much as I do this volume at once.

About 7GB excess, it is the same rule as other companies.

Tachibana Securities Ishii:
On the influence of tethering on the iPad. Although it can be thought that iPad dedicated to Wi - Fi drastically sells when lifting tethering, at SoftBank shop, it is sold at the center of iPad with a line. Do you think that change of selling method is necessary? Also, is there a merit to selling Wi-Fi only iPad?

Grandchild
The fact that users use information revolution equipment is recognizing that the market is expanding. There is also a possibility that the iPad dedicated to Wi - Fi will be on sale in the future. It is taken into consideration.