Softbank schedule tethering on December 15, 2012 & Speed ​​limit to other company level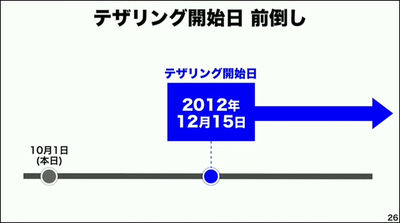 SOFTBANK MOBILE announced that eAccess and management integration will increase the number of base stations to 30 thousand stations and accompanying it will bring the schedule of tethering ahead of schedule.

About changing the offering start date of "tethering option" | SOFTBANK MOBILE Corp.
http://www.softbankmobile.co.jp/ja/news/press/2012/20121001_01/

Previously on January 15, 2013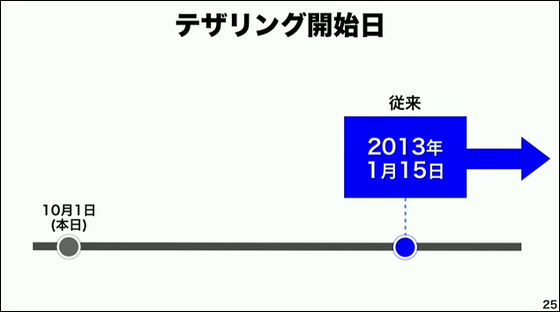 That will be on December 15th 2012.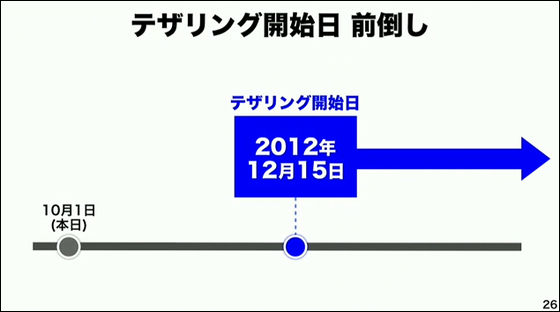 Also, it seems that the speed limit will be the same level as other companies.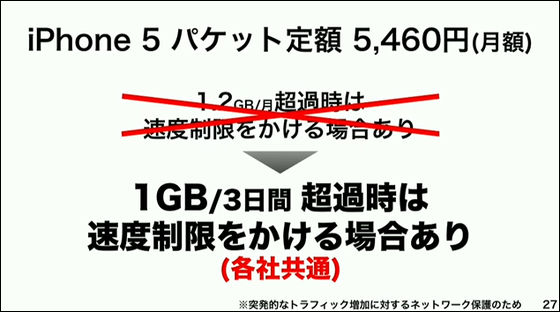 Today the speed limit will be common level for each company.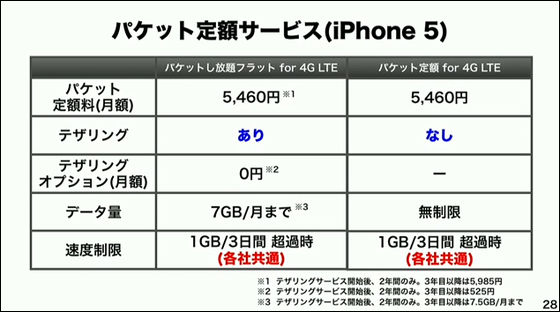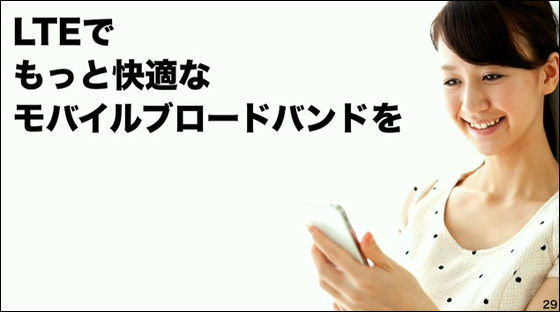 About management integration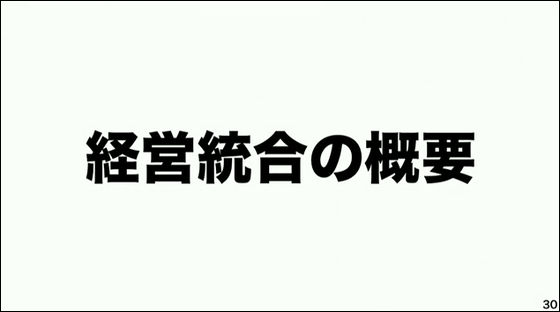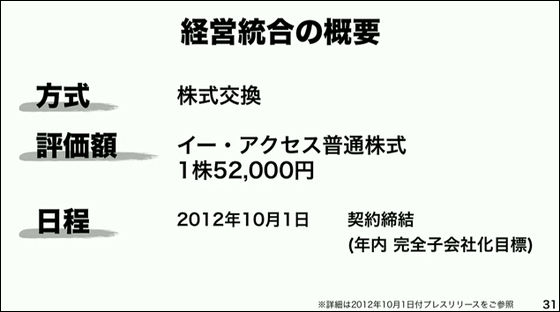 I am saying that I am aware that this amount is "not too much". There is synergy effect on SOFTBANK. It seems that from the viewpoint of SOFTBANK shareholders it is considered not a bad management integration.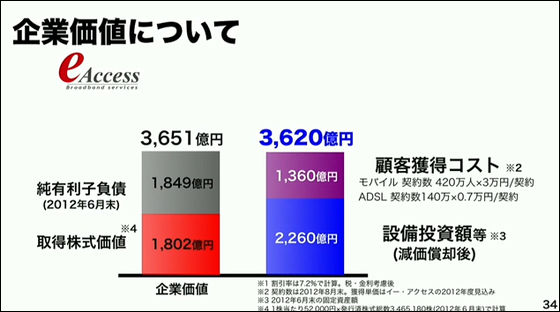 And this breaks down the assumed amount of management integration



Moreover, it seems to leave the "e-Mobile" brand and go with Softbank Mobile and EM Mobile "double engine".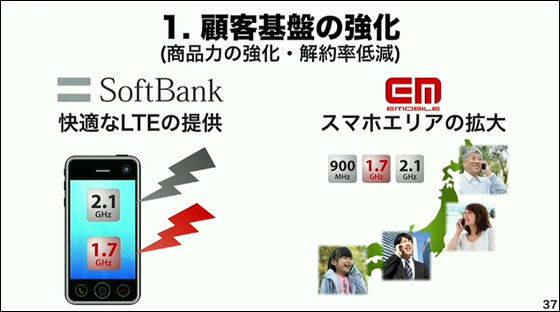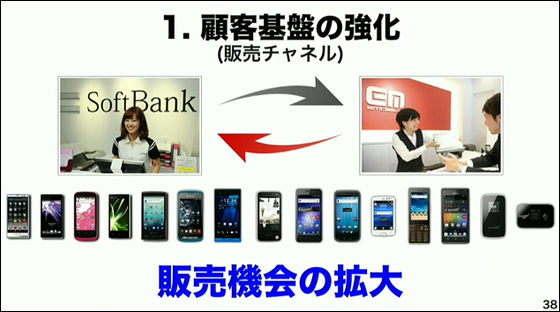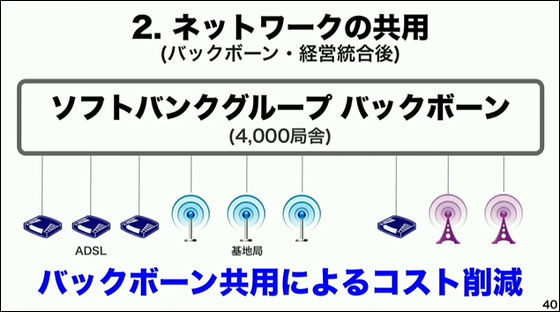 The base station also uses the same manufacturer eAccess and SOFTBANK MOBILE, so capital investment can be suppressed.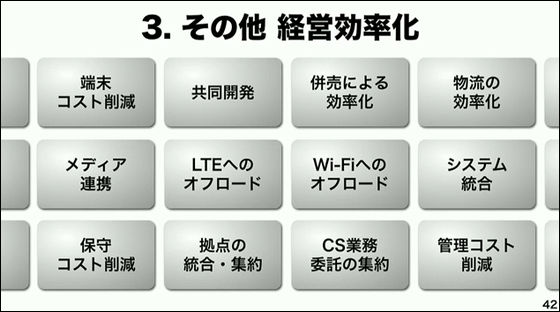 And "4 + 3 = 2", what is this, and.



It was like this until now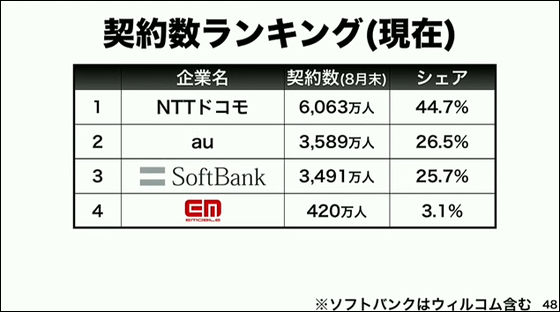 But with business integration ......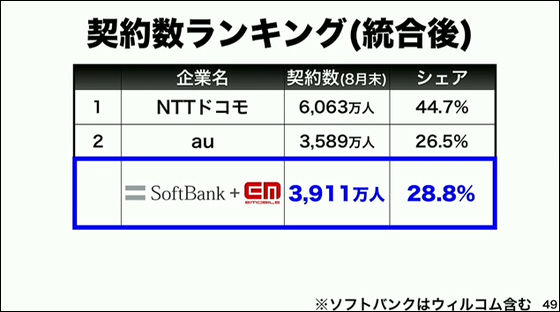 To second place. So "4 + 3 = 2". Mr. Son Masayoshi says, "I am third-ranked as hell!"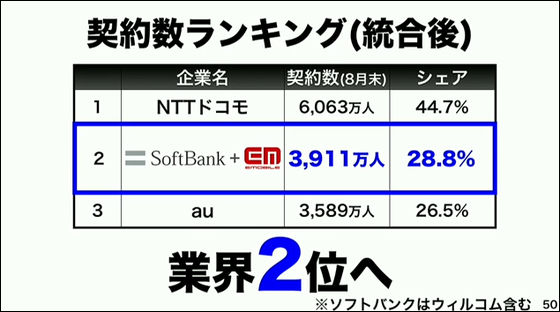 The cumulative number of contracts was like this until now ... ...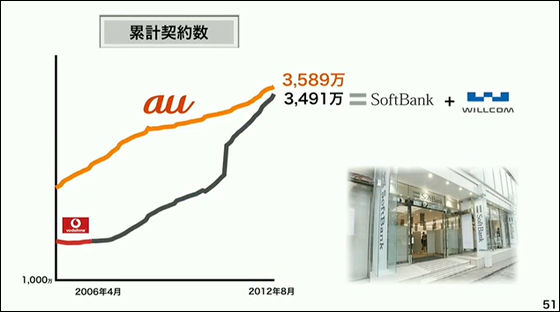 Finally to reverse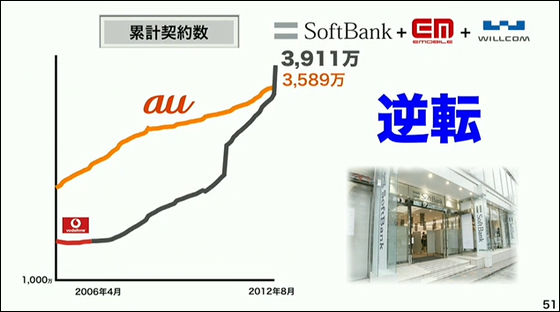 As of 2010, 27.25 million lines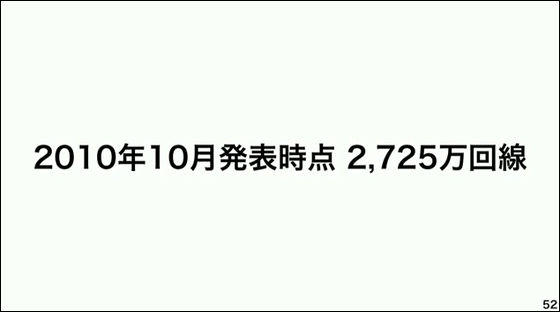 40 million line concept



To achieve in the current fiscal year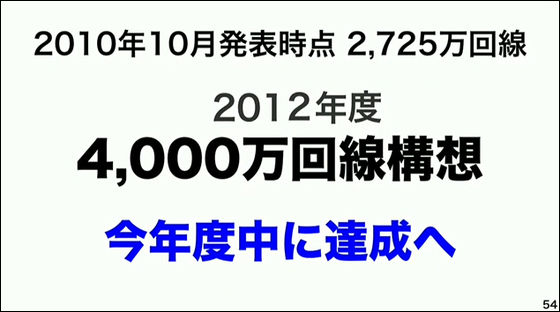 LTE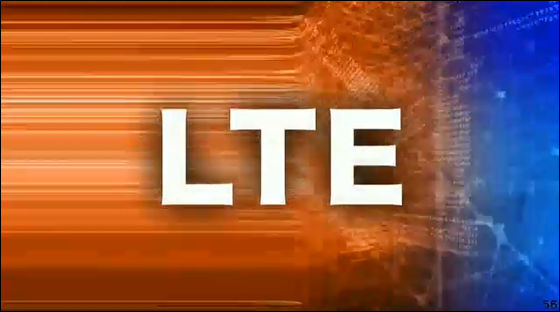 Both companies are pioneering broadband in Japan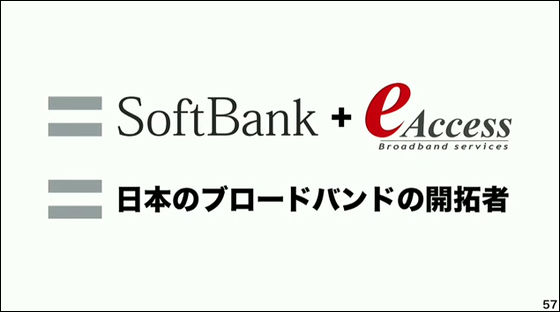 Broadband fixed broadband development, mobile broadband development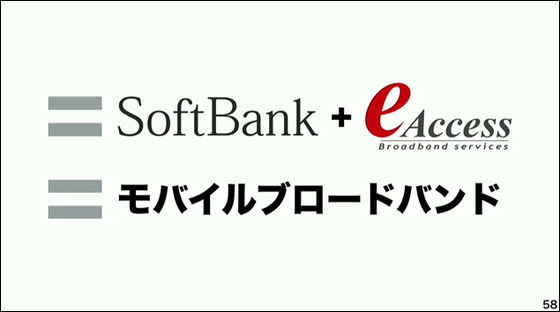 And to number one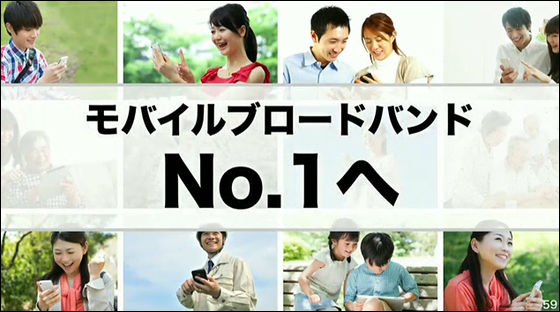 As the last shark, Mr. Masayoshi Son is saying that "comrades who share their wills will induce and become true comrades."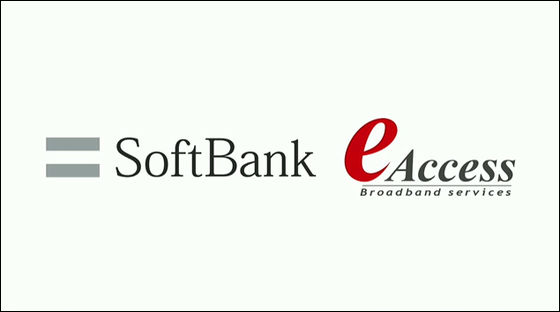 Hint



Representative director of e · Access, Chisako Senma (Senmo Sachio) appeared.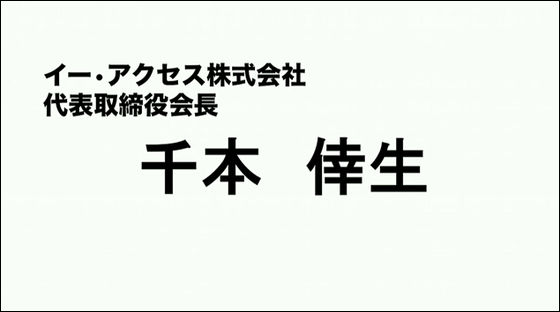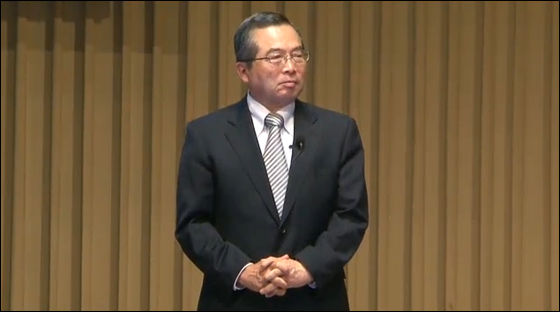 So far, SOFTBANK MOBILE has been competing while being the most important customer for eAccess. And as for future growth of e · access, several options got suggested enthusiasm from ant, Masayoshi Son, there were proposals from each company, but after many thought, DNA is most similar It is common not only to organize companies but to take risks from scratch from zero and to challenge with will and to further tethering 1.7 GHz LTE and iPhone 5, which is the world's best, if they match It seems that it is concluded that we will create much higher value than we grow by our own power alone.

At the afternoon's emergency board meeting today, "This is the best choice", signing in the afternoon and announcing it at once.

With this, e · Access becomes a subsidiary of SOFTBANK MOBILE, and I want to thoroughly advance the way of Japan's revolution. I would like to share my dreams and work hard with the aim of becoming the number one position as a member of the SOFTBANK Group.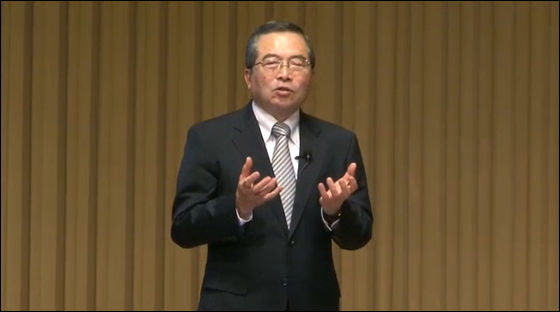 ◆ Q & A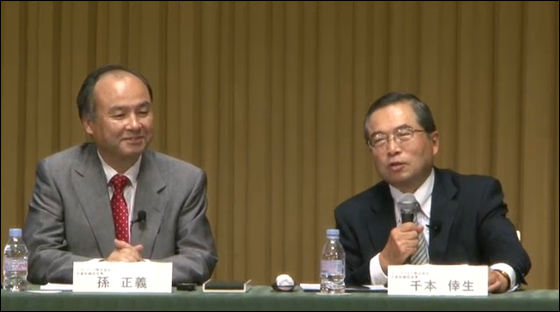 · Freelance Ishino:
New eAccess should have had at 700 MHz, but how to use it in the future, about having 700 and 900 by management integration

· SoftBank Mobile Son Sojon:
With this, Japanese carriers are organized into three, and 800 MHz has a width of 15 × 2. SOFTBANK MOBILE has to do the rest of the 10 MHz as a ground wave of radio waves and take over from where we have been using, but we only have 5. At 900 MHz 5. DoCoMo and KDDI have 10 mega each, SOFTBANK and eMobile come together and finally it is a bit less than Equal Footing. Keep it only 5, I think that it is not fair from the perspective of impartiality to give up on eMobile's 10.

· Yasui at NHK:
Although the integration of this time and the improvement of the situation of LTE are major themes, again the main purpose of the integration of this time, when was LIT thinking about LTE's idea, when did you recommend it? Another point, I think that it could be realized without management integration, but what are you thinking about daringly making management integration? For e-Access President, there is also integration with conventional business and what to do in the future.

· SoftBank Mobile Son Sojon:
As a matter of course, LTE had prepared for 3 years, 4 years ago. I did not talk silently but announced what I have prepared so far in conjunction with the iPhone 5 debut. Up to now it is very big that 1.7 GHz LTE can be created, the feeling of working with our group has grown. It is now that I thought that LTE will flower in the future. Although we can do business collaboration in the future, we can not provide a comfortable data communication network to users without doing deeper integration, in order to do that it is necessary for users to have trust to the root of corporate management It is this kind of form that we can provide good service for you.

· E · access thousands of books:
When discussing discussions and discussing synergy effects in various ways, the sense of speed was quite compatible with e · access. That is really going on like this with a sports car. I do various discussions, elucidate the doubt and reach an agreement. The reason why the deal between SOFTBANK and our company was successful. LTE will probably grow into a huge market in the future probably due to network integration. At that time we can have you think that the network we have is the combination that we can best fit the tethering requested by Mr. Sun and offer the total synergy effect with the maximum value.

· TV Tokyo:
Can iPhone 5 be released as e · access? For Son Son, although it was said that au is advantageous immediately after the appearance of iPhone 5, is it due to iPhone 5 competition? What about iphone 5, which changes corporate integration?

· E · access thousands of books:
There is still a problem for e-access to sell iPhone 5. I think that handling with SOFTBANK using an agency or the like is a very likely solution.

· SoftBank Mobile Son Sojon:
Whether iPhone 5 had a major influence on management integration is "Jesus", in other words it is such thing. I had a thought that I wanted to be a deep management relationship though I had been respected and respected from a long time but I got hungry at that moment when I said "Try it!" About tethering. I will consider it the night before, it is the next day. In the press conference and on that day on the spot, if it does not make a stance that even if it receives structural structurally tethering by eAccess and management integration, it is impossible to be able to defeat the network with only motivation It was. The final trigger is there.

· TV Tokyo:
Has the existence of iPhone 5's terminal been big?

· SoftBank Mobile Son Sojon:
Yes

· Nikkei:
(Against Son Masayoshi) Are there any further measures to recall the users flowing from Softbank to au? (About e · access) Once it has resolved the alliance, what is the background to the present?

· SoftBank Mobile Son Sojon:
There is a long and healthy competition that must be done, but there are things in particular that iPhone 5, especially the tethering problem came behind the scenes, but that there is no stance to receive it if we increase the network traffic So. Since it became possible to do it all at once with this agreement, I would like to continue implementing policies from next to next by being able to do better service and being aggressive Softbank. Details are about to come.

· E · access thousands of books:
I tried to eliminate but iPhone 5 came out as a serious weapon, want to make a 1.7 GHz band soundly, about tethering from the time of Pocketphi and if you can synergize with Softbank now I thought when the timing will maximize our corporate value.

· Nikkei:
What about KDDI base stations?

· SoftBank Mobile Son Sojon:
Since KDDI is also a fine company, it should be doing fine. It is not something to say from outside.

· Nikkei:
About the platinum band What is the evacuation schedule at 1.7 GHz and 900 MHz? Will the rest of 900 MHz be used in LTE in the future?

· SoftBank Mobile Son Sojon:
The platinum band has shifted to this, and it is launching into a cascading nation across the country. Speaking at such a short period of time in the common sense of the world is an amazing speed. Manufacturers providing equipment around the world say that the speed of construction rush is unparalleled in the world and does not see examples. According to that, simultaneous parallel LTE, e-mobile LTE, Japan is a base station construction rush, base station construction bubble, Japan is in a bad economy and employment is insufficient, as long as there are people, orders can be increased The state. For 900 MHz, since only 5 MHz width can be used, it will spread to 5 MHz, 10 MHz in the area where radio waves will arrive first, with priority given to voice, then naturally they will be treated as LTE.

· E · access thousands of books:
Europe has been in a bad economy, LTE in America is not good, China is not good, and Japan is the best in the world with LTE growing at its highest. I think that we and Mr. Sun will further accelerate such competition and become one of the big driving force.

· Q:
In the presentation, there was a month ahead of tethering, but the early December is using eMobile and how is SOFTBANK MOBILE? How will it affect business alliance with Rakuten?

· SoftBank Mobile Son Sojon:
Tethering is based on 2.1 GHz LTE but the tethering starts from December 15th. From when 1.7 GHz of eMobile can be done depends on when to make CSfallback possible. There is a tradeoff between the eMobile side and the Softbank Mobile side and the procedure that we need to put a 1.7 GHz file in our handling to Apple. Since we have not entered Apple about the management integration of both companies to date, we have to shorten it from now. Probably next spring, as soon as possible both base station manufacturers, Apple, our technology, so we will start talking about now.

· Q:
Will iPhone 5 users need something to download?

· SoftBank Mobile Son Sojon:
It will be later on how to do it with stuff with Apple

· E · access thousands of books:
The relationship with Rakuten, I talked with Mr. Mikitani, but I will not change from now on. Rakuten is better because the area becomes wider. I would like to bring the relationship with other partners to a better situation by maintaining the current status.

· Nikkei Newspaper Oonishi:
We have reduced ordinary interest-bearing debt at a rapid pace but I would like you to tell me why you chose the share exchange with the financial strategy. What is the goodwill cost of this stock exchange and how long will it be amortized?

· SoftBank Mobile Son Sojon:
For liabilities we will convert to aim for zero for the time being, but because we have agreed that mutual share exchange is the best this time so that debt will not increase. Of course, eMobile's debt is consolidated to Softbank. Total debt will increase temporarily, but from the viewpoint of free cash flow it is sound enough. As for goodwill, we do not have any relationship with the accounting divisions of both companies and we plan to continue from now on.

· Freelance hidaka:
Although it seems to have estimated the cost of acquiring 40 million people, I think that it is easy to leak out as compared with the user who is a broadband specialized user and mainly has voice calls, but how are you seeing it? As for existing e-mobile users, most users dedicated to data communication, are there benefits for e-mobile users now?

· SoftBank Mobile Son Sojon:
It seems that data communication users only have data communication, so it is not such things, and e-mobile users are advanced users. Among them, I think that the ratio of not using eMobile's smartphone but using other companies' smartphones is quite high. That customer is the attribute most suited for smartphone users, it is easy to offer various bundle packages that add me to the wilderness even if it is not a user of Soi Bank, Ali, it is easy to offer value packs etc. where I have a charge. Although it is worth it actually, although it sees the acquisition cost per user at least as low as 30,000 yen, there is a business opportunity there, and its value is high. I am highly appreciate because I understand that the churn rate is also doing good grades. It is easy for current e-mobile users and Softbank's iPhone and other services. There are many companies contracting for two years or another, and there are many contracts for two years globally, not a strange service of Softbank.

· Tsuda of mobile phone watch:
It is said that sharing the base station network is shared, is it the same maker, did you see the future things, happened by chance? It is said to leave the name of e-mobile, but what about switching services with SOFTBANK?

· SoftBank Mobile Son Sojon:
Coincidentally, the base station happens to be. Going on the condition that the best in the world and the price performance is leading edge is the same as the result, and there is eyes to see each other. Regarding brands, WILLCOM got net surplus due to a net decrease, making it a surplus with a record 5 million ever. I like the WILLCOM brand and I like the service there and I have many users who appreciate it so much. Likewise, I would like to respect the users who love eMobile's brands and are highly appreciated and looking forward to seeing various services and products.

· Nikkei Kaneko:
Was it not sold unless it was 50,000 yen? Or is it an understanding that you have been evaluated higher than your ability? Another point is that the stronger one of you can enter under the grandchild and can do as before. Hire me there.

· E · access thousands of books:
Originally we were dissatisfied with our latest stock price. It was 70,000, 80,000 about two years ago, but it was about 12,000 yen. I wonder if this stock exchange was given a solution to our shareholders. Well, 15,000 yen is a reasonable price. I do not know how to live within the SOFTBANK Group after management integration. When I look at my grandson, I always keep in mind what I say to see WILLCOM and others. Even if you are listening to employee feedback. We are putting in a contract that one employee wishes to ask a single grandfather so that our employees can enter the SOFTBANK Group and have an exciting life.

· Nikkei Communication:
About 1.7 GHz, eMobile operates a maximum of 10 MTE LTE system, but I think that it became easier to migrate to SoftBank to 15 MHz, but will the schedule become faster? Will the SOFTBANK Group aim for additional 5 MHz addition by the Ministry of Internal Affairs and Communications? Softbank's main frequency is 1.7 GHz?

· SoftBank Mobile Son Sojon:
We will promote a lot of LTE as soon as possible. How many times has the word LTE came out? It can be said that the first year of LTE is not a conference that was used so much. I think that the first year that LTE will enter the smartphone in earnest and will be utilized extensively. I am thinking to spread it as much as possible.

· E · access thousands of books:
I strongly want to acquire the remaining slots by all means.

· Weekly Diamond:
E · Access issued a capital investment plan for 700 MHz, but what is the change point? How much Softbank has found its value on the new frequency?

· SoftBank Mobile Son Sojon:
Since it is business integration to the last, I am doing it with permission as e · access, it is integrated with us, it will be used more and more people, I think it is a good thing. It is never a healthy competition if 700 MHz is only KDDI and docomo that we are doing sound competition for LTE like this time. It is impossible to think that it will decrease even if there is a thing saying that it becomes bigger and becomes earlier by management integration. You can understand that it will be expanded even more positively in a nice sense.

· Weekly Diamond:
How much is it in synergy?

· SoftBank Mobile Son Sojon:
Although it is not included as an amount, it is not paid to 700 MHz by the amount, but by maximizing it by utilizing it in equal footing, employment is increased and all efforts are made to make LTE life more comfortable for the user I want to do it.
in Mobile, Posted by darkhorse