I tried staying at a tropical-style guesthouse "Lohas Villa" facing Naha's "International Street" 3500 yen per night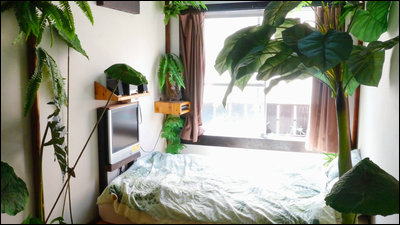 A low-priced and tropical atmosphere can be experienced in the guest house in Naha City, Okinawa Prefecture "Lohas Villa". In a room with a southern countryish atmosphere singing a full-fledged Asian resort, the price is 3500 yen per night (4000 yen from August 15 to September 13, 2012 from July 13 to 15, from August 10 to 14 4,500 yen for September 14th - 16th from September 14th), and it is located in the place facing the main street of Naha City "International Street". I decided to stay and actually check what kind of room it is.

Okinawa Guesthouse "Lohas Villa"

Places are souvenir shops, Okinawa restaurants, department stores and other elegant "International streetIn the place facing ","Okinawa prefecture Naha-shi Makishi 2 - chome 1-6 Blessesville 3F"is.

View Larger Map

It is in the 3rd floor of Blessed Building which is reflected in the following picture.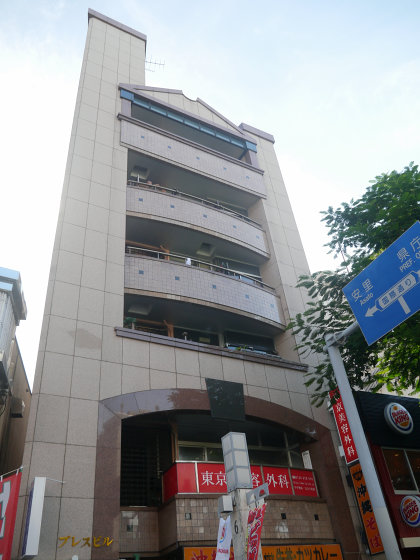 Since the guide of "Lohas villa" also comes out to 1F of the building, it was found immediately.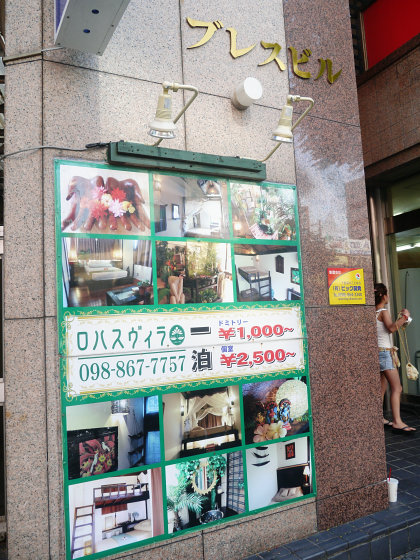 Then we head for 3F with elevator.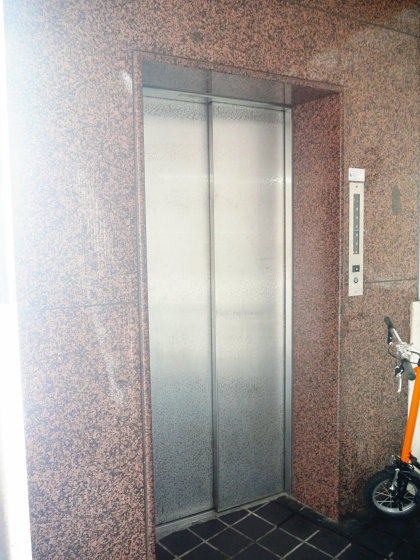 This elevator has a free Wi-Fi password (left of the photo below), so check it.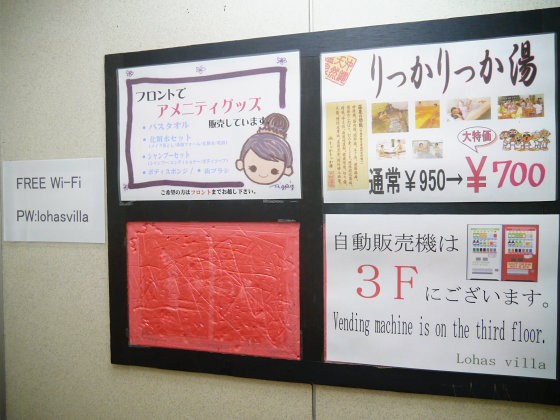 When you arrive at 3F and you open the door, giraffe will meet you.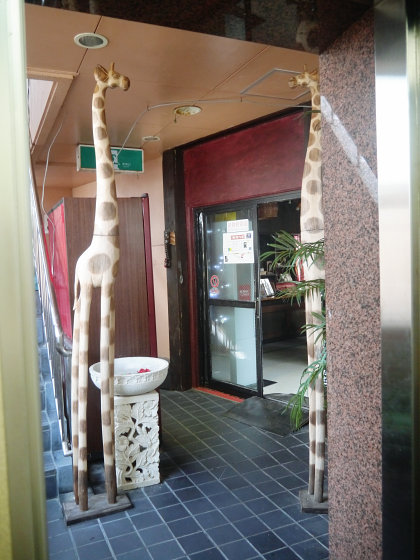 I arrived at a room with a counter where the plants of the house are decorated a lot and the atmosphere of the southern country is felt.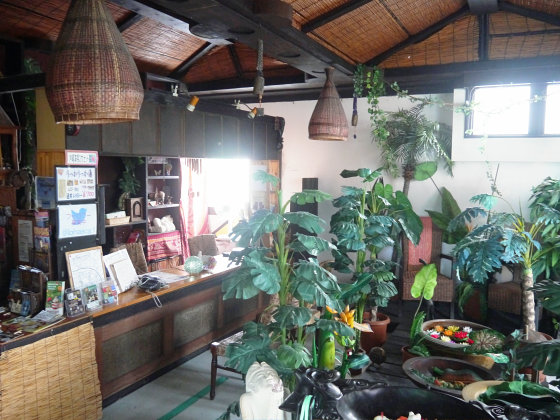 The following is a picture of the counter.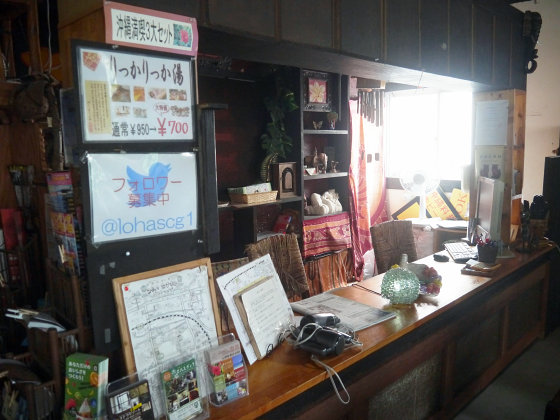 After completing the procedure and receiving the key, I will read the "guide inside the building" firmly first. Please note that after 22 o'clock, people at the counter will cease to be checked in.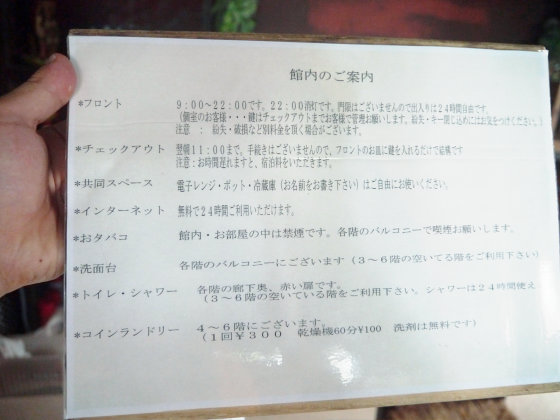 ◆ First Room

I shot the state of the room with a movie, so please check first with crispy. I arrived at the room in the evening, the lighting was good and it was soft, so that I could enjoy the atmosphere.

I took a picture of the room of Okinawa's guest house "Lohas Villa" - YouTube


The surroundings of the bed are full of ornamental plants,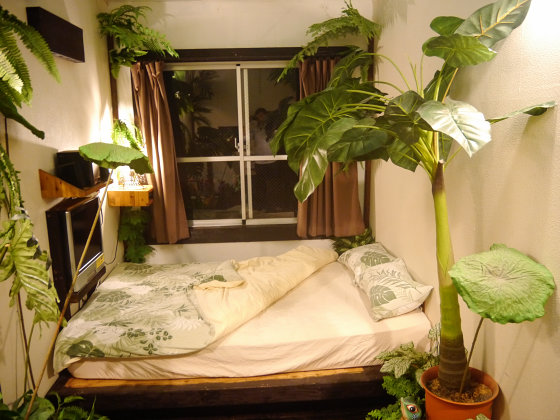 There were two pillows available. It is enough for sleeping slowly because it is so to the skin that it is touched, but it is the size that can manage to sleep by two people somehow.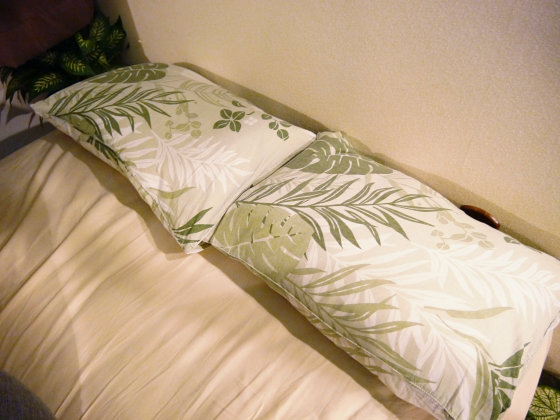 Television is installed on the wall, so that you can watch TV while lying down.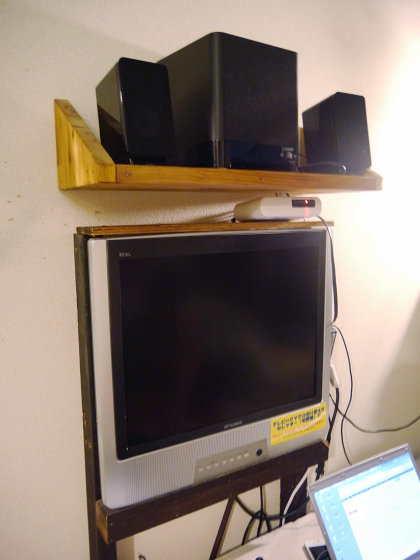 Outlet is set next to television.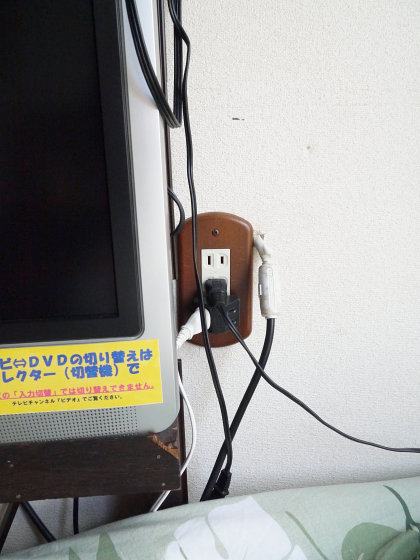 There is a DVD player next to the TV.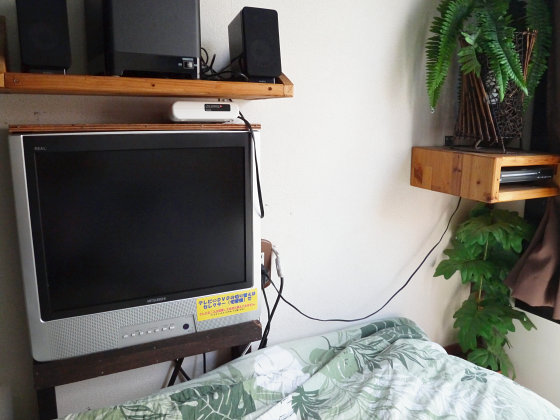 The desk looks like this.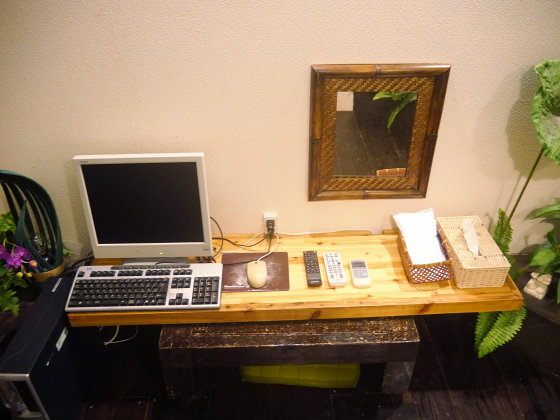 There are two desks, it is possible to extend the work space by pulling out a small desk.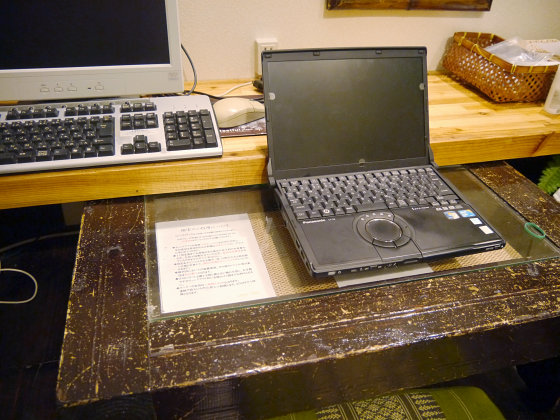 If you work with a laptop computer you can secure enough space.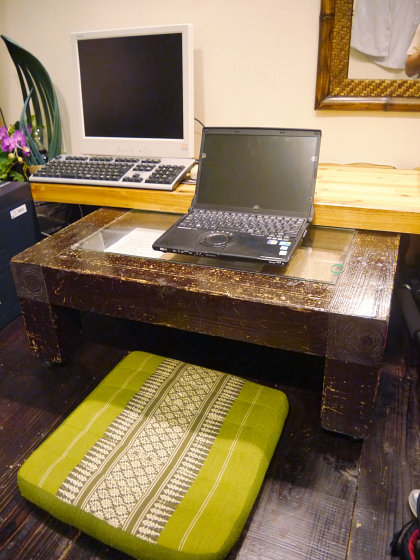 There are two outlets, but it is used in the main body of the personal computer and the display, so please use it by removing if necessary.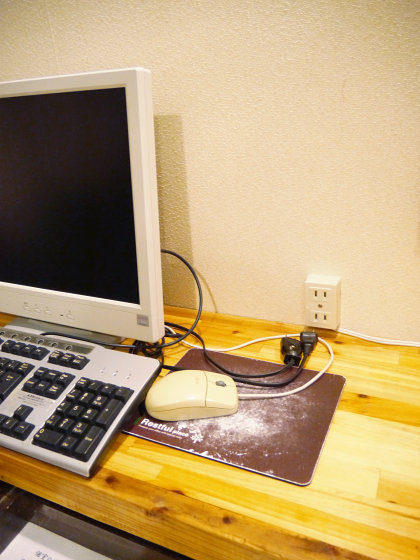 Amenity is here. It is a set of towels and toothbrushes.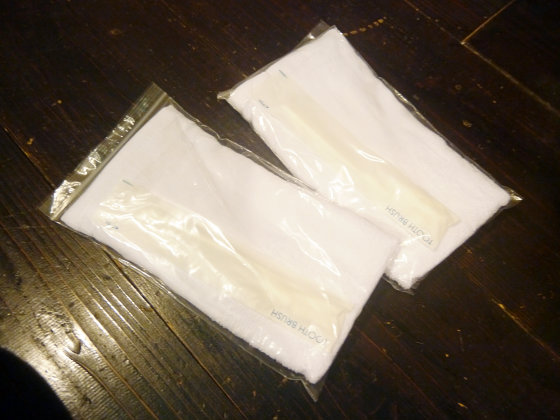 The toothbrush is rather hard and hair is easy to get out, so let's prepare things that match yourself.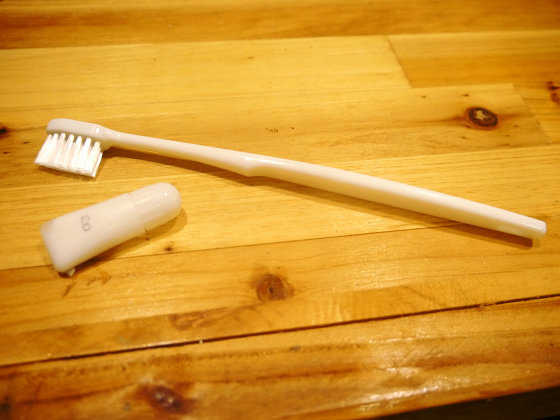 There were two hanger covers.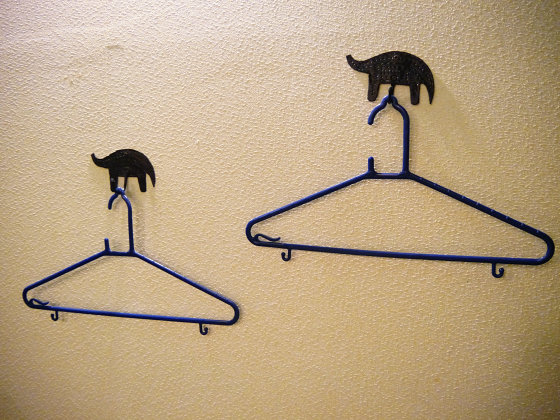 I thought that "There is atmosphere in price for price, too, desk work space may be wide", and found it here. To use the air conditioner in the room it costs 100 yen in 2 hours.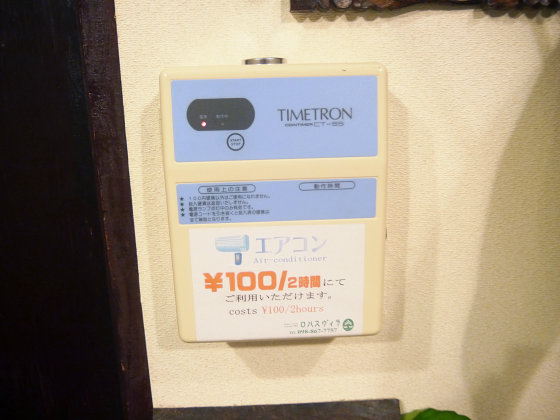 Although it feels like there is no choice because it is the price of 3500 yen at this location, I feel like a scratch on a ball just because the atmosphere was good. Since there is no exchange in this guesthouse, I would like to prepare for small change.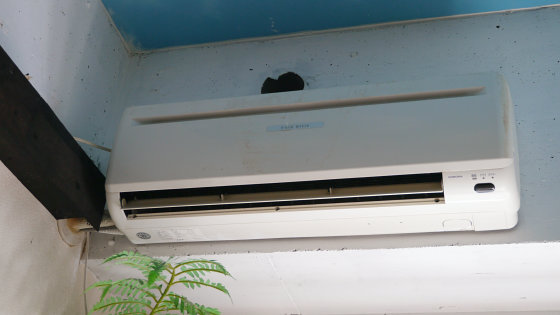 ◆ The second room

Please check another room with the following movie. The lighting in the room is rather soft, so it is a moody feeling.

I tried to shoot another room in Okinawa Guesthouse "Lohas Villa" - YouTube


There are still two bed pillows.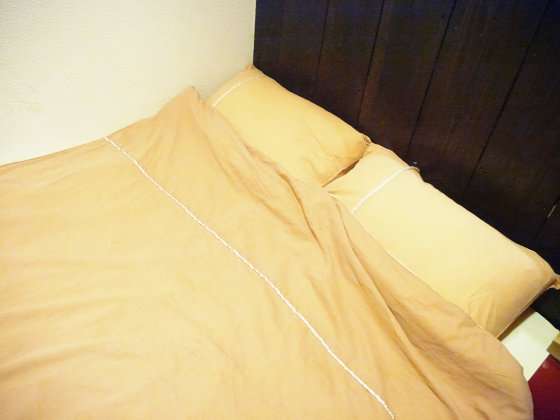 There is a lighting stand at the bedside. The lighting in this room is a bit dark, so when using the lights it is nice to use this lighting stand.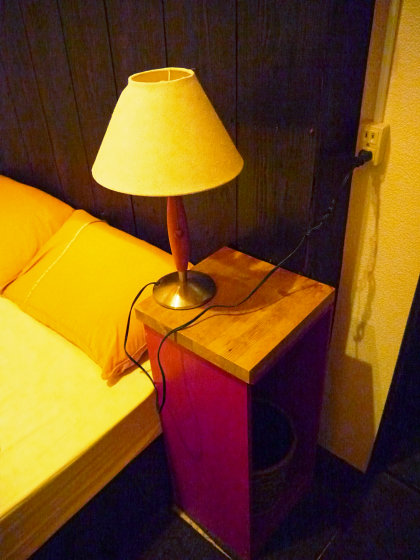 There are two outlets, you can even lie down while charging the mobile phone.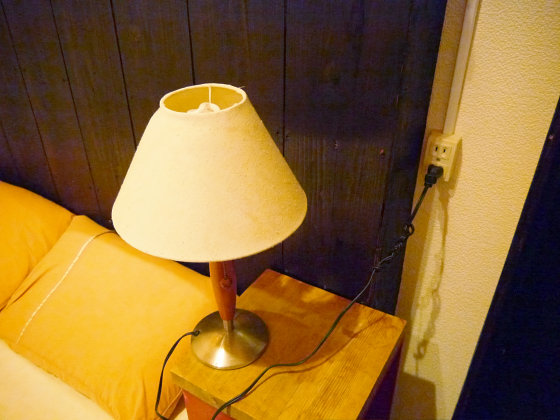 The desk is not as spacious as the room in the past.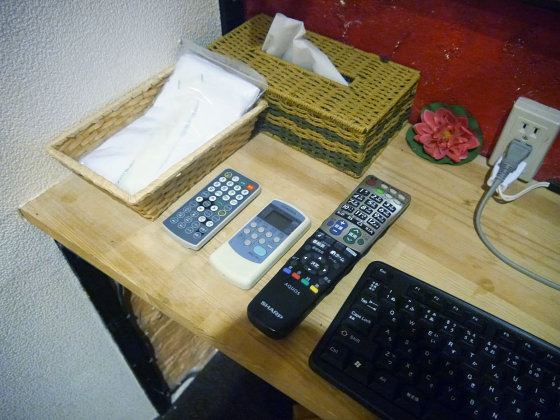 There are three outlets.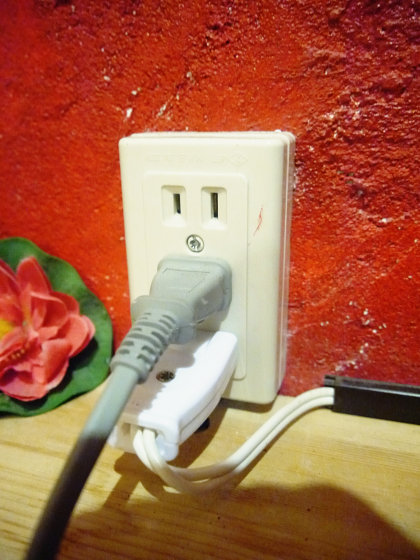 When I put a laptop computer like this, I can not afford anything else.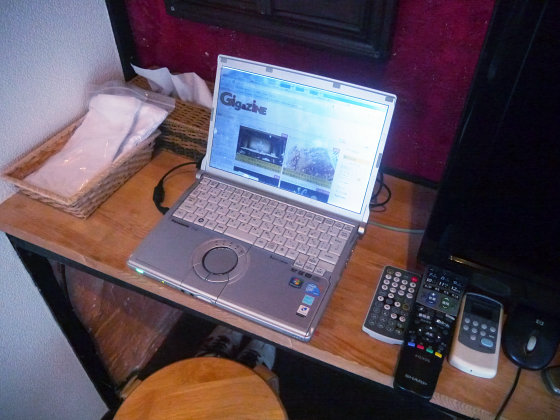 There was a mirror on the desk in this room. It may be a usability-friendly room for women.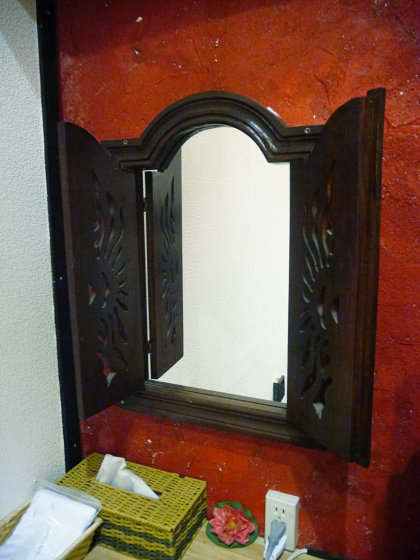 The room in the room was a desk sitting on the floor, but this time I used a desk by sitting in a chair.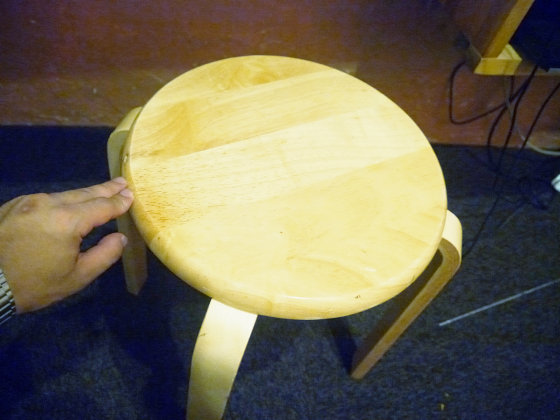 A 32-inch television is installed and it is used as a display of a personal computer.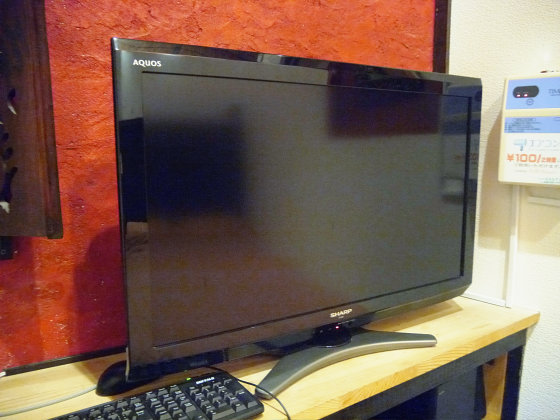 The main body of the personal computer.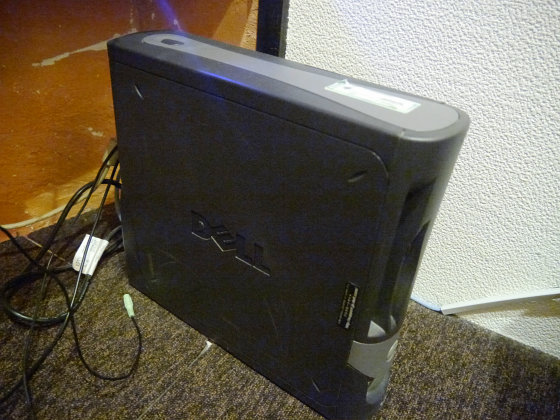 DVD can also be enjoyed.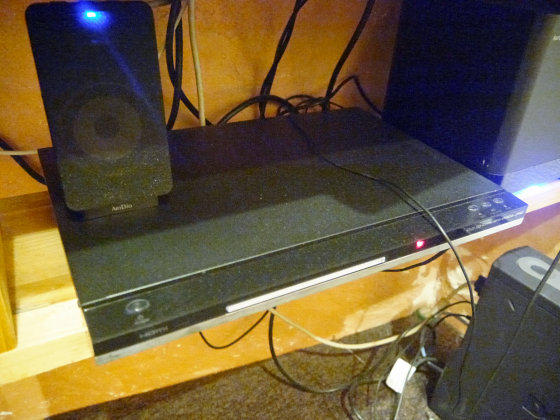 Of course, the air conditioner costs 100 yen in two hours.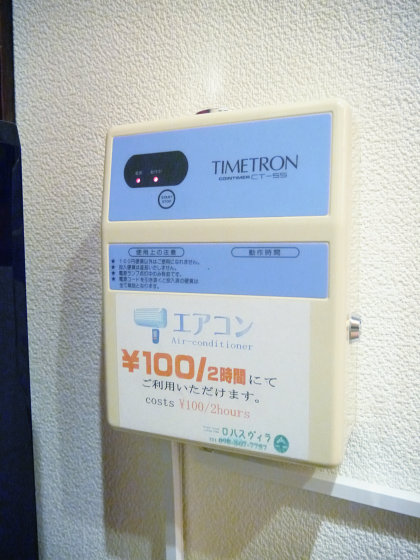 Although you can put the wind outside from the window, you can not ease the heat indeed as expected, it seems better to use the air conditioner without doing it with patience.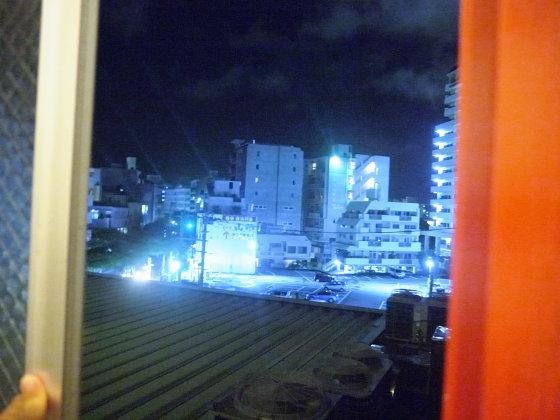 Two hangers.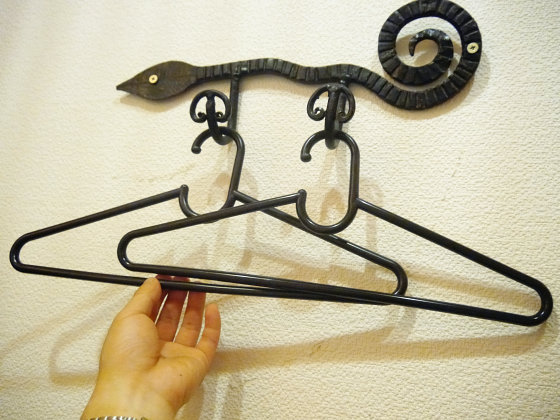 In this guesthouse, the shower room and the toilet are co-located on each floor of the 3rd to 6th floors.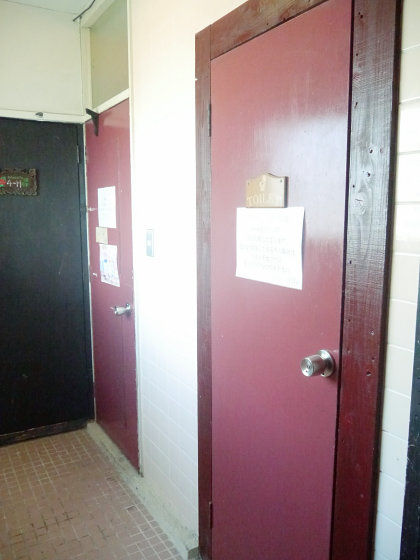 When the shower room enters inside, there is a shelf that puts clothes first ... ...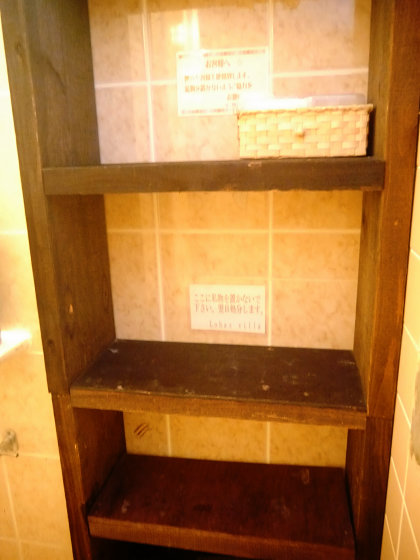 A napkin and a swab are placed here.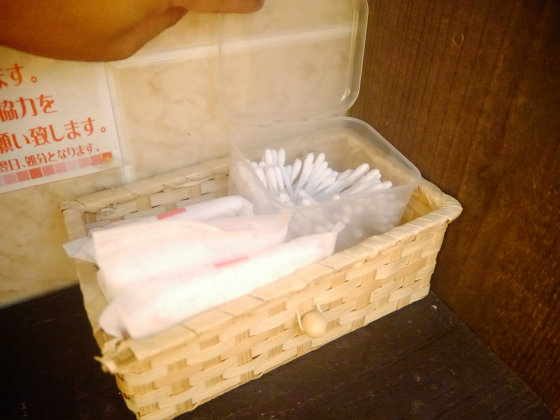 Next to that is a shower.



Body soap and rinse in shampoo are available, so if you use other people who are committed, you can use it.



There is no hair dryer in each room, but you can borrow it at the front if necessary.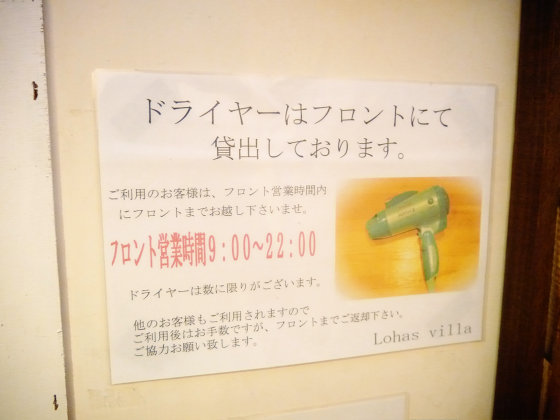 This is a toilet.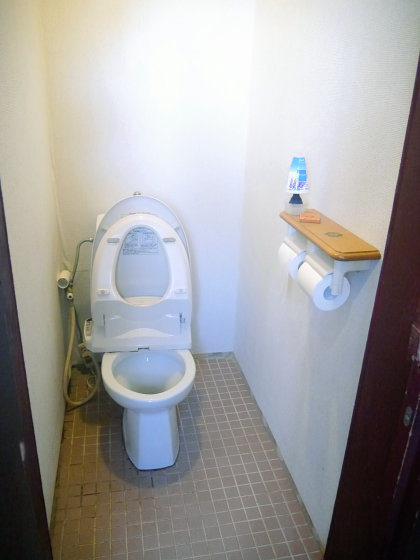 Washlet function available.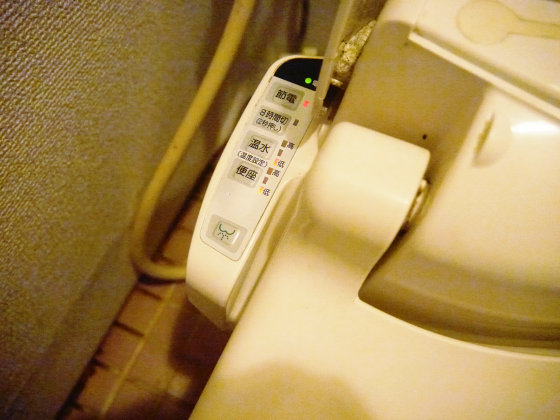 Since there is no washroom in each room, we will use the common thing installed in the veranda of each floor.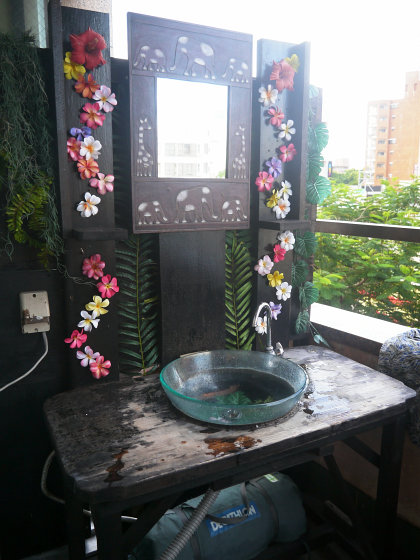 The sink of the bathroom is a fancy design that allows you to see the flowers and other figures.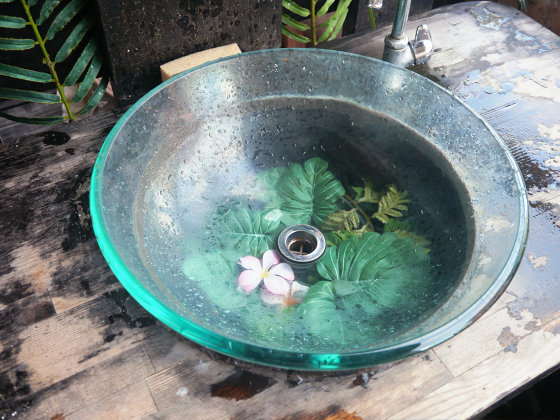 Each room is non-smoking and it also serves as a smoking space.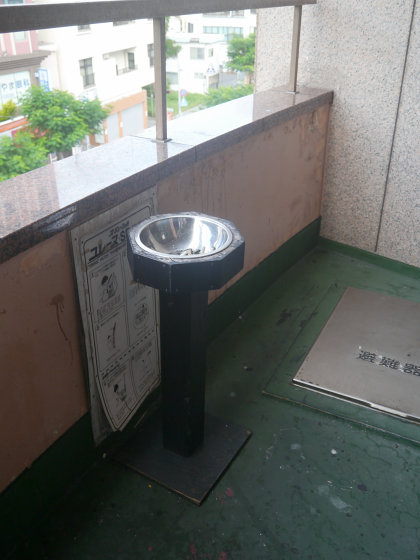 The landscape seen from the veranda looks like this. There is a building style, Ideal for evening sun when this season.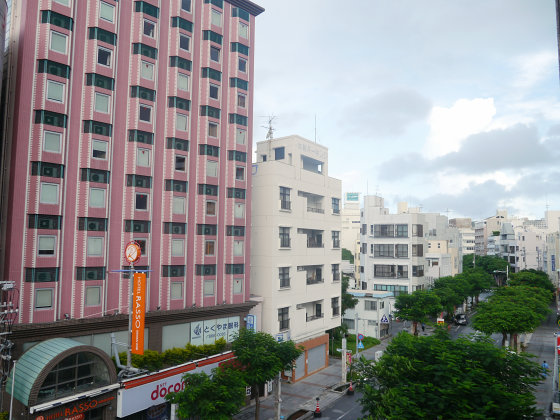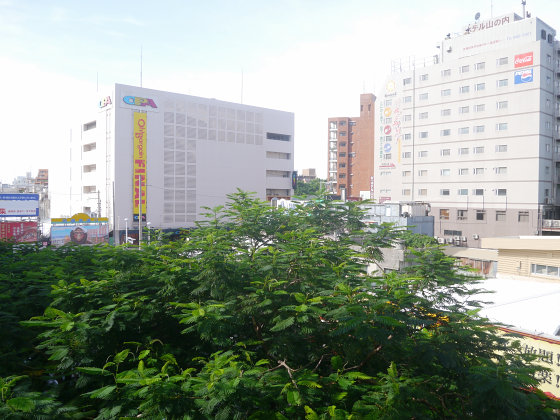 Since there is a dryer and a washing machine, clothes to bring if you use this is minimal and it seems to be OK.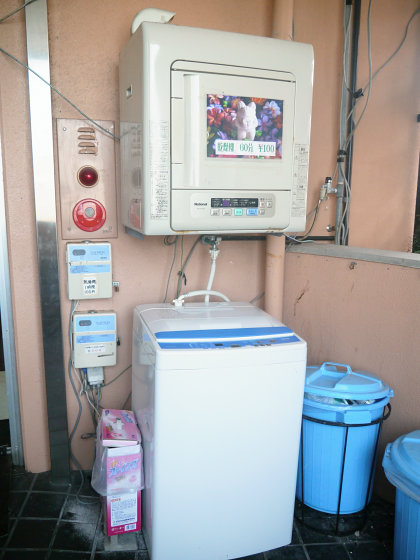 The dryer costs 100 yen per hour, and the washing machine includes detergent charges and it is 300 yen once.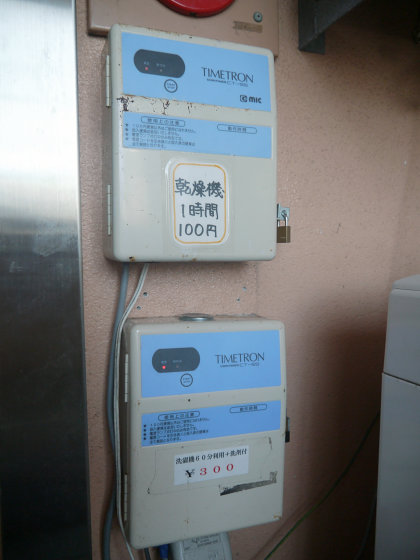 DetergentRocket soap"Fines"



There is also a refrigerator in the corridor of each floor and it can be used freely.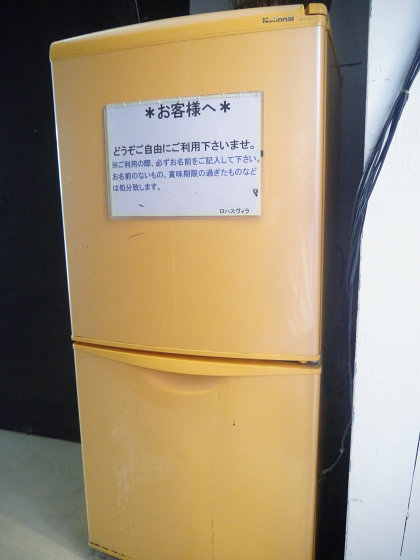 The upper row is a refrigerator.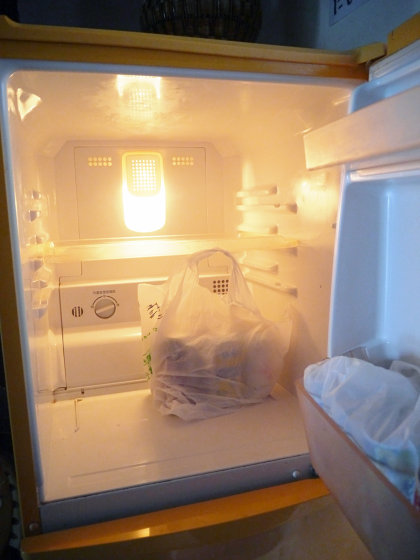 The lower row is a freezer. There are times when the inside is filled for joint use, so let's check if you are planning to use beforehand if there is space available in advance.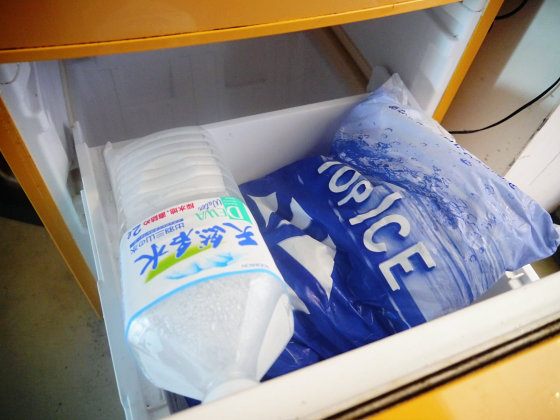 And 3F with counter is microwave.



Even with the same price the making of the room is completely different, but I can not choose a room by myself, it depends on the luck which room I hit. If you do not care about the area, you can stay with more than one person in one room and if you want to stay in an inn near an international street that has an atmosphere while keeping costs as much as possible, It is a big guest house.

In addition, when considering long-term stay, the system is designed to be cheaper by the price, with regular fee of 23,000 yen in one week and 70,000 yen in one month.