Free software "AutoHideDesktopIcons" that can hide desktop icons after a specified period of time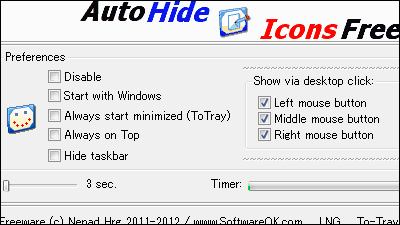 Free software which can hide the icon automatically when the specified time elapses when you want to display the icon · taskbar on the desktop only when you need it and keep the desktop clean,AutoHideDesktopIcons"is. Installation is unnecessary and can be started on Windows NT, 98, 2000, Me, XP, Vista, 7.8, Server 2003, and Server 2008.

Movie, setting method etc from below.

Download AutoHideDesktopIcons 1.88
http://www.softwareok.com/?Download=AutoHideDesktopIcons

You can check how you actually operate with the following movie. If you do not move the mouse cursor the desktop icon will disappear, once the icon disappears, you will not be able to see the icon hidden even if you move the mouse cursor. When you click somewhere in the icon non-display state, icons are displayed again. Likewise, the task bar can be deleted.

Operating "AutoHideDesktopIcons" looks something like this - YouTube


Since it is used in Windows 7,Official siteClick "AutoHideDesktopIcons.zip".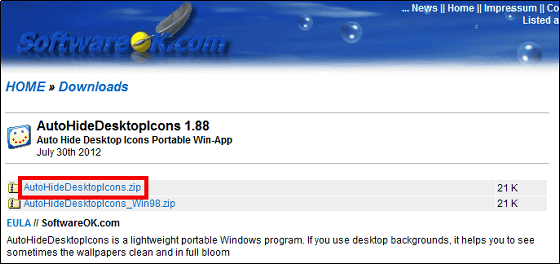 Download the downloaded ZIP fileExplzhExtract it with "AutoHideDesktopIcons.exe".




When the setting screen is displayed and the green bar in the "Timer" on the lower right gradually diminishes and disappears ......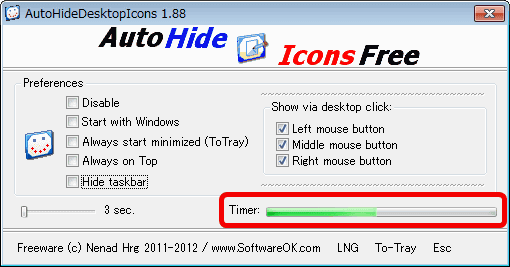 The icon on the desktop disappears.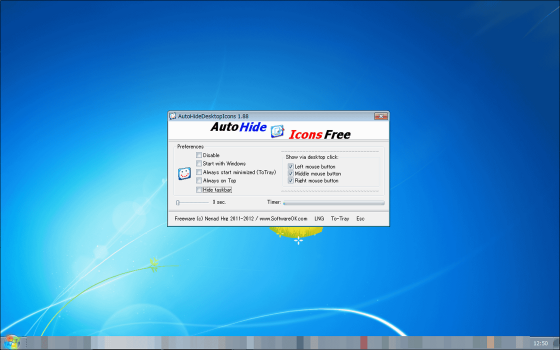 If you also want to hide the taskbar, click "Hide taskbar".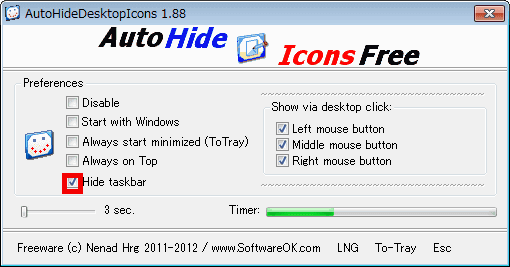 Only the start button of the task bar can be seen.




To change the time until hiding the icon, move the knob at the lower left to the left and adjust. It is possible to specify from 3 seconds to 100 seconds.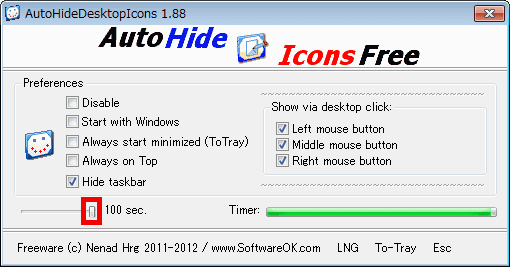 To hide the setting screen, click "To-Tray" to move to the task tray.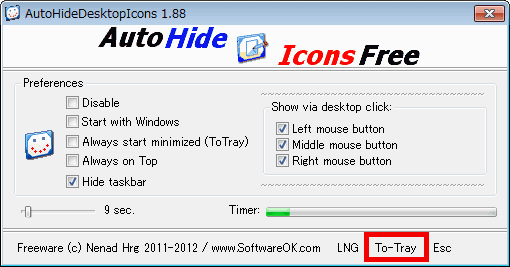 Hiding all icons and task bars will result in such a desktop.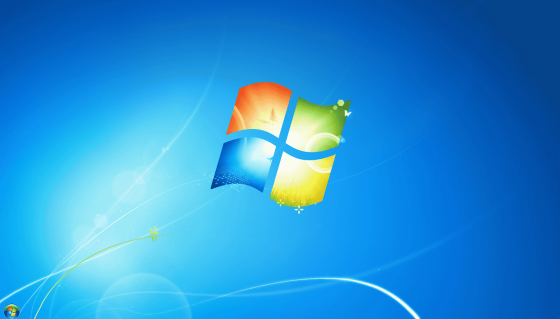 To display the icon, simply move the mouse cursor to the desktop and press the left, middle, right button if it is the mouse.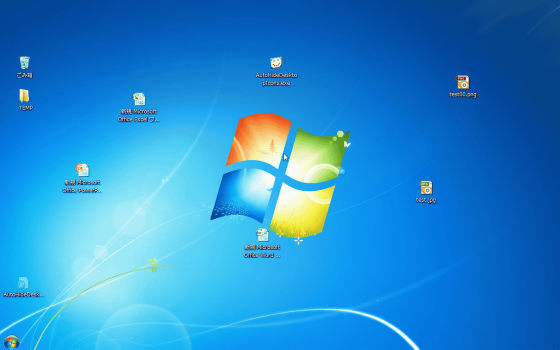 To temporarily stop "AutoHideDesktopIcons" function, click "Disable".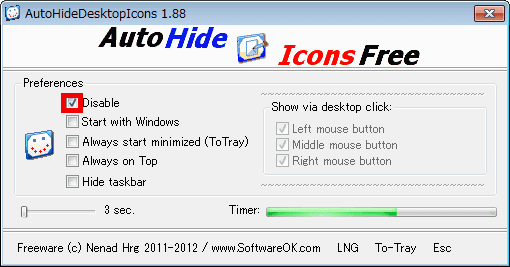 In this way, you can return to the state of the original desktop.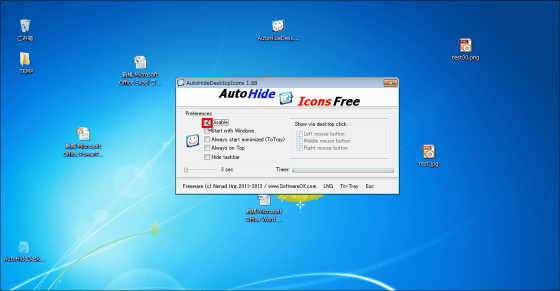 To end "AutoHideDesktopIcons" click "ESC" is OK.



In addition, it is possible to set which button of the mouse to click when displaying top fixed or hidden icon.