"Firefox failed due to a rapid update" and pointed out by the predecessor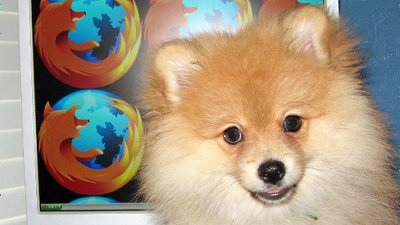 ByElitebox

Firefox's former developer pointed out that recent releases are the cause of losing Firefox's share, "Everyone is frustrated with the large number of Firefox updates" on their blog.

Everybody hates Firefox updates - Evil Brain Jono's Natural Log




Follow-up to the Firefox updates post - Evil Brain Jono's Natural Log




Firefox dev claims "everybody hates Firefox updates" [Update] - Neowin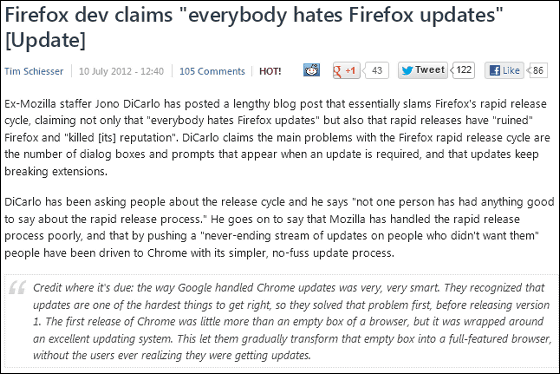 Former Mozilla developer says 'rapid releases killed Firefox's reputation' (Updated) | The Verge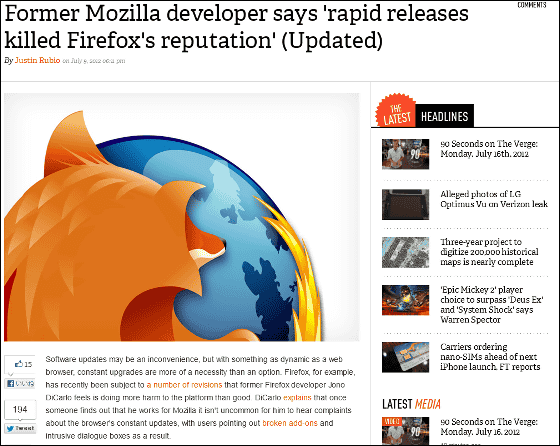 Jono DiCarlo, who once worked on Mozilla's development of Firefox, now attends Shanghai Foreign Languages ​​University, but he said, "I switched to Chrome as my add-on ceased to work," "Noisy as Firefox restarts" I came to hear the voice that I stopped using it. " As a result of listening to various stories, there was no one who appreciated the current situation that Firefox is upgrading one after another, and no one knew the word "rapid release" in the first place .

Firefox often heard complaints that the rapid release of browsers made it impossible to use add - ons and dialog boxes that I did not want to see appear.

Although DiCarlo does not deny that Mozilla is working hard to keep fighting Google Chrome, it is strictly pointed out that Firefox will only become a degraded version of Chrome by simply continuing insufficient rapid release .

This isBrowser market share on desktop PCFIG. Though it's been in the past year, Chrome has steadily increased its share, while Firefox is losing market share.



When releasing Chrome, Google realized that version upgrade (updating work) is the most difficult problem and resolved that point before the release of the first version. In other words, although the browser itself has no function in the first version like an empty box, the update is automatically updated without user recognition, and the style of gradually shaping It was taken.

Although updating to the latest version such as security aspect, bug fix, new function addition is important, DiCarlo says that the interface will be revamped with every update, "DiCarlo says," Productivity is better than usual I am sorry to blame it "Automatic update function is installed from Firefox 12Regarding what was done, "I will not be able to regain those who left the Firefox."

About DiCarlo's analysis, Mozilla commented, "It's interesting, but its content is obsolete." Since Firefox is already updating automatically in the background, Firefox does not send out an obstructive message such as "restart", it keeps add-on compatibility, and thanks to the update it is fast and beautiful thanks to the update , A statement that safe browsing has been realized is issued.