There is a problem that the battery capacity decreases daily in Microsoft 'Surface Pro 3'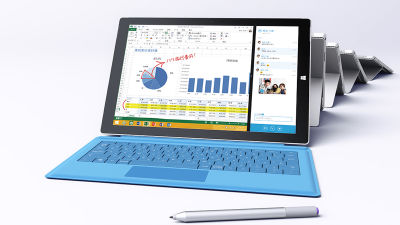 Microsoft's 2in1 terminal "Surface Pro 3"The trouble that the battery capacity gets smaller and smaller gradually has occurred on some users' terminals. Users also expressed their opinion that "class actions should be filed if Microsoft does not adopt recall measures."

Batteries in Certain Surface Pro 3 Models are Degrading Quickly with No Response from Microsoft | Hardware content from SuperSite for Windows
http://winsupersite.com/hardware/batteries-certain-surface-pro-3-models-are-degrading-quickly-no-response-microsoft

For Surface Pro 3, two years have passed since release, some users reported problems such as "the battery level goes down day by day".

This is the Surface Pro 3 user's battery information. Despite the rated battery capacity of 42157 mWh, the capacity available for full charge is 144 mWh. Please note that this user can only use Surround Pro 3 while charging Surface Pro 3 with the AC adapter and shut down immediately after unplugging the cable.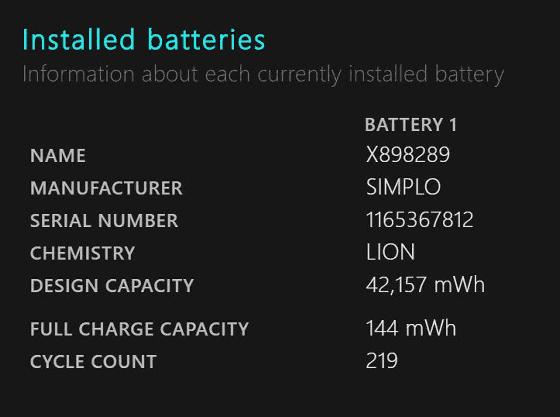 If you look at the log about the usable battery capacity, it is confirmed that the battery level is decreasing rapidly every time you charge from a certain time.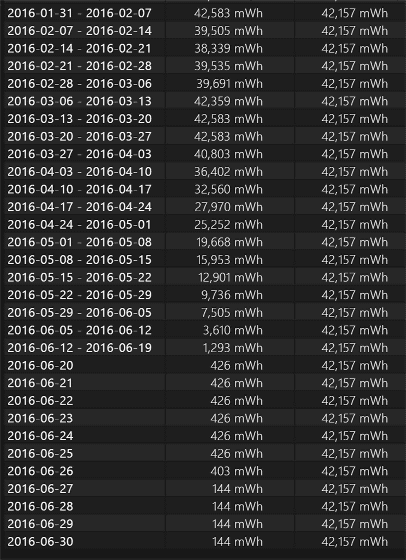 Surface Pro 3 is a structure that is difficult to disassemble because it pursued thinness, and a dedicated thin type battery is carried. For this reason, you can not do battery replacement work by yourself, inevitably asking Microsoft for support, but as a matter of course you will be charged for replacing the battery after one year of warranty. As for the battery replacement cost, Microsoft's Surface Team once usedBulletin board reddit"It will cost" 200 dollars (about 21,000 yen) "within.




However, due to a battery trouble in Surface Pro 3, a user who consulted with Microsoft customer support via chat got a response saying "It costs $ 560 (about 59,000 yen) because it is outside the warranty period" It is clarifying on the community.

Surface Pro 3 battery degradation - Microsoft Community
http://answers.microsoft.com/en-us/surface/forum/surfpro3-surfhardware/surface-pro-3-battery-degradation/783f6a00-19ba-4dcf-a828-0ad87751e15a

I reported the battery problem (Battery-gate) of this Surface Pro 3SuperSite WindowsHas criticized Microsoft as being silent on user claims. In addition, some of the writings of Microsoft's support forums say to the user who complains trouble "It should be subject to recall and should not be class-cited if not recalled".

SuperSite Windows asked Microsoft the view on Battery-gate, "I am aware of the battery problem of Surface Pro 3, which is the top priority for Microsoft support and I am trying to pinpoint the cause as soon as possible If you have trouble, please contact Microsoft Customer Support. "

Surface Pro 3 Battery-gate Follow-up | Hardware content from SuperSite for Windows
http://winsupersite.com/hardware/surface-pro-3-battery-gate-follow




· Additional notes 2016/07/28 10:45
Interactive forum to ask questions and answers about Microsoft official productsMicrosoft CommunityMr. Greg, an engineer of the Surface development team, wrote that "It is not a problem of the battery cell that the battery capacity decreases, but it is a software problem" and that he is currently dealing with the problem Also revealed. In addition, it is unclear when it will be distributed software updates, etc. It is unknown what measures will be taken for users who have already requested Microsoft's support for battery replacement work .

Microsoft say Surface Pro 3 battery issue is based and can be fixed | The Digital Lifestyle.com
http://thedigitallifestyle.com/w/index.php/2016/07/26/microsoft-say-surface-pro-3-battery-issue-is-software-based-and-can-be-fixed/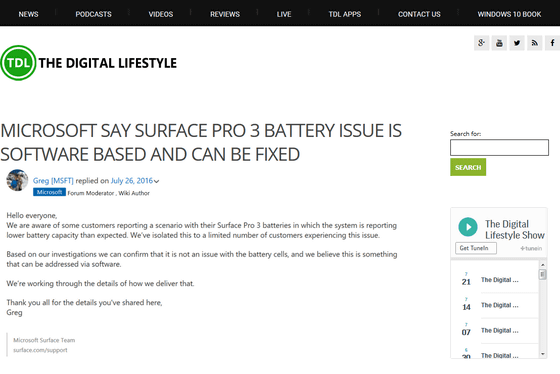 · Additional notes 2016/08/30 10:50
August 30, 2016, Microsoft has released an update for firmware for Surface Pro 3. This update fixes the problem that the battery capacity of Surface Pro 3 is displayed incorrectly. The problem that the battery capacity of Surface Pro 3 is displayed incorrectly is thought to have occurred because it accidentally reported the full charge capacity of the battery to the OS and the device firmware, and the problem was solved by updating the firmware It will be seen when it is done.

Microsoft claims to fix Surface Pro 3 battery issues with today's firmware update
http://www.neowin.net/news/microsoft-claims-to-fix-surface-pro-3-battery-issues-with-today039s-firmware-update