The possibility that Microsoft will implement Windows XP security update at 19,500 yen per year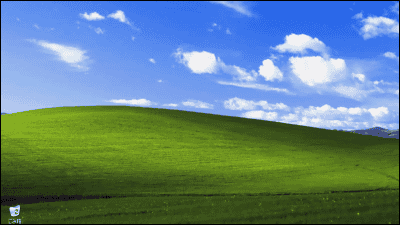 At the end of the soldierThe support deadline of Windows XP has been extended for five years and security patch will be offered until April 8, 2014However, the computer world notes that there is a high possibility that a patch will be provided after that. As the support deadline is getting closer, what kind of conclusion does Microsoft make?

Microsoft will craft XP patches after April '14, but not for you - Computerworld
http://www.computerworld.com/s/article/9241912/Microsoft_will_craft_XP_patches_after_April_14_but_not_for_you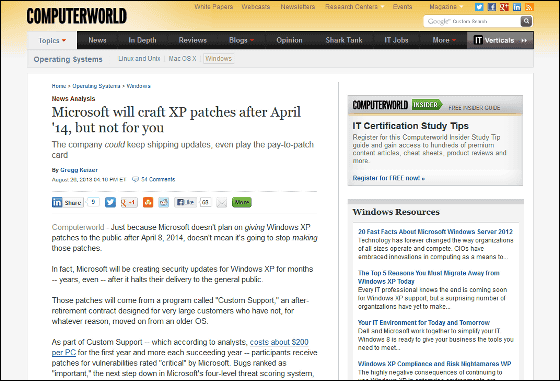 Next spring, Microsoft is supposed to stop supporting Windows XP released about 12 years ago. However, Computer World (CW) reports that Microsoft will propose what is called "Custom Support (CS)", which Microsoft continues to support Windows XP machines for some major customers.

◆ Custom support
According to analysts, CS is offered at a price of 200 dollars per PC (about 19,500 yen) per year, and only the most important "urgent" of 4 level security patches is automatically updated. For other patches, although "important" is provided, it is a paid option for automatic renewal, and patches themselves are not prepared for "warning" and "caution".

However, many analysts point out the possibility that Microsoft may prepare to withdraw its policy of terminating XP support next spring due to Microsoft preparing CS to extend support for XP I will. There may be patch offering for individuals and small corporate customers with paid options, and if XP's share is still high in April next year (33.5% on anticipation), only "urgent" patches are distributed free of charge CW points out that there may be possibly free provision of "important" patches. Of course, this is going to be to buy incompetence for customers who use CS by paying a high fee, but it is said that it can be solved, for example, by support by dedicated staff and lowering of CS fee.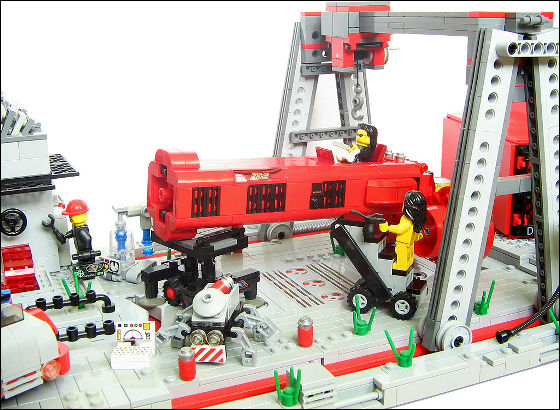 ByCrises_crs

About the continuation of support of XP in the first place the time and effort that Microsoft engineers have to pay is insignificant. There is no hindrance to support continuation in human resources. Of course Microsoft will want to earn high revenue by selling the new OS, but in the current situation that there are still a lot of users stubbornly not migrating from XP, it is not a bad choice to gain profit from support under the present condition, It is consistent with the declaration of change to "devices-and-services company" (a company that provides both devices and services).

◆ Cheap OS upgrade right
Of course Microsoft may also considerably discount the right to upgrade to Windows 8.1 in order to migrate XP users to the new OS. After the campaign that you can upgrade to Windows 8 at 40 dollars (3300 yen in Japan) that ended in January this year, Microsoft seems not bad as a time because it does not have a noticeable discount campaign. CW points out that using a paid update option and a cheap upgrade campaign to the new OS is also effective.

Will it hurt your prediction of CW? Or will Microsoft take a response far exceeding the expectations of CS? Either way, as support deadline is getting closer, we are paying attention to Microsoft 's response to how to support XP.

·bonus
This is the official wallpaper of Microsoft's latest OS "Windows 8.1".

Windows 8.1 RTM Wallpapers by ~ Misaki 2009 on deviantART
http://misaki2009.deviantart.com/art/Windows-8-1-RTM-Wallpapers-396286302