"AniExplorer" turning on the hidden Windows 7 animation function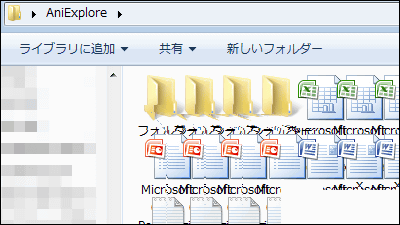 When you open a regular folder, only the files and folders inside are displayed, but the free software "AniExplorer"You can turn on the hidden animation effect of Windows 7 which could not be used until now. What kind of movement & how to set up etc are as follows.

WinAero Downloads
http://winaero.com/download.php?view.22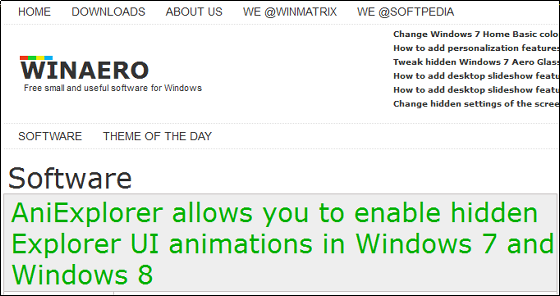 ◆ Animation

Actual motion can be understood by watching the following movie.

First of all, "Vertical Rectangle", I feel that the icons are lined up vertically from top to bottom.

"AniExplorer" Animation of Vertical Rectangle - YouTube


Next "Horisontal Rectangle", the icon slides horizontally horizontally horizontally from left to right.

"AniExplorer" Animation of Horisontal Rectangle - YouTube


"Position" is a movement that arranges from the upper left as a starting point.

AniExplorer animation of Position - YouTube


It is completely unknown what merit is there, but "Alpha" becomes more translucent after being displayed.

"AniExplorer" Alpha's animation - YouTube


"Both Dimension Rectangle" arranging icons from the upper left to the lower right. Move like "Position".

"AniExplorer" Animation of Both Dimension Rectangle - YouTube


◆ Download and Installation

download pageGo to "DOWNLOAD".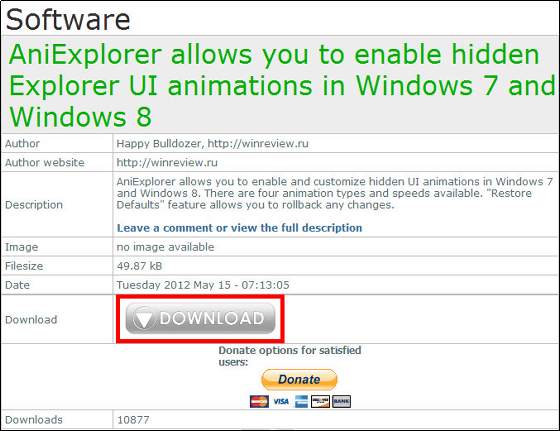 Download the downloaded ZIP fileExplzhSince this time it will be used with the 64 bit version of Windows 7, "animations _ x64.exe" started.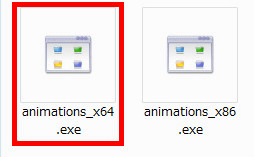 The screen is displaying Setup.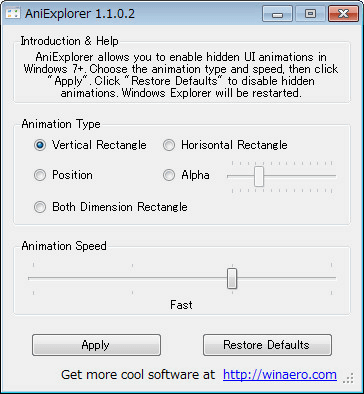 To set animation, simply select the animation type from "Animation Type" and click "Apply".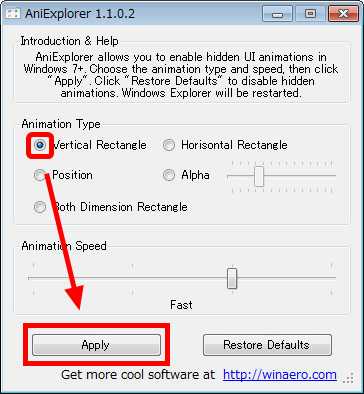 To turn off the animation, click "Restore Defaults".