The same ability as the great film directors of the six great game designers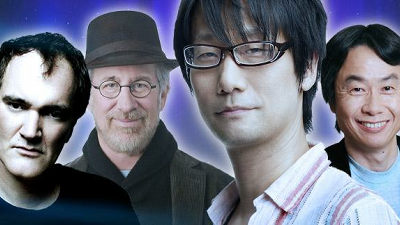 Game became popular all over the world and game titles became recognized as works, so the names of game designers who created masterpieces became widely known.

According to overseas game site 1UP.com,"metal Gear"Kojima Hideo, known for the series,"Super mario bros""The Legend of Zelda"The great game designer who pushed the world of the game, such as Shigeru Miyamoto who is the creator of it, has the same ability as a great film director like James Cameron and Steven Spielberg. We will see what they have in common with the images of the works.

When Great Minds Think Alike: Six Game Designers and Their Cinematic Counterparts from 1UP.com

1. Nintendo'sShigeru MiyamotoWhenSteven Spielberg
Ability to create attractive icons such as Mario and ET, Link and Indiana Jones

Shigeru Miyamoto developed "Super Mario Bros." in 1985, "Legend of Zelda" in 1986. Both have become a popular and undiminished series still more than 25 years ago, both Mario and the link of the main series of both series are one of the characters representing the game world. The movie below is "Super Mario Bros."

Super Mario Bros. No Warp No Miss Clear (1/4) - YouTube


To Stephen Spielberg is the first work of the Indiana Jones series in 1981"Raiders / Lost Arc" The Holy Case "In 1982"E.T."publish. Both characters have long been loved to date and are characters that symbolize the movie.

Spielberg is also known as a gamer,"Shen Mu"Highly appreciated. In E3 of 2006, with Shigeru Miyamoto"Wii Sports"I am doing a tennis showdown with.

The movie below is a trailer movie of "E.T.".

ET The Extra Terrestrial Trailer HD - YouTube


2.Double FineWith Tim SchaferTerry Gilliam
Ability to wrap and convey dark and heavy subjects with laughter

Tim Schafer is a game designer led by a game production team "Double Fine" that unveils unique titles such as "Stacking" and "Psychonauts" one by one. His gaming charm is the view of the world with an atmosphere that makes somewhat sadness feel unique to humorous gaming. The movie below is "Stacking". In the unique world view that the surrounding people are only matryoshka, the story where the hero travels to save parents who have been tricked into being cheated.

Stacking Debut Trailer [HD] - YouTube


Terry Gilliam is a British film director, comedy group"Monty Python"It is one of the members of. He supervised"Future Century Brazil"Despite the hopeless managed society, it invites laughter with comical images.

Brazil (1985) Trailer - YouTube


In addition, Terry Gilliam is in charge of animator in the video of Monty Python, and has developed a unique world view animation.

Monty Python / How to distinguish between architects' control and freemason - YouTube


3.Hideo KojimaWhenJames Cameron
Ability to incorporate state-of-the-art technology and create work

Hideo Kojima is the creator of the "Metal Gear" series, and is also vice president of Konami Digital Entertainment Executive Officer. It is a game designer who has a style that makes use of cinematic methods, responds quickly to new hardware, and is good at drawing out the performance of the hard to the limit.

In addition, he is the only person in the Japanese game industry called "director", he said that he answered "It is the same as a movie director and oversees the game". It is only selected as a Japanese in "News Week" magazine released on December 24, 2001 "10 people who will open up the future".

Metal Gear Solid 4 Guns of the Patriot PV 2 - YouTube


As opposed to James Cameron, SF's masterpiece"Terminator"Ya"Alien 2"Directed by 3D video in 2009"Avatar"publish. It became a work that lighted a 3D movie boom.

"Avatar" Trailer - YouTube


Four."Populus"ofPeter MolynewWhenFrancis Ford Coppola
Ability to step into a new area without fear of results

Peter Molyneu,"Populus"Ya"Theme park","Dungeon Keeper","God game"It is a game designer who established a genre called.

God game is a game where players use power like God interfering with the game world and move the world towards the purpose. In this pioneer "populus", the player becomes the god itself, a game scattered on the game field worships himself, and a game that worships the hostile god is destroyed. You can see the actual game play from the movie below.

SFC version Popular Miracle - YouTube


After these successes, Peter Molyne will produce RPG titled "Fable". It is Molynew which got fame in the God game, but in "Fable" it is completely left to the player's judgment as to what kind of person the hero lives, becoming a hero, becoming a sinner or being a sinner by judgment of good and evil As a result of getting married, at that time we succeeded in creating extremely flexible games.

Fable Trailer - YouTube


Francis Ford Coppola, in 1969, founded a film production company, American Zetrope at the age of 30, and signed a contract with Warner Bros. for seven film productions. However, Warner executives are criticized for the first work "THX 1138", contracts are destroyed. In the pinch, Coppola is a masterpiece remaining in movie history"Godfather"It creates.

In the following 1979"Apocalypse of Hell"So, due to Coppola's unusual perfectionism and numerous troubles, the schedule for the shooting which was originally scheduled for 16 weeks extended to 61 weeks, and the production cost was initially 12 million dollars (about 35 yen in the Japanese yen at that time Billions of yen) to 31 million dollars (about 9 billion yen). Although the work was exhibited in incomplete order, the highest award at the Cannes International Film Festival"Palm Doll"Earn. After publication, it became a big hit in the whole world, and we were able to successfully recover a lot of production cost. The movie below is a trailer of "Apocalypse of Hell".

Apocalypse Now Original Trailer (RARE) HQ - YouTube


In addition, Coppola has experienced three bankruptcy after "Apocalypse of Hell", but in recent years, in Napa Valley, CaliforniaNibaum · Coppola · WineryAdvance into the management of. The wine produced there got a worldwide reputation, and Coppola became one of the richest in the United States.

Five.Junichi SudaWith Quentin Tarantino
Strong love for past works and ability to sublimate that love to their work

Suda Gojichi is an extremely ingenious game designer, a game designer receiving overwhelming support overseas over Japan."Killer 7"Ya"No More ★ Heroes"The work of Suda represented by, is painfully stylish and refreshing while painting vulgar worlds and violence why.

Also, Suda 's work has a great deal of plenty of love for various pop culture in the past. The hero of "No More ★ Heroes""Jackass"ofJohnny KnoxvilleModeled as the first enemyHelter SkelterYou can find tribute to music and movies everywhere, such as the name comes from the Beatles' songs.

The movie below is "killer 7" trailer movie.

Killer 7 Trailer - YouTube


Quentin Tarantino also creates works that beautifully depict crime and violence in light tempo. It was a debut as a director, and it also became a masterpiece work"Reservoir Dogs"George Baker's"Little Green Bag"As a theme song, I am highly evaluated with sophisticated stylish image expression and precise human depiction.

Reservoir Dogs Japanese Trailer RESERVOIR DOGS J Trailer - YouTube


Also,"Cine Phil (Movie Madness)"It is self-acknowledging, works familiar with Asian movies such as Japan and the work which exposed the influence to its fullest"Kill Bill"is. In the end roll of "Kill · Bill", Tarrantino cites the person who has become a deceased person by an actor or film director respected by Tarantino as "R.I.P. (Sleep peacefully)",Kinji FukasakuYaShintaro KatsuThe name of it is also included.

Kill Bill - Trailer - YouTube


6.AtariofNolan BushnellWhenOrson Wells
Pioneers who define their own genre by the work and imitate all later people

Nolan Bushnell is a founder of Atari, a person called "father of video game (industry)"."Pon"It was released in 1972 and became a huge opportunity to penetrate computer games into the American market all at once.

At the beginning of the launch of "Pong", although it was a bicycle operation that at the time of Atari's sale, "Pon" was sold, buying equipment with that money and making "Pon" again, sales itself is tremendous, Atari is rapid Growth is achieved. First of all, I borrowed the next room to expand the production facilities, then rented a collapsed roller skating rink to remodel it to a factory and expanded the scale. Atari started with a capital of $ 500 will record sales of over $ 3.2 million the following year. In this way, Atari created the game industry on the American market and laid the cornerstone of the later gaming industry.

Arcade Original Pong - YouTube


Orson Wells is one of Hollywood's leading film directors. Originally debuted as a stage actor in Dublin, Ireland,The Great DepressionLater the American government wentFederal Theater ProjectIt demonstrates talent as a director at. Radio drama"Martian's attack"But, despite refusing to be fiction many times, people who listened to the radio took a realistic direction as thought that the Martian was really attacked and took a hot topic, Hollywood I was invited.

It became a director work in Hollywood"Citizen Kane"The newspaper kingWilliam Randolph HurstAs a model, it is content to reveal its life, under the attack from the newspaper company, it was a crushing defeat in box office. However, "Citizen Kane" will have a huge impact on future film production as innovative work in various respects such as shooting technique, plot composition, sound effect and so on.

Citizen Kane - The Theatrical Trailer - YouTube


In recent years, it was produced with a budget of 15,000 dollars (about 1,500,000 yen), and kicked off more than $ 300 million box office revenue worldwide"Paranormal activity"DirectorOlen PeriIt is known that it is also active as a game designer. It seems that the game design and production of the movie are shrinking the distance with the development of the game hard.

When playing the game, it seems interesting to look for points like 'This game designer' s direction is similar to George Lucas' directing. Perhaps, in the near future the game designer may be called "Game industry's George Lucas".