Amazon.co.jp launches "Release date delivery" service where items arrive on release date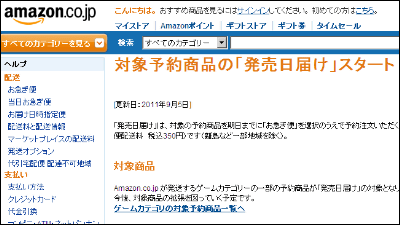 Although it seems that there are people who have experienced the situation that "Although online mail order was cheap, I tried to reserve what I wanted but did not arrive on the release date", but if Amazon.co.jp sells goods on the release date Received "Release date delivery" service started.

Amazon.co.jp: Release date arrival hurry flight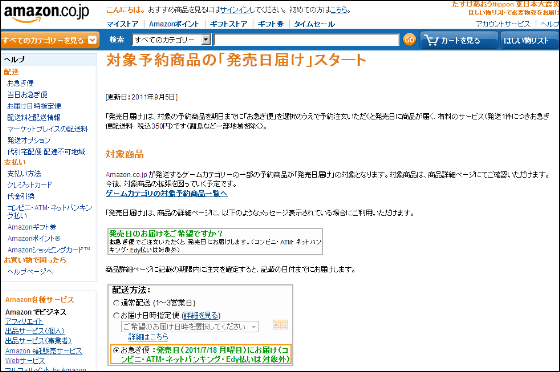 According to the official page of Amazon.co.jp, the company is a part of the area excluding remote islands, etc. Purchase service by which items are delivered on the release date when you select "Hurry" by pre-ordering the pre-ordered items by the due date It seems that "release date delivery" has started.

"Release date delivery" is intended for some reserved items in the game category shipped by Amazon.co.jp, and the target product is said to display the following message on the details page. In addition, we plan to expand target products in the future.




The usage fee is 350 yen including tax per shipping, but when you join "Amazon Prime" with annual fee of 3900 yen, it will be added in addition to "Release date delivery" started this time "Hurry" and "Delivery date designation It is said that you can use "unrestricted use" at no extra charge "and" Express on the day ".
in Note, Posted by darkhorse_log