Amazon fully charges ordinary shipping fee completely and covers for convenience stores as well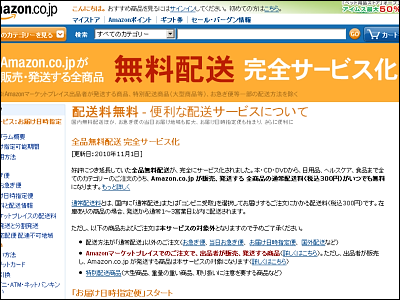 It became clear that all goods delivery which the major mail order site "Amazon.co.jp" was doing for a limited time was completely serviceized, and the usual shipping fee became completely free.

This free shipping service applies to all product categories. It is likely to be able to use it more conveniently because the fee which had been ordinary delivery to domestic and receipt of convenience store is canceled.

Details of the service are as follows.Amazon.co.jp: Free Shipping - About Convenient and Affordable Delivery Service


The major mail-order site "Amazon.co.jp" has made regular free shipping charge service which had been done for a limited time so far, and it will be free of ordinary delivery of goods of all categories and receipt of convenience stores at any time Announced.




However, optional shipping other than ordinary delivery will be excluded, such as hurry, on-the-spot flight, delivery date specified flight, international shipping etc. Also, when purchasing from the seller of the Amazon marketplace it is not eligible for shipping fee, so it seems necessary to check the seller well before purchase.




Although it is quite a heavy service that the shipping cost of ordinary delivery which will be the most frequently used will be totally free, because it is no longer necessary to worry about adding shipping charges even for small items, it seems to be too much shopping too much It is a bit scary place, is not it?