From today, campaign to free shipping fee for all items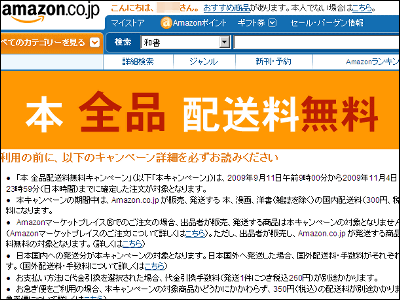 Today we launched a campaign in which major shopping site "Amazon.co.jp" gets free shipping fee for all books.

In the past, shipping fee was free only for users who purchased more than 1500 yen in total, but it will become free even if less than 1500 yen, so you can easily use Amazon.co.jp.

Details are as below.
Free shipping fee for all items | Amazon.co.jp message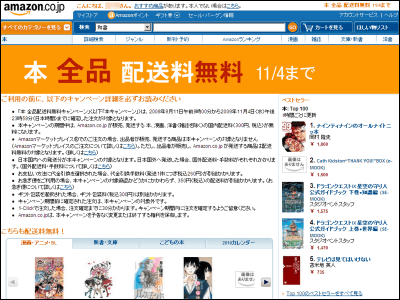 According to Amazon.co.jp, for orders confirmed between 9:00 am on September 11, 2009 and 23:59 pm on November 4 (Wednesday) 2009 (Japan time), the book "All items delivery fee Free campaign "will be developed.

This means that domestic shipping fee (300 yen including tax) of books, comic books, and foreign books (excluding magazines) sold and shipped by Amazon.co.jp will be free during the campaign, and at the Amazon marketplace In the case of orders, the items sold by the seller and shipped are not eligible.

Also, if you choose cash on delivery as a payment method, you will need a cash on delivery commission (260 yen including tax per shipment), and if you use gift wrapping or "Express Hurry" Regardless of the shipping fee will be charged separately.