Started a campaign to free up ordinary shipping fee for all products until March 31st at Amazon.co.jp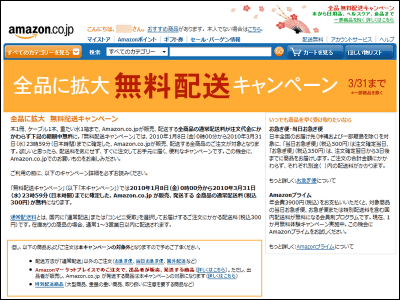 From September to November 2009 at major mail-order site "Amazon.co.jp"Campaign where delivery fee for all items is freeWas implemented, but from todayCampaign where regular shipping fee for all items is freeHas started.

On Amazon.co.jp, users who purchase more than 1500 yen in total amounted to free shipping fee, but if it was less than that amount, shipping fee of 300 yen was applied, but until today March until 31st March Whether it is a 50 yen item or not, the shipping fee will be OK for free.

Details are as below.
Amazon.co.jp Expansion to all articles Free shipping campaign

Amazon.co.jp has launched a campaign in which regular shipping fee (300 yen including tax) will be free for all products ordered from 0 o'clock on January 8 th to 23 th 59 th on March 31. The target will be the order of all products sold and delivered by Amazon.co.jp.

Campaign originally in September 2009For all booksStart as. From NovemberTarget products expand not only in books but also on CDs, DVDs, video game software, personal computer software, etc.Although it was doing, all products were finally covered at last.

However, for orders other than "ordinary delivery", such as overseas delivery or express delivery, products sold or shipped by the seller at orders placed on the Amazon market place, special delivery items such as large items and heavy goods are subject to campaign It will be outside. The seller sells at Amazon market place,Items shipped by Amazon.co.jpIt seems that it will be subject to the campaign.

Until now, when the price of 1400 yen and so on is a delicate shopping where the shipping fee is not free, buying a few small items and making it over 1,500 yen has been used, but until the March 31st It seems that you can order easily without worrying about it.