Strike Witches radio program "Strike Witches Starlight Stream" during the second stage "Sortie" from tonight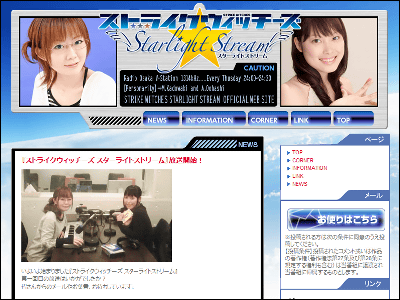 Anime, manga, novels, figures and media mixes Popular works deployed "Strike Witches". The first phase of anime is broadcasted in 2008, it is said that broadcasting will probably begin around the spring of 2010, while there are accidents such as production of second stage being decided early in 2009, production company will change.

Such "strike witches" radio program "Strike Witches Starlight StreamThe broadcast started.

Details are as below.
Strike Witches Starlight Stream

The program is a 30-minute program broadcast every Thursday from 24 o'clock January 7, and the radio station is Radio Osaka. On FridayInternet radio station "Hibiki"Since distribution is also done, you can listen nationwide.

The personality is the role of Sagna · V · LitvyakMai KadowakiWith Mr. Eila · Ilmatar · UtilainenOhashi walking evening(Former name: Erika Nakai), it seems that they never thought that radio programs would definitely start.

The program corner investigates where the listener is listening to the radio "Omni-directional radio wide area surveyListeners can listen to what engine sound it's like by listening to the engine sound "Today's engine sound"Mr. Kadowaki and Mr. Ohashi will give advice to the listener's troubles"Our night patrol team!"Such. The program is composed of programs that Sagna and Eira are listening during the evening patrol while under the work of "Strike Witches", and the short drama may be attached to the beginning of the show and the last, so it may be a bit of a feeling. The narration of the drama part plays the role of the father of the hero · Yoshika MiyafujiGoda HazimiI am in charge.

"Strike Witches" Phase 1 was broadcasted from July to September 2008Recommended works of the Japan Media Arts Festival Animation Division, Agency for Cultural Affairsbecome,"It's not embarrassing because it's not pants!"Although it is not a speech which was used in the play, it was prevalent as a word expressing the work in one word.

In February 2009Second phase production decidedAlthough it was doing, the broadcast information did not go out easily, and it was letting the fan excited. On the radio, no information on the second period broadcast was released, but according to the rumor of the wind it seems to be broadcasting from the spring of 2010, so in the next 3 monthsWinter animePlease wait and see slowly.
in Anime, Posted by logc_nt