Amazon.co.jp, Extends campaign where shipping fee becomes free regardless of purchase price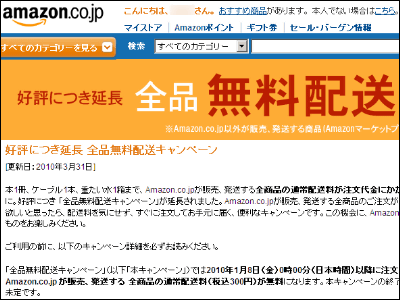 In January this yearA major online shopping site "Amazon.co.jp" started a campaign to free delivery fee regardless of purchase amount for a limited time until March 31However, it was announced that the campaign period will be extended today.

Until now it is Amazon.co.jp that had shipped free only for users who bought 1500 yen in total price, but it may be very convenient to get a little shopping without worrying about shipping fee not.

Details are as below.
Extended free shipping campaign to all items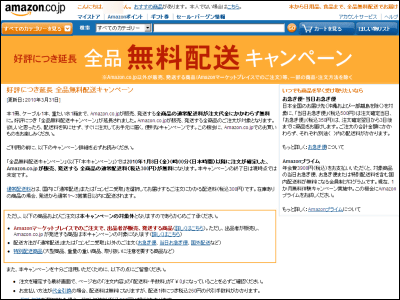 According to this page, "All goods free delivery campaign" which ordinary shipping fee of Amazon.co.jp becomes free regardless of the order charge is said to have been extended with popularity.

The target is all products sold and shipped by Amazon.co.jp that the order was confirmed after 0:00 (Japan time) on January 8, 2010 (Japan time), even if this book And one cable and one heavy water box etc will be able to purchase without worrying about the delivery fee. By the way, at the Amazon Marketplace order, items that the seller sells, ships and so on are not eligible.

Although it is the implementation period of an interesting campaign, as of March 31, the end date is undecided.