World's largest supermarket "Wal-Mart" VS The world's largest online shopping site "Amazon.com"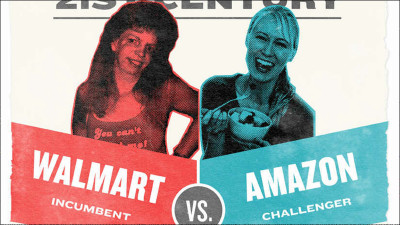 The world's largest supermarket chain headquartered in Arkansas, USAWalmart"Is also the largest sales company in the world, supermarket in JapanSeiyuIt is also the parent company of. What challenges such a huge enterprise is that even in Japan "Amazon.co.jp" is widely used "Amazon.com"is. Amazon is the world's largest online bookstore, and it is also the largest in the mail-order field.

Walmart Vs. Amazon

This image is an infograph depicting the pattern of fierce battle of "Walmart VS Amazon". Click the image to see the whole picture.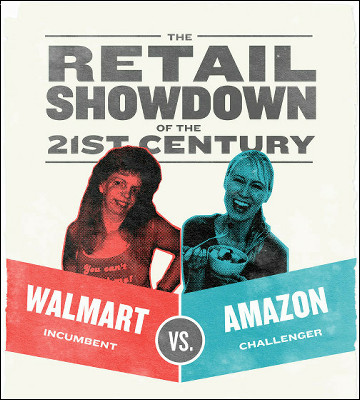 First of all, from the basic information of both. The red one on the left is Wal-Mart and the one on the right is Amazon. Wal-Mart is 49 years old and has a workforce of 2.1 million, with an average hourly wage of $ 8.86 (about 710 yen). The head office is located in Bentonville, Arkansas, and the opening of a family-run Ben Franklin miscellaneous goods store is the beginning of the business. Mr. Mike Duke is president, CEO and director.

In contrast, Amazon is 16 years old, with 33,700 employees, and software developers have an annual income of $ 90,000 (about 7.2 million yen). The head office is located in Seattle, Washington State, and initially started as an online bookstore.Jeff BezosIs the founder and president, CEO and Chairman of the Board.



The first round is "achievement". Walmart is over $ 408 billion (about 32.6 trillion yen) in total sales in fiscal 2010, while Amazon is over $ 34 billion (about 2.7 trillion yen), overwhelmingly exceeding Wal-Mart. It is a client, but 2 million people visit Walmart a week, and Amazon has 1.37 million people. In addition, Wal-Mart has a market share of 13.4% in the consumer market, Amazon has one-third share in American e-commerce market. In the world market Wal-Mart has subsidiaries in 14 countries, with sales of 36.2% on total sales. Amazon has subsidiaries in seven countries, and 46% of total sales are born there.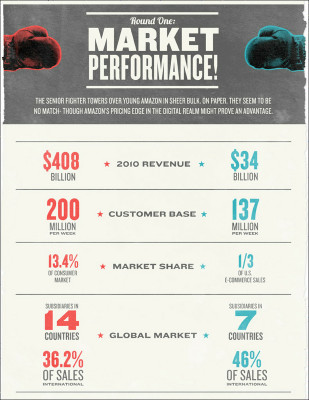 The second round is "goods". It seems that Amazon is cheaper by 19% on average than Walmart. Walmart's average storage period is January, Amazon is 33 days, Wal-Mart's best-selling items in 2010 are bananas, and Amazon againstAmazon KindleIt has become.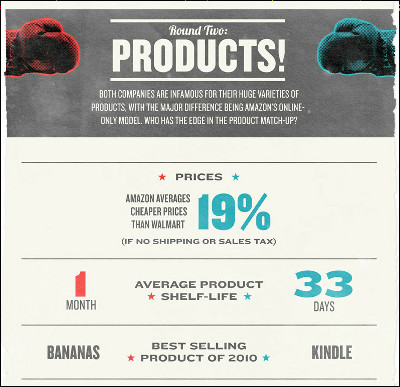 The third round is "brand power". Wal-Mart is second in retailer brand rankings, and Amazon is the leader. In the satisfaction ranking in the following customer service, Amazon ranked top 10 in Wal-Mart and Amazon resulted in the high brand power of Amazon.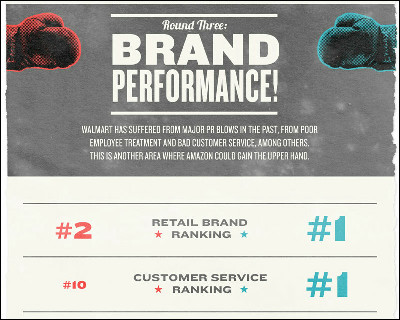 The fourth round is "development and innovation". Wal-Mart has so far made a discount chainWoolcoWe have done 15 acquisitions against, etc, but Amazon was doing online retailing of shoes etcZappos, We have acquired 28 times. Also, as a digital asset, Wal-MartWalmart.comAlthough Amazon owns "Amazon Kindle" "Amazon instant video"Amazon Prime"Amazon mp3"Amazon Cloud Drive"Amazon Appstore"Amazon Web Services"Amazon Cloud Player"We are developing various services. And in the field of home delivery services, Wal-Mart launched "Walmart To Go" service from April this yearSan JoseWe have been testing with Amazon, delivering fresh food "AmazonFresh"Started in the vicinity of Seattle where the head office is located.



This is a graph predicting the growth of earnings at both companies. Amazon began to grow rapidly from about 2018, it is estimated that in 2024 it will catch up with Wal-Mart and overtake it.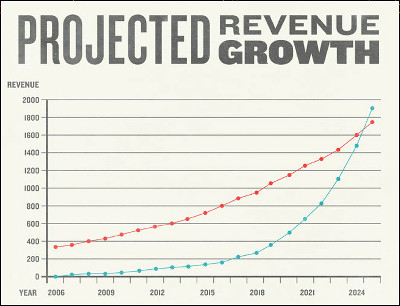 in Note, Posted by darkhorse_log