Amazon is going to rule is the infrastructure of the entire commercial transaction rather than online mail order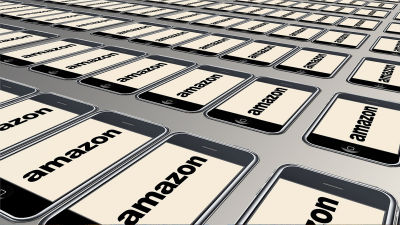 Amazon.com accounted for nearly half of sales in the US online mail order in 2016It was revealed. There is also a forecast that Amazon, which is becoming stronger in on-line mail order, will dominate two-thirds of all transactions in online mail order within the next five years. But what Amazon really is aiming at is not online sales, but to control all transactions beyond the boundaries of online and offline, to dominate the economic infrastructure, CEO Jeff Bezos steadily empire You are running a dominant scenario withMotherboardPointed out.

Amazon Is Trying to Control the Underlying Infrastructure of Our Economy - Motherboard
https://motherboard.vice.com/en_us/article/7xpgvx/amazons-is-trying-to-control-the-underlying-infrastructure-of-our-economy

People who want to order merchandise on the Internet at the time of 2015 searched the products with search engines such as Google, compared the stores, and ordered the intended products. However, as of 2017, many people visit Amazon without searching and coloring the items in Amazon. Not only paid members Prime members, but also non-paid members, if you search for items on Amazon, you can get everything from books, appliances, everyday items and perishable items, so bother to store individual stores It does not take time and effort to compare.

Amazon not only sells products themselves but also offers "a place to sell products". In product search, items sold directly by Amazon with inventory are also displayed without distinction without being distinctive, and users are able to select products without paying a fee to Amazon and selling other products sold by other companies. This makes Amazon's assortment fulfillingly incomparable with other mail-order sites, making it more convenient for users to "just check Amazon alone".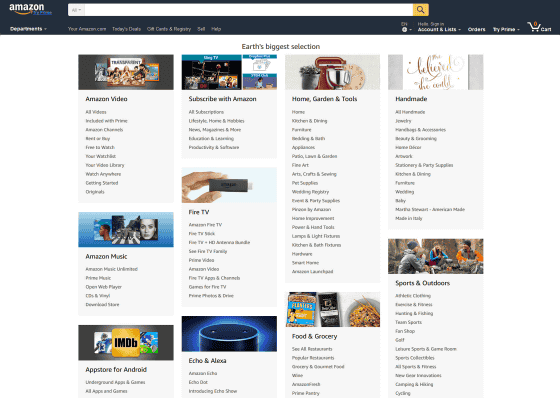 If more consumers are asking to buy items online when using Amazon only, stores that try to sell items online do not themselves build online mail order sites or register on other online mail order sites , It means that it is quick to open in Amazon. For this reason, many retailers abandon the idea of ​​delivering goods directly to consumers, selling goods via Amazon, and increasing their reliance on Amazon.

However, Motherboard notes that there is a big pitfall in this dependency structure. That means that as Amazon sells goods, it will provide Amazon with all the information on the commercial transaction "What sells?" To put it briefly, Amazon is in a priority position that makes it easy to find out what it sells. And by offering this valuable data to Amazon, Amazon can weaken that supplier.A studyAccording to Amazon that understood goods of selling, it takes only a couple weeks before it sells itself as a seller. After some weeks of strong sales, Amazon may prepare a large amount of inventory, and selling may be intercepted.

In addition, Amazon may develop products themselves and sell it with Amazon brands, if it is the best-selling item with high margin. Amazon brand products such as rechargeable lithium ion batteries were products that were sold by other manufacturers on Amazon sites in the past.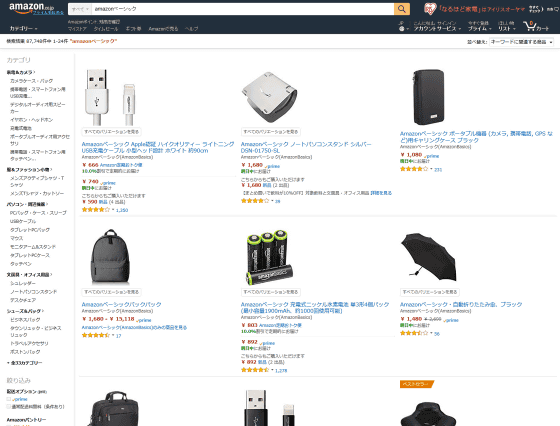 Amazon, which has two platforms, direct sales channel and channel to sell goods at the "sales floor" to offer, is giving us a big weapon of grabbing the interests of other retailers right away. The other day,Amazon is going to conclude a partnership with sports maker NikeIt was reported that. Regarding Nike products popular also on Amazon sites, fake goods are constantly exhibited, Nike is bothering his head. That's why Amazon promised to close fake items that Amazon is selling on condition that Nike sells all the items on the Amazon site, making it a competitive price discounted from the price. With this partnership Nike is expected to be able to sell itself directly through Amazon via retail, and other retailers will be forced to fight direct with Amazon. Like the partnership with Nike, it is also anticipated that Amazon's direct dealing with the manufacturer's products sold by the retailers will deprive them of other products, especially brand-name items in the future.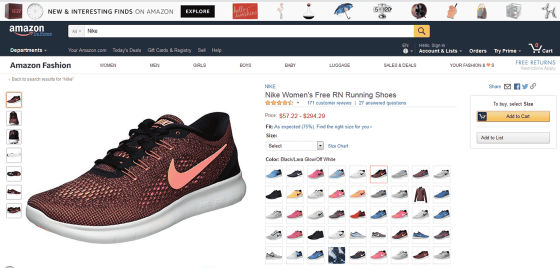 But Amazon is not going to stay online,Open real shop selling booksAnd "Amazon Go"Innovative resale settlement super planning andAcquisition of luxury supermarket Whoke FoodsIt is clear from. Dominating offline (real shop), which is much larger in size than online, is a very natural path for Amazon online shopping.

Investors are also welcoming this movement of Amazon. Although it was reported that half of Amazon's cash held by 13.7 billion dollars (about 1.5 trillion yen) will be included in the acquisition of Whole Foods, the stock market was judged to be "buy by Amazon" Trending to. What, Whole Foods buyout reports that the market capitalization of Amazon shares has increased by about 1.5 trillion yen, almost equal to the amount required for acquisition.

Amazon's acquisition of Whole Foods means that Amazon will be able to monitor customers even in real store commerce (offline shopping). Also, since Whole Foods already has a service to deliver fine foods to their homes, it is expected that the sales scale will be expanded by utilizing the delivery network for Amazon Prime members . From the viewpoint of Amazon as a foothold by Whole Foods and increasing offline sales, it also merits other online retailers by weakening deliveries such as UPS and FedEx, it also benefits online sales Motherboard points out when it comes to. If UPS and FedEx are weakened, a retail store that sells online will deliver the item to Amazon and will do business in the Amazon garden.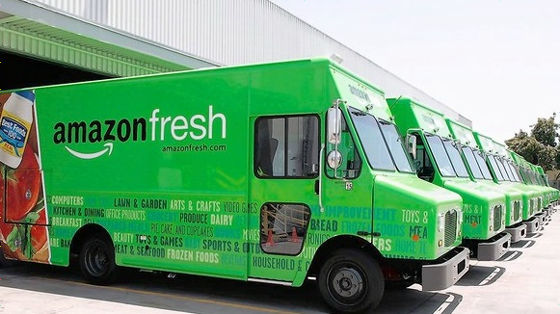 As for the acquisition of Whole Foods, Motherboard thinks that it is a case that Federal law (antitrust law) that prohibits monopoly which impedes free competition is applied. Under the current consolidated law, Amazon does not antitrust anticipate that Amazon will acquire Whole Foods as Whole Foods itself is not in an exclusive position in the supermarket business, and Amazon to be acquired also is an online mail order giant to the last. It does not meet the requirement that federal government approval is required under the law. However, in modern times where the boundary between online shopping and offline shopping is rapidly shifting to a fluent world that is becoming ambiguous, considering that many of commercial transactions are performed digitally, offline is "analog Trading, online is a digital transaction "by formally dividing it, overlooking Amazon's act of obtaining an exclusive position.

Bezos' CEO led by CEO is aiming for full control of all commercial transactions by making it an "economic infrastructure" that makes Amazon unprofitable for commerce, whether offline or online. According to Motherboard, Amazon is a powerful company that controls consumer choices, and such a mighty company has never existed before. But Amazon Echo orders batteries to Alexa, Amazon brand batteries arrive, Kindle's bestseller shows a lot of books that Amazon publishes, suggests "Recommend" utilizing purchase history as a mechanism Looking at the behavior of Kuru Amazon, even if it is not the best option, consumers may be able to respond to transactions without touching other options. By steadily offering a comfortable purchasing experience to Amazon users without noticing the fact that "may ultimately be detrimental to consumers themselves", Amazon steadily proceeds towards full control of commercial transactions Maybe it is.