We are considering deploying services to deliver goods on the day that Amazon entered the logistics field and ordered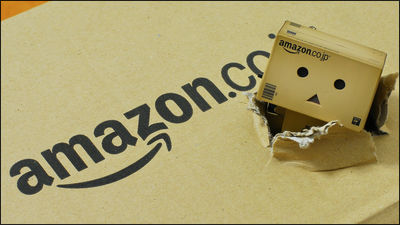 ByGwaar

Delivery service using drone "Amazon Prime Air"And devices that can purchase items using a barcode or voice"Amazon Dash"Amazon, devising a more concise ordering system and a speedy product delivery method, is going to develop its own delivery service that enters the logistics field and delivers goods within the day ordered , It is reported that.

Amazon reportedly laying the groundwork for its own delivery service | The Verge
http://www.theverge.com/2014/4/24/5649940/amazon-reportedly-laying-groundwork-own-delivery-service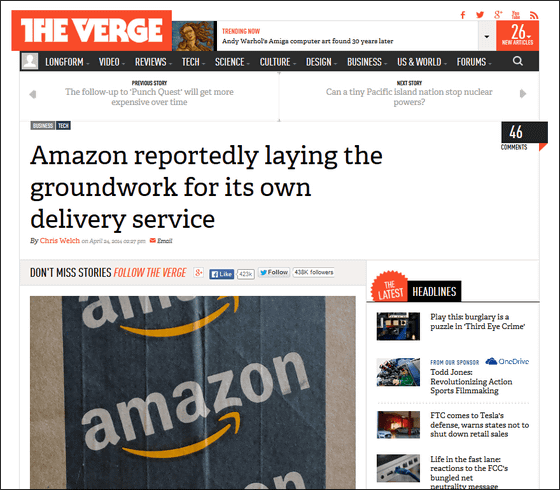 Amazon, in Threat to UPS, Tries Its Own Deliveries - WSJ.com
http://online.wsj.com/news/articles/SB10001424052702304788404579521522792859890

America'sThe Wall Street JournalAccording to it, Amazon seems to be entering the logistics field, is an international logistics company in this fieldUPSYaFedExWe are confident that we will compete directly with. In addition, Amazon has already tested the delivery service in some areas such as San Francisco, New York, Los Angeles, and reports that it is in the stage of preparing for the development of logistics services.

The Wall Street Journal says that Amazon's Jeff Bezos CEO "to depend on existing delivery services at the current rate" as Amazon states, "It is extremely natural that Amazon will try to challenge important areas of logistics services." We can not do that because continuing business with reliance on existing delivery services will inhibit Amazon's growth, increase expenses, and hinder delivery innovation. " And I guess that I am trying to start my own logistics service as a solution to the problem that Amazon currently has.

While it is wonderful that customers can more freely select "when and where to receive items" when buying something online, Amazon cuts costs by entry into logistics services , In more cities "Immediate deliveryIt seems that it is aiming to make it possible. In addition, Amazon already established its own delivery network in the UK, and it is not that there is no know-how on logistics services in full-scale entry.

The Verge says, "Amazon initially started with a small service, local couriers andUnited States Postal ServiceWe will gradually reduce the number of deliveries that rely on. "Delivery mistakes and delays in the holiday season, I guess that Amazon realized that orders to the company which was too large with the traditional logistics system can not be decided and started to build its own service.
in Note, Posted by logu_ii