"Fate / Zero Production is Another Holy Grail War" etc. Behind the scenes of animation and game production were talked about industry talk event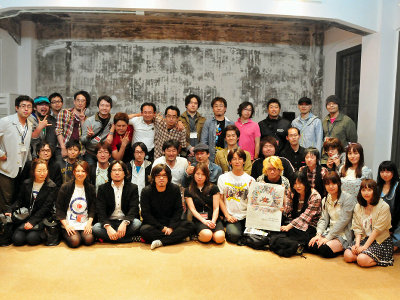 "Industry stakeholder talk event" which the staff of the operation · participating company gathers together and spreads the real intention talk which can not be heard, such as the story behind the event and the circumstances behind the industry,Machi ★ Asobi vol.6"It was done without pitfalls.

Participating participants are people in important positions in the animation industry and the gaming industry too, and contents like polo stranded that I can not speak unintentionally due to multiplication have come out, I announced the amazing content with the momentum Talk of content which was annoyed this time, such as chilling in, was developed.

The invitation of Mr. Yuuma Takahashi of Aniplex, whose moderator position at the "Machi ★ Asobi" related event is standardized, started the "Industry Party Talk Event" which is the evening event of the night during "Machi ★ Asobi" did.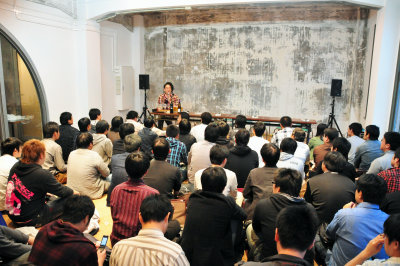 Aniplex Yuumi Takahashi (hereinafter, Yuma):
First is Mr. Kondo who is a comprehensive producer of gore ★ Asobi with euphor table representative director of animation production company. here you go.

Euphor table Kondo Hikari (hereinafter, Kondo):
I'm leaving a lot in the venue (the guests), so I do not say 21 o'clock but I'd like to finish around 21 o'clock as a goal. Like usual, turning only to young customers of the year "getting home early" is painful. So, let 's all go home together today.

Yuma:
I would like to call you. I also do not know the whole body of who I am, too (laugh) Everyone involved, please go inside. Please do.

(There should be sequential entry, but no one came)

Yuma:
Everyone? Please do.

Well well, it is almost time for the second day to end, everyone good tiredness. (To the audience gathered) People who participate from yesterday ... (hands of hands) ... Oh, awesome a lot. I think that I am going to be able to do the talk from now with these 16 people. Mr. Kondo, I finished safely the second day, how are you?

Kondo:
Spring is good.

Yuma:
Because January is cold.

Kondo:
There is hope from various directions, I want to lengthen doing the work in January and do it in October, but since there are also various kinds of people 's wishes, I would like to do while reading the air .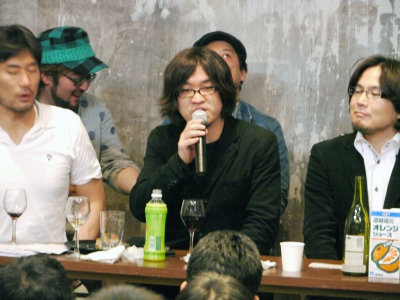 Yuma:
Shin-cho Park, where you did live performances and talk shows, is warm and easy to see. Oh, did you drink around? So, with all my thought of having fun for the next two hours, I am good at Kanbaku!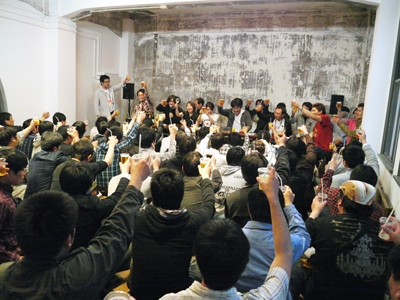 Well, who is this talk event for the first time? (Hand raising) Oh, there you are.

Kondo:
I wondered what I was going to come here (laugh)

Yuma:
There are some people who are new to you, first of all think that you can introduce yourself.

First of all, I am Yuuma Takahashi of Aniplex.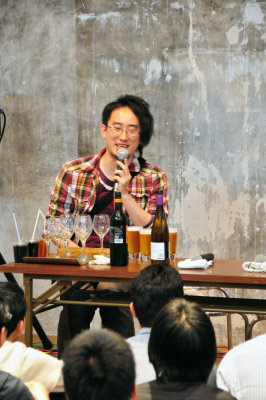 Frontier Works Nomura (hereinafter, Nomura):
Frontier Works is Nomura, "Hetalia Hetalia Axis powers"And"Stein's GateWe are also doing it. Thank you.

Red Entertainment Ito (Ito):
It is Ito of Red Entertainment. Mainly games, recently "We are Kaseki Holder"Or"Scared Rider Xechs - Scarred Riders ZexI am doing something like that.

Comics · Wave · Film Kawaguchi (hereinafter, Kawaguchi):
Nice to meet you, Kawaguchi of Comics · Wave · Film. It is my first visit to Tokushima, I do not know either the right or the left, thank you. We coached with Shinkai Makoto "child chasing starWe completed the other day and are just waiting for the public release on May 7th. Also,Peping LifeI am producing a gag animation.

King record Yamanaka (hereafter, Yamanaka):
It is a mountain of King records. Hi. The work I am doing is "Yosuganosora"In July,"Mayo Chiki!It is scheduled to begin. Please enjoy the talk show.

Kadokawa Shoten Nishiyama (hereafter, Nishiyama):
It is Nishiyama of Kadokawa Shoten. (Machi ★ Asobi) Although it is coming with pocket money as a general customer, it is a situation that somehow is on the stage.

Recently it is "Everyday","The world's first loveIn addition, "Deadman · Wonderland"And,"GOSICK - Gothic -I am doing it.

Nitroplus Doi (hereinafter, Doi):
It is the doit of nitroplus.Phantom ~ Requiem for the Phantom ~YaSonikomi, "Magical Girl Madoka ☆ Magica",STEINS; GATEWhen"Fate / ZeroI am in charge of such as.

BANDAI NAMCO Games Inc. Tomizawa (hereinafter referred to as Tomizawa):
This time "Machi ★ Asobi" is the 5th time, it is Tomizawa of NAMCO BANDAI Games.God Eaterseries,Magical Girl Lyrical Nanoha A's Portable - THE GEARS OF DESTINY -I am doing various works such as. This time"Tales of ExiliaI came only to open a huge panel of people (laugh)

Let's hit in the nitroplus (hereafter it will be):
I'd like to be a Nitroplus representative, thank you. It is not a representative work but it is done in general. This time I will do something like lectureI caught a decade of nitroplusAlthough it is a tangle of it, it served as a soldier of Fiveman theater version.

Professor Mr. Nagano's "Five Star StoryIt is the background of the work which was done before "NewtypeI was assisting while doing editing. Also, serialized in Korokoro comic "NES Rocky"I was doing an assistant.

Animate Koyama:
My name is Oyama of animate. My work has been on sale differently from everyone, and I am in charge of advertising nationwide animate stores. From the last year I said "Anime store manager x Toho project"I made it while being angry with my collaborative video, and I learned a lot.

GONZO Takagi (hereinafter referred to as Takagi):
I am Takaki of GONZO. Nitro, I am indebted to you (lol) Because I have not had any new work for the last 2 years or so, I think that some people think that they were crushed, but finally I could post three new works. I think that I want to recover somehow, so please watch warmly.

Daylite Ouchi (hereinafter, Ouchi):
I am planning and making animation. Finally today I was able to announce the animation 'Konpin'. In this, although it seems to be a company with a different genre, actually it is a formerInterchannel, That survivor of game, animation, music of that inconjane ... ... I am.

I survived until the very end of the last minute, and it was no longer with the charisma of those days and only I remained, so I decided to take care of everything.

Capcom New Year (hereinafter, New Wife):
Nice to meet you, I am Capcom's new wife. The event itself came for the first time, but why is there almost a game company in animation-related events? I got a lot of work done with Mouse Promotion Nayatani, and I was involved in "SUPER STREET FIGHTER IV"MARVEL VS. CAPCOM 3 Fate of Two WorldsMost of Voice of the Great Game was taken by Mr. Nayato, I tried inviting you with that connection.

Frontier Works Sato (hereinafter, Sato):
It is Sato of frontier works. It is the same as my boss (Mr. Nomura) in front of me, his work is Hetalia and Steins Gate, Higurashi alsoNew work OVAThere is, so we are doing publicity there.

Hoshida Hirabayashi (Hirabayashi):
I am Hirabayashi of Hoshiganta. If it is usual you should have a man called Ota who wore a leather jacket here, but by saying that I can not come today, last night I told Yuma "I will come here instead ..."

Yuma:
I did not say that! (Lol)

Hirabayashi:
I am very thankful for Yuma-san, so I asked you to say "Yes, fortunate ..." (laugh)

When I say what I did, last year, we did it in "Full moon readinghouse by Maaya SakamotoThere was an event of Mr. Aniplex at that time, having a picture made by Euphor table and asking Mr. Nayato of the mouse promotion for recording, we have come to a connection.

NAMCO BANDAI Games Inc. Yoshiharu (hereinafter referred to as Yoshiharu):
It is my name, Bandai Namco Games Inc. 's merit, thanks.

The event itself is the second time since I came last May. Our Tomizawa has come all the way, I had my talk event done with our Baba this time, but I would like to participate in this place I do not know what it is like.

Sony Magazines Kaga (Kaga):
I suddenly get in the way.Lithiani!I am in charge of editing and writing of animation music magazine. Currently issued up to vol.5, in the latest issue "Feast of Magical Girl Madoka ☆ Magica" I am holding a special feature of the beginning.

Yuma:
On the first day of May 3, I think that everyone watched the flyer and the event went around, but in fact we can not let go of the flyer. Actually, I do not understand the whole thoroughly until coming (laugh)
How was your first day as Mr. Kondo?

Kondo:
The rain did not rain so much and the weather took it well. At the end I fell for a moment but it is said to have managed somehow.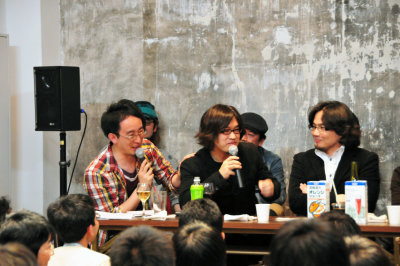 Yuma:
"Crackle crackle!There was also a public record of "I wish you had not rained."

Kondo:
"TYPE-MOONA great man of came in Naijo and was walking around.

Yuma:
Oh, that's right. I,Spear of Longinus made of TitaniumI went to see it, but that was amazing.

Kondo:
Who was good, really?

Yuma:
Ah,"Excalibur" made by shaving ironCompared with? Of course it is Excalibur. I am surprised at the amount of the invoice (Excalibur) (lol) It is a number like "What is this!?" I made my craftsman make souls.

Kondo:
Or, but the spear of Longinus is also amazing.

Yuma:
It is a terrible situation that the two big weapons of the entertainment world are lining up. By the way, Excalibur is actuallyAnime content ExpoI had made it for the event, but the event has gone, so it was exhibited this time that "(if it will be announced) Machi ★ Asobi".

By the way, how did Yoshikichi, an artist who made a spear of Longinus, be decided to participate?

Kondo:
I do not know at all.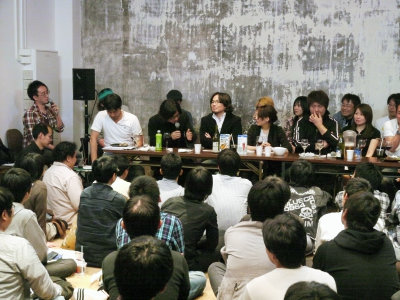 Yuma:
Er, the comprehensive producer does not know! Is it?

Kondo:
There were various windows, and it seemed that there was an offer to "want to go out" to one of them, "Please do so because there is a place." The frontage is messed up.

Yuma:
Also, at the same venue as the Excalibur exhibition, we are holding "package exhibition" with other manufacturers such as Frontier Works, Kadokawa Shoten, King Records. Did you all see it? It was displayed about 100 tens of points side by side.

Did you see Ms. Nishiyama?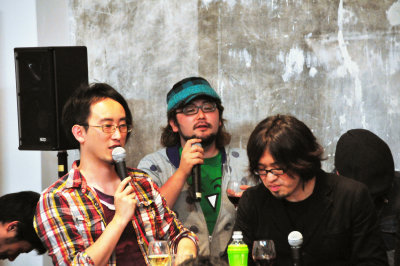 Nishiyama:
First I was surprised by the balloon (a lot of it was decorated at the venue) (laugh) What is the smell of this rubber? When. Well, even if you lined up that one, it is spectacular.

Kondo:
I can serve you five hours seriously. I started reading the exhibit "Gamba's adventure". It's really at home.

I hope you get it in my hands and get interested (also in the contents of the exhibited work).

Yuma:
I was lined up on the night before the first day, but do not come up and have the helpers of the euphor table movie people help me.

Each maker has its own characteristics ...... Frontier Works often has clothes on DVD, is not it a cushion or a pillow case?

Sato:
In those days it's time to put on cloth (laugh)

I am thinking about various benefits. There are a lot of versions to make, the first one is to record bonus videos on CDs first, but when thinking about something worth as much as that, it was a cloth at the time.

Nomura:
Recently girls are holding on to pillows and so on. "Starry ☆ SkyI tried on it with a work called.

Yuma:
Can I ask women for opinions (to the audience)?

Customer:
I want a DVD version of a holding pillow.

Yuma:
On the first day at the Awa Odori KaikanCGM MarketplaceAlthough Nitroplus did a sale of the garage kit called "How was it actually?"

Doi:
Actually, I sold "Madoka ☆ Magica" cuvbe sticker, but I was too busy to organize the row and I could hardly see the venue (lol)

Because there is a voice call in Tokushima when there is a galleki event, we can not afford to participate. Actually, the event that Nitroplus participated for the first time is also a gareki event.

(Here, Mouse Promotion Mr. Nayato joins)

Yuma:
Was the sticker very popular?

Doi:
Yes, it was sold out soon. I would like Mr. Anipre to increase production.

Let's do it in:
By the way, why does not there "Magical Girl Madoka ☆ Magica" in the package exhibition?

Yuma:
I think that you know a lot of people, but a bit of packages .... I'm sorry! It is! It is! It is!

By the way, the people who are here are just those who participated in the lecture of the two of Nitroplus, I also saw, but how about it?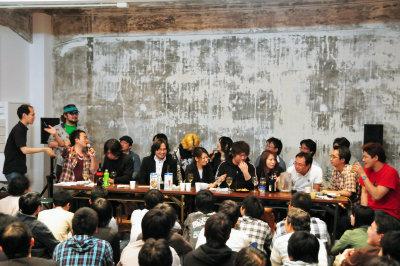 Let's do it in:
I caught a cold and spoke for two hours, my voice ceased to come out, I am sorry for the last person being irritated.

When I got casually, I got stuck in the conspiracy of Mr. Kondo. I had to make things properly because it was a pretty serious lecture, and I had a meeting with Doi for hours. I'd like to talk naked, but Doi minds being overlooked.

Doi:
I've been struck by a powerpaw in the car as long as I come and toured Tokushima hundreds of kilometers of roads by themselves (laugh)

Kondo:
You have good relations.

Yuma:
When it is manga, the president and the vice president are often broken down by factions, but there is a bad image, but it is totally different.

Doi:
However, I do not do anything private.

Yuma:
If there is something I forgot to mention in the two hours I told you again.



Let's do it in:
Oh yeah, Mr. Kondo tweeted "Pretty girl game 20 to 40 million" on Twitter, but that is just because I imagine the average development cost of the beautiful girl game I think . By the way, the nitroplus is a little expensive, I am making it around 60 million.

Yuma:
It is naked.

Let's do it in:
There are other advertising expenses etc, so if the total price is about 100 million. If you do not buy properly (DVD software etc.), the company will easily collapse (lol)

Doi:
It is a feeling that bicycle operation or "hitting is natural".

Let's do it in:
I do not have a big company in the back, I do it only with self-financing and bank borrowing (laugh)



Doi:
We do not have a sponsor, which is a feature.

Let's do it in:
I envy 5 pb. (Laugh)

Yuma:
That said, as it is Frontier Works who is being attacked with Nitroplus, will not you sponsor (Frontier Works) if you do not mind?

Nomura:
No, I am thankful just to let you together (lol)

Even with publicity, I have cooperation in various ways, now"Steins Gate" Pain Caravan TourToday just let me do the nitroplus from SannomiyaJoy SquirrelAnd 5bpMorse van.He is headed for a car with a pain.

Let's do it in:
A Ferris wheel seems to be on a tweetIt was because there was (laugh)

Nomura:
I hope to be able to come here in time. Maybe it may be tough ...

Yuma:
Looking from Frontier Works What kind of company is Nitroplus?

Nomura:
Before"Demon BainAlthough I had the imaging of image together, there is a tremendous commitment in the mechanism, and it is feeling that I do not yield where the girls are cute.

Because I can tell you points to be precisely suppressed, on the contrary it was easy to do. "Oh, should we do this properly?" I am doing it while teaching it in such a way.

Doi:
Sorry for the proofreading being late all the time ... ....

Nomura:
This is because it really is checking over various things.

Yuma:
On the other hand, Nitroplus, that is, it becomes an original company, but is there a policy on how to move forward with Frontier Works and an animation company?

Let's do it in:
You will learn a lot. There are a lot of game companies doing at independence. But animation-related companies are deeply connected with each other, and their connections are tremendous.

Personally I am making friends with the presidents of various places including TYPE-MOON, but it is another story to work with me, and the hurdles are expensive. Because I will not be able to get along with my usual time when I work together.

The animation company has been working well with work and private, and I am studying around here.

Yuma:
It is the feeling that "Gore ★ Assobi" has come so far with ties and ties and momentum. Speaking of bonds, have you seen the advertisement of this Tokushima newspaper? Although it is a so-so-so-called one, this is pretty messy in terms of relationship.

This is an advertisement published in the morning edition of the Tokushima Shimbun on May 4, 2011. Using the whole face in color, the message on East Japan great earthquake and characters of each company are drawn.



Kondo:
I do not know how they are connected.

Yuma:
Mr. Kondo made this plan, we organized this plan, but how was it made with this feeling?

Kondo:
It is a serious story, but all of the people in the industry are also shocked by the earthquake disaster. I thought that I wanted to do something and I was about to take action, but I thought that it was really good to do that. There was also hesitant to hesitate to say that it is not a single cheer for patience to endure.

Anime · content · Expo has gone, but Tokushima has nothing to save electricity and is doing "Machi ★ Assobi" in places like illegal zones, so today is a good smile company Anne Miyuki who has gone home by plane Or, I was going to be one with Bushirood's Kizutani san, and then it started from the place where I can do something with gore ★ Asobi, it is a solid of good intentions. Both Saber and the offensive shells are drawn down, and more than 20 characters are drawn down.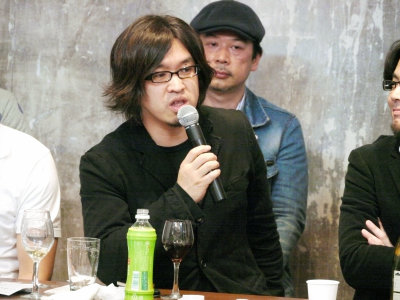 Yuma:
A company that is participating in the paper nowadays ...... Oh, almost everyone.

Kondo:
It's a bond!

Yuma:
It is wonderful, it is a good punch.

Kondo:
Also, we have set up a donation box at Cheerful JAPAN. However, I asked if I asked, I was stopping calling, I left only the box. I think that there are also people who gave it a lot but I think that there are various timing and so on, if the person who can publish will be making a donation through Cheerful JAPAN.

Yuma:
Should I ask a question (from the guests at the venue), "How much do you come to Tokushima with the amount of the galleries?", It is no gulla.

Kondo:
There is none!

Yuma:
It's a bond!

Where there was laughter. In the daytime of May 4th, Cheburashka came to visit from Russia.

Nomura:
It seems that Tokushima was a bit hard as it is hotter than Russia. I was told that the children got together and was happy (lol)

Kondo:
Aoyagaras mavelDo you know?

Maver was waiting for Cheburashka to give it out for a while, but I could not meet him, but I was left alone and I was dropping a shoulder. It was super interesting (lol)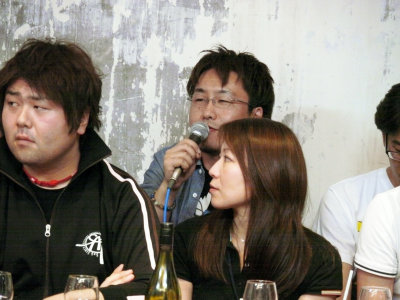 Yuma:
And after the event GONZO participated in Asobi, and Takagi said that the first landing in Tokushima, there was also a PV screening.

Takagi:
Oh, forced to Kondo-san ... ... It's a bond! Yesterday a bit PV was not in time.

Kondo:
This really did not make it.

Takagi:
At the time of the screening still the film is at Tokushima Airport. Well today I managed to make it in time ... ... Well, that kind of company.

Yuma:
By the way, what kind of connection did you come here this time?

Takagi:
First, I was studying to make animation under Mr. Kondo.

Kondo:
It is a relationship that he entered as a new employee to the company I was in before.

Takagi:
At that momentEmmy AwardI got an Emmy Award even at GONZO, but that really does not lead to sales ... ....

Kondo:
Who you saw at the GONZO booth 's chronology?

Yuma:
People who have not seen please look again. It's awesome.

Kondo:
Because GONZO makes their own chronology. Moreover, I was writing about the period of my own "stagnation period".

When I asked "Do you write in a nice like this?", I answered that "Initially I wrote" declining "" Reply (ha ha) Written firmly about company name independent from GONZO.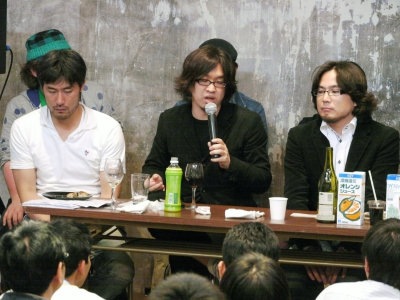 Yuma:
It was written that the Studio 5 pair of A channel and company name, too.

Takagi:
No, five pairs and Mr. Hoods etc. are in a good mood ... No, it is awful no more.

Kondo:
And then Mr. Mura Hama.

Takagi:
Murama Haman is not stopping before ...

Kondo:
Shall I stop here?

Yuma:
Mr. Kawaguchi of Comics · Wave · Film had an event to speak in public in the first few years in relation to Shinkai Makoto's new work "Children following a Star".

Kawaguchi:
It was the first time in four years for a new work, so I stayed in London for the first two years. There was twice an event in relation to the weekly new work the other week, but since it was about that it took in front of people, I wondered if I could talk properly .... However, Shinkai san said truly, but the story is fine.

Yuma:
It was a tough person.

Kawaguchi:
My house is a gap industry, the company is small, and since I have only about once in 4 years a proper work (Machi ★ Asobi) I thought you would not call me. If I talk about it to Shinkai, "I will also go".

Kondo:
It's amazing, Machi ★ said it bothers to make a 5-minute video for Asobi.

Kawaguchi:
There is also footage of Squid, but since I could not see the monitor at the event, I have not seen it yet.

Kondo:
Mr. Kawaguchi is really awesome elite, and I served it for ITOCHU Corporation before.

Yuma:
I am a longing business professional!

Kondo:
I decided to play with Shinkai-san and started comic · wave · film. I heard that I invested big money and I was doing my best and asked me to support her, and Shinkai-san came also.

Kawaguchi:
I do not bring it from here, but when I say that he wishes to make a plan, I will start planning. That's why I am the only one who knocks down his ass. When seeing the work and "twice seeing the next work" are tweeted, it reaches him and I think "I will do my best next time!" That's why he takes care of the events that interact with customers very much. Even this time, I will start autographing without permission.

Kondo:
Shinkai-san was at the moment of the airplane then, but when asked, "Is not it better to take around noon?" When I heard "everyone waited" and continue signing without eating anything. It is a really nice person.

Kawaguchi:
It is a really nice person. Except when you wrote it in a script (laugh) Other than that it is the best.

Yuma:
"Children who follow the stars" If there is something to say that it is just before publication.

Kawaguchi:
I will screen on Cinema Sunshine North Island in Tokushima on May 7, so please go and see it all, for a new work that will be the first time in 4 years and 2 months. Thank you.

Naya:
Everyone was gathered more than usual this time, when asking customers with "tsukikaneko" talk show, there were one third of the people who have never been to this time.

Kondo:
You seem to be like a local idol, are not you?

Naya:
Can I do it? Local gentleman Kondo.

Kondo:
I mean, why do not you join the members from Tokushima? You only have to audition onionately.

Yuma:
Something like Maginata.

Kondo:
I was thinking quite seriously, but at the same time as I said, it is now! When.

Naya:
I can not say "Here is a bit ... ..." here.

Kondo:
One event was decided in October (Machi ★ Asobi). I'm relieved.

Yuma:
By the way, GONZO's new work "This timeI'm next to someone who brought me.

Oyuki:
To me with this flow! Is it?

Yuma:
Mr. Nayato is doing acoustic as well.

Oyuki:
Anime production is GONZO, and sound production is Studio Mouse Nayatani, it is in a state that it is producing rather here.

Yuma:
Indeed, may I ask you what kind of work you are doing?

Oyuki:
Actually, I talked with Gonzo Takagi-san while I was doing work many times so far, so that I would like to do animation with KEI. Because I also like the picture of KEI.

I think that it is common to associate with animation as an animation, but I wanted to play a little bit, because it became the form of the first plan of my life, by saying that I can not do something interesting, first Let's make a character. Actually, the original is raised in manga, but the animation you make this time is not the original story.

Yuma:
Oh?

Oyuki:
To put it briefly, Gaiden first comes out to the world.

(Joy Mitsukushi's call got into the room and noisy) ... so please look forward to it! (Lol)

Yuma:
Although it is a work called "Fate / Zero" that was released for the first time yesterday (May 3). It is finally broadcasting from October.

Kondo:
Finally I got it. I can not run away anymore.

Yuma:
Did you take out and was OK?

Kondo:
Yup. Everyone else will not work unless it is issued.

Yuma:
Now, we are publishing "Fate / Zero" bunko novel at Hoshizaka shrine, and only 4 companies are involved in this work just by staying here, there is existence of Mr. Kaguchi as a common item. Even in the story of Mr. Nitroplus, "de-icing", of course, in a good sense, of course, I had such a thing, but if you could talk about Mr. Hirabayashi about Mr. Kakuchi such as talking about a paperback.

Hirabayashi:
I am not in charge of Mr. Kamiuchi of Hoshiganta.

Kondo:
It is a pretty big failure.

Hirabayashi:
I have talked to Mr. Kagiuchi many times and talking, but I am not in charge.

Yuma:
What kind of person is Kamiuchi?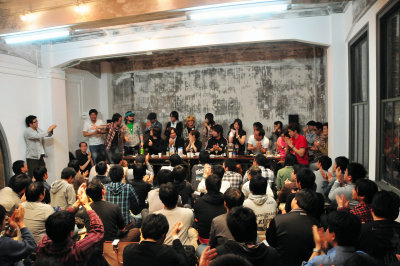 Hirabayashi:
It is not a "man" but a "Han", a person who feels good liberals. I made a huge poster for a bookstore when I started writing a book, but talking about putting a sign in there, with Mr. KayuchiRyuukishi 07"50" if you ask "I will go". And he wrote it at once.

There was an autograph session during this time, but at that time I practiced to be able to sign with my fingers.

Yuma:
An image of "Fate / Zero" was announcedWhat is the point of view?

Doi:
I've had some cuts that have not been edited before, but honestly, including this time, I thought "Are you sure you do it in Kore?"

Yuma:
"Is it going to be done with this quality every week on TV?"

Doi:
Because it was quality that I wanted to ask "It is a mistake in the movie version". When I got PV sent again the other day, after all it was finished as it was. It really got goose bumps as it would go as it was.

Kondo:
Do not raise too much hurd.

That is not for PV but for a part of the main part. Please wait for a while. It's really heavy, because I can imagine how much things are expected. It's a tough fight, is not it?

Yuma:
It is a feeling that there is another Holy Grail war there.

Kawaguchi:
If you make a piece of euphor table, it looks like it is in deficit the more you make it, but how do you eat it?

Kondo:
It's a cafe, a cafe (haha). We can see a profit by doing cafe as well, but the surplus is in black but I am not profitable so much.

Because Mr. Aki san (president of Gusmaa) also said, "Mr. Kondo, the cafe is not really profitable" after the goods started the cafe.

Good day and Production I. G came to be a cafe, so we decided to open a "Good Smile Cafe", but now I do not know how I'm involved. In any case, Mr. Ishikawa of I. G showed up at a store for a moment and said, "Mr. Kondo, I'm thinking of doing something similar to UFO TABLE Cafe" I was told.

However, I cook with a cup of coffee who will meet off from 12 o'clock in the evening to around 8 o'clock in the evening. Of course, I do not think that it is bad separately. That cafe is pleased that someone who likes the work comes and the staff looks at it and becomes healthy. Then you can make good works. So, I'm in trouble if I am in the red, but if it is a bit surplus it will be a welcome at all.

Kawaguchi:
We have never done TV series.

Kondo:
Truly it's been awfully expensive to animate and there are really few things you can make within production costs. In that sense "the boundary of the sky" was truly worst.

The portion over which "sky boundary" over the production cost until recently was the worst one. But now, it means the percentage of actual expenses spent on production costs to the end, but the work that is likely to repaint that movement is moving.

There was Takayuki Hirao in my house, I also directed the fifth chapter of the boundary of the sky, but he is a ridiculous guy.Anime BunkoIn the series called "GyoI am making a work called " Perhaps it seems to animate that original, but I think you want to make it for the will to want to do.

It is becoming really tough, and it is becoming a super-major panic movie. I am completely moving beyond theatrical productions and moving to screen at movie theaters. It's been more than a year since I started drawing again, how about this, what is it like an OVA? It is not a story like what the 尺 is saying, at what momentum I think I want to do.

As I am a lot going forward, I'd like you to expect "Gyo", I did not expect that the worst one would overtake the boundary of the sky with a deficit percentage.

It is really dangerous that you can talk about 'Gyo is pretty ridiculous'. The euphor table is also dangerous.

Yuma:
I heard the story now, it is completely like a deficit company's impression.

Kawaguchi:
It is a good thing for customers as it is said that Mr. Kondo if it is not possible to say that the quality is getting higher as if it is cheap, it is also good for the maker.

Yuma:
it's the best.

Kondo:
We are doing various things like cafe, but in reality it has never been a deficit. I think that it seems to be on a good condition, but I've been doing what I want to do in the surplus.

From now on Shinjuku 3 chome dining and the movie theater are trying to do what I was in the height of the money I have. When I first tried to do cafe I was greatly opposed by the staff. But I'm happy if the customer is pleased to see the paintings we drew. I made the animation and eventually became a package, and I was doing the same idea as feeling that I'd be glad if you like it. Indeed, cafe, dining, movie theater are just like that, let's catch all the surpluses.

Because I also think that it is manager who makes a fight without failure. If you think that everyone buys us package, you ask cake for coffee and ask you to buy two can badges or that such stacking is becoming a movie theater. I am doing it in a surplus by some means.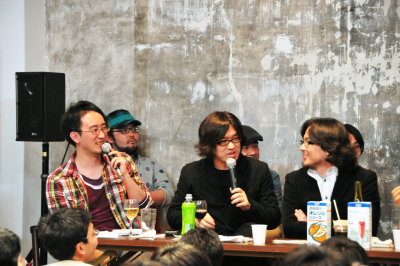 (Clapping at the venue)

Yuma:
Although I've tried to scratch up until the second day of "Machi ★ Asobi", there are people who are nice to meet in this place, so if you can talk to those who have not yet turned the microphone. First of all, Capcom's new wife.

Capcom New wife:
Actually I do not have a relationship with Euphor table.

Yuma:
From today no bonds, do you like it?

Kondo:
Nayato says, "There is a person who says that he wants to come to Asobi", then say "OK".

New wife:
All recent games are basically at Nayato 's place, I am doing it from casting to recording.

Naya:
Do not really stop that kind of thing (laugh), because I'm told I'm profitable. I'm not really profitable!

Kondo:
It is Capcom under the heavens. You are getting a lot of it, are not you?

Naya:
It's hard to say I do not say this, it's a lie if you say I do not get this, that's a funny story with that.

New wife:
Well, I guess, to much of Mr. Nayato (laugh)

Well, my house is also "MonhanI am told recently that you 're profitable.

Kondo:
There is no reason not to say! It is!

New wife:
Let's do it, let's have the matter with Ms. Naya done separately from Monhan.

Yuma:
Have you had the opportunity to think to participate in this event?

New wife:
The title that I am doing is getting a bit fluttery. Although it was the title released in February, the event was lost due to the effects of the earthquake, etc, and so it was said that "How is it in Machi ★ Asobi?" So "Well, surely".

I was at a loss as to whether or not this story got a little, but recently the opening animation of the game is essential, because there are times when it comes to acquiring an animation production company that makes it among game companies. Game companies and animation companies have become involved normally as soon as I notice it.

Unlike animation, the opening movie is a one-shot game, so it costs extra money. About the opening animation is about 10 million in 1 minute, in such a world.

Kawaguchi:
so much! May I take a business card case for a moment?

(Venue lol)

New wife:
I am pinch, but it is roughly like that.

Takagi:
I will do it cheaper.

Yuma:
This, there is no way a production company struggle! Is it?

In terms of movies, Namco Bandai also says "God Eater".

Tomizawa:
God Eater has 1 minute 30 seconds and 10 minutes of original animation made and I can not say a few of it indeed, but since I feel that I am sending out something of great quality, I think there will also be conflicts Shi ...... I'm sorry, but thank you. Because there is no mistake where the user is seeking.

Yuma:
Well, Mr. Yoshiharu Bandai Namco Games is also the first person.

Yoshiagaru:
I've been doing Tales' work from the first work for a long time, and I work with Tomizawa for a while. It is the first time that Mr. Kondo and I got the introduction of Frontier Works and let me do the symphonia.

Kondo:
It is OK, but the production of Xillia is really hard. It is not easy to have so many lines.

Yoshiagaru:
Mr. Inanota and Dr. Fujishima, there are points of particular attention to each.

(Bandai Namco Games Baba appears)

Kondo:
Sinfonia also screamed from the staff due to the large number of lines.

However, since I started Excia now, there is a voice that Symphonia looks so simple.

Baba:
It's really amazing. I think that moving images, effects, backgrounds, and images of Tales which are rarely seen are being completed.

Yoshiagaru:
It is my first time to ask UFO TABLE for this movie OP and halfway movie. I already have a symphonia so I know the base, but I did not know how much to ask, but Baba said "I want you to do this" regardless of that kind of thing Hurray, and.

Baba:
Although I am shaking out the Max value at the requested stage here, the staff is making something like shaking off even more.

Yuma:
That is why he is Mr. Baba, Producer of Exilia.

Kondo:
Let's listen to the actual situation of Bangnam from now.

Sawashiro who is playing the leading role gave me a video letter about 10 minutes long, but I'm pretty busy.

Baba:
Basically, it was a work on only Saturdays and Sundays.

Yuma:
To that, Mr. Sawashiro is a mouse belonging to Mr. Nayato. The allegation that is profitable is getting increasingly rich (lol)

Naya:
Do your schedule and do your work.

Baba:
Mr. Nayato's information is perfect.

Naya:
Why do you know so much about me! I know a lot recently.

Yuma:
And, as a nice initiative, Mr. Ito of Red Entertainment who also came to the eve of the evening.

Ito:
It seems that everyone is already working awesome, but when I meet Mr. Kondo I'm drinking ... ...

Yuma:
Such a bond?

Kondo:
Or, I do not feel like drinking friends. Sometimes an email came and said, "I'd like to go drinking, please treat me" (laugh)

Yoshiagaru:
Oh, by the way I also chose me. Mahjong friends.

Ito:
Even at the eve of the evening we see people in Koenji, and Nitro sometimes watched it at work, the new wife is red and it is connected with the people who are here somehow.

Kondo:
Today's theme?

Yuma:
bonds. It is well organized.

So, how about trying it out?

Ito:
I really do not know the details.

Yuma:
It is common to everyone there (laugh)

Ito:
To be honest, I entered the afternoon of the 2nd day after being told that it was from the 3rd.

Kondo:
You explained it properly?

Ito:
I have not.

Yoshiagaru:
I did not do it.

Kondo:
But even if I explain it, it is an event that is not the other, so even if I explain it, I do not get it. To Mr. Ito I gave the VTR of the program that I did at the Kids Station, but I was looking funny.

Ito:
As I was planning to do the sales this time, the user got a lot of inquiries such as "Where are you going" and asked Euphor table, but the answer returned is "the river's aim" (lol)

Kondo:
But was it actually around the river? You can tell by coming.

Kawaguchi:
Haha ha ha (haha)

Yuma:
There are a lot of things to come and see at the scene.

Kawaguchi:
It seems like "I can understand if I go". As customers are looking at it with a lenient eye, I still have my drink or something drunk like this now.

Yuma:
If this is a fee-based event, we will be crowded.

Kawaguchi:
I think that 's really love for Kondo Hikari.

Kondo:
Mr. Kawaguchi, I'm drunk ... (lol)
We are truly happy. I always start this talk show around 20 o'clock, and I'm doing it further after I finish. Last time when Nasu Kinoko and Takeuchi Takashi came, I saw the sky on this roof. "Tokushima is a nice place." It's 3 o'clock in the middle of the night.

Yuma:
Another person who is nice to meet you is Kaga from Cine Magazine. Edited by a magazine called Lithuani.

First of all, gore ★ Assobi, what kind of atmosphere do you see when you come?

Kaga
I think autumn, winter, spring and the atmosphere are different and it is interesting. As a part which does not change, I always feel that it is warm, or very comfortable. I feel that the food is delicious and easy to live.

Kondo:
The rent is cheap.

Kaga
It is a really nice place.

Kondo:
But it seems that resident 's tax is high.

Yuma:
For the time being, I would like to conclude the first part in this neighborhood and I would like to continue listening to this and including it.

Even after this talk show rushed to the second part, Kondo producer in the last, "let's build up the form of" only here "event rather than saying" not in Tokyo ". I am gratefully put together with the comment "Please do."

However, it was quite exciting content, such as Ustream distribution stopped secretly for Part 1, as it was in a state where too much criminal backing was spilling about earlier. The next time "Machi ★ Asobi" can also listen to quite pointed talk at stakeholder talk event, so if you are interested visit "Machi ★ Assobi" and listen to the talk show live.