The next word of animation is "to praise and stretch", the 4th gore ★ Asobi eve festival report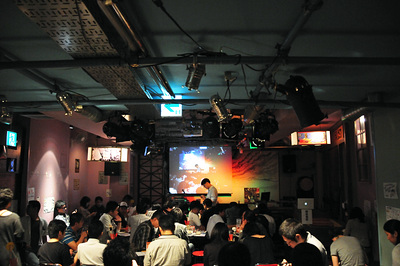 From today to October 10, in Tokushima "Machi ★ Asobi Vol.7"Will be made. This event, which started with trying to assimilate the Tokushima gore, was held three times a year, finally reaching the third fall this time. This time as well, it is also a shopping area in front of the Tokushima station, Potpo Street and the Shimomachi Bridge East Park along the Shinmachi River flowing through the city and the umbrellas shops in that line, and the Awaodori Kaikan, and furthermore from the hall, it is possible to climb the mountain peaks in less than 10 minutes A stage and so on, a lot of events will be held.

Such a gore ★ Asobi on the first day, we will deliver the state of the 4th gore ★ Asobi eve party held at Loft A of Tokyo · Asagaya on September 20th. In the eve of the evening I was touched glaringly about what kind of events are held at this Machi ★ Asobi Vol.7, so it may be helpful at event participation.

Aniplex Yuumi Takahashi (hereinafter, Yuma):
Starting from September 23 this weekend "Machi ★ Asobi vol.7I'd like to inform you of various information on the site. This time I have made the most preparations so far.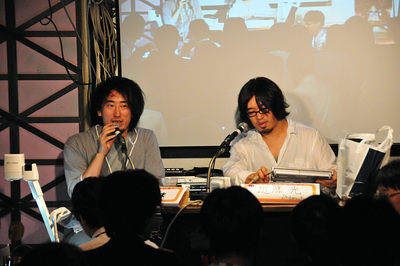 (Audience: Oh Oh Oh !!)

Yuma:
Mr. Kondo 's preparation is particularly amazing.

Ufotable Kondo Hikari Producer (Kondo):
I am doing my best.

Yuma:
I'm looking forward to see what Mr. Kondo has been doing his best. Since this gore ★ Asobi is not what we are doing only, I think that we can also be offered to the guests first. There are some people who are not informing, but I would like to invite guests who came today. Please welcome with applause.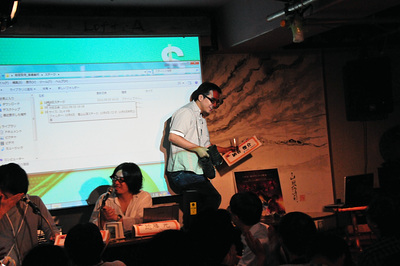 (applause)
(Audience: Nayataya Ah !!)

This time it appeared as a guest of NAMCO BANDAI GamesYusuke TomizawaMr.,Hideo BabaMs., nitroplusWould you do itMs., Good Smile CompanyTakanori Aki, Mouse PromotionShozo Naya'S 5 people. Later on, nitroplusGood eveningAlso joined, and together with Mr. Kondo and Yuma, the event advanced with eight people.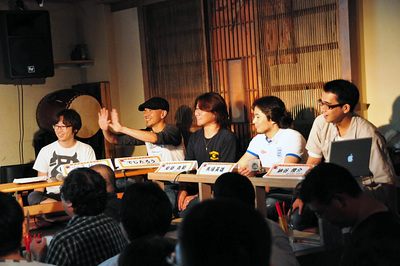 Yuma:
Today we are visiting these 5 guests, what is different from what we have been, we made our nameplate.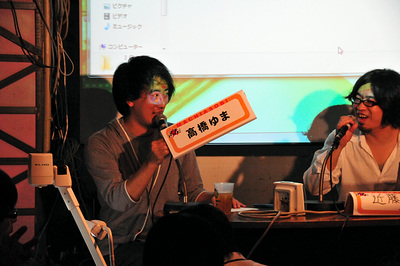 (applause)

Yuma:
I think that I do not know well who everyone was eventually finally, so this time in this form. In addition, this time I borrowed the power of Mikamthan of Good Smile Company,Mikkata ChanWe are doing live broadcasting at the risk, we are doing it (laugh). Well, I think that you would like to introduce yourself to the guests who took the stage, first of all Mr. Nayani please.

Mouse Promotion Noriya Nairi (hereinafter: Nayato):
It is a mouse promotion Nayato. Since gore ★ Asobi is coming out every time, I am looking forward to what I will do this time. Thank you.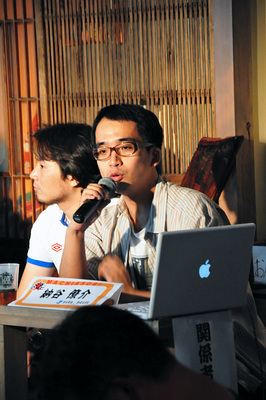 BANDAI NAMCO Games BABA Hideo (Baba):
My name is Bandai of Namco Bandai. "Tales of" series is making. Machi ★ Asobi was the second participation in the competition, so I'm hoping to grow excitement of Mt. Bizan in various ways with the God Eater team this time, so thank you.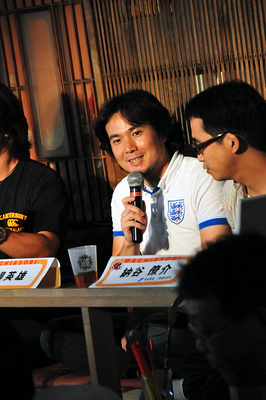 Good Smile Company Anjo Takinori (hereinafter, Aki):
Always thank you for your help, it is a good smile company's ancestral art. I am thinking to ask you on October 10 this time. Until just before that, I have to see F1 at Suzuka.



(Audience lol)

Kondo:
Because it is work.

Aki:
Because it is work to the last. Although it is barely finished, I am also looking forward to Aoshi who is a gore ★. Thank you.

Let's hit in the nitroplus (hereafter it will be):
I thought it was a nitroplus. Thank you. My name is Hiragana and I write "Let's be with you", but Mr. Aki says "I do not mind eating hiragana because it is stupid" I heard Tsukkomi, so it seems I have to change today.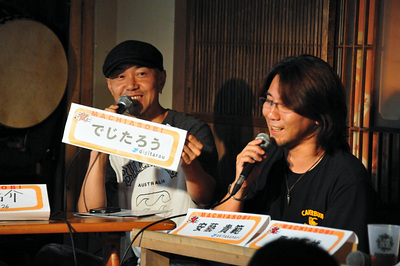 Aki:
A little earlier? A joke (lol)

Let's do it in:
joke? What?

(Audience lol)

Yuma:
What is that suddenly "Bacardi" seems to be "wonderful".

Let's do it in:
I would appreciate it if you have any good ideas, so please take care.

BANDAI NAMCO GAMES Yusuke Tomizawa (Tomizawa):
It was Tomizawa of NAMCO BANDAI Games, who jammed in the way. Since I came in jealousy, I wrote my nameplate myself, but Mr. Kondo also wrote by myself.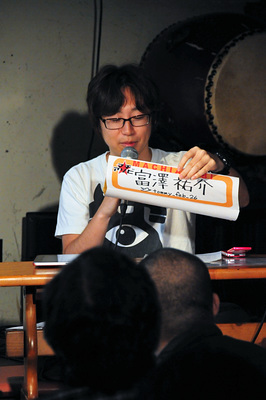 Kondo:
My part was not prepared.

(Audience: Eh !?)

Tomizawa:
now"God Eater 2"When"Magical Girl Madoka ☆ Magica PortableI'm doing it, so I'd like to go to Asobi by handing over that information. Thank you.

Kondo:
It is said that the information games are quite strict in Japan (Association hall).Account for AshbiOrMy accountI think that the information is the earliest, so I put it in the nameplate thought that it would be better to have an account look if it was to be thrown into Nico Nico videos. Other producers also have accounts, so if you like, I'd like you to follow up and get the latest information.

Yuma:
Today is the fourth evening festival ... ... Mr. Kondo, Machi ★ Assobi is also the 2nd anniversary.

Kondo:
is wrong. Autumn is already the third time.

Yuma:
Yes, since we entered the third year and gore ★ Asobi vol.7, gore ★ Assobi has been piling up the month and day, and it has become the largest gore ★ Assobi ever since the advance information as well. It is the same as the guests of the event, and raw talk events, sales, food, etc. are prepared. And what to say about this time is a flyer already completed!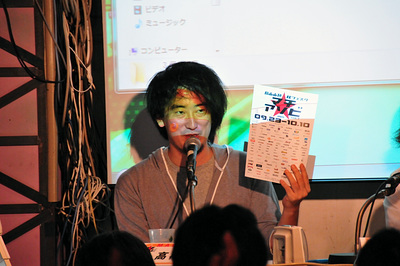 (Audience: Oh Oh Oh !!)

Aki:
To be pleased so much? (Lol) Ordinary normally, it is normal to complete it (laugh)

Kondo:
I am glad that you will be happy with just making a flyer.

Yuma:
Last time, at the 3rd eve of the evening we had to correct the characters at this scene, because I was wrong "ufotable". It was such a feeling, but this time we have all the event lineup in the flyer, so first we would like to release all of gore ★ Assovi along the time schedule in the first half of the fourth eve of the evening.

Kondo:
I've written various things with Twitter so far, but the event is still there and I can not write it. Some things are decided today, and some are not on the flyer.

(Audience: Eh !?)

Yuma:
Adults are moving every day. So today, I will do with the information shown on this screen. This is what Mr. Kondo was made and something, the last three days of October 8th, 9th and 10th are important points, so we put together these three days in folders in chronological order It has become one. So, I hope to open one from here and introduce it.

Kondo:
This time the gore ★ Assobi decided the entertainment along the four themes. Stage, exhibition, film festival, eating, thinking about how to make these four axes and saying that it is not going to rise even if you say a tough thing, first let me show you the 8th. Meishan summit stage, first at first!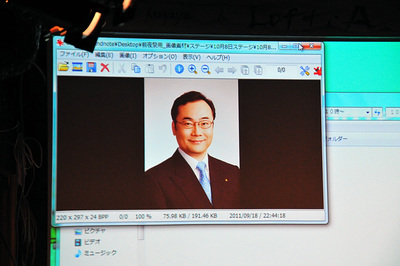 Yuma:
Who is it!?

(Audience: Eh !?)

Yuma:
Do you know! I'm daring to hear that!

Kondo:
Yes, he seems to come to the opening ceremony.

Yuma:
It is a Tokushima prefectural governor.



Kondo:
But since this is lonely, next time, from 10:30, "It stands on Tsukimaneko Mountain" has become. Nariya, please.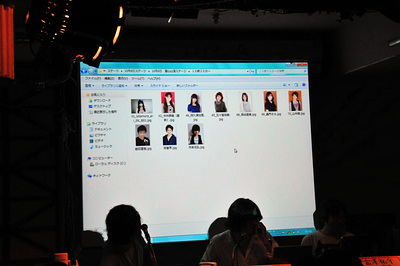 Naya:
Actually, it is still under adjustment, but the original members of 4 members (Eri Kitamura, Asami Imai, Akutsu Kaname, Hiromi Igarashi) are aligned and the rest are now being adjusted. I am planning to raise the final climax run by all, so please take care.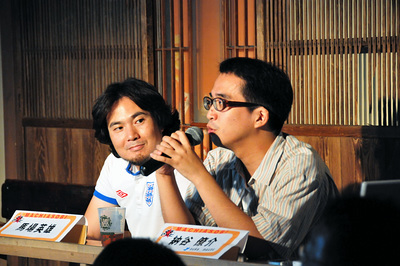 Kondo:
Well, let's go on next. Next time at 12 o'clock ......, "Steins Gate".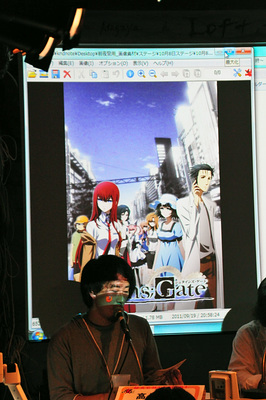 Yuma:
From 12 o'clock on the 8th that "Future Gadget Radio Station Got Machi ★ Assorted Business Edition & Ito Kanako Live".

Kondo:
Can I not have a son out? Actually, a lot of officials are coming, but I'm ashamed and it does not come out.

Let's do it in:
I'm grateful that we are doing producers of gore ★ Asobi's site.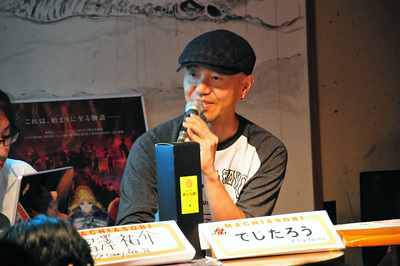 Yuma:
That 's why, Daisuke. Future Gadget radio station & Ita kanako It is said that it is live.

Nitroplus Oshimao (below):
Admiration adjustment is underway (audience laugh). I am letting you do "STEINS; GATE Radio" twice a month with Nico Nico Douga this time, this time with Mr. Asami Imai and our most mad publicity ·Joy SquirrelI got into Tokushima and tried the radio on the spot.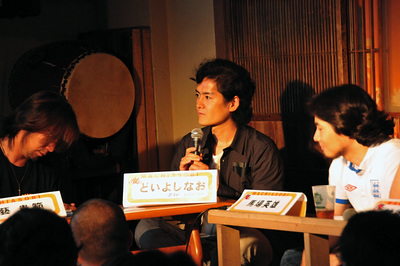 Yuma:
So this time with a charity auction.



Kondo:
It is something that we are also making posters for the Great East Japan Earthquake. Because a lot of amazing things are gathered, everyone, you might as well have grasped your pocket money. Several hits are gathered.

Yuma:
Continued from 14 o'clock on the 8th ... ... I do not quite understand this, but, "Cool Kawaii Declaration! Kao-chan and Talk Live Show".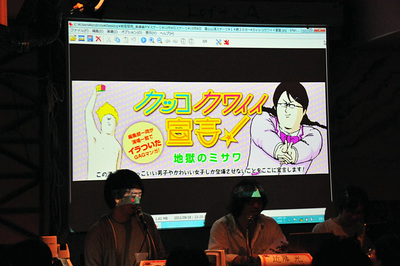 Kondo:
It is a work in jump square series. This time, Toho san will come to Machi ★ Asobi, so we decided to hurry to do this by all means. Machi ★ Asobi, thanks to everyone growing up, this time it is the situation that entertainment anime companies such as Shochiku-san and Toho-san will all come.

Yuma:
The company name lined up on the cover of the flyer is amazing.

Kondo:
Everyone, "Cool Kawaii Declaration!" Mr. Aki, how is it a Nendoroid?

Aki:
This is ... it seems like an acorn (lol)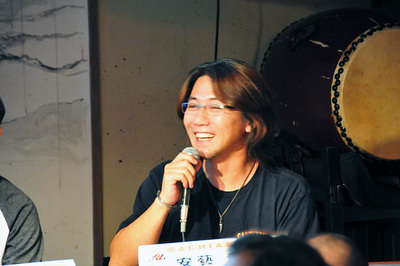 Kondo:
I understand. Thank you very much.

Yuma:
Next will come from 15 o'clock, "Minori Scramble & Animation Bunko Talk & Live".

Kondo:
Yes, the theme song was finished and I decided to sing.

Naya:
...... I do not sing? The leading ladies' team, Akutsu, Igarashi, Takai sang.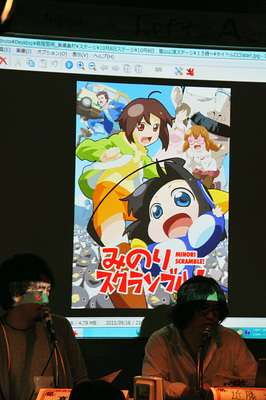 Kondo:
Last autumn I did an audition for "Minori Scramble", but there was a child from the active high school girl in Tokushima. That child came out to this, and the song also decided to sing. And I really want you to see it.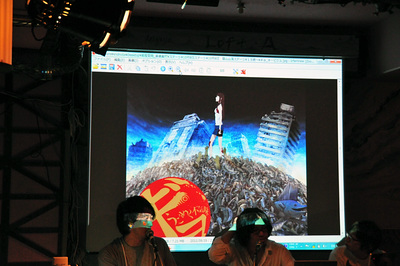 Yuma:
It is "Gyo" of Professor Junji Ito. It is supposed to be a big deal if it is up.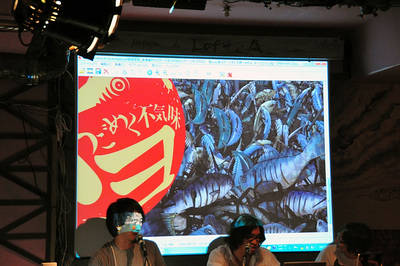 Kondo:
This is a masterpiece that you want to see by all means.

Yuma:
Anime bunko chooses 3 works of "lily star Naokosan" "gyo" "minori scramble" by making director and director of ufotable want to image, making things that are neither television nor theater By doing so, we are currently working on production.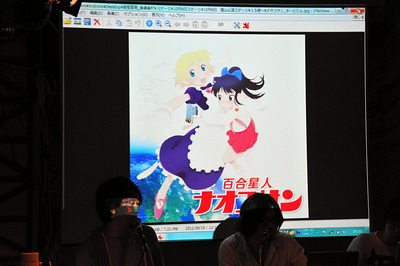 Kondo:
I think that Mr. Aki will surely make a Nendoroid of "Gyo".

Aki:
Is your teacher okay? Also, is it okay with the Nendoroid? Action figure is not better, you can grow your feet.

(All lol)

Yuma:
Anime bunko project, I hope to announce various things here. It is 15:30 on the 8th.

Kondo:
I am thinking of doing the live of the original animation "桜 の テ ー マ" made with ufotable here. According to the director Hirao-kun's request, Naomi Minatani will sing the ending to the audience Tokushima when I looked it up, but I was supposed to give a gift to the principal and have the live performance . The theme song of the movie version "Card Captor Sakura" was also singing.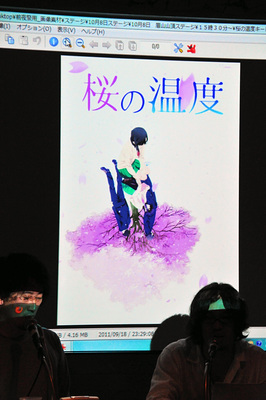 Yuma:
Next time is 16 o'clock on the 8th, is not it, here (applause applause)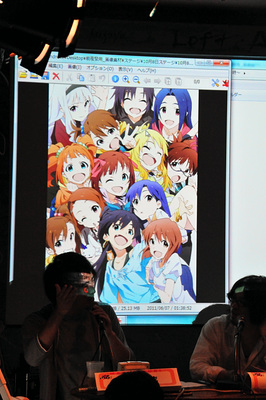 Kondo:
There was no applause when "Cherry Temperature", but ... .... (Hall crowd at the venue) Hirao-kun is sentimental so please applaud yourself.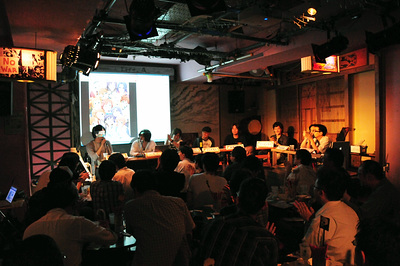 Yuma:
We visited 5 people from the leading cast "Idol Master Autumn Festiv @ l! In TOKUSHIMA", 5 from the cast, Asami Shimoda, Yumi Hara, Ms. Asami Imai, Naami Wakabayashi and Mayako Ninba, 1 I hope to be able to deliver various things in time.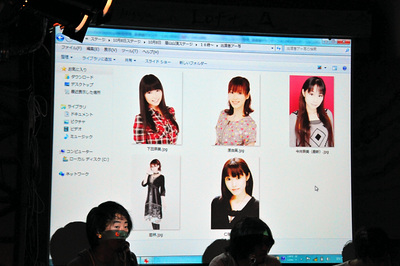 Kondo:
After all, are idolmasters popular?

Yuma:
Please do not make me feel so lonely, the temperature of cherry blossoms will come!

(Clapping at the venue)

Kondo:
how is it? Is there an idol master?

Baba:
I'm excited. Because it is information of the next team, I can not say various things ... ....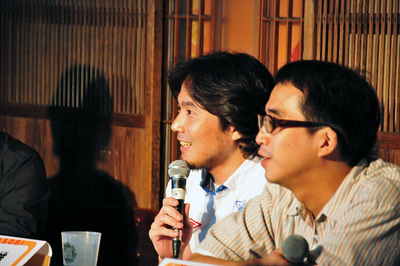 Yuma:
At 17 o'clock there is "The Moving Pictures Festival Award Ceremony".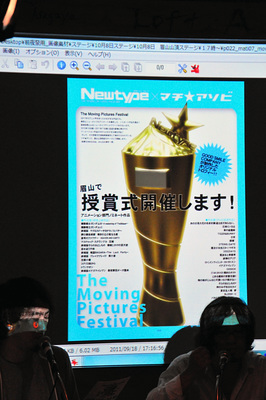 Kondo:
"New type" is still an animation magazine King, so it is nice to hear that the award ceremony will be held in Tokushima, is not it? Towards this awards ceremony, we still have a lot of work to do .... What is tough, what do you think is hard, I'd like to screen out the award-winning works here. I think that it would be good to screen the work that hit the most this year, but I can not negotiate because I do not know which one will be the first place. I can not affirm that "can be put on". So, when you think that "Do not get this," it feels like to start running. This was an intermediate presentation. The first place was "Magical Girl Madoka ☆ Magica", the second place was "I do not know the name of the flower I saw that day."

Yuma:
I see.

Kondo:
The third place is "TIGER & BUNNY".

Yuma:
The fact that the intermediate presentation came out, of course, I think that someone who likes works that are not "Madoka" will vote.

Kondo:
Producer Atsuhiro Iwagami of Aniplex knows that there is an interim announcement and said, "Do you announce it? If you do make an interim announcement together with the election, you will get another vote," he said. There are quite a lot of votes and it is over 10,000 votes in about 3 weeks after starting. Perhaps it is a situation that 3 to 40 thousand votes will be eventually finished, so we asked everyone to join us and asked them to say, "This was the most amazing" five years later, even after 10 years I want to make it.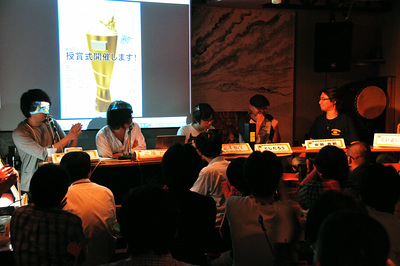 By the way, in theaters the first place was "Macross F", the second place was "Gundam UC", and the third place was "FULLMETAL ALCHEMIST". If possible, this prize has a will to become a meaningful award like the Academy Award, so there are 21 awards in all, such as color design awards and background awards, so that they can go to the staff. This time, the trophy is also made by the Good Smile Company at about the place where you can say that I am putting the most power.

(applause)

Aki:
A talk came at a timing that did not make it at all (venue laugh), "Can you do !!" Because I exceeded the day "Please decide the design so far" for two weeks. But I think it's okay .... I have not even come to my hand yet though (laugh)

Kondo:
I am making something that is rich in money. You can not just write your name by coming here and buying a trophy somewhere.

Aki:
Designing this is also involved in the design of Ferrari and Lamborghini, one of the leading 3D designers in Japan.

Yuma:
We are still accepting entries at WEB NEW TYPE, so if you have not done so, please vote from now on, the 1st place may change to something else.

Kondo:
I am sorry, but my work has not been included as a candidate for most of the time period, and I think that it is about game ★ Black ★ Rock Shooter .... About that. Please vote if you do not mind.

Yuma:
By the way, the moderator is Nao Yoshida of Japan Broadcasting Corporation. So ... everyone I'm aware of it, it took me half an hour to talk about the Big Mountain Forest Stage on October 8.

Kondo:
It's really amazing this time. Let's do Shinmachi River next time.

Yuma:
Shinmachihashi East Park 13: 00-13: 30, although I was also at the top of the mountain, I am going as well, so I will do something so I will do a talk show where casts will not come out at all (venue haha)

Kondo:
Behind this there is Stein's Gate's "Future Gadget Radio Station", so everyone else will have to choose one.

Yuma:
Usually, people on the production side never come out, but it's a big deal.

Kondo:
This back is even worse. I can tell you because it's about me, but in a pagoda on the top of the mountain "Talk about the city's cosmos department if you live" talk live.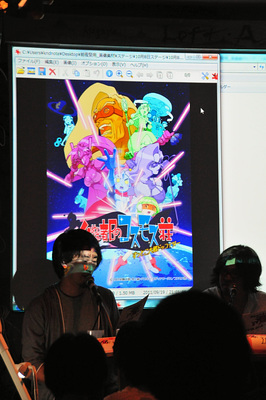 Yuma:
Events are held simultaneously in three places, this is gore ★ Assobi. It is said that there is an attraction war.

Kondo:
Everyone, come to Kore.

Yuma:
Following this there is "Hear Papa's saying!" "C3 - Se Cube - Talk event".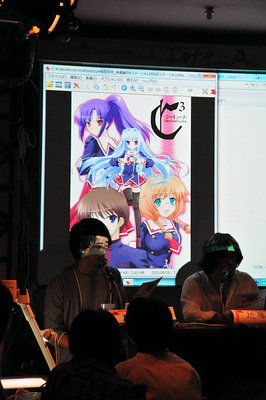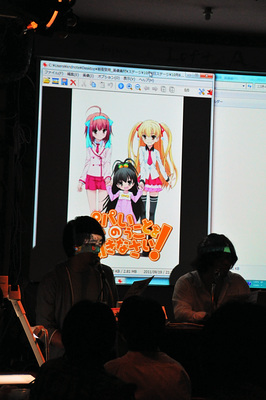 Kondo:
This time, King record is going to do various things mainly on Shinmachi River. There are lots of surprises ... .... Yamanaka Takahiro P?

Naya:
In a message from Ms. Yamanaka, it was that "it will come as soon as the previous work is done."

Kondo:
Yamanaka P should be checked, because I am doing various things this time.

Naya:
Before this event, I just decided today, but I'm planning to do a talk event of "Kopihon", Cast will come. Who do you think will come? It is Shimoda-san.

Kondo:
There is a boneless live from 17:30

Naya:
I will do it behind the award ceremony of Mr. Newtype who got so excited. Since "Tsukimeko 3" will be released this time, I would like to do it mainly for new songs. We are looking for someone who will definitely visit us not to become a solitary world by all means. Thank you.

Kondo:
From 13 o'clock in Pagoda, "Bandai visuals ask producer Ogawara Ken, producer P backstreet".

Yuma:
It's a dangerous event.

Kondo:
Everyone may not come with pins, but we are very much looking forward to it.

Yuma:
This is one of the mountains on the 8th. I've written "back story" from the title, and I have no choice but to expect.

Kondo:
After this it is "gauze ★ Assassin test", but it seems that it seems like something like running ultra quizzes around Mount Bashan. I called the Tokushima staff and asked "What is the Assortment Test?" What does it mean "I run around Mount Bashan"?

Yuma:
I do not know the reason.

Naya:
Also, as the second series not in the flyer, the time is being adjusted with "Ultimate Mavre VS. Capcom 3", but I am talking about wanting to talk somewhere on the 8th. The content was chosen as the advertisement captain at the game showNozomi KokiWill come and will do something.

(Audience: Ooh!)

Naya:
Is Mr. Koki so popular? Is it enough to scream? Shall I sink behind the eyes?

(Audience: Stop it!)

Naya:
Everyone here, thank you.

Kondo:
The stage is like this on the 8th.

Yuma:
I'd like to have drinks here (stage) soon.

Kondo:
Please make this sushi shochu high. (Venue lol)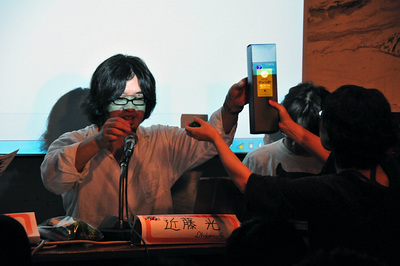 Yuma:
I explained the stage on the 8th, but in addition to this, at the ropeway it was a ropeway guide announcement by Mr. Koya Koyama and Ms. Ayako Kawasumi who appeared in "Fate / Zero", and in Poppo Street, Stein's Gate Reproduction original picture exhibition. Does Mr. Stada replicate original painting exhibition is a thing of a game?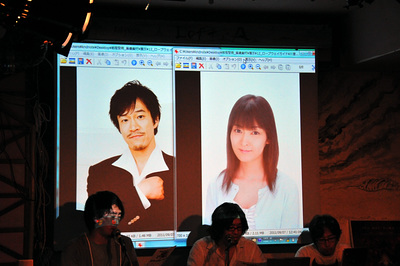 To
Although it is still under adjustment, perhaps the animation is 6 to 70 percent, I think that the game is about 30 percent. Although it is a "original duplicated original painting" now, I think that the proportion of original paintings will become higher and become a real "original picture exhibition".

Yuma:
Mr. Aki, there is "Good Smile Company exhibition" at Poppo Street, but what sort of exhibition is it?

Aki:
Hahaha, what will he do? Oh, I'm thinking of putting out a new prototype including items released at Tokushima for the first time.

Kondo:
As for the exhibition, I was collecting kore now, trying to collect animation, animated cartoons, all the issues, about half, both animation and animatedia.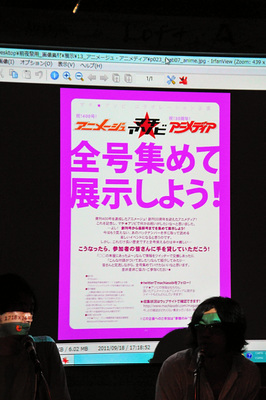 I think this is to put it in a handy state while putting it on the wall. "I would like to have an appendix at the time, if possible," I think that there are many people who have abandoned them, but I want to collect it somehow. I also made a variety of things, but I did not come out easily even if I found it ... ... There was a storyboard of the first episode of "Future Boy Conan". Do not you know?

Yuma:
I do not know.

Kondo:
We are an essential person. A variety of animated storyboards were on, but that did not come out. I wonder if it's spectacular when I arrange all of them. Animageu got it right for 400th issue, Animedia's 30th anniversary, so I think I would like to exhibit at a movie theater scheduled to open next time. I hope you will drop by.

Let's do it in:
I was editing animedia for about a year ago about 26 years ago.

Kondo:
Well then have you got a guy at that time?

Let's do it in:
I do not have it. Also I was editing the new type, so I have a new type.

Kondo:
Does that mean you have a new type but you do not have animatedia?

Let's do it in:
Ah ... ... no, I love Animedia. Do your best! Animedia !!

(Venue lol)

Kondo:
Let's go get more and more maniac guys and let's have all of "OUT". In the heyday there were "The Anime", "My Animation", "Animage", "Animedia", "New Type", "OUT", "Fan Road".

Let's do it in:
Illustrations have been posted on Fan Road.

(Venue: Oh!)

Kondo:People who would like to donate from now on, please cooperate as we do events like such. As you go through this flow "stamp". I do not know, right? People who are in Tokushima have three weekends, so we want them to be excited during the meantime so we made stamp rallies at the festival venue. And I drew a picture to motivate it. Don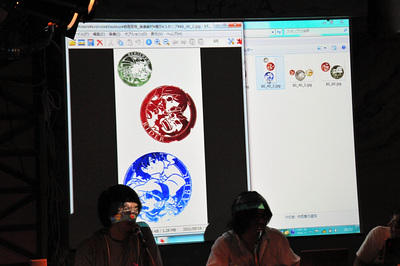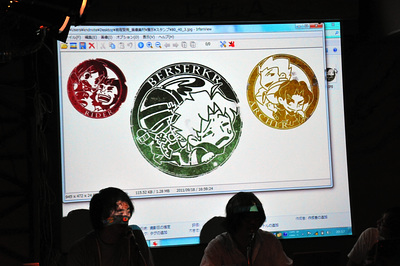 Kondo:
Though it is said that "What are you doing at this busy time?"

Yuma:
Fate / Zero, broadcasting starts from next week.

Kondo:
So, it seems that all the drinks have spread, so let's drink a toast. Is it better for Nikoniko? Cheers!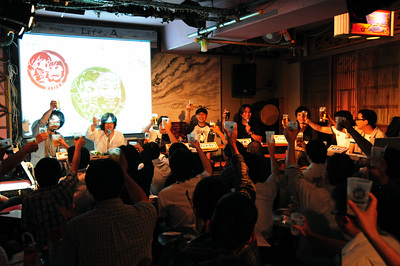 Kondo:
Those who are coming, I'm paying but I'm the same as Nico Nico or I'm sorry? I have brought souvenirs properly, because there are draws. For the time being, I brought black ★ rock shooter's fan to everyone, so I start distributing it now, so I showed it all up and done (meeting hall laugh)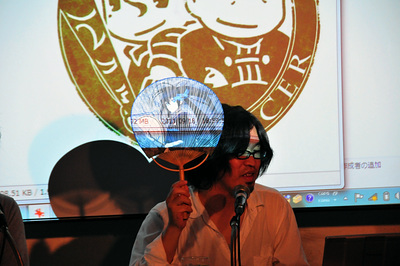 Kondo:
The airport in Tokushima is supposed to be amazing now, various things are going up on the net, but the airport is supposed to be serious with a single anime color. Takashi Takeuchi draws this Saber down.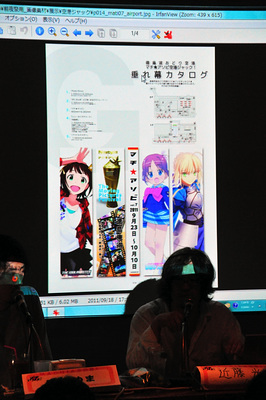 Tomizawa:
This kyubeu, it is about 2 m, is not it? In addition to Madoka letting me do various things, Excisior is decorated with pillars.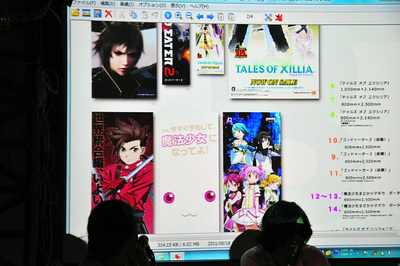 Baba:
Since this time was to raise up from the airport, it was full of content of BANDAI NAMCO Games.

Tomizawa:
God Eater did not make it in time for a moment, I made it myself and submitted it.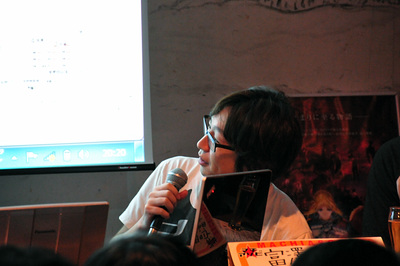 Kondo:
Next to NAMCO BANDAI Games is GONZO. "Konpihn" "Last Exile - Fem of Silver Sky -" "Nyan Pai" is included. "Stein's Gate" is obsessed. And there is a new Production I. G's "Letter to Momo".

To
"Sonikomi" means that the stimulus is too strong, I have you move a little place.

Let's do it in:
truly? You ought to have dressed up your clothes.

To
This, Mr. Kondo about 2 days before the deadline "I'm sorry, I can ask you now?" I screwed in, finished the design in one day.

Kondo:
The next is Scarred Ridder Zex. And Fate / Zero. This is a little sorry, but ... Tokushima has only flights to Tokyo and Fukuoka, but this Fate / Zero is only decorating at the boarding gate of that plane. So you can not see it without taking an airplane.

(Venue: Eh !?)

Yuma:
I can not see it unless I have an appearance ticket.

To
Is Tokushima Airport an admission ticket or not?

Kondo:
It's after baggage inspection here.

To
You must not break through.

Kondo:
This is really big, about 3 m × 3 m. It seems that Mr. GIGAZINE went to cover the interview, but he told me that this was a masterpiece. Only the people who go to Tokyo and Fukuoka can see this masterpiece.

And Tokushima is not only an airplane, there are transportation stations. So I decided to issue "Fate / Zero bus". I cite the town. This is amazing, I drew everything down.

Yuma:
Everyone, please remember it well. Fate / Zero will start broadcasting next week.

Kondo:
Is not it a festival? ... ... (Design is also a festival!)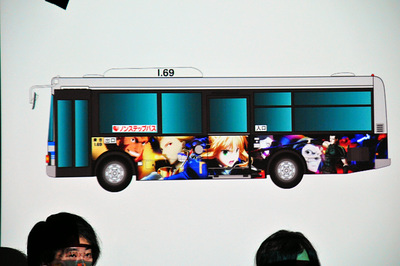 Yuma:
This is a mess, is not it?

Kondo:
I would like you to see it closely. Rin and messed up are cute.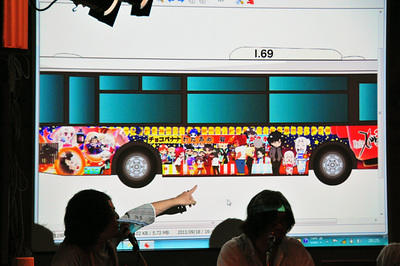 Yuma:
We are sending you with an initial 1 hour special.

Kondo:
Yes, V section is now. In format editing, according to the TV station "There is CM here", but that is what it is now. By the way, the interior decoration of the bus is quite hard and you can listen to the voice as well. It is a feeling. Since this bus runs between Tokushima station and Awaodori Kaikan between 8th and 10th, I think that you can ride. Would you like to go there, 9th?

Yuma:
Eight days are over, from the Bizan Mountain Forest Stage on the 9th. First of all, "Machi ★ Colle Grand Prix".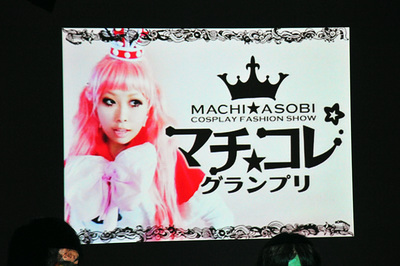 Kondo:
I'm getting bigger while I do not know, have you heard of inviting from China? It is said that the Chinese version of Machi ★ Asobi Cosplay is made and that the top two are invited to Tokushima. Something, it seems that the cosplay has penetrated beyond imagination in Tokushima, so I'm worried about trying to do it at the summit as much as I can do.

Yuma:
Next, it is an event of lunch.

Kondo:
I knew this today, but I was surprised quite a bit and I will upload as it is.

Yuma:
Yes, as a public record of "crackle crack", Suwabe as Archer role and Kana Ueda as Rin will appear.

Kondo:
I learned this on Twitter.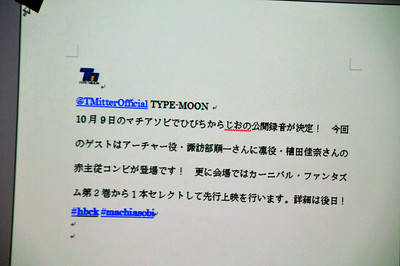 Kondo:
I was preparing like this.

Yuma:
Oh, this is nice. How rich.

Kondo:
Mr. TYPE - MOON, I'm feeling very enthusiastic, it seems that I'm making souvenirs with a sweet shop in Tokushima. I was told that "Can I use the logo?", So I answered "Please do."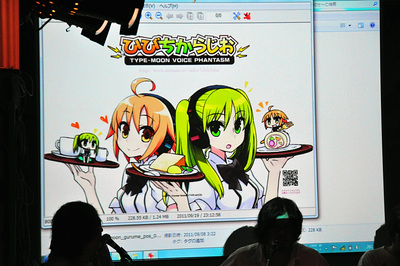 Yuma:
After that, from 13:30 "Reminiscence to a certain air fighter".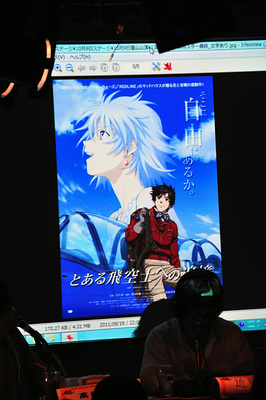 Kondo:
Since this is screening on Tokushima on September 24th, I think that you can see it. The official HP has come to be able to see the opening 12 minutes. This work, looking at the reverse side is interesting and Tokyo movies are producing it, but I'm making a mistake with Madous' Maruyama-san. Speaking of Tokyo movies and mad house is "Tomorrow's Joe", when we hear something, we are deeply impressed with "Oh, Tokyo movies and mads form tags".

Yuma:
Indeed, this tag is indeed Mr. Kondo. And at 14:30?

Kondo:
It is "Fate / Zero Festival".

Yuma:
It is a rich event that Koya Koyama, Ayako Kawasumi, Joji Nakada will be the first to come, and LiSA will come also at the event that the theme song presentation will be done here. I will do various things by saying broadcasting from October. Daisuke, you came here, Fate / Zero is very voluminous within Asobi.

To
Well, you better change the title to "Fate / Zero Festival"?

(Venue lol)

Kondo:
I'm sure that Fate / Zero will be popular, I think I will do a recital of the animation I made by elementary school students before that. This is a farm he used to do before, ufotable, seriously doing it. Everyone watches elementary school animation before Fate / Zero!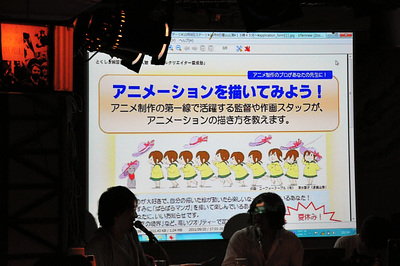 Yuma:
And applaudings,.

Kondo:
The parents are looking at the situation at the end. Such a beautiful shape is good.

Let's do it in:
Why do not you ask elementary school students to make about 1 episode?

Yuma:
The original author OK has come up.

Let's do it in:
It would be nice if Mr. Takeuchi is OK.

Kondo:
OK.

Yuma:
...... I will confirm it for a moment, because if it answers here it will be ridiculous.

(Venue lol · applause)

Yuma:
The battle between servants drawn by primary school students.

Kondo:
Surely "Sushi kun" comes out.

Let's do it in:
"My vantage point" or something.

(Venue lol)

To
This is a budget buy of ufotable.

Kondo:
If the child who drew us here becomes a staff, it really seems like a dream.

(Clapping at the venue)

Yuma:
Then it is next. By saying "Fate / Extra CCC C new work release", Mr. Mizutani of Mr. Tange Sakura and the producer are coming.

Kondo:
Mr. Tange, that's great.

Yuma:
I am Mr. Tange's generation generically ... Yes.

(Venue lol)

Kondo:
What are you doing at that time?

Yuma:
Perhaps, I think that you are attending everyone who has finished the Fate / Zero festival while being drawn backwards.

Kondo:
Oh, I can not see it. Now, the most popular among industry people is Mr. Kizutani and Mr. Aki's speeches. So second popularity is next.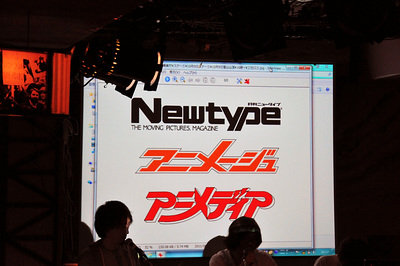 Kondo:
Is not it a rival magazine, this is gathering and trying to talk live. Newtype and animatedia are editor-in-chiefs, editors of animageyu are coming. Also, it may become a talk of four magazines because the editor-in-chie of daughter type also comes. However, there is one thing that has not been decided, who is going to moderate?

Yuma:
I am an offer for the host, but I declined it! This is impossible!

(Venue lol)

Kondo:
Do not want to see this? I want to watch, I'm doing rival for 30 years.

Aki:
Mika Tan says it will host.

Kondo:
truly? Mikamatan, are you coming Tokushima?

Aki:
I do not know. But, before that, Mikkatanchan live broadcast, we hosted a direct confrontation between Hobby Japan and Dengeki Hobby Magazine.

Kondo:
But Mikan Tan, are not you just looking down?

Aki:
At that time the people of electric shock hobby magazine were all drunk loud (laugh)

Yuma:
By the way, Naotaro was enrolled in the past ... ...

Let's do it in:
I will not do it!

Yuma:
Aside from the chairperson (laugh), the talk of anime magazine editors and editor-in gatherings is amazing.

Kondo:
Tokushima is a terrific town, OK cable Tokushima says OK for live broadcasting. How far we will give OK is different. I will show you some great things in this trend. Now Tokushima has an animation executive committee, its roster is amazing. I brought it because it was meant to be OK. First, the governor is the president. Second, mayor is vice chairman. Tokushima Prefecture Chairman of the Federation of Small and Medium Enterprises Association, President of the Tokushima Shimbun Company, President of the Shikoku Broadcasting Corporation, President of the NHK, President of the University of Tokushima, President of the Tokushima Tourism Association, President of the Tokushima Bunri University, President of the Tokushima Chamber of Commerce and Industry, President of the Tokushima Tourism Association ... ... And at the end I am called (meeting hall) I wonder if I can understand the full backup of Tokushima by this.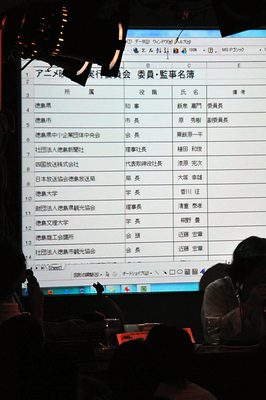 Aki:
Today, Kochi is also trying to compete, right? You see, Kaiyodo made a museum. Opening event, I went to tremendous mountains. Because the car does not pass in the mountainous area where it will be a matter of course, I will transfer to the bus on the way. There are a lot of parliamentarians and there are a lot of people coming up asking me "Is there a Tokachima ___ ___ ___ ___ ___ 0". "No, I am Kagawa though" but when saying "Do Kagawa do something?"

(Venue lol)

Kondo:
Yes, then shall we go back to the 9th?

Yuma:
Next is Ai Nonaka.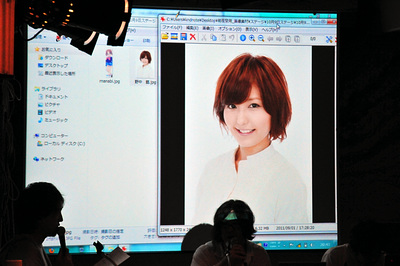 Kondo:
I'm doing a lot of things for 1 hour 30 minutes with "Gakuen Yu Pia A Manabi Straight!" After this, we will screen the award-winning works of the Moving Pictures Festival.

(King record Yamanaka Producer arrived)

Yuma:
I am reworked that, King record Yamanaka Producer.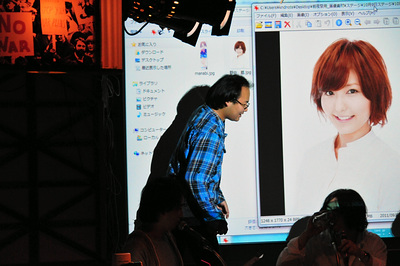 King record Takahiro Yamanaka (Yamanaka):
Yes, it is a mountain of King records.

Yuma:
By the way what kind of event are you planning?

Yamanaka:
I will do something. If you can come, I'm thinking about an event like "Ooo!"

Kondo:
That's amazing, there's more. Let's go to Shintomachi Bridge East Park next. First of all, following GONZO talk live that was popular in May, we will have a GONZO talk live.

(Clapping at the venue)

Yuma:
To briefly explain, I would like to look back on all of GONZO's history ...... When companies are ups and downs When there is a bad time, they explained that in detail. How was another studio born from Mr. GONZO ...?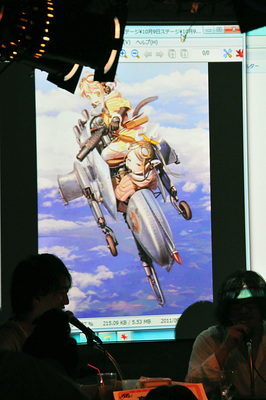 Kondo:
It is said that the last exile producer will come. I wonder if he will come ... ...? I feel like I'm not coming.

Yuma:
Next is "Magical Girl Madoka ☆ Magica Portable Premium Talk Show in Tokushima."

Tomizawa:
I'm thinking of doing a talk show about "Madoka Magica" game. Looking at other people who are coming to Tokushima, there are quite a few Madoka related people, so can we call guests? I think that. Mr. Fumiya.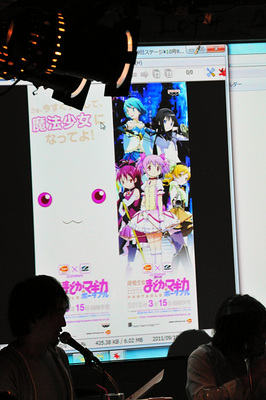 To
The emptiness is, "Konin of the night" So how is the event done in this daydream ...? Because it seems that the whole body becomes burn like Dracula when the sun hits.

(Venue lol)

Tomizawa:
That is why I'm talking about the performers (lol) I'm talking elsewhere, but in reality, the plan of this game came out in the evening of the former gore ★ Asobi while eating meal It was just as it was said that "Daisuke, a bit better?" It's a project that Tokushima produced.

(applause)

Tomizawa:
I would like to have a talk show involving such stories.

Yuma:
I see. From 13:30, "Eita Kitamura Talk & Mini Live".

Yamanaka:
Yes, this is going to be a mini live. Mr. Kitamura made his debut from us, put out a CD and put it out in November, but I wonder if I will play the song around that.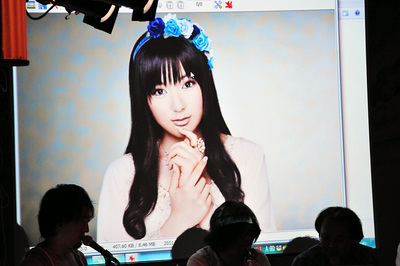 Kondo:
It's tough, just above the Fate / Zero Festival. Something seems like a strange festival, is not it?

Yamanaka:
It's an outdoor festival, I went to Ale and the next one seems to be.

Yuma:
Next time we have a little time ... ... "Tsukeneko Live".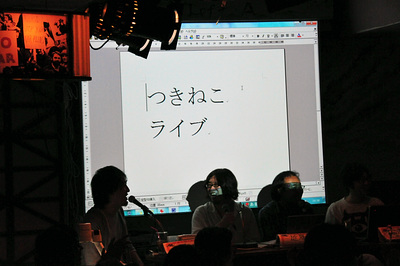 Naya:
I'd like you to do something a bit better! (Venue haha) I think that we are providing materials considerably. Because it does not understand meaning in this!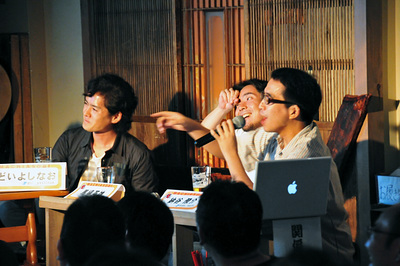 Kondo:
The back is "Manabi Straight!"

Naya:
I mean that I care about hierarchical relationships in this industry, I will challenge Yamanaka senpai for the first time a confrontation.

Yuma:
Shinmachi Park, the rest is at 18, MOSAIC.WAV's live. It is said that the best album will be released, and it will be a live with a highlight.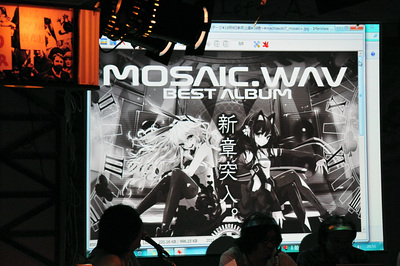 Yuma:
Next is Pagoda Square. First of all, comic · wave / film's new work, "This boy can fight the alien"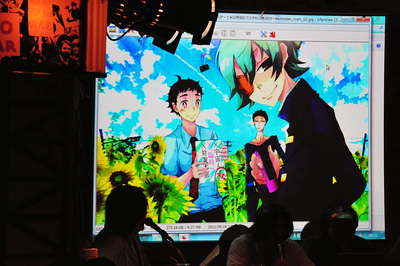 Kondo:
This seems to come by director, we will shed the main story at Awaodori Kaikan.

Yuma:
Next ... ... "Toho Project." It is a confirmation, but is this wrong, is not it?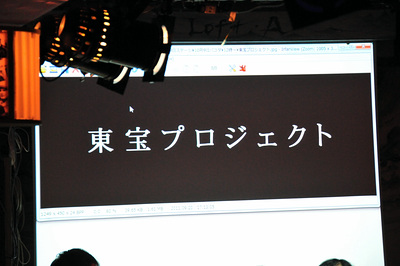 (Venue lol)

Kondo:
Toho and Mr. Shochiku are coming this time, so when asking Toho - san "What is the name of the event, what will you do?"

Yuma:
It is interesting to include what the contents are ... .... Next it is Machi ★ Korea, Machi ★ Asobi test, with Naomi Minatani · Autumn Wind live.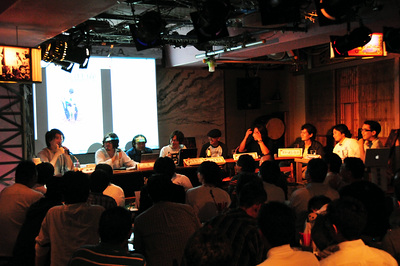 (applause)

Kondo:
It seems that Mr. Minatani also sings songs from the fighting Koshien.

Yuma:
And the next ......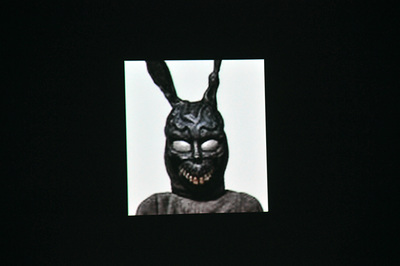 As you can see who is just by watching this, it is truly everyone, it is a professional. By saying Fate / Zero with Fumi Gen X - san, why?

How
It seems that he himself does not grasp well.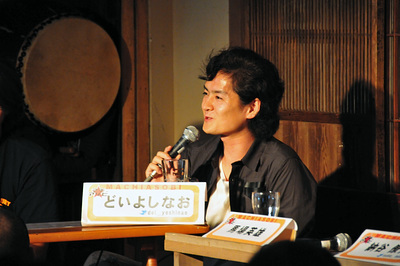 Yuma:
By the way, what kind of content is it?

Kondo:
Since the broadcast of 1 story and 2 talks has been over, I'd like to talk with the original Mr. Kagiuchi, Mr. Kondo, Mr. Iwakami and Mr. Hoshida and Mr. Ota. Also, Kayaya Koyama and Joji Nakada are a bit spare time. I wish I could do something. Please see Twitter for details.

Yuma:
Is there anything else on this day?

Naya:
Is not that terrible? I have been forgotten ... ....

Kondo:
Ah! There were quite important events remaining. Tokushima is starting sightseeing festival from October 9th. As it starts, he says that he will do "Tsukimune and Awa Odori Dojo"

Naya:
I have not to say anything because I have told everything now.

From here the contents of the flyer were introduced one after another by Yuma. In Poppo Street, "Gessan" "Fellow" manga family large group signature society, duplicate original drawings reading society etc. are done.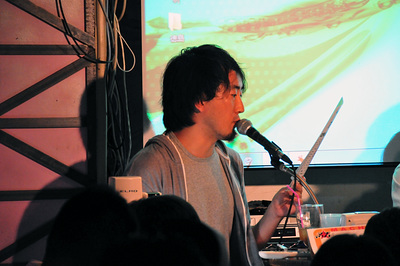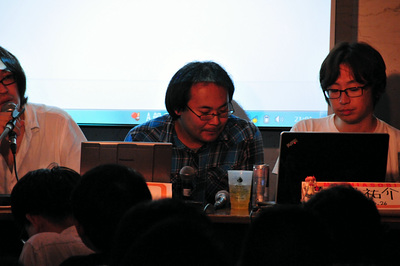 List of this mystery is a postcard list of gourmet hunt.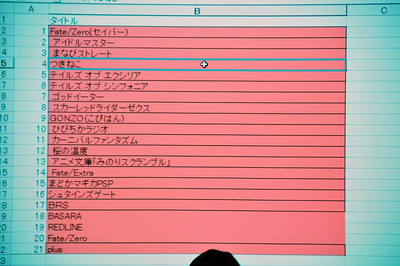 Film festival started from 23rd. Mr. Kondo is Tokushima that I spent 18 years since I was born, but the difficulty of rural areas is that "movies are not going anyway".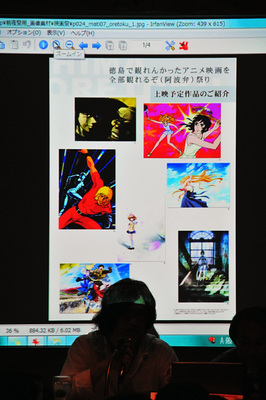 In Tokushima where Tokujima did not take "Malduk Scramble", "Sengoku BASARA" or "Fafner of the Azure", because it is doing Asobi ___ ___ ___ ___ ___ 0 It is said that. With a pretty gorgeous lineup, there may be times when this first weekend's Saturdays and Sundays comes for this purpose.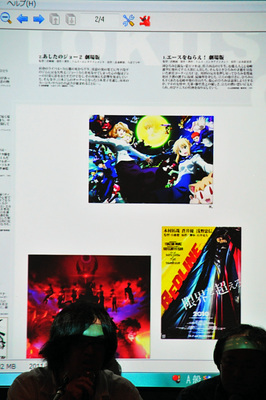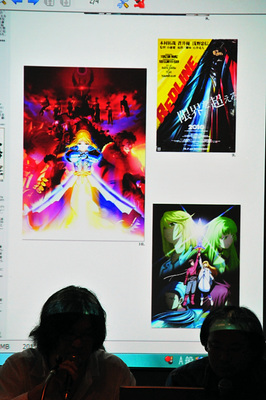 And the Ping Drum comes into reality. It is becoming the event name "survival strategy IN Tokushima ~ dancing (?) Ping drum ~".

Yamanaka:
This has guests. The director is from Tokushima, but as expected it is impossible, so I'm calling another guest.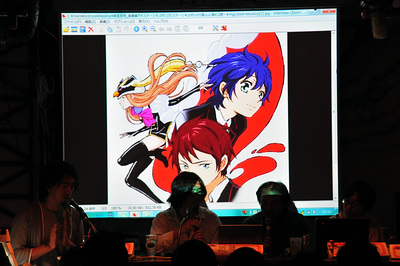 "My sister can not be this cute" this time is that "My sister can not be this cute cute doki! All the people (all men) full of continued · large reflection meeting!" That's a covered meat event It is scheduled.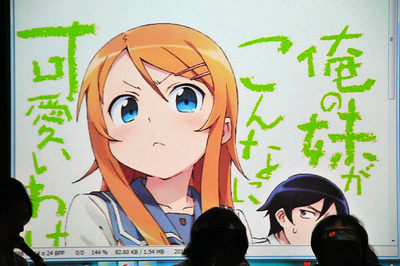 "Bandai Namco Games' presents Special Talk & Live" will be held on the 10th last.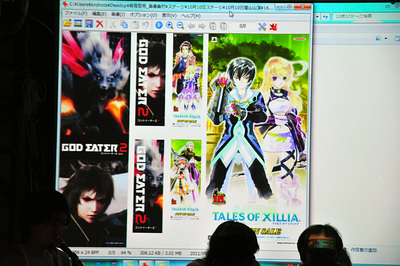 And a lecture by Mr. Aki and Mr. Kizutani President of Bushirod in the title "Future of entertainment" called attention of industry people.

Aki:
Mr. Kidani? That bomb, that man (lol) During this time, I got together because I and Mr. Matsumoto of the host and Mr. Kidani agreed to confirm the contents at the time, but I wanted to broadcast the meeting (lol)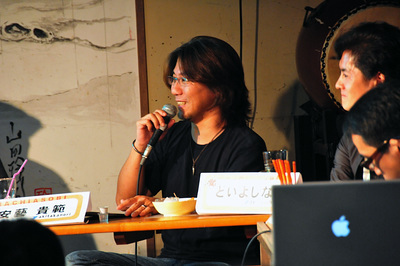 Aki:
Besides, this is ten o'clock in the morning. People in the industry say great attention, but everyone does not get up? (Lol)

Kondo:
Although the student is free for this lecture but for the general public it is charged, so I thought whether delivery should be done or not, but this time I will do it without delivering it.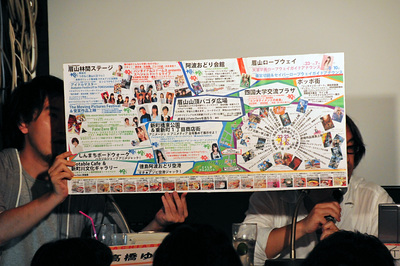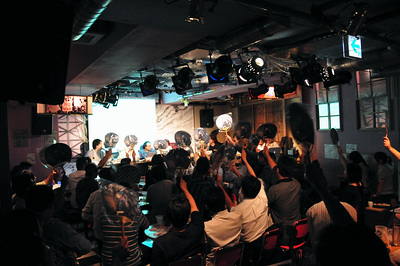 With the feeling that, the first half battle ended.

In the second half of the game, Nikoniko live broadcast was ended, so the question and answer called "This place is limited" was unfolded. "Believe in yourself, do not write on blogs, do not write on Twitter, thank you for not writing on Twitter, everyone has the power to kill people!" Under the mighty words Yuma says, "Mr. voice There is news of marriage, did you know that everyone is going out? "Does" the tension of the side made by the original and the original change? "Such as an extreme question flying, to it all Even though there was no answer that was pretty much in place.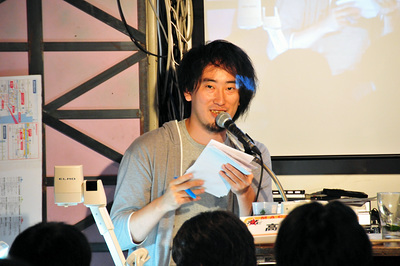 I do not know when the next time will be, but since the 5th gore ★ Asobi eve eve festival is supposed to be held again, those who care about what kind of rich talk is spreading will definitely buy tickets and make it to the field Please carry.

A state of a chaotic venue.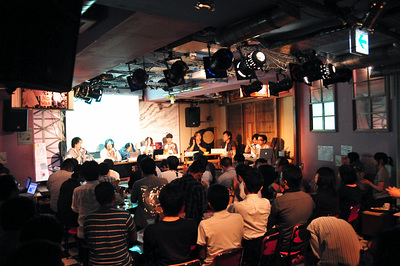 Yuma who reads the question.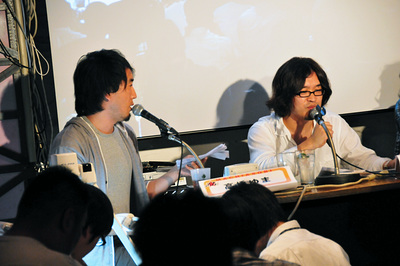 Somehow Mr. Toraji who is shooting each other for some reason.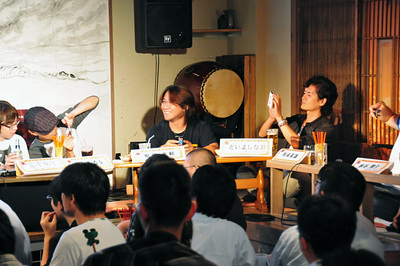 Somewhat dangerous answer in progress.



Because the quality of Fate / Zero's PV is too high, from Mr. Doshi, "It really is said that you are going to do on television?" From the flow that has always been said in meetings, the following nice interaction is rolled out It was done.

Kondo:
Everyone, please see with gentle eyes so that the staff can do their best. Staff are concerned, more than I thought. As you write hard, writing is getting more and more exhausted, so if you give it kindly and kindly, the quality will go up, really. Everyone is naive more than I expected. Having a warm feeling watching animation, the quality of the animation as a whole will go up.

Yuma:
"Praise and stretch".

Kondo:
Yeah. Our days have been stolen and stretched out and now it's growing, but now?

Yuma:
Praise and stretch.

Kondo:
Ah, the next word of animation is kore. The user keeps praising us (lol laughter)

Yuma:
Then you can do a virtuous circle of creating good ones.

A lottery was held after these talks ended, and pretty valuable items were gifts.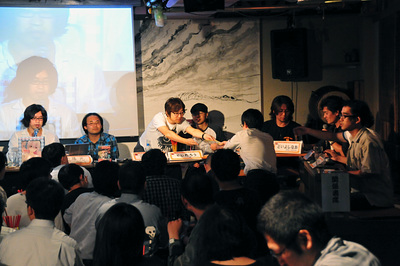 In the final closing, Mr. Kondo issued the following message.


It really is a miraculous thing that the administration follows such a catch as truly as Tokyo is in trouble, there are edgy companies like Nitroplus and Guzzma, and major giants like Bandai Namco Games are in there I think that such an event can not be made to make it. It is an event that has come so far, so I would like to make it an event that we can participate even a little older.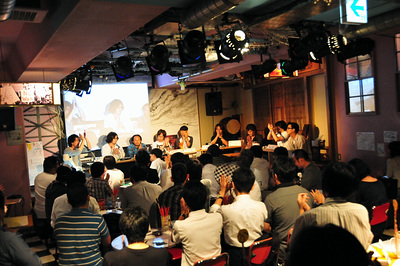 If you are interested, please join us at the next evening festival, if you have 2 hours for relaying and 3 hours 30 minutes if you include others.