"Manchura Asobi Vol.4 Evening Festival" report that was also full of top secret information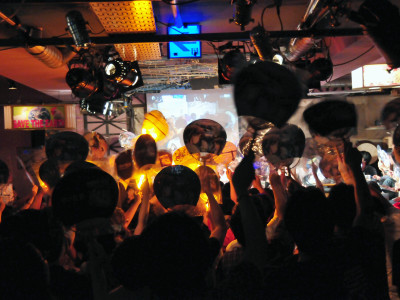 The event aimed at exhausting Tokushima as "Gusset ★ Asobi"Will be held from Saturday, October 9th to 11th (Monday, congratulation). Prior to this event, the eveing ​​party festival where event participating members gather togetherAsagaya Loft AIt was held in.

Participants are the center person of the event animation production company UFO TABLEKondo HikaruIn addition to the producer, AniplexYuma TakahashiMs., Good Smile CompanyTakanori AkiMr.,BushiroadofNobuyuki Nakamura, Masatoshi Shimamura of Bushiroad, Kadokawa ShotenSeiichi HachiyaMr.,MOSAIC.WAVofMiko, Mr. Susumu Kashiwamori of MOSAIC.WAV,YoshifusaMr. Norio Komori, Aniplex'sAtsuhiro IwakamiMr.,Anime styleMr. Kotaro Gosho of Frontier WorksTakayuki Matsunaga, King RecordsTakahiro YamanakaMr.,NitroplusDoi, Mouse PromotionShozo Naya, Ms. Satomi Moriya and others (seating in that day).

At the venue, information that has not yet been announced on the official website jumped out and boiled participants. Also, in the question and answer session, there was a dark story such as "industry stakeholder talk show", and Mr. Kondo was able to hear the hot thoughts on the event.

Details are as below.
Aschigaya loft where god kneeling ago eve was held. A tokoro going up from the dressing room to the stage.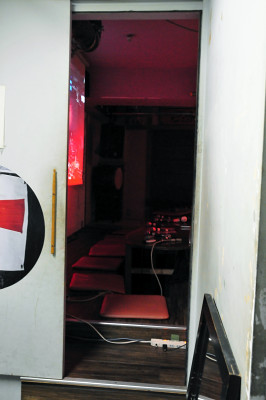 The closeness of this distance between the performer and the customer is the real pleasure of the event at Asagaya Loft A, but it seems that this also leads to gore Asobi.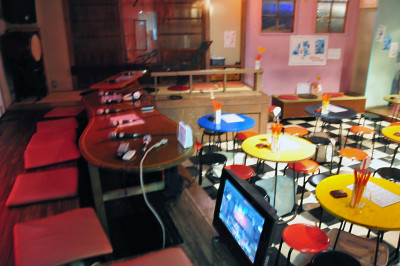 Before the start, everyone who confirms the setup.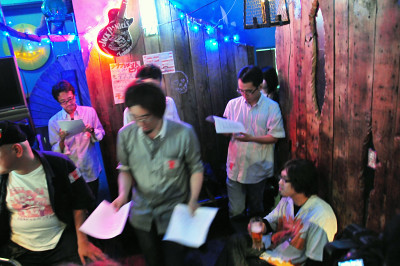 ... I think I'm drinking a toast.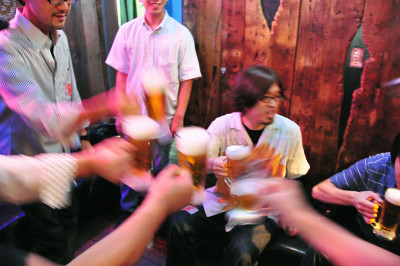 The standby time before the start is OVA "Eyeglasses canojo"PV also flowed.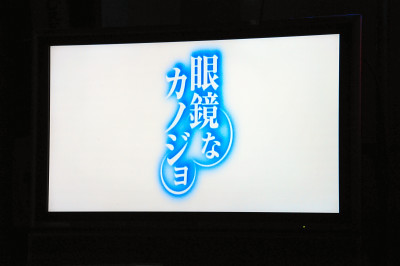 During such a time it was 19 o'clock and the event started.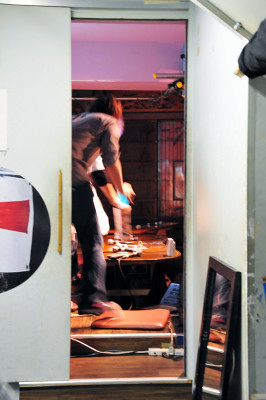 The event is hosted by Kondo Producer and "Animplex Public Yuma" hosted by Yuuma Takahashi.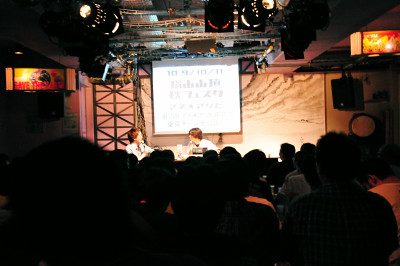 At first VTR which looked back at Vol.1 ~ Vol.3 was screened.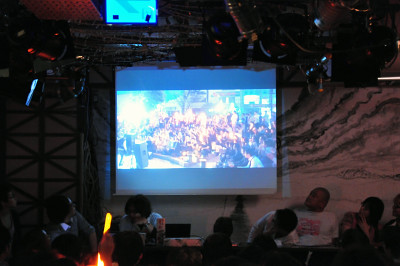 Memories of Vol.1
Kondo producer said to Katsushi Ota (then Kodansha Editor) who was working together at the "sky boundary" at that time before Vol.1 began, "I am with Iwakami (of Aniplex) and Mr. Kondo until comforting Tokushima It seems I can never forget being told that I came. According to Mr. Iwakami's follow-up, this may be a line of prevention to prevent disappointment as there may not be too many customers, but all the stakeholders also collected the surprising 12,000 visitors I left it.

The state of Vol.1 can be seen in this article etc.

The unprecedented big anime event "Machi ★ Asobi" held in Tokushima on the 2nd day, achieves the number of participants who all the people who disappointed are unimaginable



Mr. Naya says, "Tokushima for the first time, what is Mount Eye mountain? How many steps do it take to mountain?" Naya says that it was hard to start from a situation like "It was said that the first impression was" welcomed warmly. " Since Machi ★ Asobi has never been rained so far, we are not preparing for rain this time (Vol.4), but Vol.1 is not preparing as well, " If it did rain it ended (by Kondo) "I thought he was doing it. It seems to be a back calculation from the result theory that it is supposed that rain does not come because many people came and friends came Wai Wei and was supposed to be a fun day. What a wonderful thing is that ... ....

In such "rain falls if it rains" Vol. 1, Mr. Iwagami said that it is impressive screening in the "First Chapter of the Boundaries of the Sky" at Mount Bizan. I can not do the outdoor screening with that loud volume so much in Tokyo. This event also liked Mr. Kondo, and he also said that the producer who came to Tokushima (Mr. Takeuchi of the sink) said that he was "acknowledged like Annecy (Film Festival)" as well.

Talk and talk.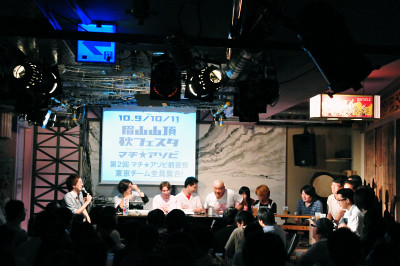 Vol.1 has a hero show of Aoyagaras mavel, eddy fighter Eddie comes, there is a ropeway guidance by Mr. Maaya Sakamoto, a lecture by Mr. Nayato (contents saying "Mr. Kondo was mad at Magaime too much" ) There was a chaotic event or something. Mr. Kondo recalled, "I think that I went through frequently, I am making it a miracle event."

◆ Memories of Vol.2
"I want you to do it by all means in winter" that Izumi's governor Izumi gave me a Vol.2. Even Tokushima is cold and seems to have various problems.

The state of Machi ★ Asobi Vol.2 is here.

"Machiasobi Vol. 2" which finished 16 days of conclusion ends in a great success, next time it will be held in the spring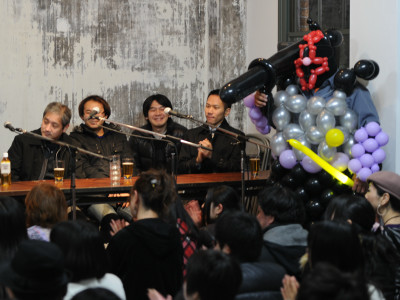 The number of visitors to Vol.2 is 21,000. Vol. 1 was 3 days, but Vol. 2 was held for two weeks at the Awa Odori Kaikan other than the two days when the main event was held. The most distinctive thing is "The Tokushima Round Table Conference" where Mr. Kondo, Governor of Iizumi Prefecture, Mitsuru Funai (Director of the Boundary of the Sky, Chapter 3 Director), Mr. Tani Gingakawa (Radio Personality) participated. Mr. Kondo, who decided to take Mr. Funai, knew nothing about what Mr. Funai, an animation director, should talk about, but for the time being it seemed to be like "eat delicious foods and leave home". Even now it seems that an e-mail comes from the prefectural governor.

One thousand dark-pots are "an event where the only one butcher skipped" (by Nayato). It seems that because the pot was fierce momentum and it was sold out while going around the gourmet hunt and it was already over when I tried to participate. Such a favorite of Mr. Naya is "Gourmet sink". It seems that this was hard work, and although it was not able to read whether or not it is exciting for that reason, it was really exciting in fact.

◆ Memories of Vol.3
In Vol.3, an event such as "Bridge under the bridge" was held.

"Machi ★ Asobi vol.3" All articles summary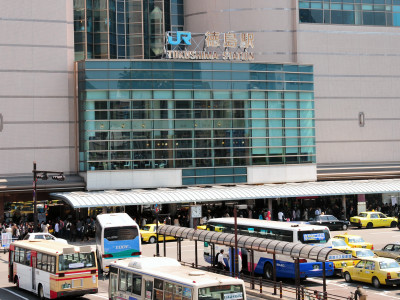 Mr. Iwagami thought that what he thought was hanging under an invisible bridge though it was a place to be seen as a traffic advertisement, but I was convinced when he actually saw it. Many people got on a pleasure boat and experienced it. In Vol.3, it is the word of Mr. Kondo that the gore ★ Asobi itself felt hyper. Mr. Katsuyuki Konishi and Masaya Onozaka visited Tokushima, and it was a further exciting event that there was a live by MOSAIC.WAV.

As mentioned above, gore ★ Assobi has never been rained, but MOSAIC.WAV only ~ It seems that it is a rainy girl who surely rains whenever events are held outdoors. Is it? And comments. A fan immediately responded with "Eh!?" In this live, the fans' sweet silhou was drawing attention of people passing by.

About the event of Vol.4
Nico student started from 20 o'clock, and a talk on Vol.4 was held.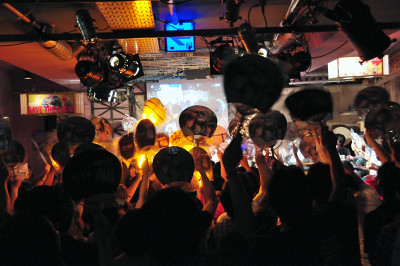 Announcement is done about the eyeball event, but the fans are curiously interested because the detailed time schedule has not been announced yet. It is "Awa Odori" that decorates the top of such an event. And, it will continue to the live performance of the other side.

When it is Vol.1, it is 4 persons, but it is nowadays up to 10 people, this time 10 people will be live together for the first time. Besides live, Mr. Moriya and Mr. Asami Imai do a talk show of "eyeglasses canojo", and during that time there seems to be a talk show of Eita Kitamura at the summit of Meishan. Until now most of the schedule of large events did not overlap, but this time it's funny, so it seems like we have to choose and go.

Tsukimune is sometimes referred to as a full-time award, and I am putting in a spirit that I should not defeat the new participants. Ms. Naya will also participate in Yosuganosora's radio public recording. It seems that this is an only staff event, it was said that "Please send me your breath more and more."

"Anime style theatrical version talks about sky boundary painting story" is a talk event commemorating the completion of a storyboard in chapter 7 of the sky bound head next month. Mr. Gosho of animation style served as chairperson, Mr. Ota of Hoshizohara, Mr. Kondo etc. from participating in the UFO table. Since the director is different every time in the boundary of the sky, each individual personality comes out in the storyboard, so it seems to be a good story.

And Mr. Kondo's favorite outdoor screening is scheduled to be 300 inches again, which is the revenge that the schedule of the 300-inch screen has reached 200 inches at Vol.1. The contents are said to be scheduled for "Black Rock Shooter" and "God Eater Burst" OP, and "Sky boundary end chapter" PV. In addition, it says that something that can be seen for a short time in that flow means that the "the boundary Remix" of the theater released will be flowed.

In advance notice, it was decided that all four people would join Milky Holmes who was scheduled to attend one person. Mr. Nakamura negotiated with Mr. Mizumori Suzuko to negotiate "Someone can take him to the event", President Bushiroy Kizutani said "It would be nice if only four people should go" OK is. Milky Holmes is supposed to be going to London in the card game event in Okayama the day before this gore ★ Asobi and is also said to be an event in Singapore, Mr. Kondo said "Milky Holmes What are you aiming for? "

Milky Holmes overseer producer "Nabuchan P" This is Mr. Nobuyuki Nakamura. I participated in the Milky Holmes T-shirt.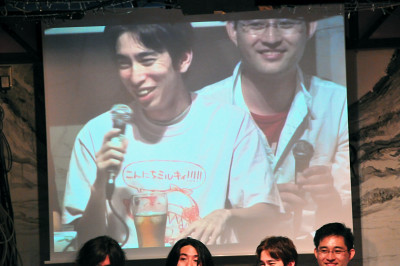 On the Mountain of Mount Bizan is a new animation of UFO TABLE "Minori scramble"A public audition will also be held. Still the magnification is just one thing enough so please do not miss it. Mr. Mr. Masayoshi Sasaki participates from Milky Holmes side, and Miyoko also seems to join, so Nayato who works hard to put on the catch catch somehow will put up "overthrowing Milky Holmes", a fierce battle is expected . As for the audition "There are of course we are professional too, the end is a competitive game," and there is a gossip declaration, and from Mr. Naya, there was a comment saying "This is amazing if it is neither neighbors or Milky Holmes ..." . Komori of Yoshifusa who is editorial charge for Minori Scramble said he was surprised to know that it was an unexpected event though he thought whether he would collect professional at first when he heard that it was an open audition. As for the animation's performance, "I guarantee" was a drumming.

On October 10, in addition to the radio of the industry current episode, Takahashi Yuma Chairperson "Talking the history of Hanazawa Kaori with works" will be held. This planned to take up Mr. Hanazawa's work irrespective of manufacturer regardless of each age from "important things to magical affair". Also Mr. Kawamori Mr. Talk show will be held.

In addition, as a thing not in the flyer or the official website, as the "MOSAIC.WAV × Better Than Bandai Namco Games", started with the story that Mr. Miko is doing God Eater recently, everyone will do a God Eater An event is also scheduled.

And as a result of considering what we can do as a game maker from Nitro Plus, a manufacturer illustration exhibition was brought in. It is due to five companies such as nitroplus and Alice software, and it seems to sell the tapestry of that illustration.

Furthermore, it may surpass the last Corvett pain car,Lancia Stratos(Replica) A pain car also appears. The character is a mascot of Nitroplus, Super Sakiko. About Lancia 2 years ago Mr. Aki made a Mablava pain, the picture circulated around the world, and the Italian said "You do not want to sell to Japanese people!" Talk about getting angry or not getting angry It seems there is also, Nitroplus Doi says she wanted to cross the reaction.

At the summit of Mt. Meishan on the 11th is a talk by Mr. Iori Nogizu, followed by a live of Ito Kanako, and a pretty cure character show, chaos that tightens with MOSAIC.WAV live. MOSAIC.WAV is a big triad for 3 days, Kashiwamori commented that he was going to do so with the momentum that he was feeling pressure, but he was going to use the Cyrus up.

◆ Q & A
A corner was set up to answer questions from participants after a small pause.

Q: In Vol.4 it is an open audition of 'Minori Scramble'. What are the talent currently required in the voice actor industry?
NIIi: What can you ask for in the audition? If I understand it, I think that our office is also a big voice actor office (lol)
Yuma: I also had an audition for Milky Holmes, but how is it?
Nakamura: What is it?
Kondo: Is not he on face?
Nakamura: It's not a face, since the first examination was without photos.
Kondo: Great!
Nakamura: Is not it Nori? I like children who say "I will do this!"
Honey house: The girls self-appeal, but recent boys are shy. Even if you are a general person, what a shy person doing who is aiming for an actor (lol)

Q: Is the beard of Nabu Chan P fashionable?
Nakamura: I shaved today! Because it is a stubble now, it is not stylish.

Q: Although Bushiroad CM was flowing in the World Cup, why Bushiroad?
Nakamura: While the game of Bushiroad has flowed during the game of the World Cup or All Star, this is Nori.
Kondo: I think that it costs money to put out a CM, do you feel the effect?
Nakamura: Because we can see live reactions like twitter, "Bushiroad's CM Warota www" is there.
Shimamura: Since we do not have to know Milky Holmes itself or anything bad, we have to appeal that we have it first.

Q: What about the interests of card games?
Kondo: If you answer from Mr. Aki, ... ... is that bad?
Aki: Because card games are kind of printing money ... .... Generally, right?
Shimamura: In terms of manufacturing costs and sales, it seems like they are printing money, but considering to buy that ... ....
Aki: I see Bushiroad doing events in various places. That enthusiasm is not extraordinary.
Nakamura: As Shimamura always says, card games are infrastructure projects. Trading cards themselves are out of paper, but value is born only after everyone is interested and buying it. I will buy it to play this ". Therefore, this card game is amazing, everyone is doing my best to buy it.
Aki: That's amazing, there are about 3000 times in a year only for Vice's tournaments, right?
Shimamura: It is probably a monthly figure. There are 500 shops and each event has been done monthly, so if it is an age tens of thousands of times .... We print tens of thousands of promotional cards every month.

Q: "Black ★ Rock Shooter", I feel passionate about spreading that from one illustration.
Aki: Thank you very much.
Yuma: How are you, Black ★ Rock Shooter Project.
Aki: Everyone tried their best to the extent that there was not a summer that made me feel so much.
Kondo: There was a pros and cons for DVD distribution. I have three, but Mr. Aki says that he will give it away.
Aki: I think that there are people who probably have turnips on hand, but I definitely want you to distribute it to friends and so on.
Kondo: In the case of Megami magazine, since the package is also attached, the product is completed after assembling it.

Q: How about making an animation set in Tokushima and making it a stage for pilgrimage to the sacred place?
Kondo: Someday. Yup.

Q: I want Yuki Kajiura to come to the guest.
Kondo: I recently met Kajiura - san, and I talked about Machi ★ Asobi for about an hour. It may come. Everyone is surprisingly interested and I think that various people will come if you meet the schedule as well.

Q: BD of sky boundary, why now at this timing?
Iwami: Since I released it at the time when BD conversion was still not main, I thought that we wanted BD earlier than us.
Kondo: Currently working. Although I am not making new things about things that flowed in the theater, I am carefully finely repairing it.
Iwakami: The last 10 pages of the original work are made by saying that it is the final chapter, but quite a thing is finished.
Kondo: I think that it might be a little newly painting.

This is the poster.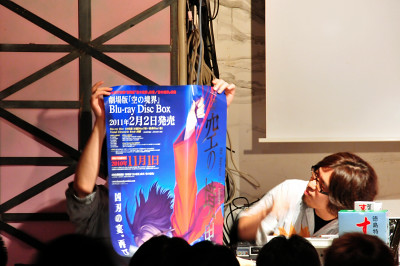 Q: PC version Steins; Gate (Stein's Gate), what is the response to introduction of Web authentication?
Doi: As of now, claims e-mail etc. have not come. However, support such as "I can not authenticate" is coming a little, I respond by issuing a patch. We are still examining how to do this internally. I am sorry that there are so many bugs. There is no choice but only to apologize.

Kondo: By the way, "I do not announce the number of talks on animation, but why do not you have reasons"?
Doi: Is not it an animation of Stein's Gate?
Haneya: When I was doing animation for a year, there was something wrong if I knew when to start broadcasting the program. Now, what is it?
Iwagami: There is no particular reason. Shall we announce if it is better to announce it in the future?
Beekeepers: In the past that there was such a custom, there was a case that it was bad if the later program was understood.

Kondo: Where is the hair of the bee house?
Honey bee: There is a reason for this. There is a jinx that I hit a head shaved work and I shave it for a new work season.
Kondo: Then, what works did you shave?
Honey house: No no no (laugh) When "Sora no Otoshimono", I cut sports, but when I was intimidating the surroundings with that hairstyle, my boss was angry, so I shaved it in the second phase.

Q: When is the live tour of MOSAIC.WAV?
Mi: This is my plan for the next year, I am making an album. Last year, I did a tour in line with the release of the album, so the top people are doing my best to be able to do it next year. I do not know when the announcement will be, but I will let you know as soon as I will decide. Before that, there is sometimes a clear time to release the album ....

Q: It is impressive that "the world cried for the sky, the flying pants".
Beechai: It was first broadcasted by Ciba-TV, but on that day, when I fell asleep, there were incoming calls continuously on my mobile, and eventually it was around 30. When I thought of something, it was said from a friend of Chiba prefecture people who saw "Sora no Otoshimono 2nd episode" that "what on earth is that?" The first thing I thought was "I have such acquaintance in Chiba" (laugh).

Q: What are the standards of animated works?
Iwagami: I do not think so.
Haneya: In our case, everyone else will search for works that come with a vertex coming one year or two years later. When I visualized it was just ascending.
Iwami: As usual, it is a feeling that we are offering offers to interesting works, as you guessed, with us.
Yuma: Rather than saying that there is a specific criterion, is it that it was fun or something like reading it?
Iwakami: If it is Aniplex, there are things like a favorite by a producer.
Hachiya: My home (Kadokawa Shoten) is said from the top "You like this kind of guy, are not you?" By the way, does the publisher like this kind of thing like?
Komori: The power of the work is all. I do not do it as a goal to animation from the beginning when making cartoons because animation is not the final goal for manga. First of all, I think that it is not fun to be honest, like a work made with the idea that an offer to animation will come from publication in a magazine just by making interesting work opposed to the reader. Other producers are also one of the readers. There is no correct answer to animation, since it is our job to make a work that is admitted that the work is interesting to the majority of people, and it is worth buying as 2 volumes and 3 volumes.

Yuma: Incidentally, the question is coming to such Yoshifumusha-san "K? Is really the last round?" Since I think that this can not be answered, I had tea time after school and Ms. Mizuki Nana had decorated the shop of the CD shop, how do you feel about the excitement of that "K-on!" As a yoshinba company?
Komori: "It's amazing" is an honest impression even as an employee. Have you been endorsed so far? I am not in charge, but I think that I could be happy to be able to make big things out of our company so far. But it is due to the efforts of Professor Kakiwaki and everyone who bought it, staff who made animation. Because what we did was like doing sneaking out with shadows. In the future of "K-ON!" ... Because there is a fear that I will be unable to get off to work tomorrow ... (lol)

Q: How much is Milky Holmes's advertising expenses a bid?
Nakamura: I think that it is not as bad as I thought ...
- Airship of Community
Nakamura: It's not much different from the posters on which other works are pasting. I think that the wrapping bus is much higher.
Yuma: I have pasted it at the International Exhibition Center station, but that is expensive.
Honey house: I also quit because I was angry that "Sora can not affix this" (laugh)
Nakamura: I think that there are many card games of something that shed CM, but that is what it is because each has a sponsor.
Shimamura: During the animation 's broadcasting, there are frames which will definitely be vacant, as CMs of that card game can not be flowed so well, then it will be whether to flow Milky Holmes there.

Q: Please tell me the Anison that Mr. Nayatani sang on the way back to Kyoto.
NANATA: I went to Kyoto trip privately until yesterday. I was caught in a traffic jam on the way home, although I was playing Anison Karaoke in inside ... ... 999 or Tomorrow's Joe.

Q: About the matter that did not come up with an inventor of tag game.
Kondo: That's right. Will you explain now?
Have fun!
Kondo: I do not mean it does not come.
Hayato: There is a little work ...
NANATA: It was like I did for Ototo-san.

Q: Although twitter is popular, there are many people who are working until they change their everyday when looking. Are you sleeping properly?
Kondo: You are amazing, are not you?
Yuma: I'm asleep. By the way, who else is?
Aki: Because some people are out of time with people in the industry. Are you doing well at 4 o'clock, 5 o'clock, and some people who appear on twitter?
Kondo: In the middle of the night, FAUST (→ Mr. Ota, Mr. Hoshida) comes out on my timeline (lol)

Q: There are many opportunities for Milky Holmes to play an active role recently, but as a producer, is it challenging to be here?
Nakamura: Because there are a lot of events, that is hard.
Kondo: Are you going to London?
Nakamura: I will not go, because the masterup of the game is overlapping. By the way, I wonder if I can say ...... The participation in the tvk animation festival was decided suddenly. So, I will probably sing. Also thank you there.
Yuma: How about rewarding?
Nakamura: As the number of people who know Milky Holmes has increased, it is more than anything else. Because "It is again Milky Holmes!" From "What is Milky Holmes?
Kondo: Even though you do not know the substance well, you are being rubbed by consciousness.
Nakamura: Because being hated is to be cognizant. The hurdle is lower for people who do not like it, like you like the people you dislike.

Anime version Milky Holmes poster



Q: How did you become a producer under the circumstances?
Iwakami: Are not there many people who would like to be producers? Because I became longing to those who make images.
Yuma: I do not really understand what a producer is like in the first place.
Kondo: Working is very interesting to work with.
Honey bee: There is only a producer in order to be involved in animation, not an animation production company, aiming at animators or directing. I also said "I like animation!" When I realized that, I became a producer. There are many people entering the production company saying that they want to become an animator or director, but since there are few people who say they want to be producers and enter, it is a chance (lol)
Kondo: There are things that you have no choice but to be a producer, do you? I have to put them all together.
Honey Beer: If you do not have a talent for painting, I think that if you experience sales, it will be a producer.

Q: Is it hard to make a sequel to the hit titles?
Kondo: Hidamari sketch?
Iwami: If you hit it is easy to make. Although there are things that the sequel has been decided in a short period of time.

Q: How was the distribution of the Awa Odori Poster?
Kondo: I have not been to the scene. So I do not know the details, but first the Tokushima City Tourism Association took seriously that there was a response to the Awa Odori Poster, and there was also a story saying that it will be distributed in front of the association at first, but it interferes with the police So I was told to stop it, the only thing left was the distribution at the summit. There was also a plan from daytime or evening, but it was extremely hot so I made it early morning at 10 o'clock. I thought of someone who came, but it made me a lot of trouble.
I'm a gore ★ Assobi, I want to do it well, a lot of people come this time as well. Currently, there is only a ropeway to the top of the mountain, there are what to do with the bus, panic may also occur. But I want you to do it well.
Over the past year I had the opportunity to speak with the administrative or girls in the district. I am talking with Mr. Iwakami that animation is in a blessed situation just to announce a new work, but if you are an anime lover you can be seen under the otaku There is. I do not want to acknowledge such things. Therefore, I want to go properly. "I do not want to say that when I do an event with animation, this kind of thing happens," I want to make it succeed. A lot of things sold at the event, not a lot of profit, I want everyone to be happy and return home.
Make sure to arrange the places that are neatly aligned, keep the rules and keep the situation that you can continue with Vol.5, Vol.6 ....... That is not our effort, it is important that the people who come have a happy time with us. I really want to ask it from the bottom of my heart.
I want to trust people who like animation. There are many things that I feel from animation and movies, and that's why I want to believe in people who like animation. So, I think that everyone can have a happy time without problems.

◆ Tighten comment
Moriya: I forgot that it was the eve of the evening from the way. Thank you for your continuous support.
Nayato: I would like to do my best as a perfect prize-winning group so that you can say, "It's a perfect work award, after all a pair!"
Doi: It's a hard car, I will try hard and take it. Since we also sell merchandise at the same time as the exhibition in Poppo Street, thank you.
Iwakami: From October, please take a look at "Two sisters can not be this cute" "Togainu no kimo" and two targets are true and reverse. "Boundary of the sky" BD-BOX is also doing it thinking that it wants to make it good, so please do.
Komori: "Minori scramble", I think that you can enjoy the power of your shoulders. Also, 1 volume is on sale.
Hachiya: I think that one episode · 2 episode of "Sora wondrous f (Forte)" is broadcasting just around the time of Assobi, so do not miss the first season by all means.
Kashiwamori: I will live at the summit on the last day, so I hope to contribute to excitement.
Mi - ko: I heard you are going to do a talk show like a talk show in the square from 11 o'clock before live, I think that you can come from the morning.
Shimamura: I'd like to have fun as a Tokushima man.
Nakamura: I'm wondering if the tvk animation festival tickets are soaring at Yahoo auction and I have done something serious. At Machi ★ Asobi somehow there is an enemy (Tsukimeko) on the side of the organizer, but everyone, please become a friend (lol)
Aki: If you spend three days you can enjoy the event and you can just go and have fun. Please enjoy those who have time. Also, the prototype of Nendoru spring has come up, so I will take it if I make it in time.
Yuma: That 's why I am hosting a Hanazawa fan in front of me ... Please do not bully me.

Mr. Kondo has the following comments.

YouTube - Machi ★ Asobi vol.4 Eve tightening comment


By the way, during the event, "SST (Super Sutsi Time)" that the performers narrow down the raw samples to sour from time to time was inserted.

Mr. Nayato who hands sourders.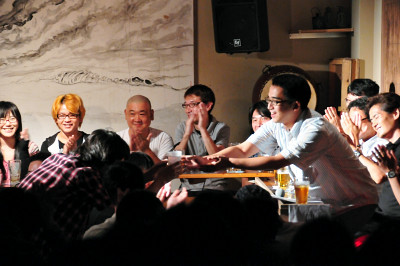 Mr. Nayato who will drink for some reason.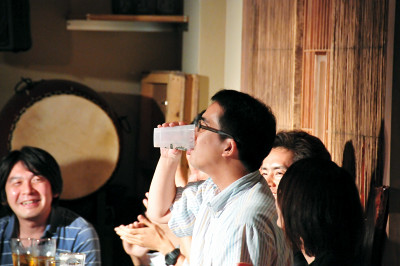 Poster battle scissors including "Awa Odori Poster". It is the privilege of the local participants.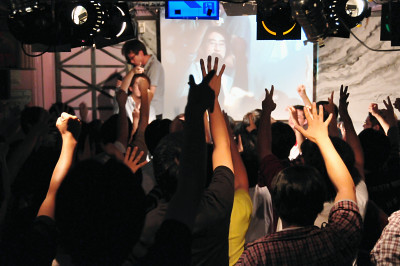 BIG BOSS ROBOT figure that Mr. Aki could not buy only in America or Guzzma cafe was offered.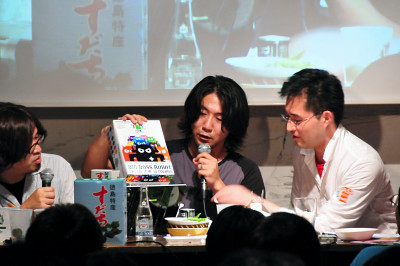 "Machi ★ Assobi Vol.4" The actual number is 3 days of October 9 (Saturday), 10th (Sunday), 11th (Monday). It seems that the accommodation has already begun to fill, so it may be better for people planning to participate to arrange an accommodation earlier.