Interview with Junichi Kawakita of 'Godzilla vs. Violante', the man who created the Ultraman transformation scene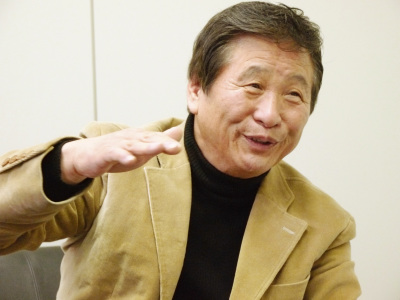 He created a transformation scene of Ultraman coming close to the sky with one hand in the sky, and was able to interview with Ryoichi Kawakita, who was in charge of special director of
'Godzilla vs Biolante'
who recorded 2 million audiences. I listened to the interesting things, such as the anecdotes and the opinions about the current of 3D images.
Kawakita will be in charge of the six Godzillas since he entered Heisei, including 'Godzilla vs Biolante',
'Godzilla vs King Gidra',
'Godzilla vs Mosla' and
'Godzilla vs Mecagodzilla'
. This time, we have challenged the world of the original program
'Nippon Tokusatsu, transcending the border!
Special feature on Tokusatsu Kingdom Special-Sixth edition challenge letter to the world of Tokusatsu Kingdom' special program of SKY PerfecTV TV
Japanese Movie Channel
Appeared in 'Man-' (3/20, 3/21 and others)
. How does the current special effects appear in the eyes of the special effects of the special effects world, which is also called 'special effects demon' in its unique way?
Details are as below.
Japan movie channel 'Special effects Kingdom Special-Sixth edition challenge to the world-'


The left is Kawakita. Director Kawakita will also participate as a special effects director in the 'special effects kingdom' this time, and ' Beijing original people's counterattack' taken in Hong Kong will be broadcast, so along with Mr. Shiro Murase (right) who was in charge of modeling Cast. Mr. Murase remade and brought in the costumes of the Beijing originals.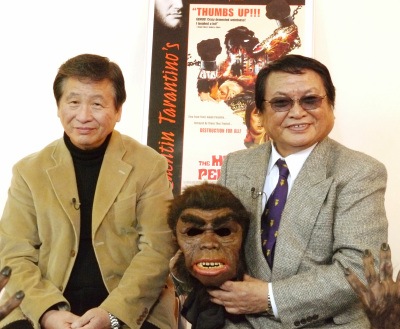 ◆ I am a manager, but my monthly salary system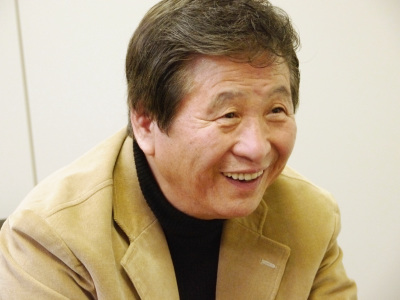 GIGAZINE (hereinafter, G):
First of all, what was the history of being assigned to the profession of special skills?

Koichi Kawakita (hereinafter referred to as Kawakita):
Now I say, it's something like otaku's shit. All my brothers have gone through the movie. I have liked movies since elementary school, and in that respect I think that there was a lot of interest in movies. As I became older, my interest in the film changed and I became interested in special effects. If it was
'the ten commandments'
, I would like to take pictures like this, and I have always been interested in such fields, and that is the first opportunity. I read such a book as film technology since I was a student.
G:
When did you specifically start to be aware of your occupation?
Kawakita:
It's about the upper grades of elementary school.
G:
It is very early!
Kawakita:
so. So when you meet a classmate of that time, you are often said, 'Kawakita has said so.' Well, I think I'm a Toho employee so much that I can always work on special effects, so I think the free people are more difficult now.
Like me, I think there are not many Toho employees. Everyone else is free. I was a Toho employee until retirement. So I have never received a supervision fee. It is a monthly salary.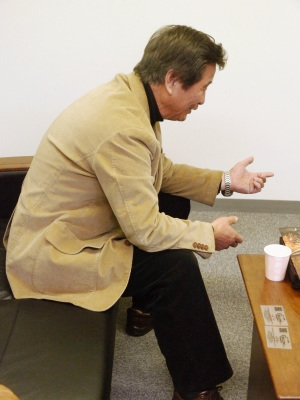 G:
Well, what is your monthly salary when you have taken 'Godzilla vs. Biolante' so far?

Kawakita:
so. I am a salary man, ordinary. I am with a general manager or manager of an ordinary company. I'm an accounting manager and I'm a junior, but if I say I can do that, I can't, then I can't tell him if I can oversee. It is the right person right place. However, since I happened to be a great director named Mr. Tsuburaya, I think that there is also a aspect that has continued for a long time because of such a flow.

◆ We make a makeover scene of Ultraman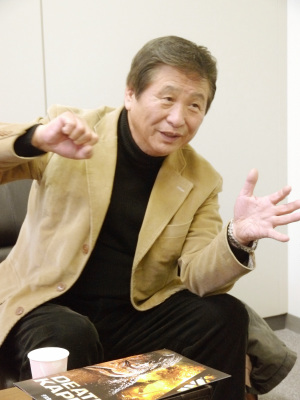 G:
According to the information on the Internet, there was a case that
'Transformed 'Ultraman' is a famous picture that pushes up a fist from a red light and is made by Kawakita.'
Is it by the director?
Kawakita:
I did synthesis, at that time. It was
Sagawa-san
who shot it, and I used the
optical printer
to synthesize the one that Sagawa-san shot on the scene. Let's get rid of the original picture. The static thing I took with a fisheye lens is that it is deformed that this is big and small. It's three-dimensionalized and composites what you took on film.
I did shooting assistants in the field, composing, directing assistants, directing, returning to assistants, and so on. I also did production.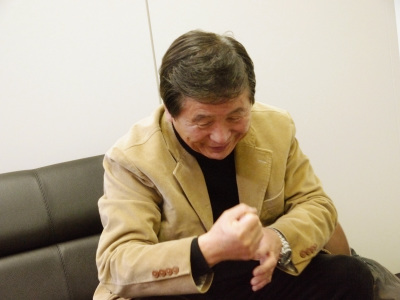 ◆ 'Avatar' and the possibility of CG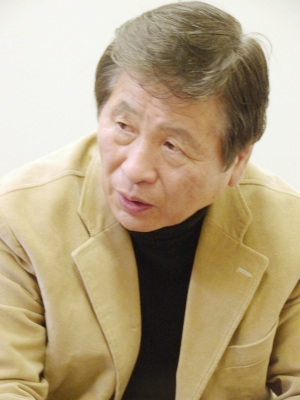 G:
The number of works that make full use of CG, not special effects, has increased year by year, and films that are viewed in full-length stereoscopic video as represented by
'Avatar'
are being made one after another. What do you think about this trend?
Kawakita:
I think it is great as a tool in film production. However, does that mean we have the skills to use it sensuously? It was said by
James Cameron,
but I think that it will be so that 'films evolve and change while shooting, and create new things while putting various intentions'. Though.
However, the movie that we are making now is the scenario of the movie, and from that there is expanding the imagination and cutting off the contest, and there is 'If this is done, OK will come out' There may be a part that does a well-understood work method. There is a weapon called CG that has infinite possibilities, but the ability is required for the user who can only use it effectively. It is useless because I am not (laughs)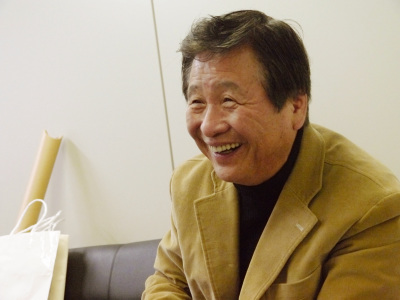 G:
Technology has advanced, but the user has not yet used it well.

Kawakita:
so. But there are places where I think 'I don't like that kind of CG'. You can do anything. Although it can be a picture, it is difficult to grasp people's hearts. I can communicate visual images.

G:
In recent years, the television has also been improved in image quality, but is it so difficult to make special effects as well?

Kawakita:
Because there is a standard of the broadcasting station, you can not go there without clearing it. However, because there is a chemical element when taking a film and it is not an electronic decomposition, there is an unstable element, and there is something unexpected about the latitude (looseness). That's a good thing, and I think I should use it more effectively. Now, even if it's digital, it's a mechanism to match the film's latitude.

If digital advances too much, it will go beyond the point of the drama and run completely to such an image quality, so I think it would be no good if it had to be suppressed with attractiveness that would attract more to the drama.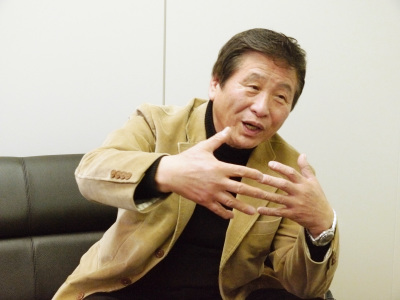 ◆ There was never before shown in 'Godzilla vs. violante'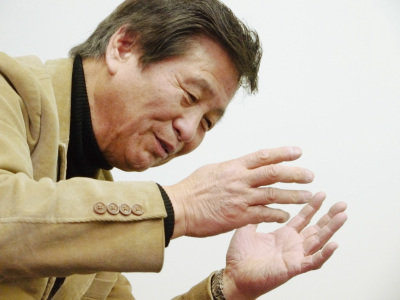 G:
In fact, the first movie I went to see was 'Godzilla vs. Biolante', but I was overwhelmed by the force. How did you feel like directing Violante's tentacles through the hand of a godzilla, or by what process?

Kawakita:
Godzilla did not get blood and did not get hurt, but that was because violante and godzilla had the common point of nuclear energy, and it became ah because there was an intention to assimilate. So it was more assimilated than it was. I think I can not digest myself yet. So, only the splatter element can be seen through.

G:
There is a scene where gold powder dances in the last scene, but that is also an unusual production. I think that it is a production that can not be seen in other special effects movies, but from what point did you come up with that production?

Kawakita:
At that time, it was not in special effects. That's because I liked that. Do you know
'Yodogawa'
?
It is
a movie based on the novel of
Miyamoto Teru
, and it is a literary work film that fireflies dance once in a few years in Toyama, but I used similar materials when expressing fireflies with that is not it. So I could create a fantastic scene, was it the root of one of the ideas? It is not a special-effects film at all, but it is a sober work, but it is a very favorite work as a work.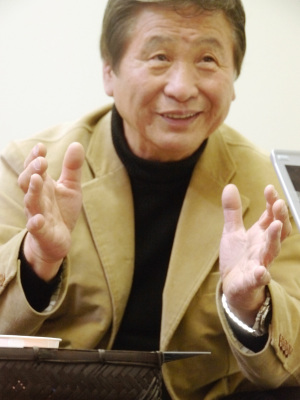 ◆ From commercial production of super alloy and plastic model to photography of 1/1 Gundam



G:
I am a little distracted from the story of the movie, but there are also a lot of commercials for
superalloys
and plastic models of Gundam, but how did you get to work in this direction?
Kawakita:
It is almost a Toei anime work. The story of work came to me that Bandai-san introduced a new series of superalloys, and there is a work called
'UFO Robo Glendizer'
as the first installment, and a person who can take such a thing well is Toho I was recommended because I was in
That doesn't use a dummy, but uses an actual product. So it's small. There was a work called
'Osaka Maryu Gaiking'
, and at that time I worked on small things. I have to go out in size and I have to put out a heavy metal feel. Because the product is small, when I take it in close-up, I can see a battered pattern called a satin of plating. Since the plating was not so high at that time either, it was likely that it would be a mess if it was a product.
Under such circumstances, although there were individual works such as 'Osaka Maryu Gaiking', I tried to create a superalloy worldview as a whole. The first thing was to launch a brand called superalloy.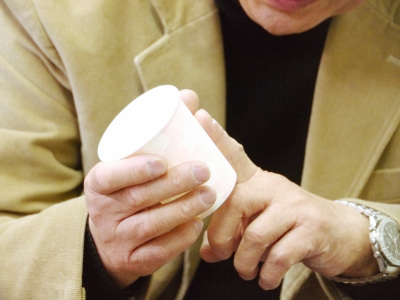 G:
What kind of work do you do recently?

Kawakita:
We did CM of plastic model of Gundam in around 86, and actually assembled plastic model and put on aging (soiling), put out a feeling of weight, and I took some of those works with CM, but the connection So at the end of last year, I had a request to take
a full size Gundam
in
Higashi Shizuoka
. I also want to shoot it in 3D. It was 18 meters long and it was quite difficult. I took it for a home appliance mass retailer as a material for a product called
'Toshiba REGZA' on
3D TV.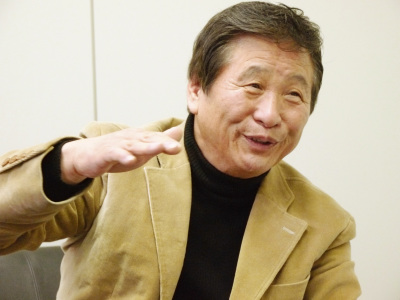 G:
The last question is, do you always keep in mind as you work?

Kawakita:
After all, our job is to entertain people. I will try to bring out such attractiveness, because I can not work if I don't get the product in hand, whether it's a movie or a commercial.

G:
Thank you very much.

It should be noted that, next time King Ghidorah and Gamera , Mothra worked on modeling of, over to Hong Kong with Kawakita supervision 'The Mighty Peking Man,' in charge of modeling, a special that was enthusiastically the scene falling from the building becomes a fire Daruma wearing their costume We will post an interview with Mr. Sogo Murase .