Ken Yasuhi's 'Curefully rebuild' Animation decision Ken Akamatsu responded "What ... ... ...?"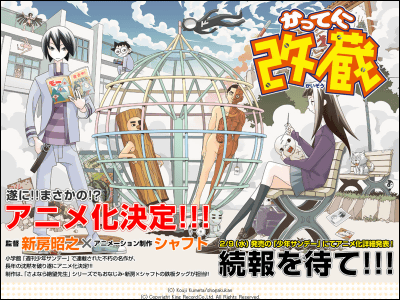 An animation of "Kakuti Kanzo" which was serialized from Weekly Shonen Sunday in 1998 to 2004 was announced.

In response to this, Ken Akamatsu of "Magical teacher Negima!?" Who is related to the author Koji Kumeida "reacts with ... ?!" and reacts as Mr. Kumada's assistant just " Mr. Kenjiro Hata who painted the background of Katahara gave a scene of worrying about the content of animation, saying "Feelingly still" I'm not glad that "I was happy yet" I showed it.

"Temporary modification" Anime official website and other details from the following.
StarChild: Temporary storage

"Temporary renovation" is one of the masterpieces of Mr. Koji Kumada, who set the stage in Tiger horse (tororama) town, which is the reason why the winning reorganization and rebuilding that he thought as being a remodeled person became wrong In the second half is a heroine Natori Huumi who frequently shows bizarre nature, Ultimate low end character and Tsutsumi no Hamidan, an absurdity gag comic who makes quite a variety of characters. As the work progresses, the picture and style also show a big change, the second half is "Sayonara Zetsubou SenseiI have an atmosphere close to.

About animation, as an assistant at the time of serialization, now it is independent "Hayate the combat butler!Known as the authorKenjiro HataThinks,I knew about animation for quite a long time agoAs it is also a work of which I painted the background,I'm pretty curious about the animationAppearance.

On the other hand, "Love Hina" "Magister Teacher Negima!?"Ken AkamatsuMs. Animation's Report "what…? It is!"Anyway it is not a big deal."I showed a reaction with such things. By the way, it seems that Mr. Kumada and Mr. Akamatsu have never met,In "Temporarily Kanzo", Kumada told "Love Hina" as a story and there was an exchange that Mr. Akamatsu will react in the diaryAkamatsu-san was worried that he was fighting with fans because he wrote "Komeda's bastard!", But this is a relationship that is unfolding like that to the last.

By the way, Akamatsu said "Well, I do not regret it! Is it? · · · · · · · · · · However, it is already "Shinkaku-kan version" is "out-of-print", then I should give out with J comic · · · Gonyoogono · · · · · · · ·"When,A comic contribution site "J comic" to share out-of-print cartoons in PDF formatI'm also showing tweets that are representative of. However,でも、アニメ化したらどうせ講談社でも刷るんでしょ。そしたらもう私とは関係無いから、どうぞお幸せに!!さよなら!(><) >久米田の野郎"I do not have any excuse! Is it? "Tsunderre was wearing a punch line.

In making animation, it is decided to produce with the same combination as Shinobu Akiyuki Director X Shaft, "Sayonara Zetsubo Sensei", and if it is to animate the latter part, it is exactly like an animation of "desperation teacher" That's right.

In addition, details on animation will be announced at Weekly Shonen Sunday released February 9 (Wed). by the way,The end of "Kanzani Kanzo" is a sudden abortion, and its truth is not well understoodHowever, can you think that being animated is not a work that is not popular at all? If that is the case, that discontinuation will not be too bad, but ....