Beautiful time lapse pictures capturing even the flickering of the aurora reflected on the water surface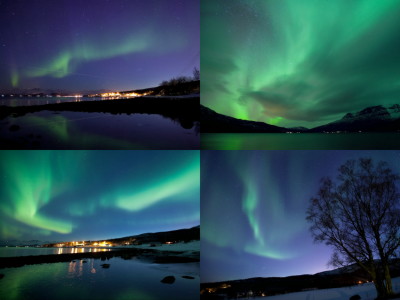 Dawn and sunset, the flowing clouds and the movement of stars in the night sky are also time lapse (Interval shootingAlthough it is attractive as a subject of), it flickers with changing shape every secondAuroraThe time lapse video of is also really good.

It seems that it is difficult for usual household video cameras to capture the weakly shining aurora in the darkness, but when photographing aurora with still, long exposure with the tripod fixed firmly is the basis , Continuous shooting as it is with a slow shutter speed without changing the position, or when the movement of the aurora is not so intense, by setting the interval with the timer and taking continuous shooting, the time lapse that moves well at the time of playing at 25 fps or 30 fps .

Aurora's time lapse by Norwegian photographer Tor Even Mathisen has become a breathtakingly beautiful image captured delicately even to the glittering aurora and light reflected on the sea surface from the flowing clouds.

Playback is from the following. Time lapse is Mr. Mathisen's local NorwayTromsøIt was taken with.

Aurora Borealis timelapse HD - Tromsø 2010 on Vimeo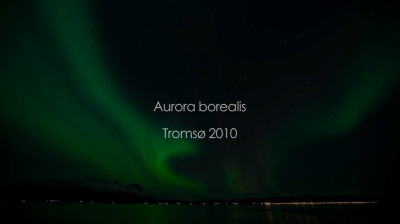 ComplicatedFjordIt seems that it was filmed taking advantage of the topography of. Ice is stretched on the water surface in front.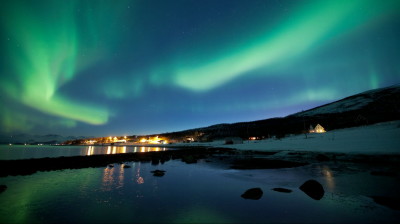 Although aurora occurs both in summer and daytime, observation is difficult if the surroundings are not dark because it is much weaker light compared to sunlight. From Tromso to mid May to the end of JulyWhite nightIt is said that from September every year to the following April is suitable for shooting. The pictures used for this time lapse are said to have been taken from January to April 2010.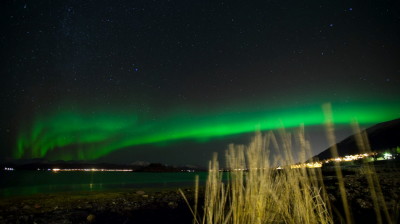 The cameraCanon EOS 5D Mark II, The lens isEF 16 - 35 mm F 2.8 L II USMuse.Flickr's Exif informationAccording to this scene where the house is in the foreground, it seems that the exposure was performed for 6 seconds with focal length 23 mm, aperture f / 2.8, ISO 1600.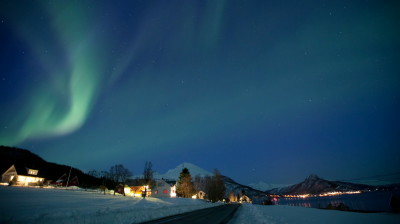 Occasionally a thing like a shooting star or an airplane is reflected, and it is reflected to the surface of the water as well.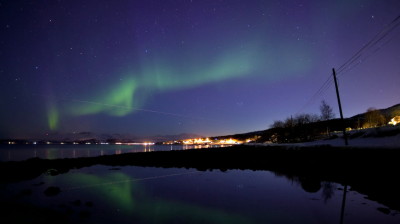 The aurora is a phenomenon that occurs at a higher position than the clouds, so if the entire sky is cloudy it can not be seen from the ground, but the aurora peeking through the gaps in the clouds is also beautiful like this. Cloud flows by making it time lapse In addition to seeing and hiding the aurora, it is a mysterious image that you can see the movement of the earth as you know that the stars move with time.



The light of the city light of Orange is reflected in the cloud This areaISO 1250 for 8 secondsIt looks like an exposed photo. Besides thisFlickrThe pictures used for this time lapse by 10 sheets in total are published together with the Exif information, so if you are interested in it, it may be helpful if you check it.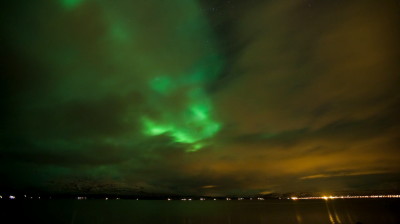 The time lapse of the version created in 2009 by the same Tor Even Mathisen is also impressive.

Aurora Borealis - Tromsø 2009 on Vimeo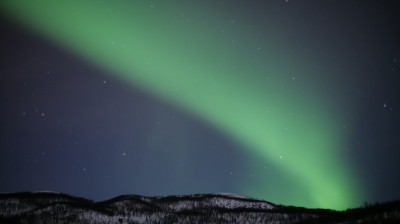 Here is the time lapseCanon EOS 5DShot inAdobe After EffectsWhenAdobe Premiere ProIt was edited using.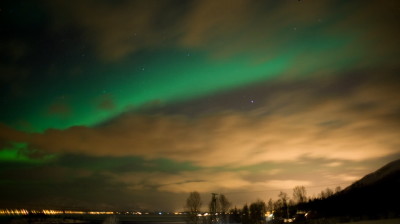 Mr. Mathisen is a photographer (picture) working at a television station and a photograph (still) as a hobby, but not only to capture the aurora but also how to choose a composition and foreground is a truly perfection degree.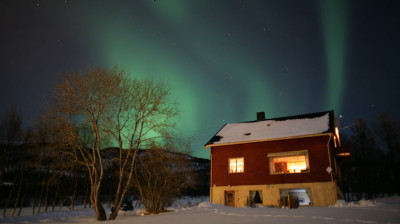 The moon and the aurora.