Japanese mail ends "Expack 500", starting cheaper and more convenient "letter pack"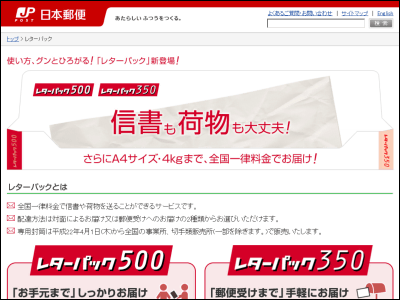 For private envelopes sold for 500 yen, clothing and books, etc.,Letters (letters, contracts, etc.)Other than just filling in anything you like and posting it to the post, you can ship it at a flat nationwide fee, you can also deliver it to the delivery destination in person and use the tracking service very convenient "Expack 500"Will be finished on Wednesday, 31st March.

And instead cheaper and more convenientLetter packIt seems to appear.

Details are as below.
Letter pack letters and luggage are okay! - Japan Post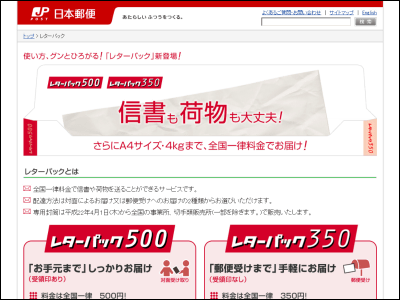 According to the official page of Japan Post, from April 1, 2010 (Thursday) two types of "Letter pack 500" and "Letter pack 350" on behalf of the conventional "Expack 500" are excluded from all offices and some parts of the country It is said that it will be sold at stamp sales department. "Letter pack" is different from conventional "Expack", if it is up to 4 kg in A4 size, it will be able to send not only luggage but also letters.

The difference between "letter pack 500" and "letter pack 350" is like this. Although there are differences such as the condition up to 3 cm in thickness and the presence or absence of face-to-face delivery, the points such as tracking service, delivery method and nationwide flat fee are common.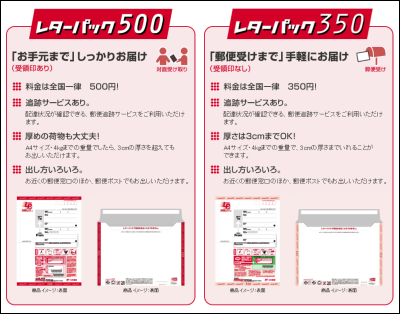 In other words, letter packs are used according to circumstances such as the thickness of the parcel and the necessity / unnecessary of the face-to-face delivery, so that it is possible to send baggage more reasonably than before, furthermore letters such as letters can be bundled , It seems that usability is improved more than ever.
in Note, Posted by darkhorse_log