Ita-Sha Exhibition held at Tokushima Machi★Asobi festival Vol.1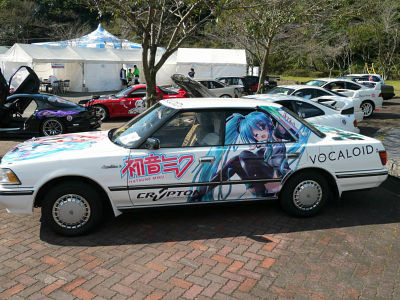 Tokushima Machi★Asobi festival is a collaboration of Tokushima City Office and various anime companies related to Tokushima. So there are a lot of events prepared for anime fans visiting the site.

There are exhibition of ItaSha, a car with "painfully" embarrassing decoration of female anime and game characters on the top of Mt. Bizan.

Let us begin with Itasha of Fate/stay night, Vocaloids, Toho Projects, Magical girl lyrical Nanoha, Sakura Taisen and The [email protected].

Read on for detail.

In the morning.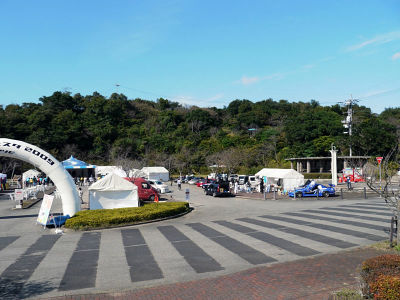 The Itasha Exhibition Site: Don't touch any vehicles.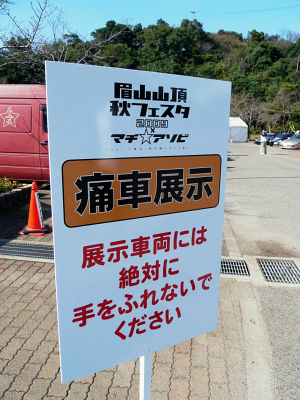 Here's the first one.;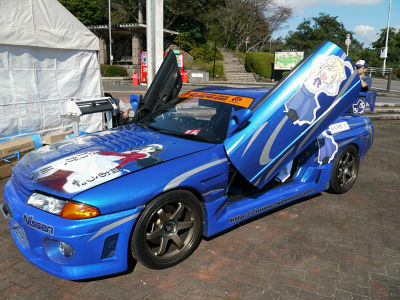 Saber and Rin Tosaka wearing french-maid costume.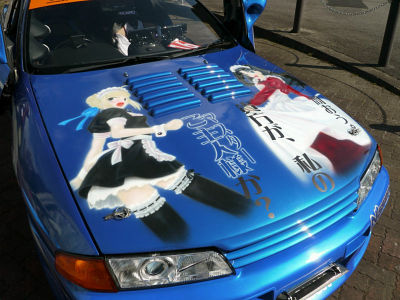 mixi and Amazon logo were also available for uncertain reasons.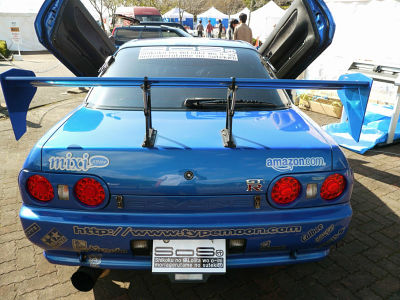 Saber dancing U-U-U-Aua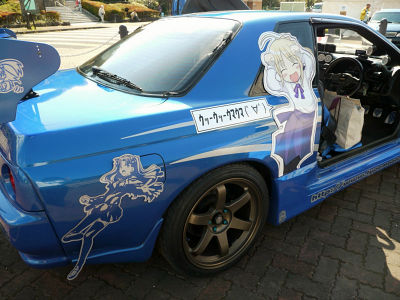 Nissan Skyline GT-R shouldn't have gull-wing door.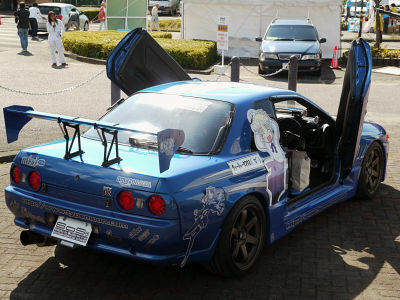 Toyota Crown with Vocaloids.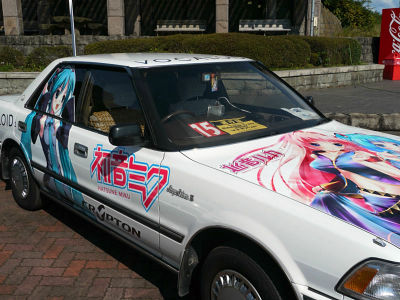 Miku Hatsune decoration might be a bit too large for this car.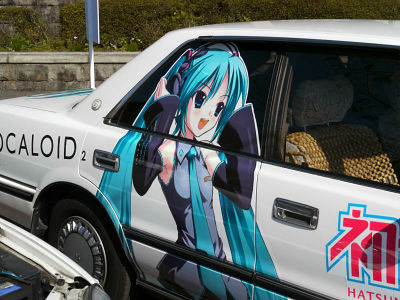 Engine hood has two-shot of Luca Megurine and Miku Hatsune.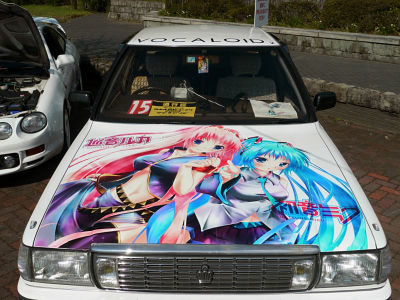 Made by Tokushima Movie Production Society, they say.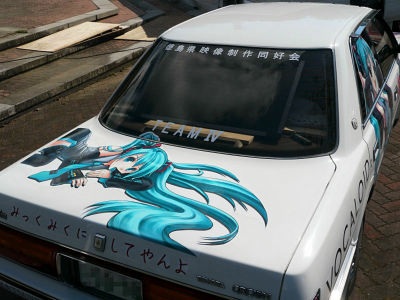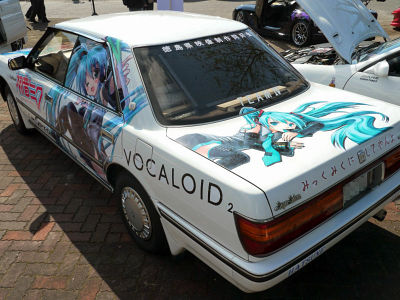 Toyota Celica made into Itasha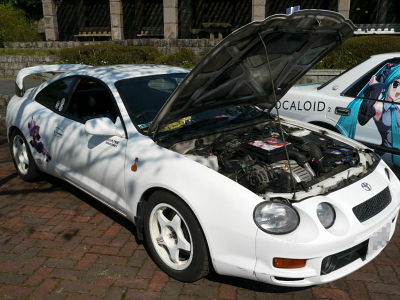 Something is painted on the engine.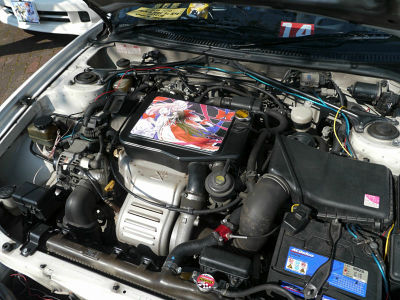 Yuri-taste illustration of characters from Toho Project.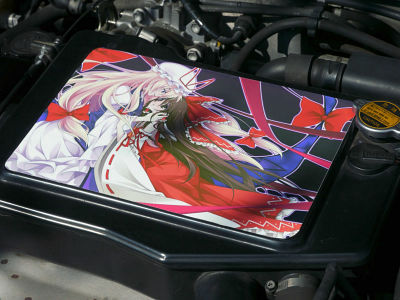 Another Toho character.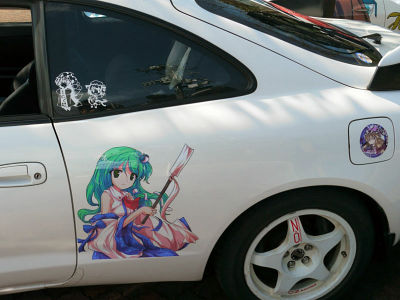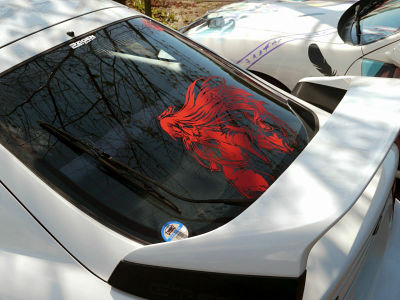 Yakumo Murasaki, a yokai who can jump through reality and fiction.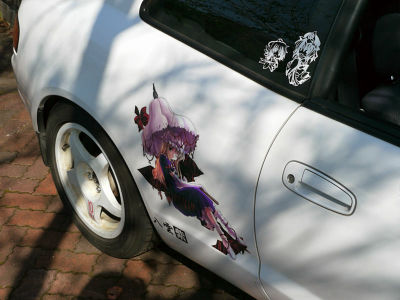 Hayate Yagami and Reinforce from Magical girl lyrical Nanoha.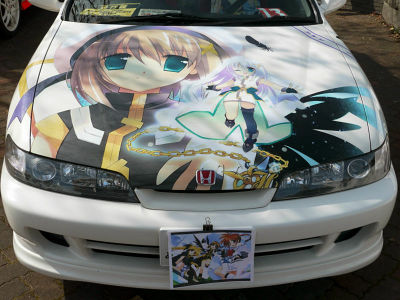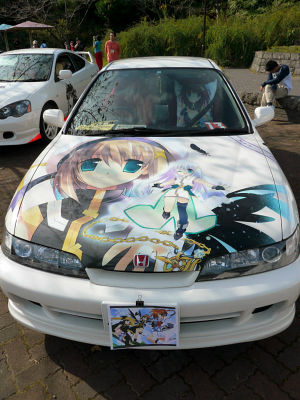 Reinforce, mind of Book of Darkness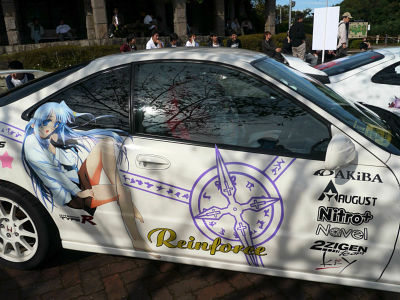 Hayate Yagami on the other side.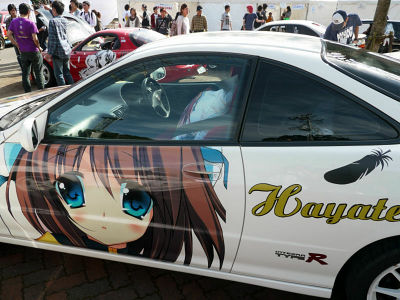 Driver can always be with Hayate...painful.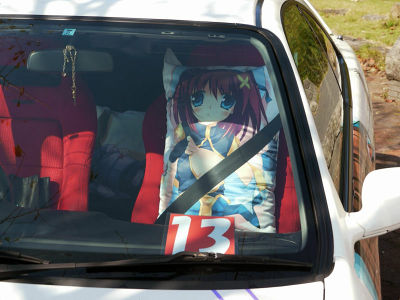 Honda Integra with Sakura Shinguji from Sakura Taisen.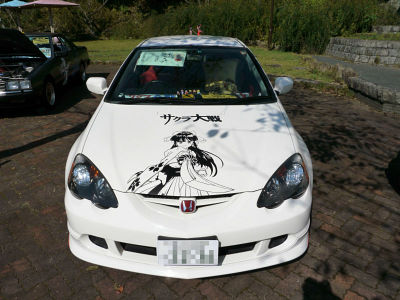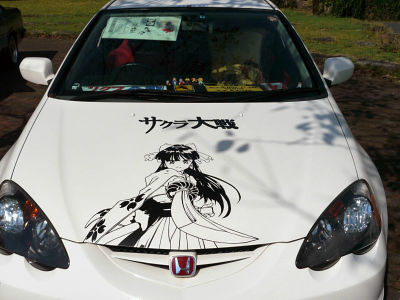 Interiors are also decorated with Sakura Taisens goodies.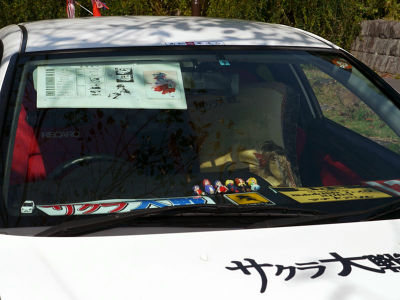 Pretty impressive monochrome expression.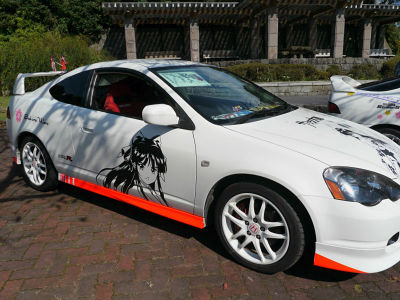 Fuel lid has Sakura emblem.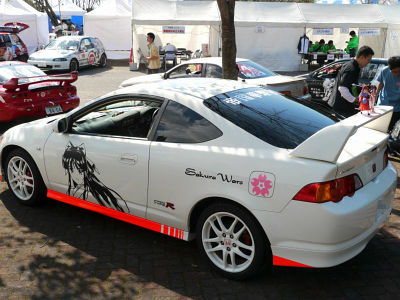 Figures glued on rear spoiler.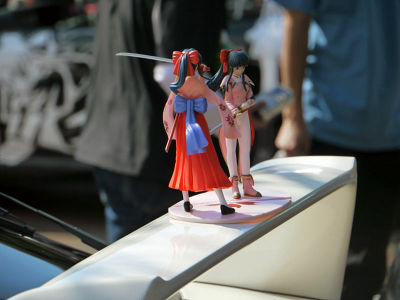 Chihaya Kisaragi from Idol [email protected]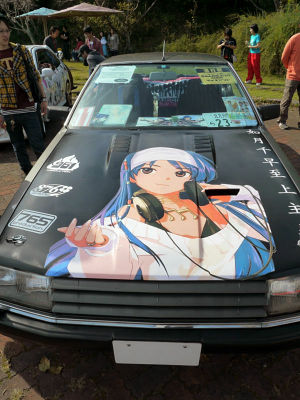 "Love Chihaya or Die" Kanji motto also printed on the engine hood.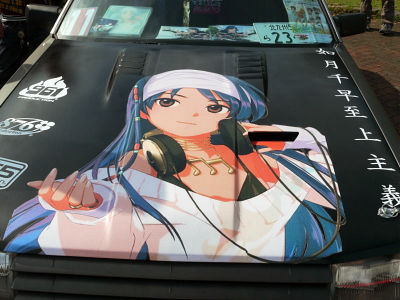 That's painfully embarrassing.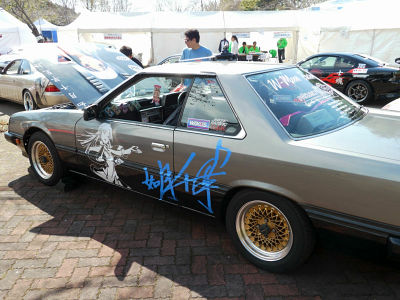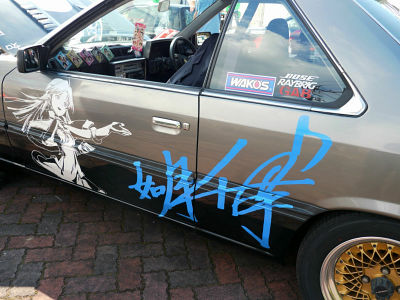 Mitsubishi Mirage in [email protected] decoration.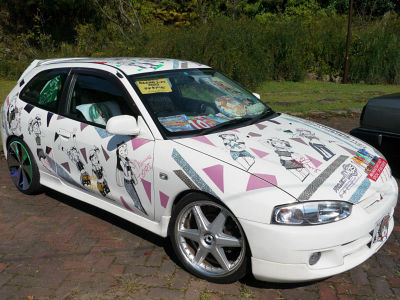 Nice license plate cover.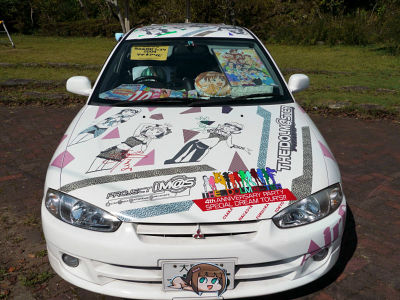 Being [email protected] fan seems to be challenging...


...both economically and mentally.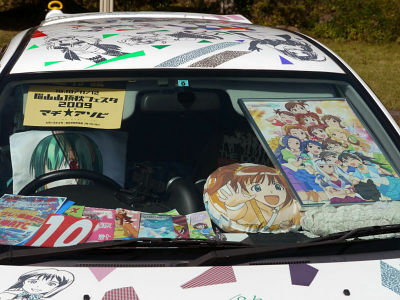 From the right: Iori Minase, Ami and Mami Futami, Yayoi Takatsuki and Takane Shijyo.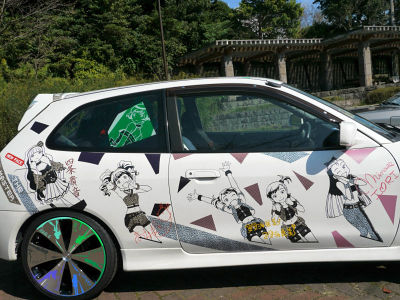 No room for more decorations.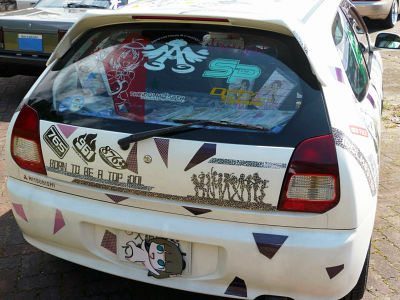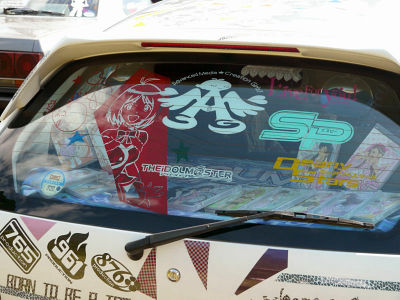 We really want to see this car from the sky.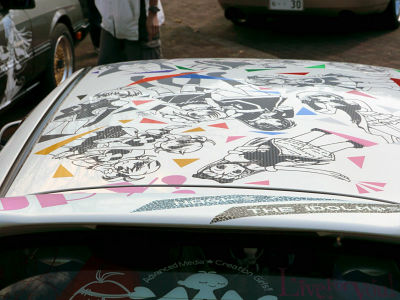 To the left side.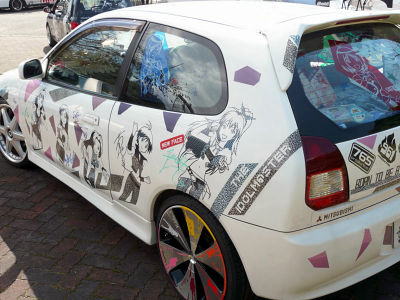 From the right: Hibiki Ganaha, Makoto Kikuchi, Azusa Miura, Chihiro Kisaragi and Miki Hoshii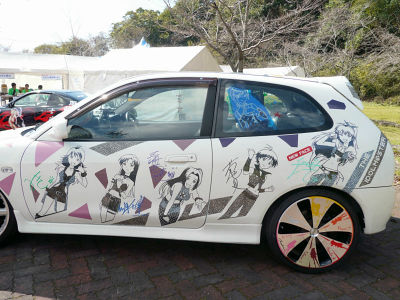 Even wheels are decorated with silhouettes.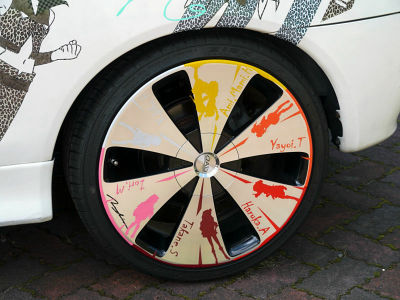 Related Post:
"Ita-Pla Grand Prix" to determine the most painful Ita-sha plastic model car - GIGAZINE

The exhibition of "Itasha" held at Comiket place - GIGAZINE

Fancy owning an Itasha? How about a cute and tiny Itasha Plastic Model? - GIGAZINE