EeePC's ASUS launches high-performance smartphone that adopted Google's "Android"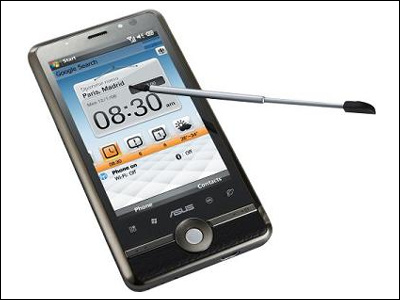 Low price mini note "EeePCASUS familiar in the series Google's mobile phone OS "Android"It is clear that it intends to launch high-performance smartphones that adopted the"

In addition, it is said that CPUs with higher performance are adopted than before.

Details are as follows.
GPS Enabled Asus P835 WVGA PDA Phone << Mobile Phones & Deals Blog UK

According to this article, ASUS will release a new smartphone called "P835".

"P835" is equipped with 528 MHz CPU, 3.5-inch WVGA (480 × 800) touch screen and virtual QWERTY keyboard, 5 million pixel camera, Bluetooth 2.0, 4 GB flash memory, Opera browser, GPS, YouTube viewing function It adopts Windows Mobile 6.1 as the OS.

And according to the following article, following the "P835", ASUS said it intends to release a new smart phone that adopted Qualcomm 's Snapdragon processor and Google' s Android OS for mobile phones.

Asustek to launch first Qualcomm-based 3G smartphone

By the way, Qualcomm's Snapdragon processorA high-performance smartphone "TG 01" revealed that Toshiba will launch in early FebruaryIt is also adopted.