Acer will release nine models of smartphones this year, Google's "Android" adoption model also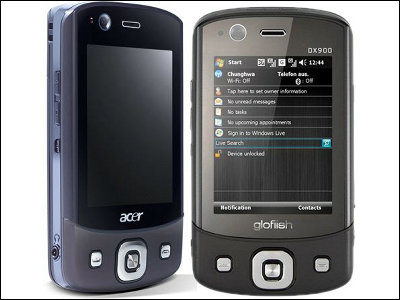 Acer, familiar with low-priced mini-note "Aspire One" etc., has revealed that it is planning to release nine models of smartphones this year. Some models that adopted Google's mobile phone OS "Android" will also be available.

In the smartphone market, HTC of the same Taiwanese manufacturer is "Touch Pro" and "Touch Diamond" series,World's first Android adoption model "G1"We are preceding by releasing such as, but is it to make an offensive at once?

Details are as below.
Acer may overtake Asustek in smartphone market, say sources

According to this article, Acer seems to intend to release at least nine kinds of smartphones in 2009.

ASUS, also known as "EeePC", also precedes Acer in the smartphone market, but wanting to reverse market share with ASUS in 2010 by releasing three models to compete against ASUS.

The price range of nine models of smart phones to be released is said to be 300 to 650 dollars (about 29,900 yen to 63,300 yen), and in November we adopted Google's mobile phone OS "Android" It is also clear that models will be introduced.

By the way, although Acer introduces a terminal that adopted "Android", it is a background that you can use each service of Google,HTC's high-function smartphone "G1" that adopted "Android" for the first time in the world realized a manufacturing cost lower than iPhone 3GIt may be cited as such.

Just a big offensive, is it even released in the Japanese market? I am also concerned about what kind of specifications will be released.