F1 world championship, Williams decides to appoint Rosberg and Nakajima Kazuki next year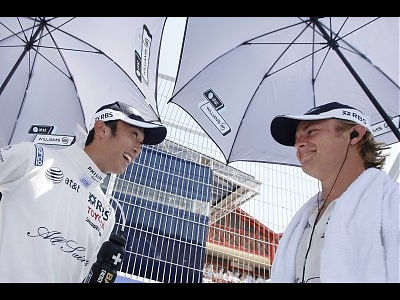 F1 World Championships for 2008 will be held from 10th October (Fri) to 12th (Sun)Fuji SpeedwayIncluding the Japan GP to be held in the remaining three races. As of the end of the Singapore Grand Prix on September 28, McLaren with Luis Hamilton, the top driver of the drivers' ranking in the Constructors (Manufacturers) division, is at the top of the list with 135 points, and Ferrari continues only 1 point difference .

WilliamsNico RosbergWhenKazuki NakajimaAlthough we are fighting so far with two drivers, we are steadily earning points although there are no champions but 2009 decided to appoint both Rosberg and Nakajima as well this year.

Details are as below.
AT & T Williams F1 - Team Confirms Unchanged Driver Line Up

According to Williams F1 Team, 2009 World Championship also decided to appoint Nico Rosberg and Nakajima Kazuki same as this year without any change. He also said that he will continue his contract with Nico Hünkenberg who is also a test driver.

I am confident that Rosberg's experience and talent will be made use of in the development of FW31 which will be the next machine of the year, Nakajima is steadily putting strength throughout the season, and based on this we will be developing a natural I heard that he expects that he will be able to do it at the pace. Hyunkenberg is also expected to continue to play an important role in testing and development next year.

Team founder and manager Frank Williams said, "I'm glad to be able to do with the drivers in 2009. Nico is one of the most powerful drivers out of the F1 drivers and Ikki is strong against any occasion We have to get stronger, and Hyunkenberg is also growing well. "

Finally the Super Aguri F1 Team withdrew from the fourth round Spain GPTakuma SatoIt is Nakajima Kazutaki who flies out as the only Japanese driver, but he seems to be able to see that fight next year.
in Note, Posted by logc_nt