Japanese version of low price mini note "EeePC", haste photo review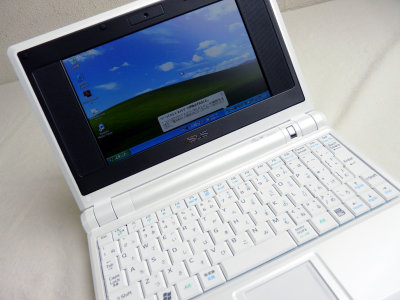 The other day at GIGAZINEThe topic "199 Dollar Note PC", ASUS's "EeePC" to be released in JapanI told you that ASUS has been able to lend a Japanese version of "Eee PC 4G-X", so we will deliver a photo review at once.

Despite its low price, it employs 4 GB flash memory as a recording medium, and it also has compact content with rich content, including wireless LAN, WEB camera, three USB 2.0 ports, SD memory card slot, etc. It is a mini notebook, but what exactly is it?

Details are as follows.
The box looks something like this.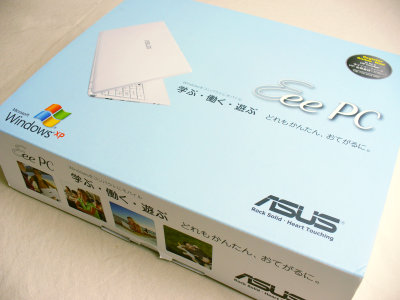 Easy, handy mobile note.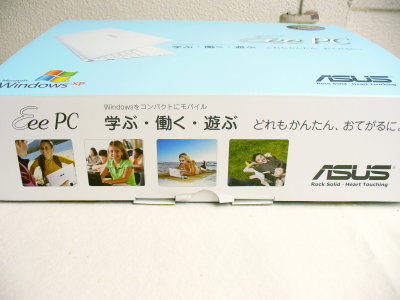 I just opened the box.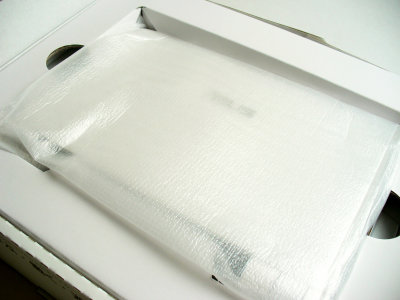 Contents is like this.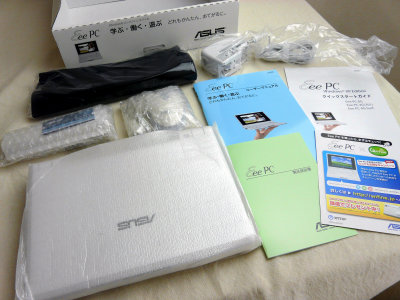 Four types of booklets are included, including a quick start guide and a user manual.



Body and battery, AC adapter and mouse, and special case are included.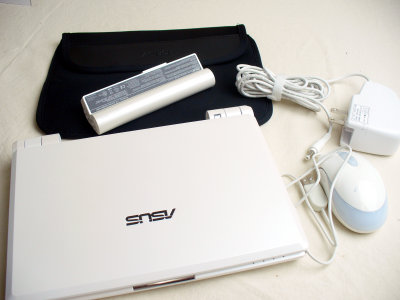 This is a mouse.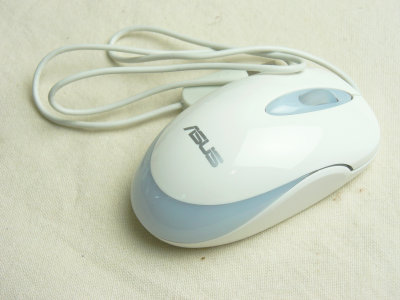 AC adapter is integrated type.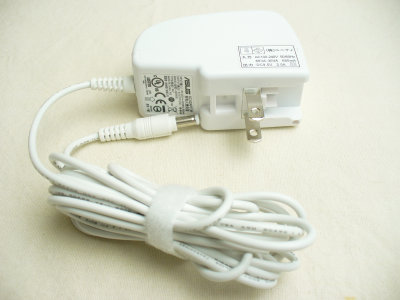 battery. The driving time with a standard battery is 3.2 hours.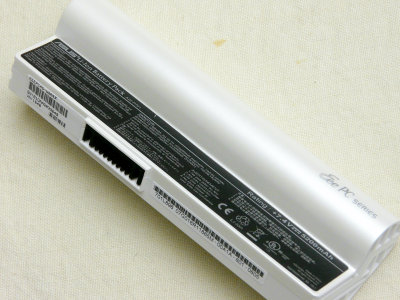 I wore a battery and opened the main body.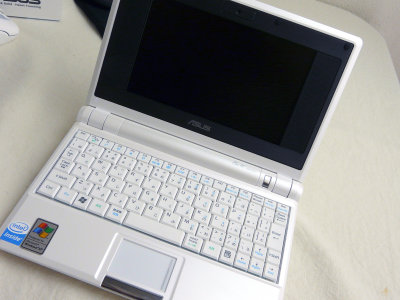 The back side looks like this. It seems that memory etc can be replaced.



Power button.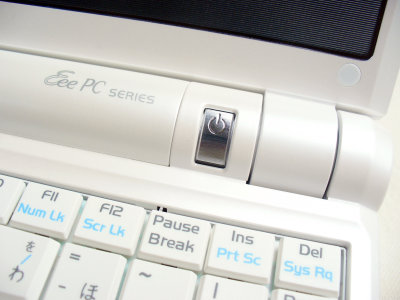 The key array is the same as a normal laptop. With the combination with the Fn key, volume, screen illuminance and wireless LAN ON / OFF can be easily operated.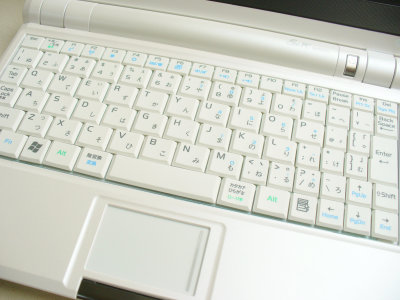 The keystroke is enough. You can type without problems.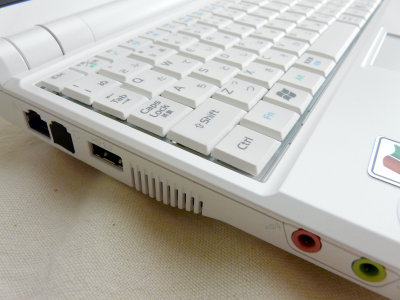 Touch pad looks like this.



There is a 300,000 pixel WEB camera on the top of the LCD. Since a microphone is also installed next to the camera, it may be good when doing video chat.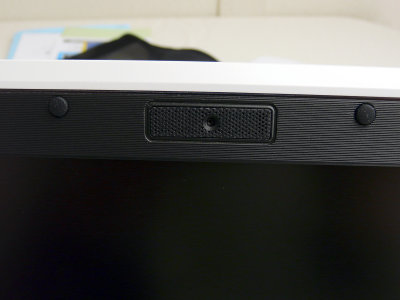 On the right side there are two monitor output and two USB 2.0 ports.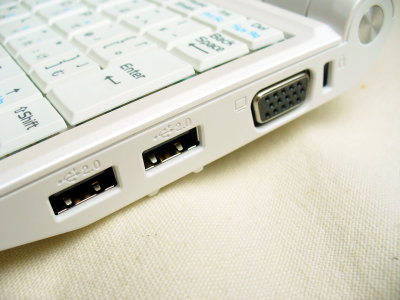 And there is an SD card slot. It also supports SDHC which is a large capacity standard of 4 GB or more.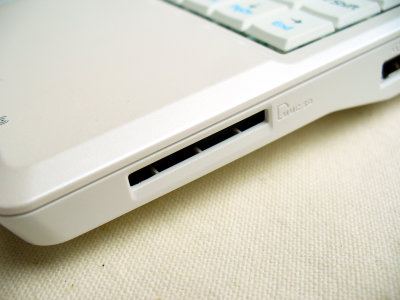 On the left side is a microphone and earphone terminal.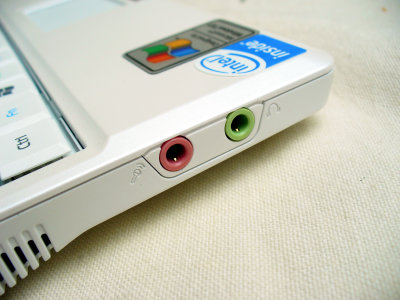 From the left LAN port and modular jack, another USB 2.0 port.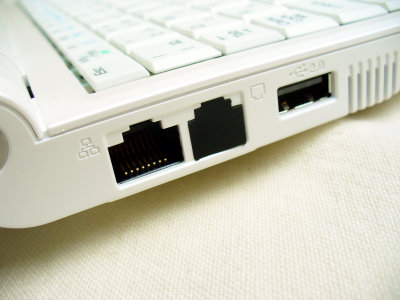 Connect the AC adapter to the rear.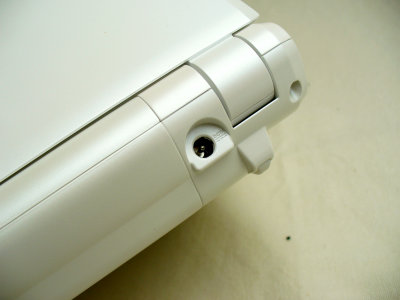 OS is Windows XP Home Edition.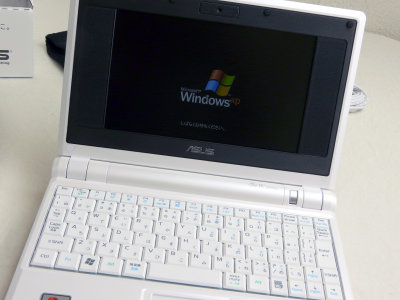 When you turn on the power, the setup screen appears.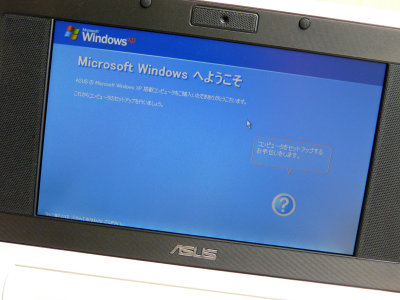 Since the screen resolution is 800 x 480, slight scrolling is required downward when setting up.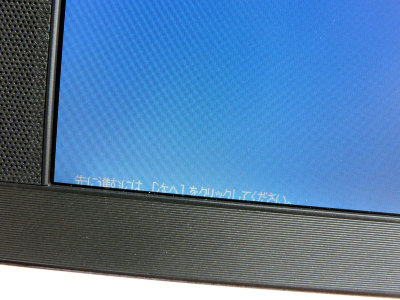 Setup is over. Because it adopts non-glare liquid crystal, it is easy to see even in bright places. Also, stereo speakers are installed at both ends of the screen. It is the maximum volume you care about, but it is very big, and the sound crack is also less. It may be good as a PC speaker.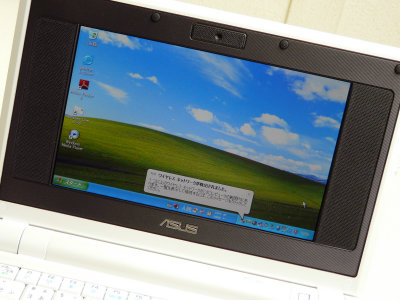 I connected the mouse and AC adapter.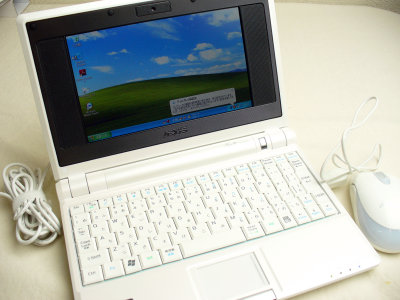 You can carry it in a special case.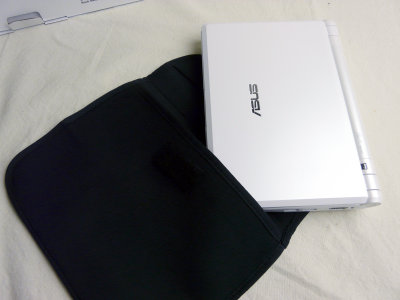 It fits in beautiful.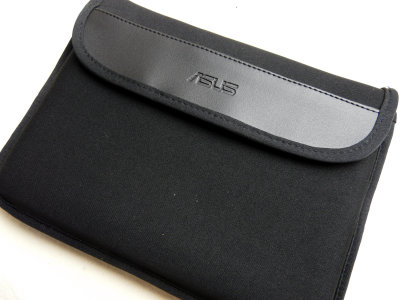 Panasonic's built-in editorial departmentLet 's note W 5I compared it.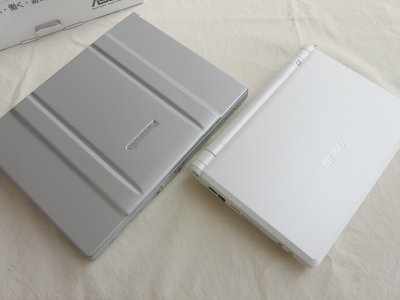 I tried stacking up. Compact in sizeR seriesIt may be better to compare it with.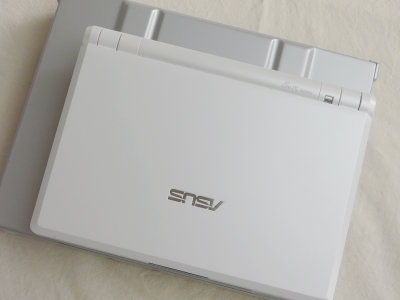 I compared side by side compare thickness.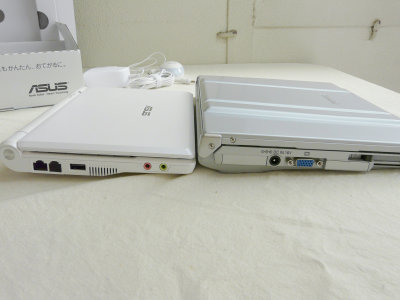 In addition to being compact, it is clear that it is slim.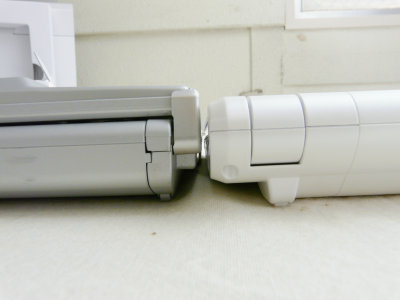 Although it is a touch you touched, it is 920 g lightweight, slim, compact mini notebook, making it very easy to carry.

Since flash memory is adopted as a recording medium rather than HDD, it is very good that there is no access sound unique to HDD called "Karyikari Rally ...". I am concerned about the capacity of 4 GB,The price of the SD memory card has declined sharplyFrom the SD memory card and abundant USB 2.0 port it seems to be able to cover it enough.

It's nice screen resolution and nice compactness, somewhat somewhat honored by the NTT DoCoMo's last PDA that was released in the pastSigmarion IIIAlthough it is made to remind you, since it is fairly func- tionally functionally, it seems that it is a notebook PC that you can play well enough for a low price of 49,800 yen.

· Next article
Check the competence of low price mini note "EeePC" with benchmark - GIGAZINE

I tried Nico Nico video, YouTube, video chat with low price mini note "EeePC" - GIGAZINE

Japanese version of the low price Mini Note "EeePC 901" that has greatly improved power, haste photo review - GIGAZINE

Check the competence of "EeePC 901" you care about with benchmark - GIGAZINE

I just tried Nico Nico video and YouTube with convincing performance, "EeePC 901" - GIGAZINE