I went to the laboratory of Meisei Food that produced that aseptic filled soup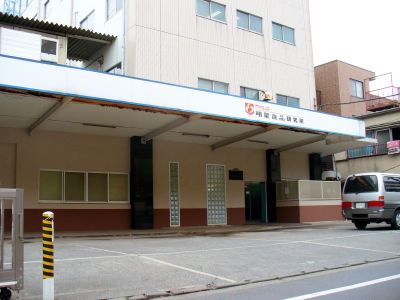 Ahead star food at GIGAZINE before "The craftsmen's essential rock 'n' roll one · soy sauce"ofSoup using aseptic filling technology is too goodAlthough I took up that, I was able to cover the laboratory of Akashi Food which developed a soup using this aseptic filling technology.

We talked about various merits such as the merit of aseptic filling technology, the atmosphere in the company, the hardship in developing new products of ramen, the kind of ramen released in one year, and the cup noodles for women .

Details are as below.
Mr. Aoki (right), Head of Product Development Division, R & D Headquarters of Meisei Foods Co., Ltd. (right), Mr. Mr. Atobe (left) of Group 1 of Product Planning Department, Research and Development Headquarters, Management Headquarters Management Plan It is Mr. Kishi of the department management department.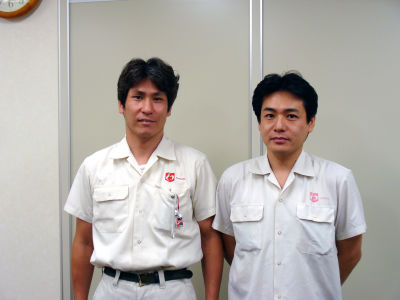 About Aseptic Filling Technology

GIGAZINE (hereinafter abbreviated as G):
In this time, something called 'aseptic filling technology' is used for soup when launching a product called "craftsmanship rock 'n roll The one · soy sauce", but what kind of merit is there?

Aoki (hereinafter abbreviated as blue):
Until now, when trying to preserve the extract of meat at room temperature, it was necessary to concentrate or to increase the salinity considerably. Then the flavor immediately after cooking the meat extract will be compromised. By making it aseptically filled this time, it became possible to save with the taste just after cooking. This allows you to save the taste when you cooked.

G:
How did you plan to develop this "aseptic filling technology"?

Blue:
As I mentioned earlier, we developed it to bring out the taste of meat to the maximum and adopted it this time.

G:
How long did it take for development?

Blue:
I have been studying for two years ago. Finally it has finished in a good condition on the technical side and the technical side technically, so it is about half a year ago about this product.

G:
Is there a possibility of delivering soup-like retort products using aseptic filling technology?

Blue:
Basically retort and sterile technology conflict, so it is difficult to think as a retort product.

G:
Which of the first chose "Chicken Chicken"?

Blue:
I have been studying aseptic filling technology for about two years, and finally it has become technically possible to sterilize animal meat system. This time the plan of "craftsmen 's rock' n roll The one · soy sauce 'was" soup of chicken soup "effective, so we thought it was a great opportunity to make use of this technology, and commercialized it.

G:
What is the sterilization method of "aseptic filling technology"?

Blue:
In a nutshell, I sterilize it in the same way as juice in milk or paper pack. It is a sterilization method to instantly heat and instantly cool, so the taste of the material will not be impaired.

A state where a machine that actually performs aseptic filling is moving.


G:
The question will change, but why did the staff of development staff of Meisei Foods go to the development department in the first place?

Blue:
People think that it is each person, the staff here basically like to eat. I think that there are many people who are stronger than others in their interest in eating and about food. Especially, there are many people who likes noodles too (laugh) Also like Tokubo who is present at this place, how many cups of rice per year do you eat?

Atobe (hereinafter abbreviated as trace):
Well ... hundreds of cups (laughs)

Mr. Tokubar who makes a meeting.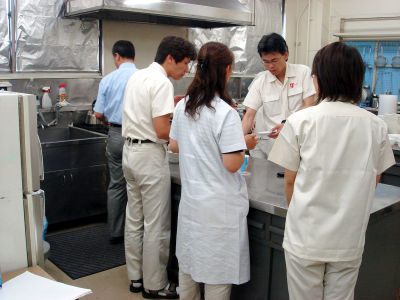 G:
It is amazing.

Blue:
It is a man who came out on TV champion (laugh)

G:
By the way, what kind of undergraduate in the university are you graduating from the staff of the development staff?

Blue:
Again, there are many people in agricultural department.

◆ What is the approximate average schedule of the day?

G:
What is the average schedule for the development staff of the day?

Blue:
The schedule of development staff is about three patterns of "preparation of prescription", "trial production" and "confirmation". I would like to eat at least 10 to 15 glasses of my prototype in a day and then the prototype of his subordinates. It does not mean we do not eat completely though. And that is a further improvement work.

It seems that the soup is actually prototyping.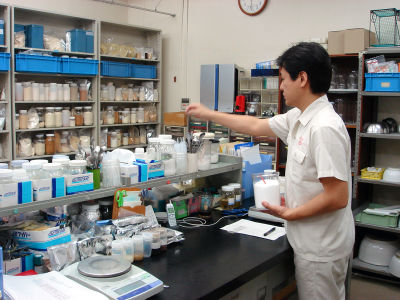 Weighing place.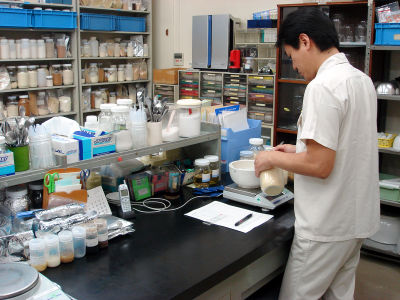 G:
When is a specific schedule such as when you leave the company and when you leave the company?

Blue:
Our company is at 8:45 and is leaving 17: 45. Lunch break is from 12: 00-13: 00. In my case I am back at about 19 or 20 o'clock.

◆ How is lunch and so on?

G:
How is lunch, dinner, snack at rest?

Blue:
There are not many shops around the laboratory, so many people buy lunch at convenience stores or eat foods for their own products or other company's products as a dinner. There are not many people going to dinner outside. In my case, I have dinner at home.

G:
How much are the staff involved in development including part and part-time job?

Blue:
About ten people in the department in charge of soup. Everyone is a regular employee.

◆ What are you proud of when you work?

G:
Is there anything that boasts of working for Akashi food?

shore:
There is no such big welfare welfare that you would surprisingly hear from everyone, but I am proud that it is a company with a good atmosphere with "ease of working".

◆ Legendary episode

G:
Do you have any episodes or legendary episodes that you had difficulties developing?

Blue:
Well ... That's hard to say, I do not know if I can say "hardship", but like the "craftsmen's rock 'n' roll The · · soy sauce", our company tied up with a ramen shop often Although there are many cases where products are brought out, shopkeepers are often sticking to their taste strongly, so it is most difficult to reproduce them.

G:
After all, is it such as "Do not taste this taste!"

Blue:
I agree. Basically, we make large quantities using industrially made concentrated materials etc, so in order to reproduce the taste like the shop owner makes using the soda pot at the store, to be honest It takes quite a while. For example, it took three months at "the royal clown rock'n'roll One THE · soy sauce".

G:
By the way, what kind of trigger do you decide for partnership and tie-up like this "craftsmanship rock 'n roll The one · soy sauce"?

Trace
For example, this "craftsmanship rock 'n roll The The · soy sauce" is a shop nominated by a project named "Ramen Grand Prize" held in November every year in the magazine of Kodansha' s magazine "TOKYO one week" I have you collaborate and let me do it. TOKYO We are tying up with Mr. One Week together with our company "Let's boost the industry." "Rock and Roll One" is a shop of a new award announced last November. We collaborate twice a year including newcomer prize.

TOKYO "The criminal rock 'n roll The one · soy sauce" who won a rookie prize in one week. It took me three months to reproduce the taste.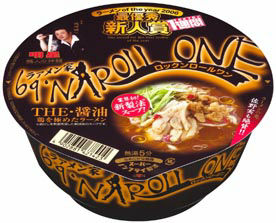 About the planning of new products

G:
How will you decide what new product planning is going to be?

Trace
The background is various. There are hundreds of new items of cup noodles a year in the industry as a whole, but each has its own background so it can not be said to one person, but what you tie up with magazines and TV like this and materials There are things such as those tied up with the manufacturer, and sometimes it is issued as a brand name like "Ippei-chan".

G:
I see. There used to be supervision of Minoru Sano of "Yakusan no yaki soba" before, is that a tie-up plan?

Trace
That is a premium planning product sold by pairing with Ms. Sano, "By supervision of Sano Kin, Ippei chan night shop's baked soba changes so much".

How many kinds of products are released per year?

G:
By the way, although it is a new product, how long have you been out in about a year?

shore:
As an image, you should think that something has always been released every Monday, including renewal products. And there are cases of one item and some items. There are several other major companies, and a great number of other companies are also on sale in addition to local manufacturers. Will it be number 800 in the industry as a whole? It is now in a state of fierce fighting against Super's and convenience store's shelves.

A new product that was recently released.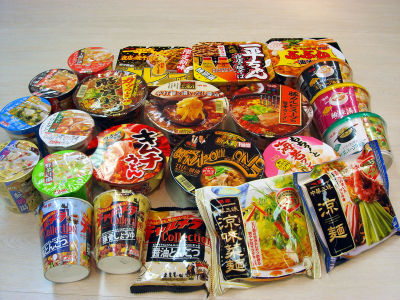 G:
It is amazing, is not it.

Trace
There are items that disappear without being aligned. Actually.

G:
Do you have it? Is it?

Trace
Yes. It is not always the case that all the items that have always been released like the previous one are ordered by convenience stores, so now we are preparing PB (Private Brand) products because each convenience store company is going to make its own. And since it is on the shelf in the form of designated seats, the space where other new products are lined is reduced accordingly. That will reduce employment opportunities. Each company will compete for it. That's why it is important to win a bargain at the time of negotiations, is not it?

G:
So where are the disappearing items lined up?

Trace
For example, I do not line up with a convenience store where PB products are substantial, and there are things that I can line up with other convenience stores. There is such a thing. In the past, the same thing was lined up everywhere, but now the intention of a convenience store who wants to differentiate by identity is reflected.

G:
Hokkaido fair special productProducts such as are also being issued, but is there still a request to come?

Trace
I agree. Through sales, the story "I will do fairs this time" has come, for example, "Hokkaido Fair", there are things such as developing PB products reminiscent of Hokkaido according to the atmosphere of Hokkaido. It is a common story now. Since convenience stores are also intensely competitive, we are trying to make ourselves unique, so we are offering "Chalma" and "Ippei chan" such as convenience store anywhere other than the NB (National Brand) products ordered There seems to be speculation that we want to differentiate and enclose customers by things. That is not just an instant noodle manufacturer, but also a beverage maker and a confectionery maker. Now such things are increasing very much.

Conference landscape.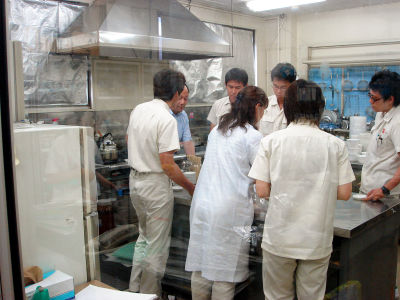 ◆ Future policy

G:
How about future policies?

shore:
We are in the position of challenger like 3rd and 4th in terms of share in the instant noodles industry, so we of course brands such as "Chalmera", "Ippei chan", "Chinese antiquities" that are loved by everyone long While carefully growing and expanding, we want to create new things in balance without losing the spirit of the challenger.

In recent years, the needs of customers have changed really, and in the past, the instant noodles were representatives of products that "they are easy, can be eaten immediately, are saved and can keep it," but now it is 24 hours There are convenience stores for sales and shops that can be eaten conveniently just like restaurants, so I think that it can be said that rival existence is overflowing.

I think that it is impossible to survive without thinking about various things in order to find the value of instant noodles among them. In the era when the so-called instant noodles market has grown and in the present era, the usage of money by young people who are heavy users is also frequently used for mobile phone bills, and the way of thinking about food is changing, so various societies I am planning to aim for product creation that can handle changes as well as being caught up to conventional common sense.

◆ Cup ramen for women?

G:
Are you thinking about a cup ramen for women?

Trace
In the past, not only our company but also other companies have challenged several times, but it does not go well well (bitter smile) rather than cupping, vermicelli like "Chinese dining" is popular.

Blue:
Another thing is cup soup.

Trace
Although I tried to develop a new market many times, it is difficult to take in a woman as a cup and after all it was able to exceed it.

Blue:
I have heard it at the investigation place, but the woman seems to be "resistant to entering the cup ramen department". It is embarrassing as a woman to go to a cash register with a cup ramen there from there. After all, even if you introduce products to such a market, if you say that you can not go to the sales department first, the market will not grow.

It is finally to break it out that we introduced spring rain and cup soup to the "soup department" in convenience stores. Finally I was able to pick up items.

shore:
A young woman is resistant to eating "bowl-shaped" cups at the work desk. However, if it is cup soup or vermicelli, you can combine sandwiches and rice balls a little more stylishly, you can have full stomach with low calorie and taste variations as well. Our company has a series of dumpling saliva and Chinese dining, but I put collagen for women and try plus fiber. We are steadily expanding our support. And there is also a phenomenon that men who are concerned about the figure that saw it bought a phenomenon and sometimes say that the market will spread.

"Chinese dining omelette soup vermicelli" blended 1000 mg of collagen with consciousness of female beauty.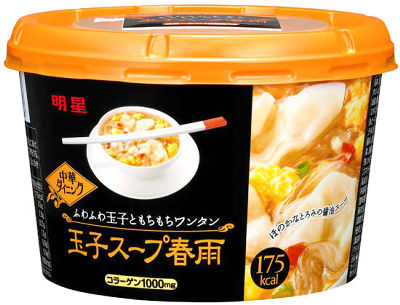 This is "Chinese dining vegetable soup vermicelli" blended with dietary fiber. Both are very low calories.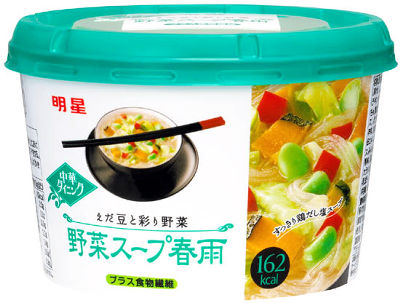 Conversely, introducing a low-calorie non-fried noodle etc. to the cup ramen sometimes says that those who had been shunned by saying "ramen = high calorie" may also have "such a cup noodle" there. Surprisingly women also want to eat cup ramen. Women who can not be satisfied if they are not even big are doing a very small number (lol), I want to aim to make products that can be accepted by a wide range of customers who will not be caught by conventional common sense in the future.

G:
Thank you very much for today.