I have interviewed "JT (Japan Tobacco)" on "smoking"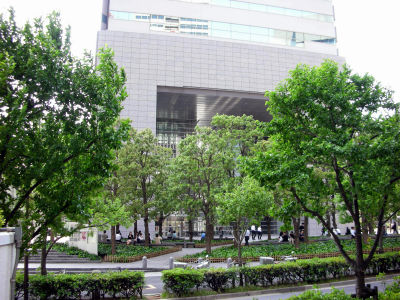 The only domestic tobacco manufacturing company, "JT"I went to.

I have heard about various things such as the recently promoted smoke - free smoking and why drinks, frozen foods, medicines etc. handled besides tobacco are reaching out in such a direction.
This is JT head office building, big, high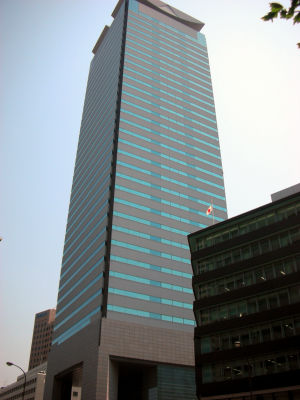 At the reception desk found a headquarters building model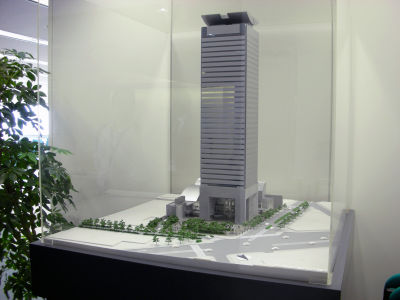 It is attached to the 1st floor of the head office buildingMobile Ashtray Museum Mobile Ashtray Museum.



The inside is making like a cafe, it is quite fashionable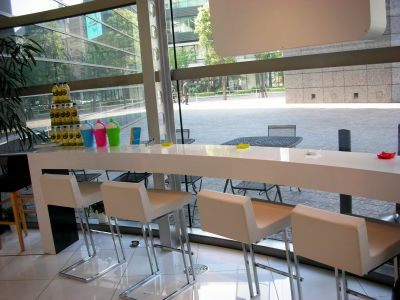 In the store wireless LAN "FREESPOTCan be used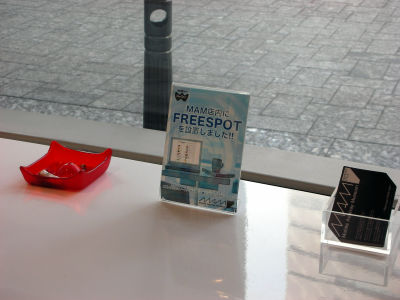 Since the wind was strong on this day, the entrance was deadline, but it seems that it usually seems like an open cafe by placing a table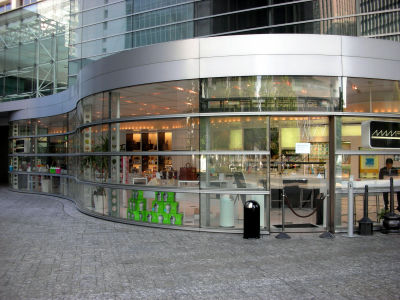 Various portable ashtray are exhibited / sold, and there are many types that are rare and unusual



There are quite a few numbers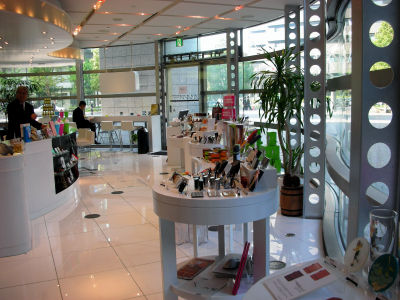 Various portable ashtray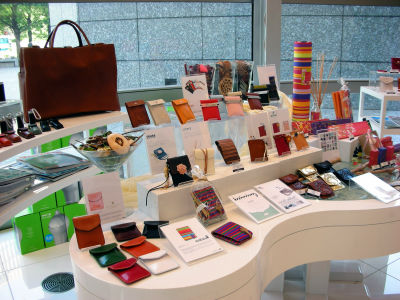 Ashtrays also have various brands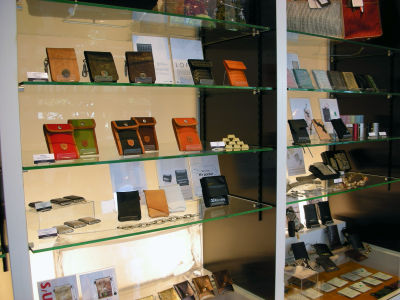 Ashtray simulating biscuits and chocolate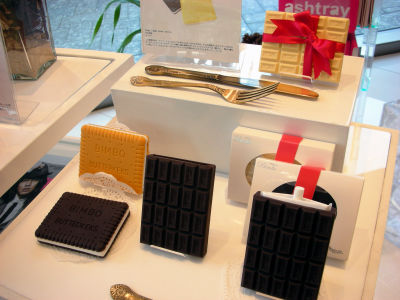 IPod-like design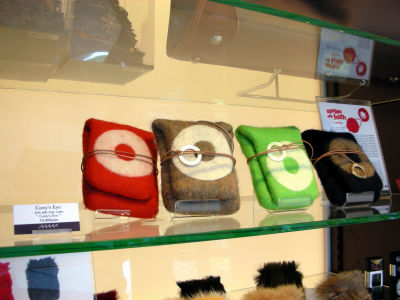 About JT and smoking

GIGAZINE (hereinafter, G):
The main interview in this interview is that the main is smoking, but the time when JT began to promote smoke separation was stated about smokingHealth promotion lawIs it before May 2003 when it is enforced?

Nakai (hereinafter, N):
Although it began full-scale efforts since 2003, there has been the theme of how to cut off smoking at various facilities before that and how to do smoke properly. In 1995 I cooperated with JR to do research on smoking in a car, in 1996 I did an effort on smoking in general offices with Takenaka Corporation of major general contractor, and in 1997 I made an aircraft with JAL There were circumstances that I was researching how to smoke in my room.

G:
There is a precedent that I was doing research if necessary.

N:
For example, although I go to any airport now, I have a smoking room properly, but I started with JT. The first thing I worked on was New Chitose Airport in 2003, and for the first time I made a "smoking room" full of room divisions. In order to make a smoking room, people inside need to smoke cigarettes in a comfortable environment, and when smoke leaks outside, complaints come from people who do not smoke. Because I was able to make a firm smoking room that does not have such a thing in New Chitose Airport, airport officials came to inspect things of New Chitose and independently made a smoking room at each airport, what should I do with JT There was contact with or. With that, it spreads.

G:
Indeed, I did not think that the airport would do that kind of activity.

N:
Even though tobacco is a problem, smokers are also customers for service industry such as airlines. Although it is comfortable if you make it completely smoke-free, comfort is easy, but in Japan there are around 30 million smokers, so if you do not have a smoking place at the station home, go out and smoke and lose your beauty It becomes annoying to the surroundings.

G:
Surely there are.

N:
I will think about what the tobacco is like, and I will consider offering it as part of the service industry. Many people have to come to large scale commercial facilities and so on. In such a case when smoking is not permitted in the whole building, a father who smokes a cigarette and a family who does not smoke will return soon when going shopping. If you have a smoking room, your father can wait while sucking smoking while the family is shopping.

Does an air purifier help?

G:
There are air purifiers and smoke extractors as smoke removing devices, but in the past it was said that in fact it has not been able to remove harmful substances such as carbon monoxide. Considering that household electric appliances are evolving considerably, I think that the air cleaner has been improved considerably, but how useful is it now? Even if you write pollen, there are not many things written about cigarettes, but is it safe for consumer air purifiers, or is it still insufficient?

N:
We are talking with air cleaner manufacturers in various ways, but performance is rising little by little, including measures against pollen besides dust of tobacco. Although dust can be removed, it seems that it is not going to be able to get all the way to the smell. Although I do not know the details of the data, JT has such recognition because it is gradually rising in performance if it is a maker's story. So when it comes to smoking cigarettes in the smoking room of the office, it does not solve even if we increase the number of smoking machines. When considering making air more comfortable at airports and offices, exhaust is becoming more important.

G:
Indeed, if it is not exhausted exactly, it will not be possible with air purifiers or smoking machines alone.

N:
The rest is maintenance. Although air cleaners and smoke collectors will definitely stay as they are installed, dirt will gradually accumulate unless the filter maintenance is done, and smells will be generated from it, resulting in the opposite effect. Some smoking machines installed in commercial facilities and offices have to be maintained once every 1 to 2 months, but one maintenance will cost about 20,000 yen for each maintenance. However, if you leave it without doing it properly it will become a source of smell. People who introduced smoke extractors at the facility first think that they understand the necessity of maintenance, but real problems can not be easily maintained, and conversely, it becomes a problem.

G:
Even if the performance of the machine is up, does it mean that the effect will not come unless you have firm maintenance etc?

N:
I agree.

G:
That means that if you secure the exhaust and secure the maintenance of the equipment etc., the performance itself is improving so it is effective to some extent.

N:
Improvements in the performance of air purifiers and smoke extractors are progressing, but as far as this is set, we can not find anything to solve 100%. With only the machine that can solve it, it is enough to say "Let's put this in the smoking room" (laugh)

G:
Certainly, if such an ideal machine comes out it will be stupid selling (laugh)

N:
It seems that it is quite technically difficult.

◆ JT internal smoke separation

G:
How is JT internal smoking?

N:
We are responding by making smoking corners for each department. Although it is not in this building, in the office center and food related facilities etc, we decide rules and make smoking rooms respectively. Also, as a company that JT treats cigarettes as a product, there is no such thing as forcing you to smoke.

Dry (I):
JT was originally a monopoly company and it was a company that sold only cigarettes. There used to be no smoking campaign in the past, and there were fewer places where you can not smoke cigarettes inside the company. However, after that, when buying food related business from other companies and spreading outside culture, this floor came to separate smoke or follow the rules of the borrowed building. The headquarters building is designed to suck in most places. Because smoke-free system is great rather than smoke-free. There is a machine in the ceiling, so that smoke does not stay at all.

G:
Is there a lot of people smoking cigarettes inside so that smoke has also done exactly, that is amazing.

I:
In terms of recruitment, we are unhappy with each other when it comes to having tobacco's uselessness in fact after joining the company. People who do not smoke cigarette are OK from the time of company guidance, but when a person who does not have cigarettes can not accept to choose JT, it is said that it may be sometimes painful. However, because we are dealing with medicines and foods, there are people who want to demonstrate their power there.

G:
It will talk about whether it fits the culture or culture.

I:
Research in the company's internal smoking has started, and there are departments where smoking has already begun.

G:
Specifically, what department does it start with?

N:
It's food in easy-to-understand places. Originally I was doing only drinks, food was just started with an outside company, so there are business offices in various places, there are rules there.

G:
Indeed, the difference comes out pretty ne. It is unexpected because JT looks collectively in looking from the outside, but it is convinced when it is told.

Nomura (M, hereinafter):
Beginning with the monopoly company, the history of expanding the business is great.

G:
There are various smoking methods, but is JT promoting only space smoke?

N:
Space smoke is one way of smoking and it depends on facilities. For example, when building a facility from scratch, it may be called smoke separation by physically dividing the space, but it may be referred to as space smoke as it costs a considerable cost if there is already a facility such as a coffee shop. There are situations like this, it is difficult to say that it is ideal that space smoke is ideal from JT, so depending on the location, space smoke may be better, it may be divided by time, and physical smoke may also be present . In any case, there are many requests for proposals for smoking methods that do not cost much. I think that I have seen a shop partitioning by partitions as a method of smoking, but since smoke keeps along the wall, it will change considerably even with partitions alone.

G:
I see.

N:
This kind of thing knows as a common common sense that manufacturers who specialize in research and general contractors know, but general people and business owners do not know. The site renewal this time sometimes wants to spread such simple things. Even if you search by smoking, you can only find things about equipment manufacturers and health promotion laws, and you do not know the specific way of smoking. There is something we can do with a bit of ingenuity without paying too much money, and we would like to provide a method that responds to the actual situation that people who have money can spend money exactly. Personally, I do not want to separate people even if smoke is divided. When you divide the space, when you go out to dinner with a family, your father and other family seats will be separated from the cigarette but I do not think that is good. If technology advances, you may be able to smoke even if you are in the same space. However, as it is still impossible with current technology, I would like to think about it within the scope of space and time. Actually I'm actively working to make some answers, even if I do not have a 100% answer by listening to the opinions of places where various experiments are being conducted.

G:
When I heard the story from the previous time, I feel that research on smoke separation is going on in general contractors ... ....

N:
It is quite advanced. A tenant will enter each floor when building an office building, but if a cigarette smoker came when you wanted to quit smoking all the way, you will not smoke in the office so you will smoke at the entrance. So, if you are making a smoking place properly in a shared area, that will be an appeal. Even in the condominium, I make a smoking space with a children's playground etc. in a shared space. Since the general contractor has a part advanced from JT, if JT and general contractor can do together there is done.

◆ How to do for those who do not follow the rules

G:
Even if smoking progressed, there are people who smoke regardless of breaking the rules, but are there any measures to deal with those people at JT?

N:
Personally, I think that someone who does not keep the rules in any talk comes out. Tobacco is in a position to be taken from the public, but such problem of manners is a problem of individual morals. For example, if there are 100 people, 95 guardians and 5 people do not protect us absolutely what JT can do, I think that it is only to tenaciously persuade the five people to four or three I will. Out of 100 people, 98 people will be able to see the end if it fits neatly.

G:
I see.

N:
Tobacco is an adult 's luxury goods. You should think about why only adults are allowed, and because it is an adult, it is what was allowed. If you take a fine, the place may protect manners, but those people may suck invisible places. If it is, I think that I have to persevere and do my best. In the old days, the cigarette butsucker cigarette was thrown out the most from the station's home, but now it is almost impossible to absorb at home, so there is almost no throwing away. There is also a portable ashtray, and manners themselves should be improved. Although it costs time and money, JT thinks that we only have to say that please protect our manner of manners in order to have it enjoyed, as it sells products called cigarettes.

G:
It is a difficult place.

I:
Because some people do not follow the rules, I cease enlightenment activities, but 95 people who keep the rules properly are not rewarded. As a cigarette maker, we want people who smoke or do not smoke to get along well, and I want to create an environment where suckers can suck properly. Because the suckers themselves can only protect their manner, in recent years I am sending a message that I stepped in one step, "Manners change if you change". When it is said what to do to the unprotected person of the remaining five people, I think that it is only to show what is being protected and to show what is first by protecting it. Send it to a person who smokes as a message, and also inform people who do not smoke about what the person who smokes acts. Sucking cigarettes is an action that adults have chosen by individual choice, but I think that JT, the top Japanese cigarette manufacturer, does not do anything.

G:
Is it to say that you can show a vision that there should be such a thing?

I:
I do not want to enlighten energetically with JT "This is a smoker!" Because it is a matter of personal moral, the web site "SMOKERS 'STYLEThrough CM, etc., I want to send a message that smartly protected manner and enjoy it.

◆ Information on facilities that are smoking

G:
There are sites sharing information on facilities that are smoking in the word of mouth, etc. Do you understand such facilities in JT?

N:
There is a department of management consultant at JT, I really want to make a smoking room from facilities etc, but I heard consultation on how to do what odor leaks, but for free. So, I am grasping what kind of institutional owner or business owner is doing, but there is not consultation from every place. In the case of providing information to the general public, there are places where common people can be used depending on the facility, but there are office facilities etc. where ordinary people can not use, so to disclose the information that JT possesses normally I do not think so. However, because it is a wonderful facility, if there is a place to introduce it individually, it is introduced at the JT smoking site with photos. I understand the existence of the word-of-mouth web site, but when I give information that, for example, an ashtray is installed, people gather at the place and it becomes troublesome to the installer, it is troublesome as JT.

G:
That means that there are no plans to make something like an accumulation site of the word for now.

M:
There are also the circumstances described above, and it is also troubling that ashtrays like those in the eaves of private shops are always used. If I introduce old ashtray like the old one, I think that it will become a smoking place just by having one ashtray. Since I want to provide information with high quality, there are information that I can put out and information I can not put out.

G:
Whether it has reached the quality that can be delivered is a difficult place, certainly.

N:
If it is an ashtray as in the eaves of a general store, it can be seen as a smoking place if you are looking for a person who smokes, but from the people in the store it is also to say that you want to kill the cigarette here. I think that it is difficult to grasp the whole as JT because it will depend on the idea of ​​the installer.

◆ What will JT do in the future when the world is headed for smoking cessation

G:
It is clear that smoking cessation from smoking as a global trend. Although the profit structure of JT is not 100% tobacco, it is possible that JT will no longer be a company of tobacco in the future. When future movements of smoking cessation strengthens, does JT concentrate on the direction of other business, or will we continue the tobacco business?

I:
There is no way to quit the tobacco business. As there are still 30 million smokers in Japan, I hope people who do not smoke cigarettes as JT recognize the presence of cigarettes while smoking cigarettes. So, there is nothing to stop the tobacco business in Japan. JT is not only doing the domestic tobacco business, but also is doing the tobacco business abroad, we also do research and development of tea, bread, medicine. As a three pillar of JT for tobacco, medicine and food, there is no change in the policy of conducting business that will lead to sustainable growth. It is true that the environment surrounding tobacco is tough in the country, but there is nothing to stop with that. That is a consistent policy as JT.

◆ About non-cigarette business

Frozen foods handled by JT.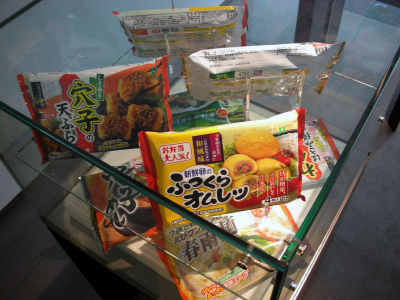 Beverages.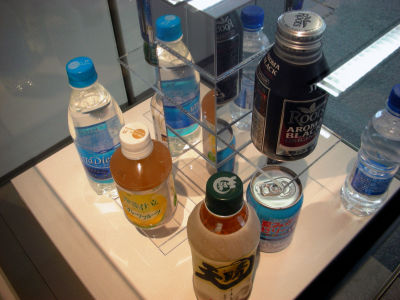 G:
JT handles foods, etc. Why did you start business such as food?

I:
Originally it was a monopoly company that only handled cigarettes and salt, so I first thought about what I should do when I started handling other goods. So, what we consider as management is that there are abundant cash, and there are strengths to treat crop tobacco.

G:
Oh, tobacco is certainly a farm crop if it is told, I usually do not care much.

I:
Since the industry called tobacco is all in production, manufacturing, sales, I did various things to try bio or doing drinks because it is strong from research. As representative, in the agribusiness business, we were engaged in the manufacture and sale of cultivation sets for fertilizer and Amaryllis, in the food business we operated Burger King in the fast food business, and in the real estate business we operated the sports club. Among them, as a result of doing "selection and concentration" while making full use of the main business of tobacco, it was food and medicine.

G:
When did you think about doing things other than that kind of cigarette?

I:
Since companyization in 1985, there was a department thinking about related businesses, I was doing what I could make use of JT's assets. It is the three pillars of tobacco, food and medicine that I remained as a result.

G:
It is surprising because it is a style to start trying the business for the time being and seeing whether or not profits will come out.

I:
Originally there is a hard image, but there is a posture to try it for the time being.

N:
As it is still a manufacturer of cigarettes, JT was mainly at the message what kind of message is to be issued to the person who smokes cigarettes, but since there are more than 70% who do not smoke, people who do not smoke are not pointed backward I thought that creating the environment to absorb may be the best customer satisfaction. So, in our department I'm trying to do it for the time being, I always try to find answers by trial and error.

G:
Indeed, it has quite a challenging aspect as well.

N:
For example, if you do not receive information to the user just by making a portable ashtray site that made a smoke-free site, you will be self-satisfied. I think that it will be a social catchball that delivering information to the user and receiving the voice of that user. Many products are mentioned in tobacco that happens to be dealt with in the company, but we do not want it to be gone from this world as I like tobacco. Therefore, I always think about what I can do for JT.

I:
Tobacco certainly accounts for about 90% of sales, but even in the food business, total sales exceed 200 billion yen.

G:
JT is quite large even if you look at the industry map showing the first place or the second place in each industry selling like a bookstore, JT is quite large and one department is a general public company It is about the size. As expected it is JT.

◆ JT's corporate culture and others

G:
By the way, JT 's cigarettes are sold abroad, but it is not well known.

I:
There are three products of JT such as Mild Seven, Camel, Winston in the best 5 of cigarettes sold worldwide.

G:
JT's cigarette looks like a pretty cheap person in the world.

I:
There is a difference in the tax rate depending on each country, so it can not be said unconditionally.

G:
In overseas, Philippe Morris or something seems to have decided that most executive-class employees do not smoke, but there are many people who suck in JT.

N:
Many people smoke quite often.

I:
Compared with other companies, people who do not smoke may be more unusual than smokers.

M:
There are things that you can not do if you do not like tobacco. It is a bit difficult for people who dislike cigarettes to make sites for manners.

G:
As an image of JT, it is surprising because there was no such image that JT employees are smoking cigarettes. It is pretty convincing that many cigarette lovers are inside the company.

N:
JT is a complicated company, is not it? For example, in a beverage business, canned drinks must be boiled at least once, regardless of what materials they use, so it is usually unnoticeable to blindfold and drink. However, JT uses materials of quite high quality as materials, so I can understand it.

I:
I do not have any fluffy work and I think about everything. However, if you think that you are doing legal checks and detailed calculations to your brains, you are thinking funny things to Majime.

N:
Where you are doing just hard legal checks think that you will benefit from that stance. Where we are just thinking about interesting things like that, I really think whether customers are pleased. It can only be said that company culture.

About JT

G:
What is the total number of JT employees who are tying them all up?

N:
Approximately 10 thousand if it is a single unit. Approximately 30,000 people are consolidated.

G:
What is the average schedule of the day?

N:
I will come to the office at 8 o'clock. When you come early, the surroundings are quiet and there are few phones. Then, about 50 mail checks are done, mail check and reply in the morning, the phone after that. After lunch, the department is the center and I have been carrying out the cleaning activities around the JT building for about 30 minutes with the surrounding companies. In the afternoon, I often go outside for a meeting and it is over in the evening. After that there is administrative processing etc, I will return at 19 or 20 o'clock. It will be late when you are occasionally busy, but you will be back when you go home.

M:
In my case I go to work at 9 o'clock and check my e-mail, check what I made at home, morning is over and it's lunch. In the afternoon I manage servers, write scripts and do maintenance, think about new projects and meetings, so I return at around 18:30 as early as around 22 o'clock later.

I:
I will come to the office around 8:40 and read the newspaper and check the various media. If around 9:30 am there is interview, prepare for coverage, if not, look at the manuscript of the interview received before, meet for lunch. In the afternoon we will be receiving coverage, release at the press club, we will come back and prepare for another coverage. As soon as 18 o'clock or 19 o'clock will come back, depending on the day we will talk with reporters.

G:
How is lunch done?

I:
Everyone will have lunch at 12 o'clock.

N:
I am free if I make it 30 minutes earlier. People in this head office building are mostly cafeteria.

G:
Are there many types or reasons?

M:
It is troublesome to go outside (bitter smile)

N:
This is an office town, so it gets crowded at noon. The employee cafeteria is cheaper in price ... ....

I:
Human beings in this building are indeed true. In other facilities such as office, there are shops going to each and I think that they are handed down generously.

M:
The employee cafeteria also has a nice view.

G:
Do you boast about working at JT?

M:
After all it is comfortable for people who smoke.

I:
Because JT has a team of volleyball, we may be able to meet volleyball players such as Marvelous and Sanders.

N:
After the season, I will report around each department.

M:
Players are usually in Nishinomiya.

G:
Is there an event etc?

I:
Because the founding anniversary is closed, we do various things on our own.

G:
It seems there is a heliport on the roof of this building, but when will it be used?

I:
It is not like to let the president release with full power in case of something, not for sending cigarettes directly to the good people (laugh). Of course I have never used it in the past, so it is for emergency such as a disaster.

G:
Are there legendary episodes and amazing incidents encountered while working at JT?

M:
When I met Ryuichi Sakamoto on recording radio, I got nervous enough to sweat the internal organs.

N:
A person of a certain tanker company came into force and it is impossible to use sparking sparks on the ship due to the revision of the law, so it is sometimes consulted whether there are lighters that will not spark. After all it was decided to be a match. After that, if I cleaned the area around the JT building, the tires are falling for some reason.

G:
There are quite a lot. What about the JT server?

M:
From the operating system model and configuration, all the company secret, I do very normal things.

G:
If you work for JT, you can buy tobacco cheaply or can you get free?

I:
Just because JT is not cheap, is not it?

N:
There are not in-house sales either. I smoke a lot, but I purchase it all my own stomach.

◆ Future policy

G:
What is the future policy of JT?

N:
As I mentioned before, I would like to aim for a society where people can compare each other by saying that tobacco, medicine and food are the three pillars, those who smoke cigarettes, as well as those who do not smoke cigarettes are also customers .

G:
I see, thank you very much for today.