I went to the price comparison site "EC Navi"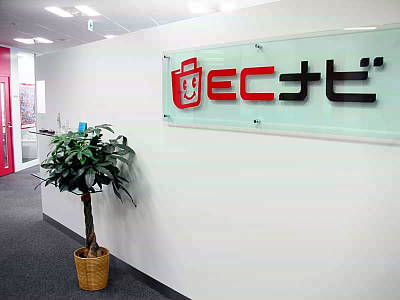 This time we will operate a price comparison site "EC Navi"I went to.

Unfortunately it was a rainy day but, despite being scattered, it arrived barely. When thinking very carefully up until now, there were quite a lot of interviews from the media, so in a sense, interviews with companies that manage real net services are GIGAZINE's first.

So, I've interviewed how the site was changed from a sweepstakes site to a price comparison site, how unusual the inside of the company, the lunch order system that is being used effectively and the various things inside the company. There are many hints that are quite effective for the company that groupware is not useful and those who are troubled because the atmosphere inside the company does not keep pace.

Then start.
◆ EC Navi Internal view
The first floor of a building containing EC Navi is like this. There is an office on the upper floor.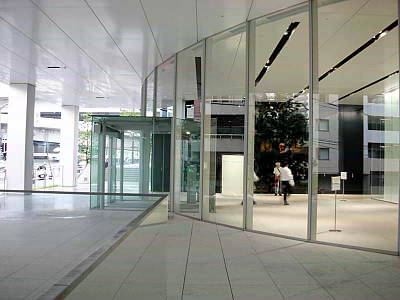 There are plenty of things in the entrance that showcase a number of awards



Mysterious posters stuck on the wall ... There are various circumstances, such as guidance of events etc. to come out at the later interview, not meaninglessly stuck. Even so, there are so many ...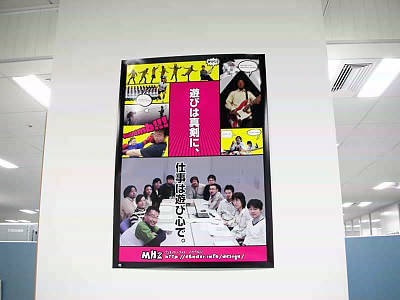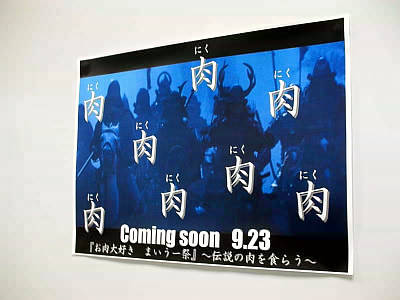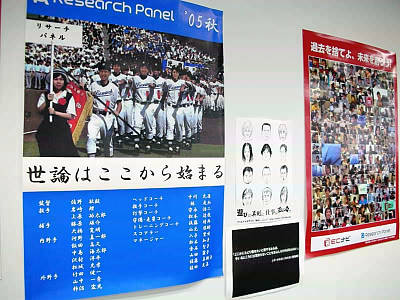 Stress relief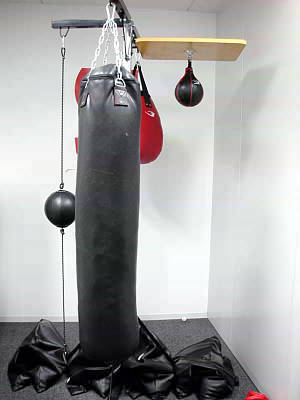 Massage chair is also available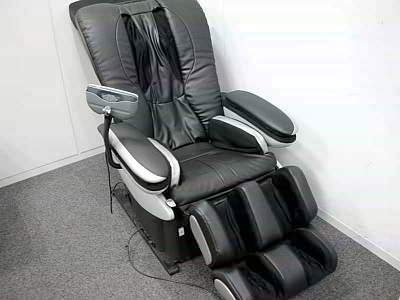 It also has a perfect drink. It will be helpful if there is such a thing.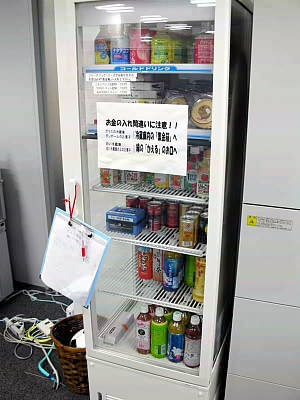 State of the actual office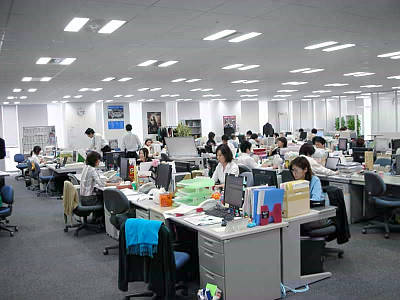 Somehow there is Japanese style room. Sometimes we use this place for interviews etc.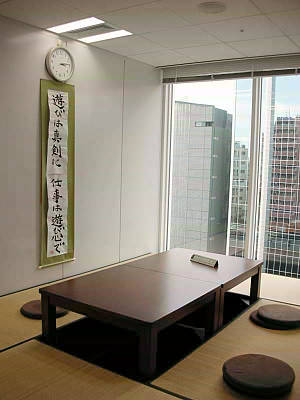 Even Japanese-style rooms are still IT companies, LAN cables disappearing.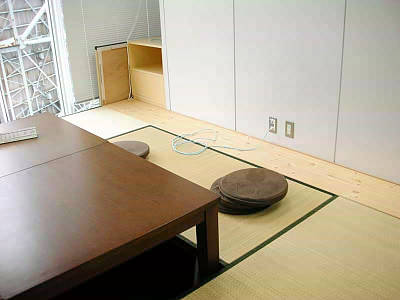 Each conference room has a favorite historical great name for its representative. There seems to be some one who does not actually exist.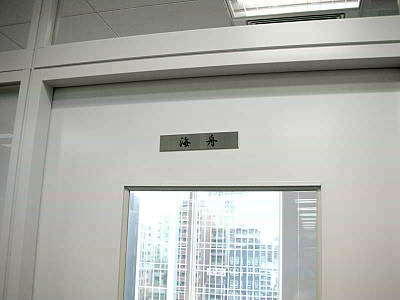 This is a rest room



The reason why the clip of the newspaper is affixed is because it seems that it will be stiff if you use only the net as an information source.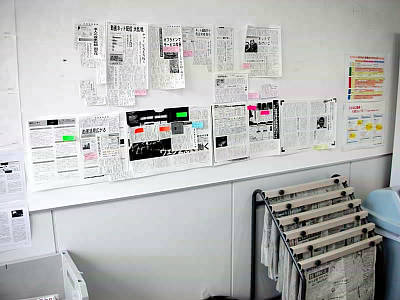 ◆ Originally the sweepstakes site, why did you start EC navi?

GIGAZINE (hereinafter abbreviated as G):
Tentatively I saw all pages of EC Navi once, but originally it was a sweepstakes site right? I wonder why it suddenly became a price comparison site for what reason. It's amazing policy change.

EC Navi (hereinafter abbreviated as EC):
At first, it was the name "MyID". As the name suggests, it is your ID. For example, there are various campaigns, but usually you will register your address on that page once. Is not it a hassle? However, if you registered your own address in "MyID", it was a service that you can register all together by applying to multiple campaigns via MyID.

G:
That is useful

EC:
The main was advertisement revenue, but in addition to that, I was doing a service called "My promotion" that we register for our company's sweepstakes bulk registration service. Originally we were developing services related to sweepstakes, but by doing business like trying to manage a lot of media, we accept business transfers like "@ Woman", handling mobile, etc It started to manage multiple media. In other words, as a company holding various media, it was the policy of those days to develop various services.
But as I focused on expanding "MyID" of the sweepstakes site as a center, I felt the limit because the potential target number was not so big.

G:
I see.

EC:
Companies have to keep growing, and when thinking about how we should go about growing, as the latter half of 1990 the price comparison site began to grow in the United States So I decided to take advantage of the strengths we possess to build a price comparison site, so-called online shopping is going to be expanding in the future. The advantage we can use is "members".

G:
It is already a person who already has a member

EC:
I agree. So I had to leave a prize as one of the content that will go through price comparison website as EC Navi once.

G:
Is EC navi or the proposal itself of price comparison itself from around the 1990s?

EC:
Usami, CEO, originally looked for Internet services widely, as a result of price comparisons being more explosive abroad than we had anticipated, we still do that when we saw Japan There was only Kakaku.com. So there is still a chance.
As a matter of fact, even when EC Navi started MyID, there was also the biggest prize site called "Sweepstakes website Chance It!", But eventually I had the track record that I was the first to surpass it , I was sure there was no choice but to win by doing it with the second-place strategy. That means that we switched to a price comparison site.
It is true that the scale of the site has expanded steadily from that point, but in fact I entered in January 2005, is not it?

G:
It is quite new. I was thinking if I heard it from about 99 years ago ....

EC:
After all, when listening to the story of the past, when deciding to shift to the price comparison site main, since the prize site has already succeeded, it seems that there was a lot of opposition from the employees.

G:
You will let go of the one that succeeded, virtually

EC:
That's right. It is a situation that it was a correct answer for a while after turning over the business now if it turns around now.

G:
I see

EC:
In the future, we will develop business related to "Consumer-led" in accordance with our philosophy "Contributing to consumer-led society by technological innovation" centered on EC Navi.

G:
Another thing I do not understand after looking at the page explaining things about the history is that once in the beginning, I moved to Shinsenmachi as a company house, I moved again, but what kind of circumstances did you move? Is it?

EC:
It is because the number of people simply increased, the reason is. When I first started I borrowed Net Age and later I borrowed a room in a condominium called a small apartment in Shinizumi Town. It was a so - called one - room with a shower, so it seems that people were usually rolling like 'green beetle' when coming in the morning.

G:
Oh (lol)

EC:
It was that kind of feeling, then. When a new employee entered, it got hold of 200,000 yen, bought a personal computer and brought it, it was really a venture like a feeling.

G:
That is amazing

EC:
By the way, there are women who have been doing general affairs since the foundation, but now I am 28 years old, seven years ago and it was 21 or 22 then. As she says, when I really morning I was smelling a man and told me I was in trouble ... (bitter smile). I hope she will take care of everyone by cleaning all that.

G:
That's too bad……

EC:
Because only men were back then. Even now, the system still has personnel at that time, but the members at the time of foundation are experiencing such a difficult time at that time. Oh yeah, it seems there was a time when I feel like it does not make it in time if I change clothes.

G:
So it is up to now

EC:
As the scale becomes bigger, people will not be able to enter the same place anymore, so we decided to operate the 2 floors of Nanpeitai office. So, it became further narrowed and moved to this direction in October 2004, but now it is about 155 people.

G:
That's amazing number. Are the 155 people in the form of full-time employees?

EC:
No, about 100 people are involved in EC Navi, the other 50 are doing research business, but research work has more part-time jobs. So, it is a feeling that employees are two-thirds and part-time workers are about one-third.

G:
I see, it became EC Nabis now for that reason. As I was not sure of just seeing this history indeed, I was thinking about what circumstances had happened.

EC:
The paradigm shift has taken place here

G:
Ordinarily this kind of dramatic change seems to happen if the president replaces, but it is unusual to have a sudden change in policy though it is constant for a long time.

EC:
Usami of the current CEO was COO at the time of its foundation, but I feel that he was the CEO on the way in 2002.

◆ Why did you start this "EC Nabi popular news beta version"?

G:
Another mysterious thing is EC Navi's price comparison, is not it? However recently "EC navi popular newsI wonder why I started that kind of thing.EC Navi LaboratorySince I have not written anything even if I look at the page on the side, I wonder how was there a purpose for starting "EC Navi Popular News" beforehand about how to do this?

EC:
Our company has a strategy to develop technology more and more by our company, and I think that there are many parts that can be solved by technology when I think about making it more user-friendly site. In this way, I started with a new idea based on technology that I could not create an interesting service that I can not normally create anything. If a developer becomes a producer at the same time, it can shorten the time to drop it to technology. Service launch is also becoming more speedy. It is aimed at launching it in the form of EC navigation laboratory and gradually incorporating it into the service of EC Navi. Ideally it will be a model that can monetize anything.

G:
So that means that the system of EC Navi was not made outsource somewhere, was it made by themselves?

EC:
Yes, in some places the creative part is allowed to use outsourcing, but all other than that is our own.

G:
Is the part using the outside person design?

EC:
Yes. Still, the logo of such a company is made by the creative team inside the company.

G:
Are there creative teams and design teams inside the company?

EC:
There.

G:
That's amazing ...

EC:
It is about 10 people now, I have a part-time job with my employees. Also, this character was named "Nabook". This is also our own design.

G:
Is it huge written in this pamphlet or something? Is this really left somewhere?

EC:
Yes, there is. It's supposed to be able to wear it.

G:
Huh? Is this supposed to be a cover! Is it?

EC:
That's right, in the cover ... ... It seems like I can wear it down properly from here ... ... It is like this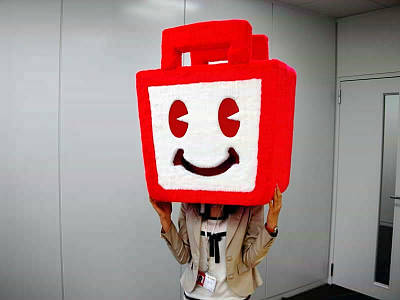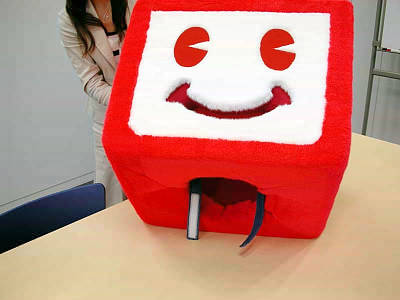 EC:It is a good feeling when you bring this to the venue for recruiting new graduates or at the time of the event.

G:
When did you make this?

EC:
This is around the time you started EC Navi. Just like Web of the Year Yahoo! Is not he doing it? Usami went on this awards ceremony and it appeared.

G:
Oh, so do you remember it? I also went to the interview for Web of the Year 2004. Indeed, it was a company that came out with a cover at that time.

EC:
At that time the company name was not EC navi but it should have been named "ACCEPB dot com". The logo was also green, right?

◆ How many staffs are there in total

G:
This was said a little while ago, is there 155 people?

EC:
Yes, it is

G:
By the way I used to say that I used to recruit new graduates a little while ago, but how long have you recruited about last year?

EC:
There are 13 people who came in April this year, and the number of people coming in next year is also 13 together.

G:
It is feeling that we will continue to put in that momentum

EC:
I agree. I am actively adopting system or technology system.

G:
What is the proportion of the 13 people in terms of system system, design, general affairs, etc.?

EC:
I am not in the form of employment hiring, in fact.

G:
How do you do it?

EC:
For example, if top management decides that it is about time to increase the number of people, it is a feeling that we allocate appropriate personnel to publicity at the same time. Of course, we will carefully talk about whether you will make a positive contribution to the will of the individual and what you want to do in the future, and employees of new graduates will self-analyze and have the plan of the future properly designed. This time, I thought that people want publicity as management, because I thought that our company is going to raise the name recognition steadily and steadily.

G:
I see, i see.

EC:
I have already gotten more and more interns and I feel that I have been training here until April. As for the scheme, first of all I got a new graduate that entered this year for sales for the first three months for the first time, so I took the form of soliciting hope from there and transferring it. From next year I would like to strengthen the technology.
I have already finished this year, but I made an internship program for technology and I tried the first time only for those who passed the test to participate in that intern internship program.
There are six members of the interns selected this time, but as the overseas training for the most excellent people, I plan to participate in overseas events. Also, if you are excellent after the intern, you will receive a passport that you can join EC Navi at any time depending on the level of the level.

G:
Oh, that is amazing.

EC:
This time there is one person who got an effective pass for 5 years.

◆ Rough general schedule of the day

G:
So, rough general schedule of the day is almost what kind of work system, EC Nabis?

EC:
The fixed time is from 9:30 to 18:30

G:
What is the reason for being misplaced by 30 minutes?

EC:
I think that it is a background from long ago. I used to be flexible in the past, so that I can work anytime. However, as more and more people are coming up, some people will misunderstand that flex. I guess that it does not come in the morning, or it is almost at 10 o'clock. I think that it was so from around 2002 to about 2004, but I think that it is often the case that people who do not keep doing it gradually breaks their work system. That's why I decided to set the time exactly so I decided to be 10 o'clock from around 2004. However, even if it says 10 o'clock, if it is not so early, business and so on comes from earlier than 10 o'clock, in particular, practically.
So, I decided to join all at 9:30, so I started to work in the form of 9:30 from around 2005.
Depending on the department, there are cases to get out earlier, and from 8:30 in the morning workshops and workshops are held, the meeting between the directors is done regularly every week from seven thirty, so the time to start by people is different However, once it is at 9:30 am it seems that everyone has started.

G:
So what do you feel like lunch break usually starts at 12 o'clock?

EC:
That's right. I have decided once for the wind from 12 o'clock to 13 o'clock but some support and sales may be out of time.

G:
There are parts that are not quite over.

EC:
Yes, I am taking a lunch break by changing the time a bit like that.

◆ How do you like lunch?

G:
I tried around the building around this floor before coming up, but there are places to eat around here, are not there, what are the employees doing about lunch?

EC:
There is a big seminar room next to this conference room, but there are the cases where everyone eats lunches there the most.

G:
It is the first time for us to cooperate with you as having the most lunch box, that kind of pattern .... Is there some reason?

EC:
Actually, as part of employee welfare benefits, you can order lunch at 300 yen.

G:
Ho ho.

EC:
Normally it is 420 yen, but the company has borne 120 yen. Because there are many people with EC Nabyte, it seems that it will be saved if lunch is 300 yen. Also, it is also a rainy day. The order rate is quite high on such a rainy day like today.
For lunch boxes there are two parties that are affiliated, so that you can choose your favorite menu every morning. Every morning I am looking at the menu and ordering the one I like, which is quite different.

G:
It is somehow very fulfilling.

EC:
Also, there is a boxed lunch system.

G:
Lunch box system? Did you also make this with your own company?

EC:
Yes. Well, this is the in-house portal of EC Navi, but if you are an official announcement or an in-house newsletter like this in the company or from publicity, you can understand what the various places are doing, "public relations viewing", the situation of the company It has become. It is a site with all the information of our company, but from here you can choose the menu of this week etc like this.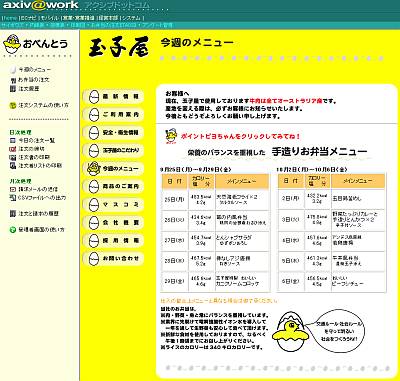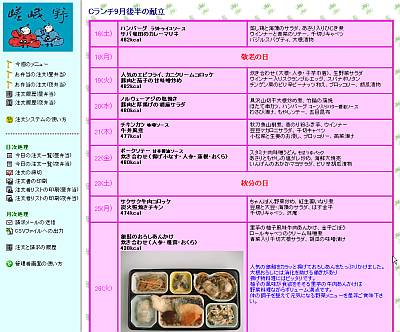 EC:
It's fairly fulfilling. Open this week's menu and open it, and you can place an order immediately by clicking the "order lunch box" button. You can also order at once. I can ask for lunch not only for lunch but also for lunch, so I can live here if there is only shower in EC Navi company (laugh)
If it is okay with lunch for day and night, the day's rice price will be 600 yen. It is a great system for those who earn money by working hard part-time.

G:
When ordering from the screen, what kind of system is there from then on?

EC:
All of the work that takes time is systematized, and it is supposed to be able to see all order lists. The authority to see is only the management headquarters which is the administrative division, in short, the person in our headquarters can manage only, but we will fax it to the lunchbox shop, looking at it. Today, how many lunch boxes do you have?
◆ Boasting of EC Navi

G:
Even so, the in-house portal is substantial, but it will boast of EC Navi?

EC:
Well, it has become quite substantial content. The name of the in-house portal is named "Aiban waru", but this is the opposite of EC Navi (ECnavi → ivance).

G:
Oh, I see. Also, the in-house portal has a corner called 'Welcome newcomer' welcome, what is this?

EC:
This will introduce newcomers every time a newcomer comes.

G:
This is necessary when the company has more than 100 people.

EC:
Well, it really got to be understood, as of January 2005 when I entered there were 120 people, it was about 110 people. If it increases by 40 people at a stretch from this place, everyone understands that it is communication with everyone, if it is work as a public relations and almost knowing about people in the company, everyone understands, but if I work all the time in the system, I will not leave that place all the time So I do not know where someone is. So I am treasurer to communicate like this relatively.

G:
Do you do anything else to make communication more active?

EC:
Even before this, I do a barbecue contest planned by annual new employees on holidays, I will do it at Kawahara of Niko Tamagawa, but there are plenty of such events. For example, I do an event on the founding anniversary of the company, what to do is divided into 4 teams and the head is to become the captain and play the athletic meet. The prize money is 300,000 yen for the team who won the championship, and the penalty game when you get to 4th place.
Also, last year I went to Taiwan on an employee trip, and I will do the "EC Navi Employee General Assembly" once in a quarter, where I decided MVP and honored people who were active in the quarter. You can also see the movie from the internal portal site.

G:
This is an in-house site, is it strange that you can watch a movie too?

EC:
That's right, I'm pretty important. People who have taken MVP in the past can also be seen.

G:
It seems to be a company site as it is, it is awesome quality.

EC:
Well, I'm also putting designers on.

G:
There are many more unpleasant feelings when it is intended for internal company use, but there was a terrible place just like texts.

EC:
We use pictures abundantly, and recently we also deliver movies. You can enjoy watching it.

G:
Also, when is the event decided to do such a thing at such a time like this every year?

EC:
I have decided. Regarding the General Assembly that decides the qualified Excellence, the event will be held in the first week of entering the next quarter. Since the annual settlement will be closed at the end of September, October to December is the first quarter, but the general meeting in the first quarter will be in the first week of January next year next to the second quarter It will be held. Annual events are like this.

● EC Navi annual event list (FY 2006)
January: General Assembly
February: New graduate company briefing session · laboratory camp · main manager camp
March: New graduate company briefing session
April: New graduate entrance ceremony · General meeting · New graduate company information meeting
May: Camp training camp management headquarters camp
June: Agent training camp
July: General Assembly
August: Fuji climbing training (new entrance camp) · EC Nabi popular news user exchange meeting
September: Science interns · Residents training camp · EC Nabi BBQ (New graduate planning event)
October: General Assembly · Festival Festival (EC Navi Employee's Athletic Assembly: Navi Rimpick) * Last year's trip to Taiwan
November: Agent training camp and head general manager camp

● Other events
· Staff Rally: Within a month after joining the company, find 5 employees on their own based on the hints and apply for an interview. When the meeting with superb 5 people is over, it becomes a full-time employee ID card from the employee ID card of Wakaba Mark.
· Exchange lunch: Group at random every month and have lunch with that member. We will promote information sharing and communication with departments that do not usually exchange much.

EC:
And there are club activities and so on

G:
Is there a circle, it is amazing.

EC:
It is quite powerful, aroma circle or something called teacher, blending aromatic oils from around 7:30 pm to make my own oils, making soap or something. I also have a handicraft circle, and I belong to a baseball circle

G:
There is also a sports system properly

EC:
Moreover, I wear uniforms and games will come out. This weekend is also a game. There is IT league, I will play against Magic Click this weekend and I will also do with Kakaku.com. Last week or a few weeks ago I did with Kakaku Com with Futsal Circle and said that he won only one game. The circle looks like the following.

● Circle of 20 people or more
Golf "Golf circle"
Futsal "EC Navi FC"
Baseball "Seco Stars"
Bowling "Breed with Jade!"

● Other circles
Yoga "Yoga Circle"
Billiards "FLUKE"
Darts 'strad'
Mahjong "Mahjong Circle"
Aromatherapy "Aroma Circle"
Color "color circle"
Jazz "Jazz Circle"
Basketball "kagotama"
Tennis "Tennis club"
Dance "Dance Circle"
Fighting sports "fighting sports club"
Handicraft "Handcraft circle"
Movie "Movie Circle"
Photo "Venus shot!"
Touring "Touring Club"
Reading "Circle that reads funny books and shares reviews"

EC:
After that the Mah Kong circle is active. Then, there was "EC Nabi Golf Cup" in the golf circle, this time Nagaoka of CFO brought it. That's why it's quite active in circle activities.

G:
There are events and circles, it's a very active company

EC:
Since it is general affairs to manage that event, my general affairs are busy, but (bitter smile)

G:
That's amazing, what do you do about the company while doing things about the event. Looking at this way, it is quite ordinary and it is fulfilling with a feeling like a company that is partly listed.
I think that the annual event and other places will start from the beginning, but did you do the circle and others from the beginning?

EC:
I started the circle since the number of employees exceeded 100 people, so it is from around 2003 or 2004.
The information sharing will work well if the number of people is small, but it will become the wind that people do not know who it is if the number of people increases.
I also felt it necessary to create such a spotlight site for the reason why I started the company MVP. So, just by not only honoring a prize, there is a team that makes a movie called Seco Project, which will shoot a funny video about people who made all the videos and became MVP. For example, go shooting silently to your parents and shoot and make interesting videos. I have also taken MVP, but at my time the photography troops went by their own expenses to my parents in Hiroshima. I have not used company money (bitter smile)

G:
It is unusual, is not it that you go there?

EC:
After all there is a surprise like that. The most interesting thing is the recognition of Mr. Haruyama when it is a salesperson in the company. My father came from Nagano. When congratulating "Congratulations ~" suddenly my father came out and it appeared with the feeling that "my buddy is indebted".
Anyhow the general meeting is very exciting so I am looking forward to it. Not only MVP but also awards such as Excellence Awards, Group Awards, President's Awards and so on are offered meaningful awards, so that awards + events are good feeling.

◆ Episodes and legendary episodes that struggled with EC navigation management and support

G:
Also, if there is an episode that struggled with the support and support of EC Navi, or a legendary episode

EC:
I searched for this, but it is difficult to go to the legend, but the most difficult thing is user support. We are keeping in mind that our support is tolerant, as the customer's saying is correct, we have responded to customers' wishes as much as possible. The most amazing thing I have ever had was that I was not at that time, but the user came to see the president early in the morning

G:
To the company?

EC:
That's right. Before becoming an office here, Usami (representative) who happens to work best happens to be in the company from early in the morning, and then the user has gotten into the "Eva Navi, this yaroi" with a great sword curtain . When Usami began to respond with feeling like "I wonder", I was able to adapt to you for a long time, that I was very familiar with them and finally became a big fan and got back to the legend It remains. I got on board, but on the other hand I got a favorable impression.

G:
Indeed, Kramer has turned into an enthusiastic fan

EC:
It seems that there was a long time ago

G:
It's amazing, you feel charisma somehow

EC:
It seems that we responded by canceling the schedule of the day on a one-on-one basis. That means that the satisfaction level improved so much.

G:
I see. Also, what other companies in the same line of comparing prices in this way listen to various items, but do not come claims or complaints from where they are making? Such introduction is troublesome.

EC:
There are a lot of shops selling us in EC Navi, almost over there. I am now able to register shops, but I am also able to choose even by EC Navi.

G:
At first I was gathering by EC Navi's person until some time, are you still collecting in a form like a business still?

EC:
We are doing shop publishing in a form contracting with all affiliate service providers. It is not on the model where Mr. Shop directly registers. Kakaku.com is a form registered by Mr. Shop, but in the case of EC Navi, we collect information on Affiliate Sites that we are affiliated with automatically by crawling and posting it. We will collaborate with Rakuten, Livedoor Shopping, Yahoo! Shopping, etc. to get information there and display it on EC Navi.
Then, there is another team with a spec, PC or digital camera, or a product registration team with such items, so that when you search for products you will be able to see shops tied to that product properly, We are also doing work to enter.

G:
It really is based on technology

EC:
That's right. It is better to do it manually than to cover with technology, clearly separate the places you have to do

G:
You are changing the way you do it on a case by case basis

◆ User layer assumed to want this user to use

G:
Next, want to be used by such users, what is the assumed user group thinking? I have heard that there are many female users, but have you been thinking about the ratio of female men to half to some extent from the beginning?

EC:
Well, it's half done. The age is also wide. It's from teenagers to forties. Mostly from the 20s to the early 30s though there are many shopping in the net.

G:
Which is larger in the first half and the second half in this 30s

EC:
It is average, in the feeling of "thirties." Because the average age is 35 years old.

G:
You have changed.

EC:
It is also in the 30s that the highest purchase rate is high

G:
There are also 3% or more in the 60s and over, if you think that it is 0.3. You have plenty.

EC:
Even if it looks like writing, there are many elderly people like word-of-mouth information on pets, for example. It seems that child rearing is settling down, the work has ended, and then you live with St. Bernard. I kept it for the first time, so why should I train? There are such things.

G:
As for the residential area too, there are many Kanto after all.

EC:
Well, mostly it is in Tokyo. I think that 30% is Tokyo. Because the population is 12 million people. Kanto is the most popular when thinking that 10% of the population of Japan is gathered in Tokyo. Among them, 75% of people purchasing via EC Navi is a woman. And I am in my thirties. By working women or housewives buying rice. After all, as a matter of course, it seems that there are more women who want to save points, though it is intuition.

G:
It seems that the abundance of this product led to the large number of women

EC:
I agree. Until now, the design of content was made familiar to target women, so it may be easier for women to enter.

G:
As in-house, what are the ratios of designers to men and women?

EC:
It is almost a man. For example, there is a really fighter fighter inside the company, but he has a very delicate design. I guess the cosume was him.
But the producer is a woman. And, it is the man who makes the design. Does this kind of composition, whether it is firmly covered, or whether it is outstanding in makeup possession or whether it is fluffy natural, the girls who are new graduates who have entered this year have set up such axes. Talking with the designer in response to this request, we are making rough how to do with this kind of feeling.
Until now all the women's users have been, but recently EC Navi has also enriched the database.

G:
What is a database?

EC:
It is a product database. Until two years ago, the number of products that have been registered yet was small. In the case of Mr. Kakaku.com, since the store actually registers data, the product database has been enriched. Today EC Navi also be able to search for desired products properly when searching for products.
Also, at the moment, especially when searching items with specs, "Quick Search" is made available for beginners to search easily. Because I am not familiar with computers much, suddenly I can not enter detail into search axis. But some people say, when searching for a DVD recorder, some people say "this terminal can not be connected". So, we have set up a search window that allows you to set detailed axis "detailed search" so that you can search in detail. In some cases, it is possible to search more than the site of other companies.

G:
Do you have a certain grasp of the number of detailed searches used?

EC:
I do not know until I do research it, but especially digital cameras are often used. Then it is a DVD recorder, recently.
There is a tendency that it is quite interesting if you follow the data, and women have an average purchase price of 7000 yen a month to 8000 yen a month.

G:
It is quite expensive, is there a cosmetic system?

EC:
Well, it is cosmetic and food system.

G:
Is that to buy quite high foods?

EC:
No, it's total. I buy lots of things. Also, women are more likely to respond to advertisements.

G:
Really?

EC:
There are many women who buy impulses. For example, if EC Navi point got 9000, then I will buy it.

G:
I see

EC:
I do not think I will buy, but it is an image that I will buy it. In men, the frequency is low. Frequency is low, but I buy high ones. Ten thousand or fifty thousand? Women are not like that.

G:
Indeed, for men, the shopping frequency is low but the average amount is high. Also, do you have a tendency to click on advertisements as well? Advertisement easy to click with EC Navi.

EC:
I agree. Depending on where you place ads in EC Navi, there are advertisement menus with strong reaction from users.

G:
Are there many people who use points as soon as they accumulate?

EC:
I have accumulated after a certain extent. It is 500 yen cash back every 5000 points now, but if you convert it via bank, the cash back fee per transaction is 50 yen. So collecting and cashing it will benefit as no fee will be charged each time. Commission is free when making EC navi cards. There are quite a few people who make cards, but if you are a person who has eBANK and others etc, you can use it because it is more convenient.

◆ Site browsing and usage tips

G:
I think that usability and so on will become important, but what about the situation around that?

EC:
When searching for merchandise, I think that there is a method of finding each person such as "1. When searching by shop base" "2. When searching by how much points are accumulated" "3. Searching from a bulletin board forum." We are trying to make it a site that you can get to the items you want from anywhere according to your purpose.
The other one can also search directly by putting the product name, but when you want to see various things, I would like you to see the top page of the product of the category you want.
In addition, it is also a feature of shopping in EC Navi to have parts that can be enjoyed like windows shopping.
For example, if it is interior relation, you can choose by color, material, and you can also select by image. You can choose from the perspective of whether the image of your room is simple, retro or Japanese style. It is a feeling that it can be enjoyed visually.
In addition, it is a feature that we have a search opening to choose according to the characteristics of the product. I think that there are also people who search for merchandise brands directly, but because I think that some people do not know which one suits them, they are making it for those who like it.
If it is seafood again, it seems that it is appearing by delicious calendar in season, such as goatso and back, Hanasaki crabs of the topic. Besides, maternity and baby items are also popular. Baby celebration calendar, you can choose what kind of gift to give each baby's festival event.

G:
It's pretty solid, is not it?

EC:
Editorial personnel are also putting specialty people. Also, diet supplements are very popular as health-oriented people are increasing now. As a feature of EC Navi Style, it is a special feature, but when you select each category, the contents of the special feature will be displayed in magazine style. It is a trick to talk about how to use content to read and enjoy.

G:
There is atmosphere close to content site rather than price comparison site. Rather than simply arranging data, in an atmosphere like a portal site.

EC:
Well, I am aiming for a shopping portal

G:
Feel like a department store?

EC:
I agree. It is one step closer to consumers than department stores. It is an image of a shopping portal that it is possible to choose department stores. After that, I am aiming for a site that attracts attention as it is interesting to see people abroad.

G:
Do you have plans to make an English version about foreign countries?

EC:
I would like to enter such a place in the future. I have not planned now though. After all I would like to feel like being told that "EC, Nabis Nabis" if I told EC Navi.
We will give customers the best shopping experience, if you come to EC Navi you can buy goods, you can not only compare products, you can find the products you want in the want, you can also obtain the additional information you wanted, necessary for shopping If all the information comes to EC Navi, they are gathering ... I am aiming for that kind of feeling.

G:
It is a kind of brand content

EC:
I am thinking to become a site that is said to be "Does not use EC Navi?" (Laugh)
Our position is the closest to consumers. It is before the mall and the department store. You can have it looked at EC navi at the entrance, you can compare prices, you can compare shops, and even to the point. It is the smartest shopping possible.

◆ I am running on such a system

G:
It seems that the system is putting a lot of effort into the lab because there is a laboratory, what kind of feeling is it?

EC:
Regarding the system, I can not say the scale of the server, but I have invested quite a bit. PV is 320 million PV a month. The number of users per month is 2.1 million.
The number of commodities reached 5 million points just yesterday night, but it also made real investment in the system properly. In the future, we plan to not only increase the number of products but also select products on the side of EC Navi that customers want, and publish them.

G:
Even if the load becomes large, is it a system that will become anything if you increase the number of servers?

EC:
Those who use it for commercial use are like that, but fine tuning is of course necessary.
All commercial servers are put in the data center and operated in a special regime.

G:
It's for outside.

EC:
Yes. Since there is a server room inside the company for internal use, we manage it. Of course, I got the privacy mark from 2001, and the second update is completed at the present moment. We are considering the system configuration according to the privacy mark standard. Therefore, security management that protects privacy-related information is made quite robust.

G:
Which rather emphasizes security rather than reducing costs?

EC:
That cost me a lot of money

G:
Security is more secure than cost It is a healthy fellow

EC:
I am making a concept based on how the user can use it with confidence. Of course, I also make it so that the system will not fall easily.
We do not mind investing in the system. Every time I see my budget application, what about our CFO! Do I have to renew this license! Does it take so much? (Bitter smile) However, it is the environment of EC Navi to invest properly if proper.

G:
From the place where system development is done, the environment where budget comes out.

EC:
There is it in the environment to appear.

G:
If the budget does not come out and it is not obliged to take another method of crying weep, or if you do not have to do it ...

EC:
Take out

G:
Indeed, you can also see laboratories and people gathering together, in that kind of environment.

EC:
Well, those who have changed jobs compared to the previous environment ...... Well, that person said that the environment of EC Navi is more comfortable than the previous environment.
If you mention that you want two displays on a whiteboard or something you want, if you increase it, then if you increase development speed, we value it.

◆ Future policy

G:
Also, what kind of things are you thinking about the future policy

EC:
EC Navi itself has been entering the period to include inclusion, as it is recognized as a shopping portal more. The point which is the strength of EC Navi is also going to focus on increasing the distribution volume more.
The cumulative amount of EC Navi Point cash back is about 1.5 billion, so the amount has been getting bigger and the user has also received requests, so I'm wondering how we will grow as a business I will search for it.
Shopping and points can not be separated. When I look at points I think that EC navigation is distributed so much. We are planning to develop services that will make customers happy. We would like to create a world-leading consumer-led world.


next time,"I went to "livedoor news" to send the latest news one after another"…stay tuned.