Is the "believer" of the manufacturer really true? Kakaku.com, which operates a remarkable "price .com", heard many things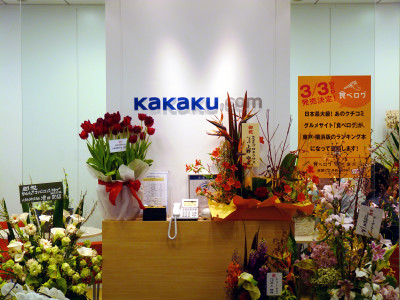 We covered Kakaku.com which operates the price comparison site "price.com" in April 2007However, since I received an invitation that the company moved to a new office this month, I have interviewed him again.

Catch copyShogaku's shoppingFrom"Good to buy" to everyone.For reasons why it changed to 5,000 or more bulletin boards per day, a new service for corporations "Price .com Trend Search Enterprise Edition"Although the awakening delivered overwhelming misfortune in the" recession box "as early as the new year as announced,Cleverly was brought down shop ratings from usersWe asked you various story, such as stance towards the future, policy of the future.

How much did you power up the largest price comparison website in Japan?
Kakaku com which became a new dress
A building with Kakaku.com which this relocated. I relocated from Suidobashi to Daikanyama.



The buildings are also lined around.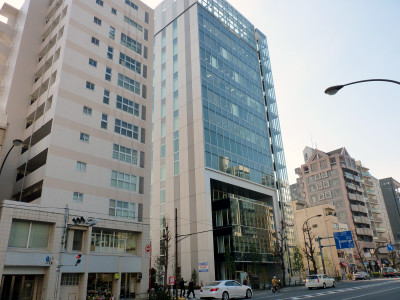 As it was a newly constructed building, there are still no tenants on the first floor.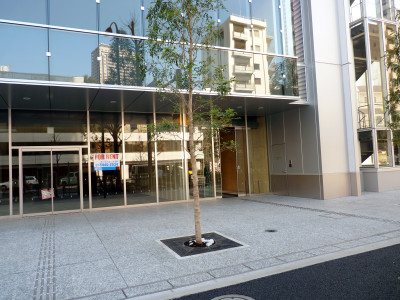 I use two floors.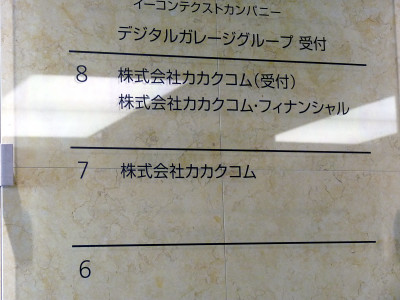 Because the glass is pasted, the view is good



On the corridor there are a lot of flowers awarded for celebrating relocation from here and there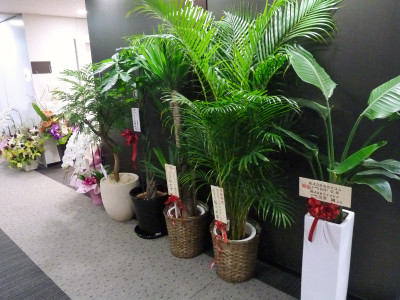 The receptionist is full of flowers too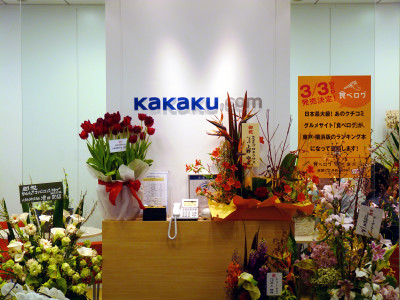 I took a picture of the office. It is wider than last time.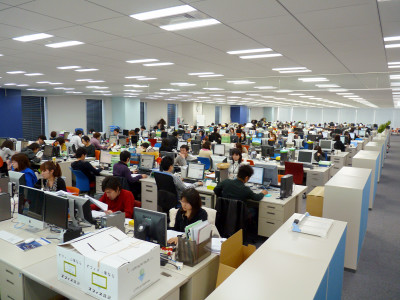 Meeting room is also available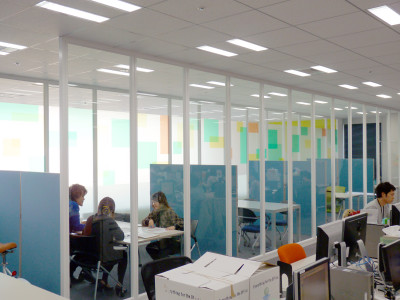 There is a vending machine of a convenience store "am / pm".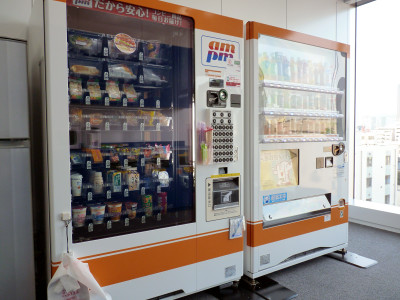 From the left is a drink server, office grill, refrigerator.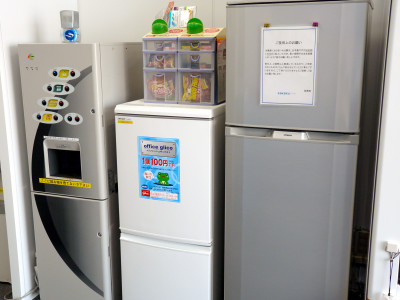 When using a refrigerator, it is necessary to enter a name and a date.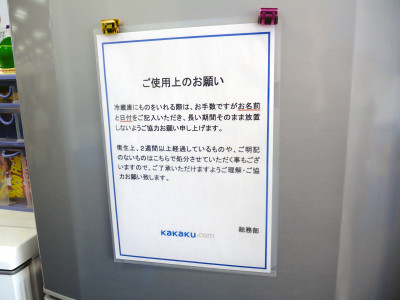 Office Grigo. It may be nice to have all of the sweets 100 yen.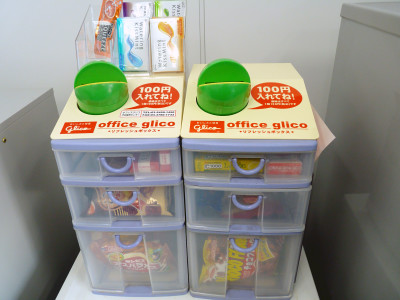 Cup ramen etc can be made on the spot.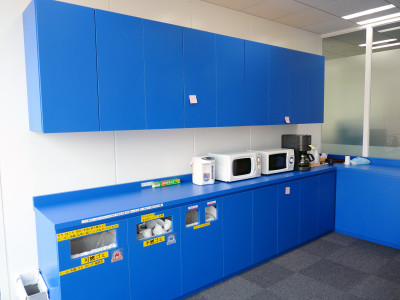 The interviewed contents are as follows. This time I was talking about Mr. Shingo Yuuki, Senior Executive Officer of Kakaku.com Corporate Officer Price .com Headquarters Shopping Media, and Kaori Kaiki of Public Relations Office.

◆ It's been less than three years since April 2007, how has "price .com" evolved

GIGAZINE (hereinafter abbreviated as G):
As of April 2007, the number of employees was 130 at Kakaku.com alone, but how much are the employees at this time? We also ask about the number of employees in the entire group.

Kai:
As of the end of January 2010, Kakaku.com is standalone with about 250 (employees), and the group as a whole is 301 people. If we send temporary staff, contracts, part-time workers etc., it will be about 380 people.

G:
A restaurant information site of a restaurant "eating logWe are also handling services other than "price .com" including those including "Please pick up specific services."

Kai:
If you go from a long historical point, you can book a cheap booking site for hotels and inns "YoyaQ.com"And the rental information site"Smiley", A search site of a new condominium"Apartment DB"there is.

When becoming a little maniacous place, a community site where engineers post Q & A and share technical expertise "Okyuu.comThere is, and as a service with high affinity with the price .com users, sharing pictures taken with a digital camera "PhotohitoWe are managing.

Afterwards it will be a service operated by group companies, but share the reviews of travelFour TravelAnd general movie information site "Eiga.comThere is also.

G:
Is the order of categories such as "personal computer", "home electronics", "camera" in the price .com access order?

Kai:
The order of the categories is not necessarily the access order. PCs, home appliances, cameras are listed in order, but now more accessed by home appliances than personal computers.

As of January 2009, access to PC was more than 6 million people per month, home appliances was 5.7 million, "PC is more than household appliances a little bit" situation was relatively continuous, but as the number of users increased It was also reversed from the end of the year-end sales battle in November 2009, as it was able to take in the general consumer population considerably. As of January 2010, while the personal computer was 6.77 million people, the home appliance is a record of 7.5 million people. I think that the influence of eco points and the popularity of LCD television are also affecting, but I think that the growth of home appliances is particularly remarkable.

Yuki:
For now it's two strong PC and home appliances, but next time the camera and the car are strong. As for cameras, there are many users who are strongly committed, and cars are excited around the reviews. By the way, although the growth of camera access itself has been slowing since entering this year, this is due to the fact that many new products were launched last autumn and peaked at that time. Compared to the category of personal computers and home appliances, the number of accesses per product is No. 1 in Dantotsu.

G:
As for the users of "price.com", as of 2007, the number of monthly users is 8 million, the ratio of male to female is 7: 3, users with 30 to 40 who actually have purchasing power are central Although it was supposed to be, now what is going on?

Kai:
The number of users per month was approximately 24 million (January 2010 actual), and the ratio between men and women was about 6: 4. Regarding the age group, 30 to 40 generations are still main, and over 30s occupy 80% of the whole.

However, since the main generation layer is the same even after three years have passed since then, I am thinking that it is permeating to users of young people who were in their twenties at that time. People in the 50s and 60s are also growing, such as being debated on the bulletin board on the review bulletin board, and now they are about the same percentage as in their 20s.

Also, we conducted awareness survey in the form of paneling the same number of net users of all generations for the past day, and as a result the recognition degree of price .com exceeded 90%, it was almost perceived by net users I believe that. From now on I want people to know more real people.

◆ Appeal to real people is an issue

G:
Are there measures to increase awareness of real people?

Kai:
Recently the opportunities to be picked up in various places are increasing,On February 7th TBS's information program "Athletic Monday !!" covered itWell, there was quite a reaction. Since I was a nationwide network, I am glad that you can see not only those in the metropolitan area, but also all over the country. I do not have any concrete plans so far, but I'd like to do events not only on the web someday but also in real.

G:
Shogaku's shoppingFrom"Good to buy" to everyone.The catch phrase changed to, but what kind of background is there?

Yuki:
Between the second half of 2006 and the first half of 2007, there was a thing called "brand project" to review the branding of the price .com, there was a story about about six months to organize the site concept, but in that As a result of considering various things, I decided the concept and clarified the concept and decided the brand vision and also displayed it on the site.

This is the concept page."Good to buy" to everyone.With a vision, "Find the best one"Available in the most advantageous way"I want to tell someone"The mission for realization is summarized with the axis as the axis.
Message from price .com - price.com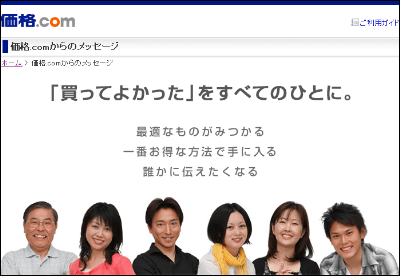 Just as the number of employees increased at a stretch and sharing of the site concept became easier to shake, in trying to properly organize the brand vision once, the catch phrase "Shogaku's shoppingDiscussion on what to do with "began.

However, in order to use it for a wider range of users in the future, it is not a site that "only people who can know can do shopping wisely" as indicated by "shopping of wise men" but people who are not familiar with personal computers can buy a good computer In order to make it so easy to understand, it is necessary to make a catch phrase"Good to buy" to everyone.I changed it. I do not put it out much on the table, but it is a big turning direction.

Originally a company which many people who love personal computers are entering, when he entered the company he gave 100,000 yen, "Build up parts at Akihabara and assemble your own company computer, first of all work is from there" As it was a company like this, the price .com itself was also a "site for those who know it", but to provide new users and even beginners can easily choose the products they want Let's keep trying in the past three years.

Kai:
In order to make it more familiar, we devised about site design as well. It is also an intuitive and easy-to-use interface and light-colored eyes-friendly use. However, although various proposals for the logo came out, employees also had resistance to change intensely, and they settled down to minor change-like ones. Also, since it seems natural for users to use more convenient services, we are careful about site design and conductors. If you feel it is hard to use, please contact us anytime (lol)

G:
As of 2007, the monthly page view was 400 million, but what is the current situation?

Kai:
As of January 2010, it is about 770 million.

G:
It is nearly doubled compared with about three years ago, but it is getting up to the right.

Kai:
It is truly thanks to the users. Thank you very much.

G:
How about the system (number of servers etc)

Yuki:
The number of servers at that time in April 2007 was around 200 in the whole group, but now it has reached 355. It increases as the number of accesses and services in other domains increases. Of the 355 units, the price.com is 170 units, and the eating log is 50 units.

Also, since the specifications of the server are up, replacing it with a new server may also reduce the number of servers. Considering the total specifications rather than the number of units, I am considerably investing.

G:
In the past I was told that "There is no possibility that samples will be sent from manufacturers", but is the same situation even now that the name recognition has improved more? For example, is there something that the manufacturers would like to sell as "I want you to pick it up with new product news!"

Kai:
It is not even now that free samples are sent, but there are things that manufacturers sell new products. Press releases have come so soon. By the way, the spokesperson of the manufacturer will press release to say "I do not know the destination"New product newsIf you are a manufacturer who is seeing this article, news @ ● ● ● ● (● ● ● ● is a kakaku .com will be included) to be sent to you. Then you will receive the new product news staff (laugh)

We will mainly provide information on AkihabaraAkiba Research InstituteSince it is acting as a completely independent medium, many guides such as idle events to be held in Akihabara have arrived.

G:
Having temporarily closed the site with unauthorized access in May 2005 was a "legendary episode", was there a new legend born from that?

Kai:
To be honest, it was the biggest renewal of the price .com in October 2007 was the biggest event. It is newly born changed by abandoning the past logo "catch phrase shopping" of the past and the past logo. Also, last year I made a new company logo. The rest is moving from the Sobu line along the way.

And one more. Access was very strong, it means that we were able to achieve access goals quite early. In addition, "eating log" went on to make the first book last year, but this is one of the approaches to real. The Kansai version has already been released, but since the Kanto version comes out in March, please have a look!

G:
If you can do something new to be proud of the company, please tell us.

Kai:
A little office became beautiful (laugh) A new "refresh room" was created. You can take a break here with TV, table and chairs. People in the general affairs seems to have raised the television after listening to people familiar with the household appliances inside the company, but it became Toshiba 's REGZA.

This is a refreshment room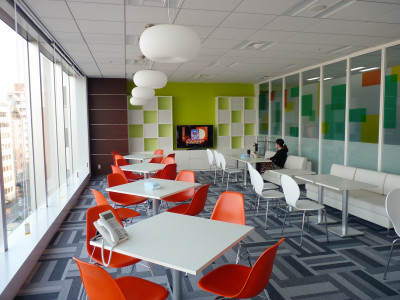 Outside the window is like this. It is quite a fashionable space.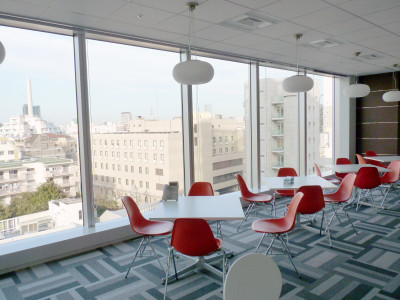 TVLCD TV department of price.comIt is Toshiba's REGZA boasting the number one selling rank in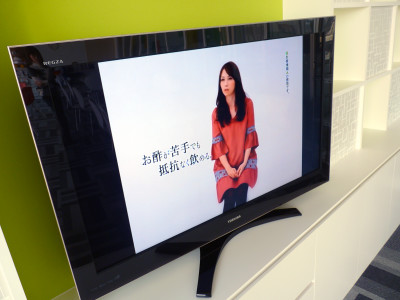 ◆ Further closer to the actual situation of "price .com"

G:
As earlier as price gains .com gains at GIGAZINEAn article on whether it is made up of four items, "customer support", "sales support", "information provision", and "advertisement"Although I posted it, how is it actually?

Yuki:
It is all right. Although we have read the profit structure from the settlement data, there was also a very strong voice from our employees saying "I understood well by looking at the article" (V) There are people in the company divided by business division It became difficult to grasp everything, so it was useful for grasping the balance of sales with other business divisions.

G:
As a new product of price .com, "Product digest using product details pageI was able to do, but how is the actual reaction?

Yuki:
We have just started service in November 2009 and are currently in business, but to date there are dozens of companies using it. It is a service that allows manufacturers to appeal to users with only three points that they want to appeal, but you may wish to think that it is "a very maniac advertisement focusing only on features that you can appeal" .

Since it is posted on the page for each product, it will be an extended treatment of the content, so I think that it will be easy to see it as reference information. Price .com posted specification information, but since we can not cover the features of each product that is hard to appear in the spec table, we introduced it to cover it.

I am making it possible to appeal directly to the user who has high purchase accuracy who came to see the product information page interestingly the thing the manufacturer really wants, and the contents are enriched as it enters a lot, so many In order to get involved in the company, the price is set very cheaply from 10,000 yen (1 month 1667 yen) in 6 months per product.

This is the image of the product digest utilizing the product detail page. It is a mechanism that allows manufacturers to post points that they want to appeal to the part surrounded by the red frame.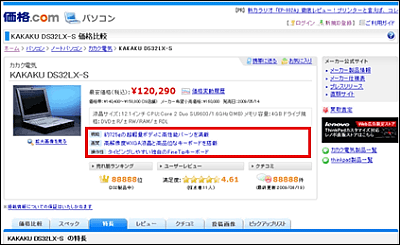 Because features can be briefly summarized, it is also a great merit that it is easy for users to understand.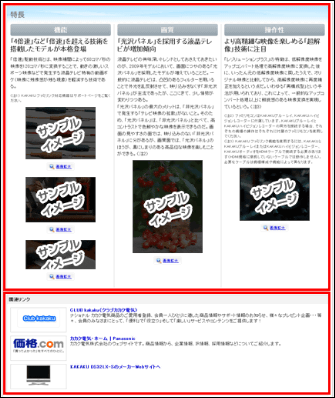 G:
Starting from November 2009, we will list products that have fallen by more than 5% from the lowest price of the previous day and introduce the rankings of each ranking such as the current lowest price, price cut rate, price cuts and selling pointsToday's drop-down product listAlthough it is provided, how much was there an echo?

Yuki:
It became 320,000 page views in a month, so it is quite well seen. Information is cleared once in the midnight, but information will be added slowly so it may not be interesting in the morning. Since it will be fulfilling in the afternoon in the afternoon, it is interesting to see it in the afternoon as much as possible.

Today 's falling product list. As inventory fluctuates in real time, it may be better to check frequently so that you do not miss it.
Price .com - Today's drop down product list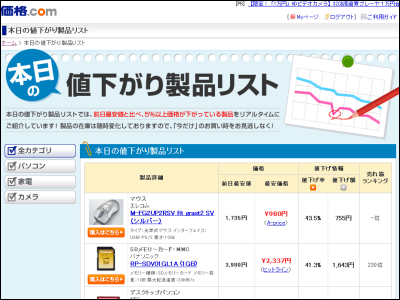 G:
In addition, it is possible to check the user's attention degree against a huge number of products posted on the price .com for corporate users at almost the same time, and to compare makers with each otherPrice .com Trend Search Enterprise EditionHave you started receiving requests from corporate users, too?

Kai:
I agree. There was a desire to do service that utilized our company's data for a long time, there was also a request from maker or think-tank to buy data. And as we have requested, aggregate data and compile it ... .... It takes a lot of time and effort, and as a result it was not reasonable for our company or our company.

"Price .com Trend Search Enterprise version" is realized by receiving both hope of our company "We would like to provide a mechanism to collect data easily and sell" and high needs of manufacturer's data. Since it collects and outputs a huge amount of data instantaneously, it repeatedly tried and errored in order to obtain performance that can withstand commercial use, tuning it for about half a year.

About the management of the community

G:
There seems to be about 5000 to 6000 writes per day, but how do you maintain the quality of the community? Please tell us about coping with vandalism or annoying comments.

Yuki:
Since launching price.com in 1997, since the community has been running since 1998, we have accumulated know-how in both people and organizations, that it is a bulletin board attached to products, Because users are mature, it is hard to get rough. Even if it becomes rough, we have a very clear agreement, so we delete it if we violate the contract.

I saw the data on the deletion rate during this time, but on average it is only about 2 to 3% of the total writing. Many things that are deleted also occupy a lot of thread discrepancies and multiposts.

Also, especially in cameras and other categories, users communicating with users who use the same camera on a bulletin board have become community, which may be a place of chatting, but for beginners to make writing easier Also, as a place where you can enjoy chatting with prices .com users casually, we offered a new service called "Edge side".

This is the side which started on February 22. You can exchange opinions by installing a bulletin board with a free theme.
Edge side - Bulletin board that everyone creates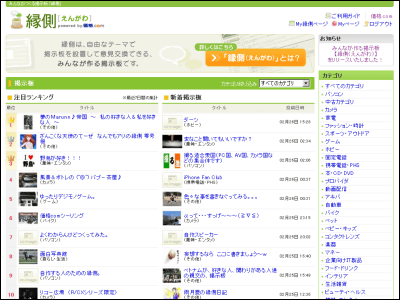 G:
PC part shop on January 1, 2010When "Clevelie" released the recession box, a situation occurred in which the shop rating could be crushed by users from the severity of contentsBut, if someone keeps making low evaluations to the shop, such as by using multiple accounts for the purpose of lowering the evaluation of a particular shop, why do you do something with price .com?

Yuki:
In order to write, basically you can eliminate such things because you need to register ID in the first place and you know that the same person posted the evaluation with multiple IDs. If we do not allow such dealing from the beginning, if we are evaluated as "not wanting to use it again" at all stores due to someone's mischief, we do not think that our business and business will not be established So I am considerably more careful than the bulletin board.

Kai:
I am careful about writing. Writing that is not directly related to purchasing behavior, such as "I was out of stock when I went to a store" or "I got mad when my price was further lowered after I bought" is eligible for deletion.

As for here, I think that the culmination of know-how of bulletin board management so far is alive. Naturally 100% fair management is difficult, but we try to keep it as close to 100% as possible. Writing of Kurabury's store evaluation was supposed to be amazing for a while for a while, although it is a contract, something the operation side moves during the process, conversely, there was a possibility of putting oil on fire Since there was also an idea that it would be better to leave them gently, I think that it is better not to be overly manual, but to respond to each situation each time.

Regarding deletion, "sparingly" and "timing" are getting more important, but it seems that many years of experience seems to be saying, "Like the clouds becoming doubted, may it be raining soon" You are getting acquainted with intuition.

Yuki:
Customer support is doing deletion correspondence etc, but it is possible to always check accounts etc. that have experienced regulation violation several times in the past, so we can always check, so as soon as a person in that account does something It is supposed to be understood.

◆ Numerous shops registered in various categories

G:
A lot of shops are registered, but how many companies are registered in all?

Kai:
It is 1300 to 1400 companies participating in price comparison. Although it is the number of shops by category, there are shops dealing with merchandise materials in a form that crosses multiple categories such as cameras, home appliances, personal computers and so can not be said unconditionally, but since there are a lot of merchandise handled, I think that is the most.

G:
When deciding on new criteria, what standard do you decide?

Yuki:
The category to be added most recently is "lawnmower" and "mowing machine" "electric tool". Although it is an additional criterion, it is the needs of users first. In order to perform price comparisons, it is premised that the model number is firm and that it is mail-ordered on the net. We also add miniature things such as digital photo frame and major household appliances and household planetariums to suit your needs.

I asked the child of the new graduate to investigate the category candidate to be added by training, and as the home planetarium came out, I made it as it was (lol)

This is a newly added category of home planetarium. Because it is not a major product, it seems to have a big meaning to exchange information on the bulletin board.
Price .com - Household Planetarium | Product Information, Price Comparison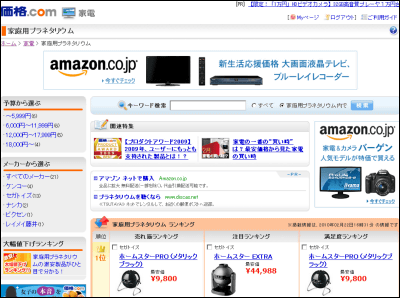 G:
We launched the Android application "Fashion Camera" which can easily search clothes from the color photographed in the mobile camera in January of this year, but in the future we will make it easier to use the price.com service with Android and other smartphone Is it a policy?

Yuki:
Since there are so many requests from users, I think that I have to do it soon. The future development is currently under consideration.

G:
Why is there no 'LAN hub' even though there is 'LAN cable' in category? Honestly, I would like to know the evaluation of a switching hub or something ... ....

Yuki:
It is in the category "Other network equipment". Cookware and camera related products are also included in "Others". If numbers gather, it becomes an independent category. It is because the ranking does not hold without a number of products or it becomes a page with less information.

◆ What is the dispute between believers?

G:
There are enthusiastic fans to call "followers" for each manufacturer and product, and although it seems likely that conflicts among fans are likely to arise as well, there are many "believers" in what kind of genre Could it be?

Yuki:
It is the game Wii and PS3 that the confrontation is the best. After that, although it does not heat up to that extent, it is a conflict between Plasma TV and LCD TV. In terms of "believer", I believe that the unity of Apple users is amazing. There are not so many people Sony as "Sony believer", and the fan is stopped rather than a believer. As for cameras, although there are fans of various manufacturers, there are not many users who are believers.

G:
Do you have anything to think objectively by watching content such as reviews to the product, so much trouble reporting "Does this product are subject to recall ...?"

Kai:
I have never hit a product with many defect reports so far, but since there are individual differences in products, I think there are cases where the user happens to have punished individuals. For such writing, I see an example where other users are returning a response saying "It's an initial failure".

Unlike in the past, customers often come to shopping after having a wealth of information, so people at home electronics mass retailers preliminarily check for defect reports on the bulletin boards about their products. I heard that story is not it?

◆ To "Companies that are engaged in the entire consumption service"

G:
From around last year we began distributing news releases and survey reports in earnest, but did anything change in our internal structure? Did the spokespersons increase?

Kai:
In the past I was alone, now I have two people. It's just a doubling (laugh)

I think that the new staff is doing their best and I think that the number of released releases and sites is more than doubled. It is the price com research that puts the survey report on the table, and the trend news is the site to PR trend search. Basically the sentences are written by the exclusive staff, so just let me release as release.

Also, since our company regularly changes the organization, we can also create departments specialized in certain fields, such as the search service department and the Internet marketing department, and have a positive effect on the whole company. The number of staff continues to increase, and it may be possible to create a new organization again this year to revitalize the organization.

G:
Please tell us your future policy (we plan to develop such a feeling, etc.)

Yuki:
Although it was not at the time of 2007, by introducing shopping search that can search products across Yahoo and Rakuten and other shopping sites on the Internet to fashion, clothes, meat And sake as well as categories such as foods and drinks were newly established.

In future, I think that it is better to be able to create a flow to buy not only personal computers, home appliances, cameras, but also everyday items at price .com.

I tried searching using shopping search as a test. With the same interface as other categories of price .com, Yahoo! You can also search across shopping and Rakuten Ichiba products.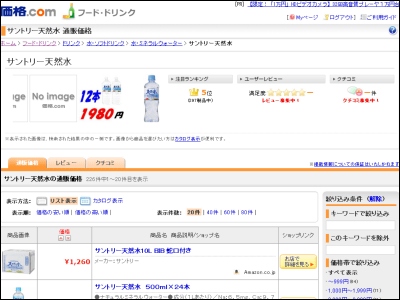 Kai:
As for the Kakaku.com group, prices.com and eating logs of growing popularity are famous, but I would like to excite other services as "second, third price .com". The impression on our service seems to be shifting to the "site that understands the price of goods" (not only personal computer and home appliances) "from the site which understands the price of personal computer and home appliances", but as an image it is not only shopping You can watch movies, book tickets for travel, borrow houses,A company that is engaged in supporting the entire consumption"I would like to be recognized as.

G:
Thank you very much.