Interview with NHK's advanced program "Future observation connected TV @ Human"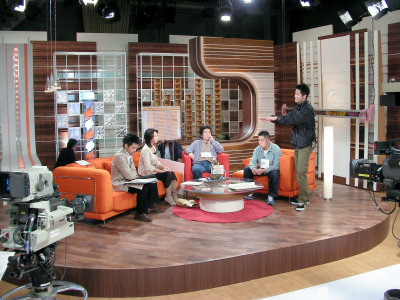 It is broadcasted from 11 o'clock every Sunday at NHK "Future Observation Connectivity TV @ HumanWe have interviewed.

Prior to the commercial release etc.Neck pot", A sign of a sign using a gummed tapeAlien characterWe will deliver a lot of interesting contents such as introduction of "NHK's huge dining hall", reasons for starting advanced programming which could not be thought of by NHK until now, behind the scenes of making television programs, and NHK's huge dining hall.

Details are as follows.
This is the NHK building.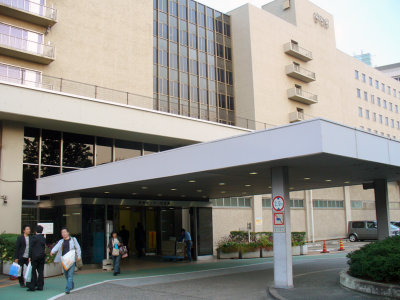 And a studio under program recording.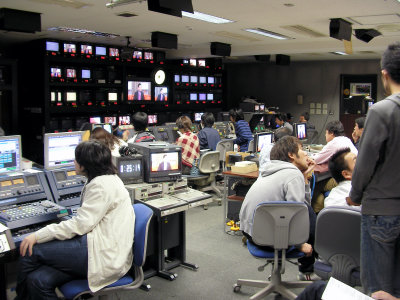 The number of monitors is not odd.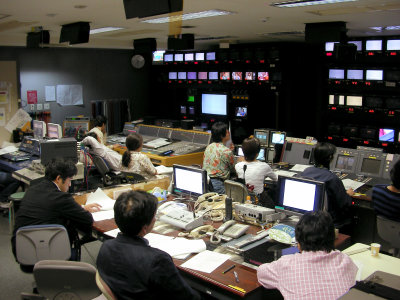 What I talked about this time is Mr. Yoshiharu Koyama, chief producer of "Production Center 2 (Production Center for Economic and Social Information) Producer, Japan Broadcasting Association, producer of TV" Human to Connect with the Future ".

GIGAZINE (hereinafter abbreviated as G):
"What kind of program is TV" Human to be connected "for future observation?

Koyama (hereinafter abbreviated as K):
Sunday at 23 o'clock "I'm going to work again from tomorrow", I would like to have a program that will be vital for a week from tomorrow's Monday to be seen while relaxing the moment before going to bed, fun and good I am thinking. The viewers mainly targeted are young business people and women in their 30s and 40s who are younger than the viewers in the past time zone.

G:
It is rare as a television media, and we dealt with topics of net relations aggressively, but what kind of circumstances did it originally planned and settled like this now?

K:
This program started in January of last year, but for the target 30 to 40 generations, since the net is a matter of concern, I decided to actively handle it so that it is not in NHK 's previous programs.

In addition to vaguely vast things, the net is a field that could not cut in as well as NHK as there are dangerous parts as well as practical parts. However, by taking up the Internet society daringly, efforts have been made to incorporate new viewers, especially young people.

Information on the Internet society is superficially raised, but there is a transient part where information flows with great momentum. It is faster than television. Because of that there is inevitably a part called "wide and shallow", but there is a place where we stopped there and brought the camera to the person who is presenting the information and interviewed live voices, so far no one is coming I am afraid there is no such thing.

G:
What kind of feeling is the actual viewers' audience with the assumed viewers of "Connecting TV @ Human" now?

K:
Basically, NHK's audience level is basically high, but still people who are younger than other programs are watching. I'd like to create a program that will give impacts to older age groups and women aiming for young people who are in their 30s and 40s. I am beginning to feel a sense of resistance now, but I also want to deal with rich information including fun stuff and petty story.

G:
What kind of comments, opinions or reactions come from viewers every time?

K:
We are looking for offering theme and story on the homepage, but various people including self recommendation came to come up with "Take this out". Since there are places where e-mails of echoes are barometer, considering that it gradually increases, I feel a certain response that the popularity of the program is getting higher. Regarding the contents to be picked up, basically we are lightening the footwork so that other programs will go to the interview with the contents such as "How about this one?"

G:
Which of the things that come through telephone, fax, letter, and net are the most frequent reactions

K:
Five or six years ago when I was engaged in "Project X", most of the elephants were calls, but on the contrary, most of the e-mails are coming back, and it is extremely few that calls come in. Also, many of the inquiries such as "What kind of music is used in the program?" And "There is rebroadcast" changed to e-mail.

G:
How do you feel about actually going through the official website's page view and blog management?

K:
Our biggest challenge is "to have the program watched". This is the most serious thing, but you have to make people know about the program. The threshold until it gets "seen" is very high, but when it comes to seeing what to do, a big tool is the website of the program, is not it? And to have you view the website, it depends on how quickly we update blogs and so on.

On the contrary it is also very important that you write things about programs on blogs and so on. If you collaborate by picking up famous sites etc., people watching the site become new viewers. Including magazines and other things, it is important to increase exposure on other media. If you can watch the program once, I think that you can understand that it is a bit different from fun and other NHK programs. First of all, I want to appeal the existence of the program to many people.

G:
Is the page view growing compared to the beginning?

K:
Of course it is growing. As you can say for any program, viewers increase as page views increase. And when it goes above a certain level, the page and the program will produce synergistic effect.

G:
What kind of planning, interviewing, editing and broadcasting procedures are being done until one program is completed?

K:
Although it is divided for each corner, we decide the theme from 2 weeks ago to 1 week before the aired and go to the location on Monday and Tuesday of the week to be broadcasted. On Wednesday I started editing after finishing the location, finishing editing on Friday, putting sound effects and music over the whole day on Saturday, I will do the studio recording for about 1 hour from 21 o'clock.

I have a meeting.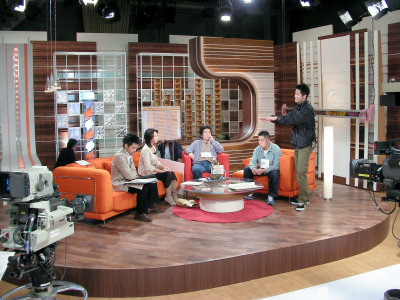 K:
And we will make it around Sunday morning around 6 AM and add telop etc. We will finish around 19 o'clock. It is a momentum like a rampant so it will be done together in teamwork all at once. After all, the newer one is good, so those who made it so as to be finished make the interesting thing that the theme was exciting.

This is the office prepared for each program.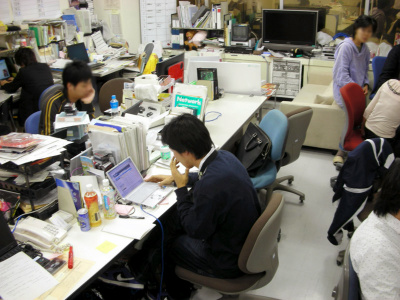 In the back there is a calendar to manage progress.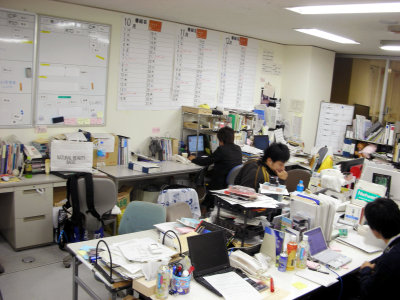 G:
What kind of staff do you have about the people in the program making?

K:
There are 2 producers, 1 desk, and 15 directors, which are divided into 3 groups and making programs. Not only that but also 30 people and 40 people in total to make one program such as those who create homepage, people who work byte, people who go and go to and from the studio, photographers, people who add music, etc. About 50 people Will not it become?

G:
What is the typical daily schedule of someone typical?

K:
For example, if the director in charge is on location on Tuesday, I took an interview with a photographer, voice, driver, in the morning, eat lunch, go to a different location and return home at night Then gather with other staff and hold a meeting and explain to the editor what you took. Checking whether there is wrong information or not is done again and again many times by the eyes of risk as a risk hedge. And when I start editing work on Thursday, I will be staying in the editing room all the time from the morning.

This is the editing room. Tapes and equipment are loaded.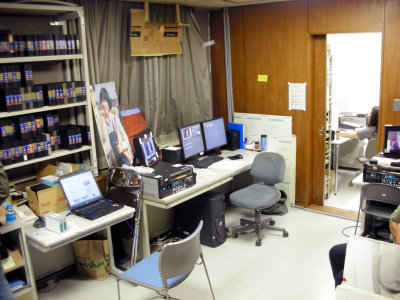 I am actually editing.



There is a room in the back.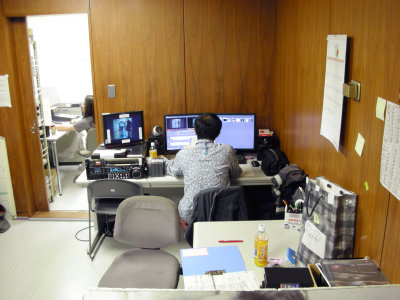 G:
When are you absent? ...?

K:
It is often that you can not take a day off. Since the program date is fixed, I can not make a hole, so I always feel pressure. Although the closing is a goal, since I will not make it in time to think about the next story after becoming a goal, I always think about the next thing. Theme picking is the most severe. Since I do not think of ideas without physical strength, I think that being tough is mentally and physically strong.

G:
How about lunch and so on?

K:
It's a cafeteria during the day and a dining room at night. I can not eat it quite outside. Instead, there are vending machines such as bread, frozen foods, cup noodles etc. everywhere in the NHK building. Still it is sold out when I go in the middle of the night (laugh). Even at Saturdays and Sundays, dealers are replenishing their contents.

This is the huge dining hall of NHK.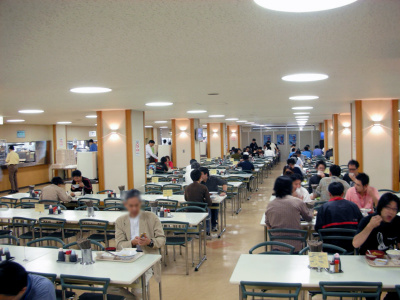 The variation of the menu is amazing.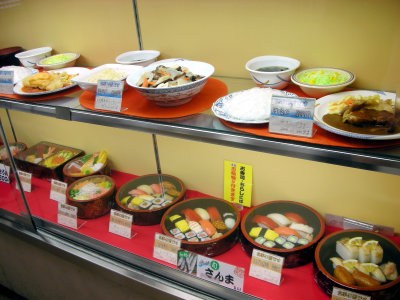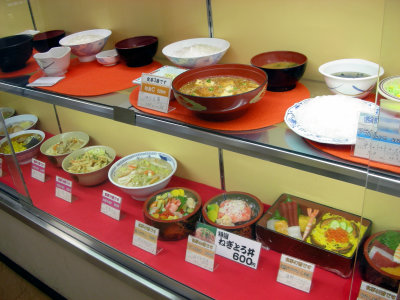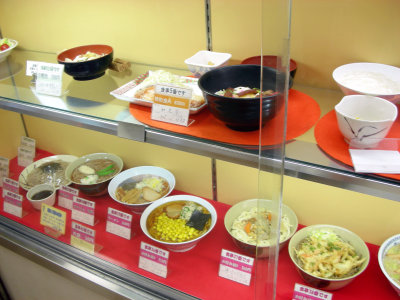 There are various corners.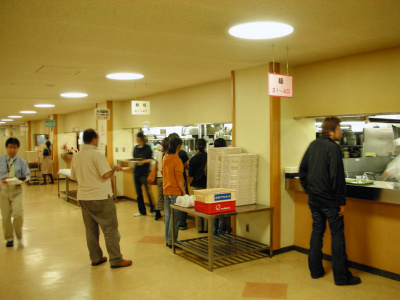 Also a corner of sushi.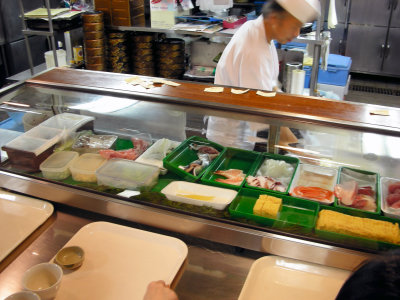 And a vending machine corner everywhere in the building.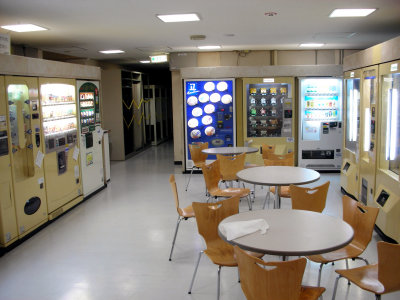 Selling machines where bread is sold.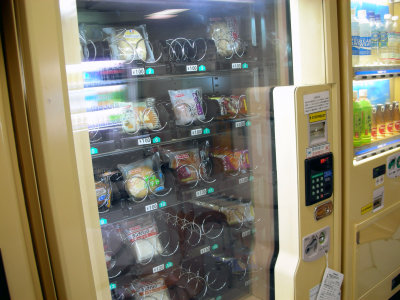 There are even rice balls and sandwiches.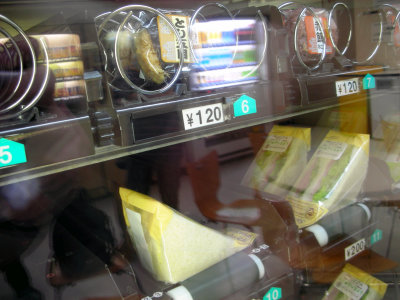 "Payong sauce and yakisoba" until ....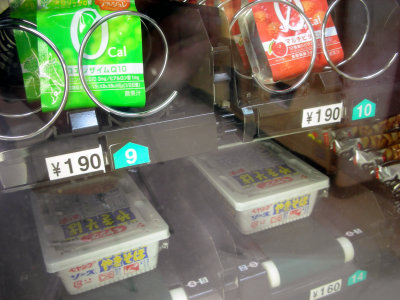 G:
@ Huang boasting, is there any other appealing point that you absolutely will not lose here alone?

K:
I think that it is a big appealing point that "I am slightly different from other NHK's programs" and dissected. I would like to proactively push out the topics I will deal with the topics that NHK could not deal with so far. I am proud of that and I think that it is a feature.

G:
Please tell us episodes, legendary episodes that have been struggling with creating programs and coverage so far, not limited to this program.

K:
@ Human covered the "cat pot" and "gummedep character" at the very beginning, but not only did Mr. Teruyuki retreated, we came to the inquiry on the phone "How did you approach?" It was. I thought, "It will not exist", but for us it was proud. It is fun when the things that we prefetched have been actually watched afterwards. From now on I will continue to accelerate more and more to programs that are not in NHK so far, "That program will do something strange and jump to various themes boldly".

G:
Are there any tips on program viewing?

K:
As I mentioned in the above question, I think that you can see it by saying, "It is a new program different from other commercial programs and NHK's programs so far." We will take up what NHK does not pick up in any of the three corner corners.

G:
Once the whole renewal has been done, what kind of circumstances was it?

K:
In order to see it in the age group of 30s and 40s which is a younger audience group than before, in light of the reflection of the previous year, renewal is made in a way that it is easier to understand by the new year as a result of the new year It was.

G:
Is there anything that you are daringly viewing in programs of the same NHK, other stations, or other media in general?

K:
Although there is no daring rival program, we are still in the process of trial and error, so always thinking about now and thinking about what we are going forward will gradually move forward so far I would like to put out the personality that it is a different program from NHK and Teruya's Sunday 23 o'clock show.

G:
If there is something to think about the future relationship between television media and the net (existence of YouTube and Nico Nico animation etc.) please.

K:
I think that there are a lot of interesting contents among contents that are many in the video distribution service such as YouTube. While excavating and picking up interesting things in it, using the power of television to steer to the background such as "Why this video was posted", and the world invisible only in the video posting By stepping into it and clarifying it, we were able to find out the affinity of the Internet and television which has never been before. I think that I can do so because I am on TV.

G:
Please tell us the policy of the future program.

K:
In addition to stepping on the superficial part of the net, the coverage is revealed more clearly, and coverage is facilitated with easy-to-understand e-mail exchange with viewers who used the Internet, which could not be done by the coverage activities so far We have ideals that we can create spreads and connections that have never existed, including including going on.

G:
Thank you very much.