"NHK Professional Work Rule" Produced We interviewed behind the scenes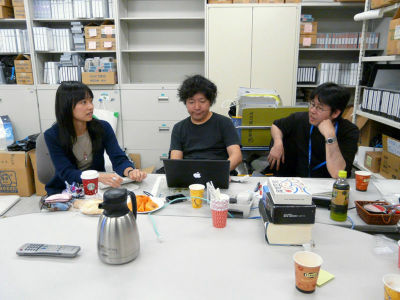 We are broadcasting a variety of quality quotes (style) every time "NHK professional style of work"I decided to go back to the stage behind the scenes so I went there immediately.

The first live broadcast to be broadcast on December 25 (Tuesday) "Christmas SpecialDetails, brain scientist, Kenichiro Mogi & announcer, Miki Sumiyoshi 's meeting, the scene of the production department that can also be said to be the general headquarters making the program, etc. We have covered behind the scenes of unknown production.

How do you produce high-level programs that way? The secret is from the following.
■ "NHK Professional Working Fashion" Charge to the Production Team

This is "People of NHK professional work style" production team.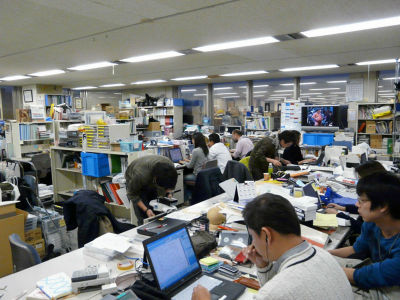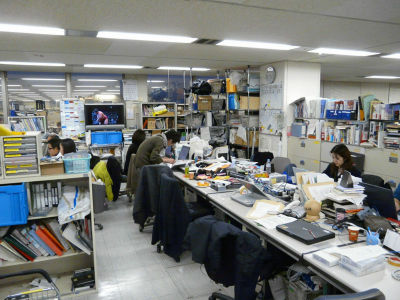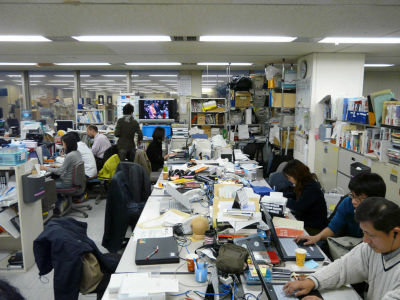 So, it is a meeting room, I got permission to shoot, so I decided to go inside.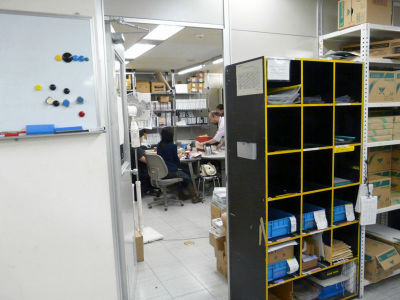 Three brain scientists, Kenichiro Mogi & announcer, Miki Sumiyoshi, and a producer are in a meeting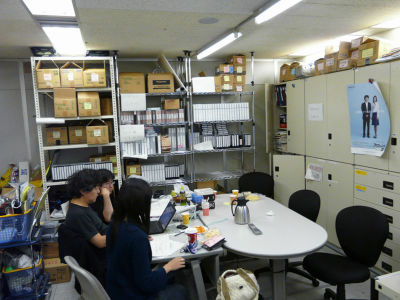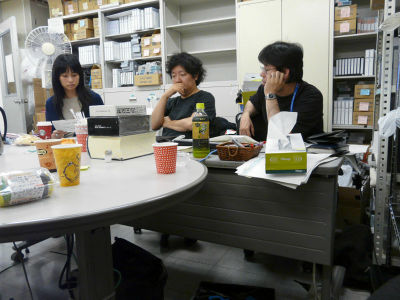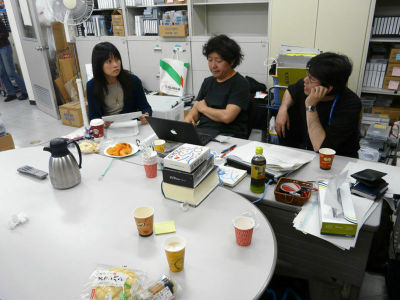 Pretty serious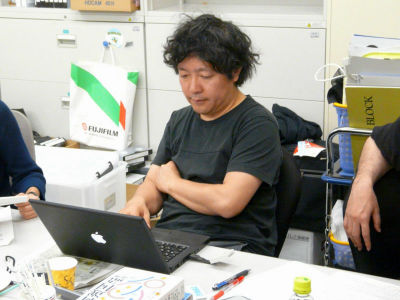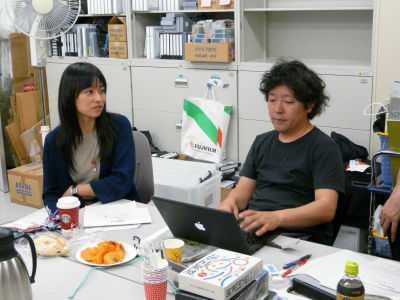 I tried to panoramic the whole room of the meeting



I go out again and shoot, everyone else calls me somewhere else, I hit something else, I'm going to write it up, I am busily busy.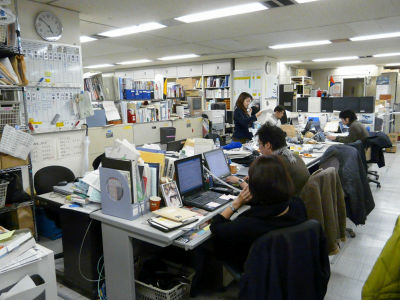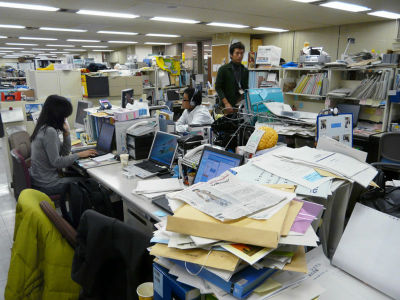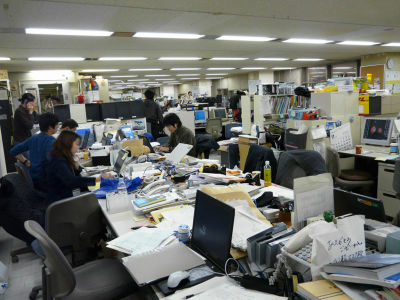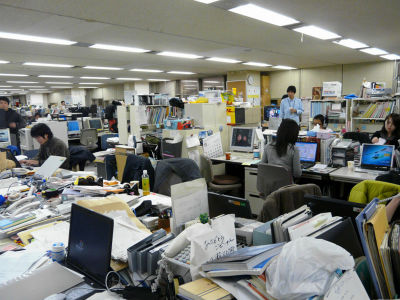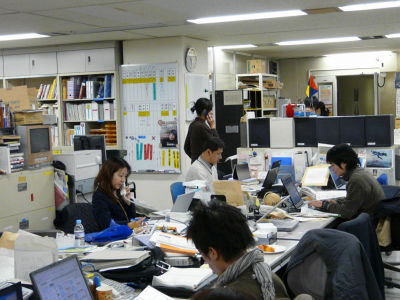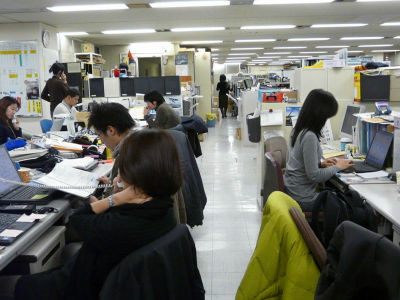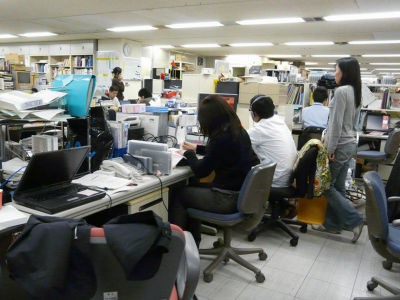 There are lots of pots and water bottles etc. Fairly intensely.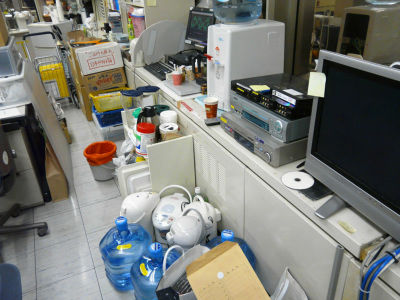 So, here is the interview.

■ Personal selection of "professional work style"

GIGAZINE (abbreviated as G below):
How did each person who came out during the show pick up and picked up? Do you have any criteria or recommendation from viewers?

NHK professional style of work (hereinafter abbreviated as N):
There are no standards in particular, but since there is "There is no mistake in this person" in that industry, we interviewed the achievements, evaluations from the surroundings, associations, associations, etc., "This person is still the front line "" I can confidently recommend this person as well "" I have only this person "I have chosen people who are admired by everyone with achievements. After all it is exactly "Professional" because people who are professional in that way pushing "Hello!" This guy is amazing!

G:
I see. It is because there is a polite work around that the proper selection that will not be blurred will continue properly from the purpose of the program itself.

N:
It is a documentary program that follows the time of the people who are active in the front lines of each industry, so it is time of life decision, troubles, or such a currently progressive drama, not expected harmony I am pursuing the excitement of the drama, I think that it is the real pleasure of the program.

How to make a program
G:
It will be a question of program production itself, but how do you make programming progressing?

N:
There are eleven directors of program production, and it seems that the director will follow alone who will be picked up by that director. It takes about 3 months in total to finish a program to be broadcast. Therefore, the location period itself is set at maximum 40 days, and depending on things it may be over that period. Then go into editing, record the studio, edit the studio recording part, ... and so on. It will take about 3 months if all this is combined.

G:
How is Mr. Mogi and Mr. Sumiyoshi who I showed you today what is that?

N:
That was doing a studio recording every Thursday, and watching the completed VTR, "Let's make such a question a guest" then I will make such a meeting. The assumed question is prepared by the producer before the meeting, but since it will be two casters, Mogi-san and Mr. Sumiyoshi, to actually see the VTR for the first time, "If it's like this story I would like to hear such questions as well ". By doing so, we set up questions that will bring more talk.

G:
Indeed, by doing so, you will be able to ask the right questions in the natural flow. It is truly a program that was built quite a bit.

■ About "style" (words, words) coming out every time

G:
The first live broadcast to be broadcast on December 25 (Tuesday) "Christmas Special"Is a professional" flower "that has flowed to each time so far, it is a so-called quotation, I am recruiting the style that remained in my mind and the impressive style from the net, but that" style "is How is it decided?

N:
That is it, there are cases where the professional interviewer got the word as it is, but besides that, even if the professional has it as "thought", it is not quite a word, it is not unconsciously There are times when you are doing it. In such a case the director will conversely think. Perhaps it is this kind of thing that this person is going to do? That is why I will make it "words". Everything is handmade.

G:
I see, i see.

N:
I do not have a special copywriter separately (laugh)

G:
Does that makes you feel like you are picking out of several things?

N:
Well, I pick it up and broadcast. That's why there are a lot of "fashion" that became vital. Because it is being sifted off already while editing ... ....

G:
It seems like it's interesting to collect and broadcast the "bothered way" (laugh)

■ "The way of work that echoed in my heart" and "Mogiken life counseling room" wanted

G:
Although I caught a glance glaringly at a moment ago, is surely recruiting something on the net until December 1st (Sat)?

N:
Yeah,"The way of work that echoed in my heart" and "Mogyken life counseling room"We are looking for.

G:
What is it like?

N:
This year "NHK professional work style" will be the second year, so we are doing it in commemoration of it.

G:
It is a 2nd anniversary project.

N:
It looks so. While looking back at professionals so far, I feel like I will ask you again. Actually, the deadline is December 1st, but 72 professionals will appear by December 25th. We recruited the style that remained in the mind of the viewer, and it is age group, for example, what was the most influential way in 20's? What kind of rituals did you support over generations? Or, I'm thinking about how to sum up such things and introduce it in the program. Actual broadcasting is live, so it is not decided yet what is going to happen ....

G:
"Mogyken Life Consultation RoomWhat is it ...?

N:
This is, the brain scientist Mr. Kenichiro Mogi who is also one of the casters is to send your questions and life consultation from the net and answer it. I will try to answer as much as I can as long as time permits.

G:
It is somehow live broadcasting, it sounds like a radio program (laugh)

Editor's postscript
It was such a breakthrough into the depths of NHK, and I had an interview while having coffee etc in the dining room at the end of the phrase, but the most surprising is that in order to produce one program The length of time to spend. Even if time and quality are in proportion to some extent, it is not quite possible to spend a period of three months covering one person. That's why when we interview and program it, we must complete it as a high quality ...! It seems to be intrigueful.