Interview with producer Kazuya Enomoto about the movie 'Promea', which was created just because it is TRIGGER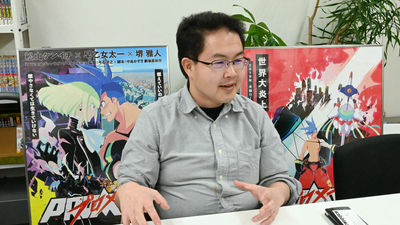 Following
Masahiko Otsuka, President
of TRIGGER Corporation,
Kazuya
Enomoto, an animation producer in the movie 'Promare'. From the standpoint of protecting the major parts of the work, I have heard a variety of stories, such as how 'Promea' was made and what role the animation producer plays in the first place.
Movie 'Puremare' Official Site 5/24 (Fri) Nationwide Road Show
https://promare-movie.com/


GIGAZINE (hereinafter, G):
How did Enomoto get involved in 'Promea'?

Kazuya Enomoto (hereinafter referred to as Enomoto):
I am from the beginning of the project. It is a form that '
Kill la Kill
' is over in 2014 immediately.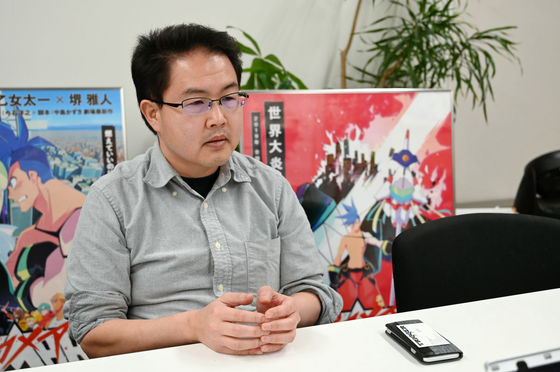 G:
What did you start with?

Enomoto:
At first it is a meeting. Now, Director Ishikawa wanted to do these things and threw a ball, and Nakajima-san who received the ball threw it back, and it was from where he was present at the planning meeting.

G:
I think that you had to say 'Imaginary' of Director Ishikawa and Mr. Nakajima now, but in the trial and error, did you have a hard time as a producer?

Enomoto:
The "Producer" has a business producer who manages the business and a producer on the video production side. I've been in charge of creative work with stone and Nakajima. Speaking of hardships, even if the 'first catch ball' mentioned above is played, it is almost impossible to get it right (lol)

G:
(Laughs) Isn't it?

Enomoto:
The 'core' part of the work doesn't change, but the plan is being over- written over there, and the form grows in size. Mr. Nakajima has been described as '
breaking the scenario
', but if that's right, even if you thought 'this is good' at the beginning, you can catch a ball and try to write it as a scenario It means that sometimes this is not the case.
As for the content of creative, Wakabayashi stands in the main. It is a feeling that Wakabayashi will express opinions from a third-party perspective, that is, a customer's perspective, and build up with three tags, in order to form the "next" shape, although Imaishi & Nakajima have accumulated.
G:
Is that the idea of who to give an opinion from the customer's point of view?
Enomoto:
It is an impression that it has been cultivated with nature and has become such a role. Anime projects are created from a variety of viewpoints, such as director and original, but often they become 'direct works of director' without customers' eyes. Whether the work is good from the customer side is a different story, so I think Wakabayashi is well-balanced.
This time, Koyama Shiget is also participating in the team, but I think that this team member is a creator who has 'producer-like eyes' in Imaishi, Nakajima, Koyama and Wakabayashi, respectively I am doing it. You can see yourself somewhere and take in the current. While making 'Promare' '
Zutopia
' and '
Mad Max: The Anger's Death Road
' became a topic, and 'I'm doing something like this now.' There was also adjustment of That's why it was a team that always had objectivity and the current trends.
G:
I see. Among them, what role does Enomoto play?
Enomoto:
I'm a producer for creatives, but I don't say anything about creatives. I talk about 'budget', 'schedule' and 'stuffing', which are the most important things in making things. If you do this, it will cost too much money, and it is my job to protect the part that can not be released until time is over.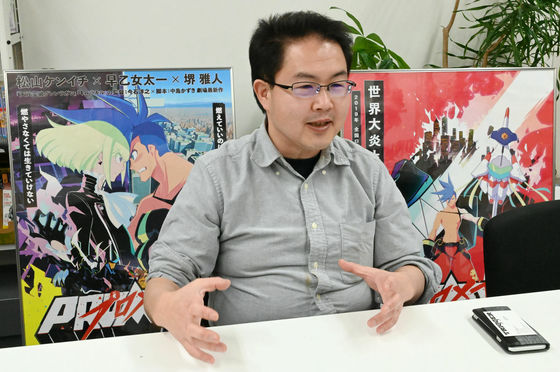 G:
Which is the most important in 'budget', 'schedule' and 'stuffing'?

Enomoto:
This varies depending on the timing of the project, but at first the 'release date' is fixed, so it is a schedule. However, it is another story if it is good in the red, and the staffing also has to reproduce the screen that Imaishi, Nakajima, and Koyama are trying to create. If it's a manga, it's pretty much drawn by the manga artist himself, but since 300 to 500 people are participating in works like 'Promea', it doesn't make sense if they can't. It is also one of the jobs to find a person who fits the work. So the three elements are independent but intricately intertwined, and it is my job to balance them.

G:
Are those three elements decided first and then decided one by one? Or do you decide while partially compensating each other?

Enomoto:
Speaking of 'promea', it is rather 'while compensating'.

G:
I think that it is the part of 'Stuffing' that the general audience sees and understands easily. This time, Imaishi and the screenwriter Kazuki Nakajima and Koyama Shiget-san have joined this tag, but how will the staff be decided?

Enomoto:
The three were solid from the beginning. After that, I attended the image boards for 'reproducibility as expression'. The first thing in 'Promea' was 'I would like to ask overseas creators' in the part of 'Expression of color and design' that Imaishi and Koyama aim for.

G:
Does this mean that there was no one who could be a Japanese creator?

Enomoto:
This is because 'what we aimed for was new.' At first, when I heard the explanation orally, I could not imagine 'Mumum ...'. Then, when I asked, 'What kind of thing is it like?' The overseas materials came out at a glance, so I decided to ask the people of overseas for an image board and proceeded to create a worldview .

G:
Mr. Enomoto is actively using Twitter, and also answers questions in the "question box". Among them, what kind of thing is the 'some degree of physical strength and insensitivity' of the contents that have been answered about 'what should be learned as production progress' before that?

It is not limited to triggers, but the understanding and respect of the staff involved in manufacturing, the seriousness to work, the attitude to try to understand without denying things easily, the rest is a certain level of physical strength and insensitivity.

# Question box # peing_kenji 2413 https://t.co/VabauIOo6J pic.twitter.com/SdO11mUiuR — Kazuya Enomoto (@ kenji2413) December 31, 2017


Enomoto:
After all strength is necessary. I am a human being who came up from the bottom, so capital is physical strength. While working with such staff, you may find that working time of the day is not enough, and it takes time to adjust things. 'Insensitiveness' has many meanings, but it is where our work has 'your time'. Some people are burdened to work forever. Work is work, private is private, time to sleep is time to sleep, and it is a painful task for human beings.

G:
Oh, I see.

Enomoto:
I am rather insensitive, and my time is linked to work. I like manufacturing itself, but I can not draw by myself, so it is my motivation to help those people. Then 'eight hours work' becomes synonymous with 'eight hours private'.

G:
It's an image that you can be confused between public and private well.

Enomoto:
I think that's exactly what it is. Of course, since you need to maintain your physical fitness while you are at work, you need a good sleep time. By the way, I have a special skill of 'I will forget if I go to bed' (laughs)

G:
That means that 'insensitivity' is also necessary (laughs)

Enomoto:
The work is very hard 90%, the remaining 10% 'pleasure' is. Even in that sense, I think it's a painful job when viewed objectively, but it's something I like doing .... Sometimes it is said, 'It's a big deal,' but I think the entertainment industry is that you can not do without having a sense of insensitivity that you don't notice.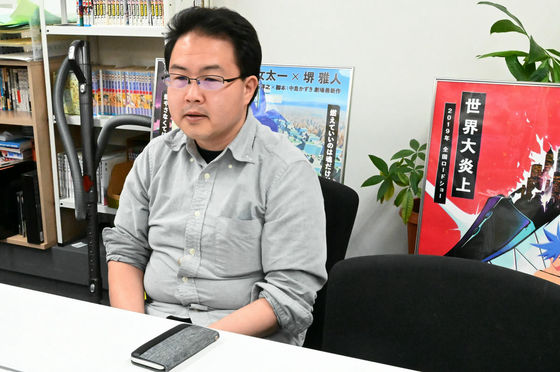 G:
Is it not an image of a "rice work" person who separates private and work, but a "life work" person who can put in all resources?

Enomoto:
As a result, I think it is an industry with more people like that.

G:
The next is also from the answer to Mr. Enomoto's question box, but it is said that it takes 5 to 10 years for the number of years it takes to become a producer from the progress of production, and it is late Edomoto's 11 years It is written that. Is it something that can be done in 5 years early?

It is about 5 to 10 years.
By the way, I became a producer after 6 years of production progress 3 years of production desk 3 years line producer 2 years later.
I think that is late in the industry.

# Question box # peing_kenji 2413 https://t.co/ujc5b2qx6N pic.twitter.com/I3Tfcse0KC — Kazuya Enomoto (@ kenji2413) December 31, 2017


Enomoto:
If it is five years if it is the present number of works and the situation of the industry, it will become. However, it will be a story of 'If you only have a title' After going through production and production desks, if you are a company without people, the next one will be in the form of a producer. Production is a pyramid structure of producers, production desks, and production progressions, and creative producers are simply the number of works in a nutshell. However, every time you go up one step, you get a lot of screening and the number of people decreases.

G:
Oh yeah, it falls off the pyramid itself.

Enomoto:
So the shortest time to become a producer is an answer of around 5 years, but the person who can become a producer is that the person who survived at a very low survival rate.

G:
Mr. Enomoto himself has been working on production for six years and the production desk for three years. Is there any reason for the length?

Enomoto:
This was simply a matter of career, and the company that had been in the first five years was a 'subcontractor' to be a gross contractor, so I couldn't get to the desk in the first place. Even if you are in a factory where you only make some parts, the process of making the whole does not go around forever. That is a positive experience for me and I do not deny it, but it was longer than people. After that, when I entered GAINAX, the desk was vacant, so it happened to be a desk. It has already been blessed with luck ... I have always said that, because I have lived in this industry life 19 years with luck alone.

G:
(Lol)

Enomoto:
I think that people who go to the producer are virtuous and that they have no luck somewhere.

G:
Specifically, what kind of element is 'virtue'?

Enomoto:
That's where people rely on people and people love them. In terms of staffing, it is a major premise that people who worked together while I was working at the production process / production desk would gather after understanding me. This is the same with the director. I aim for Ishikawa-san of Production IG, Minami-san of Bonds, Horikawa-san of PAWorks, etc. I think everyone is like that.

G:
The producer is in charge of delivery work, but what is the process in the case of 'Promea'?

Enomoto:
The final 'delivery' means that the complete packet data of the DCP movie to be screened will reach the theater, but our creative people call the complete packet as a movie the delivery. The part of making a DCP master that takes place in the theater and getting the client OK.

G:
What is the difference between the movie version and the terrestrial animation delivery?

Enomoto:
The theater used to be film, now DCP Master, but in the case of a television there is the difference that tapes are delivered to a television station. Also, even in the mass production part, the DCP takes several minutes of the theater building to be opened, so the copying itself takes time. It is work on a one-day basis if it is several building units, but this time 'Promea' is a public exhibition on a scale of 200 buildings thankfully, so it takes a great deal of time ....

G:
That means that the deadline is also set ahead of time.

Enomoto:
That's it. So you can not say 'make a video until the day before release'. Of course, it is not easy for TVs, and there are client checks on TVs, and above all, TV is more difficult for visual expression, so there are some hard parts in advance.

G:
As elements required as a producer, 'wide view, wide knowledge, bargaining power, English, passion, spirit of altruism and co-prosperity' are mentioned, but in this case 'wide knowledge' assumes what kind of thing Are you there?

The animation industry needs an education system, more business models, exchanges with foreign countries, money (laughs)
As a producer, you have a broad perspective, broad knowledge, bargaining power, English, passion, and a spirit of altruism. # Question box # peing_kenji 2413 https://t.co/Y7NywIoY5W pic.twitter.com/UzR9lYZ8eU

— Kazuya Enomoto (@ kenji2413) December 31, 2017


Enomoto:
This is a very rough answer with some characters, but the knowledge comes later, so I think it's curiosity at first. I try to get something even if I'm curious. Knowledge is stocked in me only when I get it, and it will come to be useful in the scene somewhere. I think that there is no immediate effect, and when I remember 'I say so,' I think that the real knowledge comes out in words, and I think that a wide range of knowledge can be obtained from a wide range of curiosity. For example, we are working on animation, how do we make a live-action film , and in the trigger we made a work called ' SSSS.GRIDMAN ', but how are we making special effects? People who have curiosity have a lot of knowledge, and it is the impression that many producers have people who go out on their own and say, 'What is this?' Or 'What is that?' I think that there is a part different from the knowledge obtained by just reading a book.

G:
Mr. Enomoto has published a book titled " Working with Anime! Triggered Animation Production Progress Reading ", and as a coterie, "Study Book" Success Book on Progressing Production in Animation Production ". I think this has the part of giving the know-how of production progress to other people, but what was the reason for thinking 'let's give' or 'let's teach'?

Enomoto:
I originally wanted to be an animator, but the picture wasn't good and I was supposed to do a management-side job called production progress. However, at the time I entered the industry, I had a manual without a manual.

G:
Oral communication?

Enomoto:
'Learn to look at your seniors'. After that, it was a form that I learned while being offended by the creators of the surrounding area. I do not think that it was wrong by itself, but when I first got under me, I didn't know how to teach. I couldn't verbalize and could only say 'I did this.' But if there is one standard, I can say 'Yes, this street' or 'This is different.' 'That book says this, but in our company it's like this.' So I decided to make a manual first and gave me a book that says, "Animation at work!". As it has already been a few years old, the contents are a bit old, but I think it was a good opportunity to get to know the work of 'progress in production'. Besides, a wonderful piece called ' SHIROBAKO ' was born.

G:
Certainly (lol)

Enomoto:
I think it is an industry feat. Thanks to that work, I come in after having understood to some extent what our work is. Several years have passed since SHIROBAKO, and the method has changed a little, but thanks to SHIROBAKO and 'to work at animation!' 'It was drawn like this, but now it is' and based on that It is useful because it can be taught.

G:
Did you put out a book and was there an event that felt the reaction?

Enomoto:
Of the children who come to want to be a production progress with the trigger, 90% have read a book.

G:
90! It's amazing. I think that producers at any animation company should want to send out high-level ones, but the quality of the works that actually appear in the world is a mixture of boulders. In that respect, TRIGGER sends out high quality works such as 'Promea', but as a producer, if you are not careful with it, you think that the quality may fall, if you do not keep up with this What is the part that you do not do?

Enomoto:
Speaking of 'promea', I think that the part of the viewpoint 'I should make this now' by Imaishi, Nakajima, Koyama, Wakabayashi and others at the beginning of the project was great. Now that production has progressed, it is the staff at the site who are responding to it. I realize that TRIGGER has been established for less than 8 years and the growth of people who grew up in it has made a 'promé'. I think there is almost nothing to do with it, but I think it is a culmination of the people who use their technology in full, and the productions that support it, doing their daily work.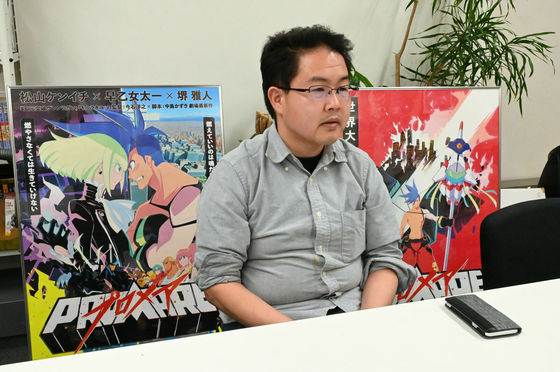 G:
Does that mean that you could not make 'Promea' when you formed TRIGGER?

Enomoto:
I think I could not. It is a work that has been done so far on the accumulation of works that have been done so far, such as 'Kill la Kill' and ' SSSS.GRIDMAN '. There are many animations released in theaters in 2019, including Makoto Shinkai's 'The Weather's Child, ' but I have the confidence that 'Promare' is a work that can not be seen in any other way. It is a compilation of the works that TRIGGER has cultivated, and I think that it can not be made elsewhere. You may not want to make it (laughs)

G:
(Laughs) Thank you very much.

Following President Otsuka and producer Enomoto, we talked with Hiromi Wakabayashi, who was involved as a creative director from the beginning of the project planning.

・ Continuing

An interview with all sorts of people from the start of the movie 'Promare' 'Various' TRIGGER · Hiromi Wakabayashi interview-GIGAZINE