Difficulty of being able to make freely, 'The world that breaks with glass flowers' Masashi Ishihama Director & producer interview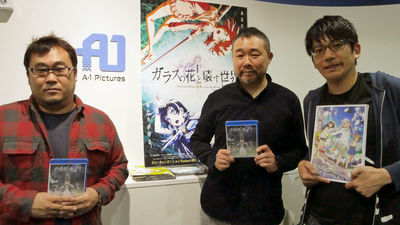 Original theatrical animation work from January 9 "Glass flowers and worlds to destroy"Will be made public. If you have manga or novel as the original, you can expect to be followed by making the fans satisfied, but since the original work is a game from scratch, even in TV anime broadcasting, the proportion of the original is Not so many. In such a circumstance, this work is adopted one unusual way to "recreate the original from widely and make it an animation".

With such a work, Mr. Ishihama who served as a director, that there should be a different part of the hard work of the person involved from the other work ...... Mr. Ishihama who served as a director, Kato of A-1 Pictures who was in charge of animation production Jun producer, "Original" responsible · Pony Canyon producer Ryoichi Ishihara, I've heard stories from various sources. Nonetheless, as for detailed parts such as "what kind of settings are in the world of the work ...", since fulfillment information is posted in the brochure of the 72P sold in the theater, , Other, I talked about the whole industry talk etc.

Theater version animation "Glass flowers and worlds to destroy" Official site
http://garakowa.jp/

◆What is "Anime Prize"?
GIGAZINE (hereinafter, G):
Today is January 9 "Theatrical release"Glass flowers and worlds to destroy(Gala Wow) "I would like to talk with you about the story. Gala Wow is released in 2013 "Anime Award Grand Prize powered by Pony Canyon"Grand Prize work" D.backup "(original is based on Pony Canyon" Speaking of "K-ON!"It is a company that is in charge of selling video software of many popular titles such as" Advance giant ", Mr. Ishihama's director" New World ", but as" powered by Pony Canyon "this animation Why did you plan a grand prize?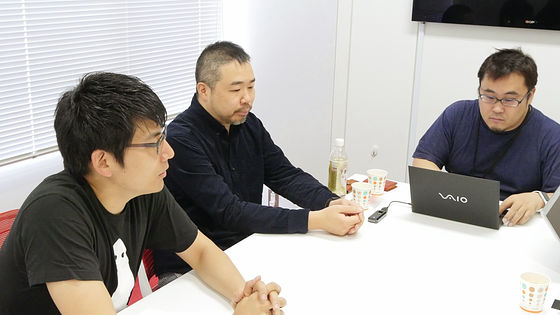 Pony Canyon Ishihara Ryoichi Producer (Ishihara):
Since the company called Pony Canyon is a record company, I have kept various animation works, but there was a trend inside the company "The company does not have the work of the original work". In the publishing business "Poniacook BOOKS"As a part of the project" I'd like to make an original, "first as a part of the project," Let's collect original authors ", if you can do it from the public by public recruitment What was done is this animation award grand prix.

G:
Oh, I see.

Ishihara:
I think that there are various light novel works if it is another publisher, but there is no original in such a form yet in Pony Canyon. However, compared to other publishers, Pony Canyon has an excellent point of "being good at making animation", so "Why do not you try making a plan that decides what you want to animate as you thinking?" "It was proposed by Nippon Broadcasting's Yoshida Naoto's announcer.

Ishihama Masashi Director (Ishihama):
Is that so.

A-1 Pictures Atsushi Kato Producer (Kato):
Is it Yoshida's suggestion, is this!? (Laugh)

Ishihara:
That's right, on the official site of the animation award grand prix,Grand Prize winning workIf you look at the judge comment of the Yoshida announcer, next to the name of the announcer Yoshida enters "Planning for animation award" plan.




During the chat with the upper part of the Pony Canyon, Yoshida-san told me that "Is not it good to do an animation award when it is good to make animation, Mr. Pony Canyon, everyone is truly receiving it It is the thing that is going to be seen.

Call for recruitment of "Anime Prize" aiming for original work of animation, including manga, novel, illustration, music - GIGAZINE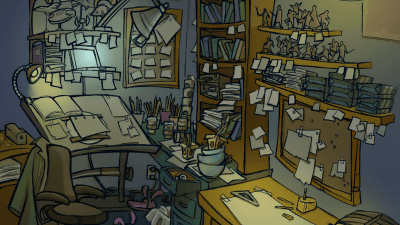 G:
Oh ... it is amazing to get into a shape.

Ishihara:
I think whether it matched with the trend that "I want an original work" and the situation inside the company.

G:
When you are talking about the animation industry, it seems that an important story is determined to be spat in the chat or drinking seat, so it may be the award that was born in an animation industry.

Ishihara:
It may be (lol)

G:
This animation award grand prix, this time, Gara Kowa became a theater animation, but from the beginning "was animated" was about making a movie theater?

Ishihara:
No, I have not thought of it, coupled with various situations, this time I decided to try at the theater.

G:
Did you also have the possibility of becoming a TV series or OVA at the first point?

Ishihara:
was. I have not decided the format in particular, "Let's think after the Grand Prize has been decided." And the result I thought is this theater animation.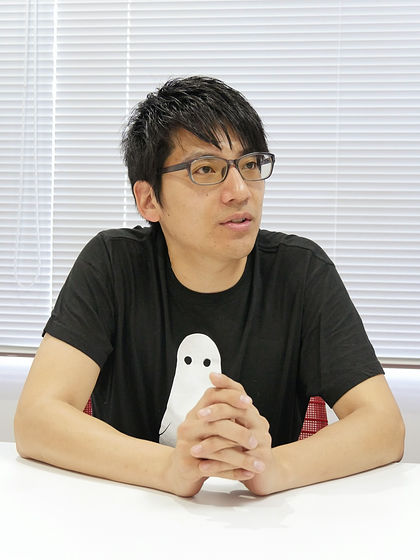 G:
I see. It was published in RooftopInterview with Ishihama DirectorSo, it was written that A - 1 Pictures requested production from Pony Canyon, after which the director was talked about afterwards. From the beginning I did not mean that it was "Pony Canyon x A - 1 Pictures × Masashi Ishihama".

Ishihara:
I agree.

Ishihama:
It was not there.

◆Why A-1 Pictures was in charge of production
G:
I asked A-1 Pictures to produce it, after the Grand Prize was decided.

Ishihara:
Yes.

Kato:
By the way, what made you out?

Ishihama:
Was it a decision?

Ishihara:
This is me, this time, A-1 Pictures, JCSTAFF, Production IG was included in the judges of the animation award prize, so it is being narrowed down that "these three companies will be produced if you make it" It was.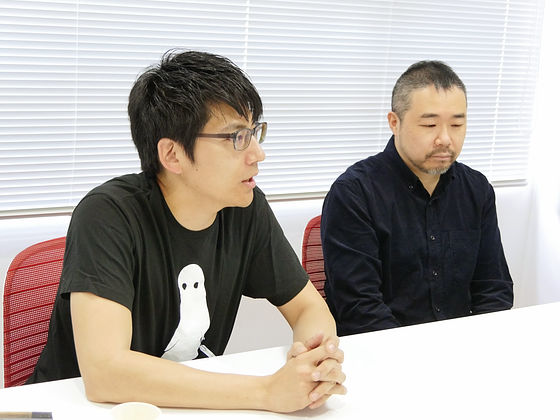 Kato:
Where is the jury's choice?

Ishihara:
After all, as I was about to make animation, there was a proposal that it would be better to have people who are making animation get in and see.

Kato:
I saw the jury members gathered because it was Nico Nico video or YouTube.

Ishihara:
I did a recital at AnimeJapan. Mr. Naoshi Yoshida hosted a chair and wore a formal dress like that.

Kato:
Mr. Aki of the Good Morning, Mr. Ishikawa of I. G, Mr. Matsukura of JC and Mr. Kosaka of Nitroplus gathered. After that, I went to Aniplex now, but since Ueda was president of A-1 Pictures then, it should have been broadcasting at the company.

G:
I think that recruiting projects with no genre inquiries and unqualified entries and animating their original animations is an attempt I have not had before, but is there something that I have modeled or used as a reference?

Ishihara:
I do not have anything particular. Like the "Ranoba Grand Prix", there were many awards of which the format was decided, but once I decided the format, I thought that only the same kind of talent gathered, I decided to widely set it.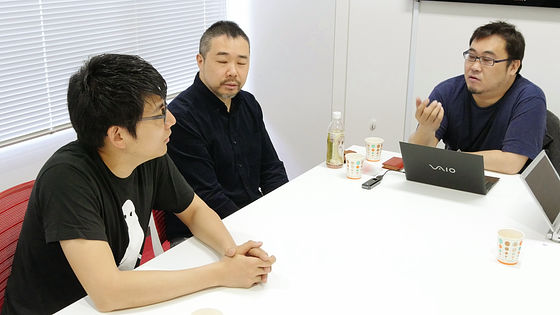 G:
It was wide. I understand the Novell scenario plot and manga, but illustrations and music are OK as well.

Kato:
I will do it daringly.

Ishihara:
It's true. Since we are a field team, we will do work after it is decided.

G:
When scenarios and plotted things like "D.backup" that was the award this time came, "Well, it was the feeling that it was easy to understand in a straightforward manner"

Ishihara:
At the beginning, we proceeded in the form of going up what was the point in the company, and the last was about 10 to 20 works left. From there we got the judges to see it, narrowed it down to about 3 works and talked to "what to do", and as a result, a white arrow came in the work which seemed to be the most animated. Other works were works that could be done with live action. After that, it seems like a big fantasy of something like a gag comedy and a serious worldview.

G:
I feel that I have a setting that spreads very much.

Ishihara:
"D.backup" of the original plan of "Gala Wow", in a good sense, was only "the world in which anti-virus software is active in the world in the box of knowledge", so with the power of animation staff I am wondering if the world view has steadily expanded and it has reached the present. In "the world hard to imagine", I thought that it was better for "anime oriented" in a good direction and I was selected as a grand prix this time.

Schedule theatrical release in 2015 as "Grand Prize for Anime Prize" Grand Prize "Glass Flower and Destroyed World" - GIGAZINE



Kato:
Indeed, it was.

◆Kato Producer's 'Gala Wow' First Impression: What I Do not Know 'Species'
G:
On the official website of A-1 Pictures, as a work of Kato Producer, "GATE SDF in his place, so fighting" "Uta no Prince-sama Maji Love Revolutions" "Sword Art Online II" "Galilei Donna It is cited. As a producer who has worked on these works, what was the first impression of when it was time to work on "Gala Wow" compared with other works?

Kato:
The impression ...... To be honest, it was a feeling "What would you do, this?" For example, there is a novel if it is "sword art · online", but this work is not a complete series of one original as a media, so to speak, "It is a text based scenario attached to the project plan" ... so it sounds bad Maybe it was somewhat halfway.

Ishihama:
As a project, it is like that.

Kato:
On the contrary it is frank thought "How should we make it?" If you have an original, you will understand that "You can make the basic on this street", and trying to faithfully reproduce the original coco, it makes such an extremely rational way of thinking, but there is one vague "seed" Because it is only, how to raise it depends on this side. There are good and bad, there are difficulties, so true ... ... "What will I do" was.

G:
The expression "seed" you said is very easy to understand. Although an original animated cartoon has different way of growing, although somehow will sprout if someone else water is sprouting, seeds that do not know even whether they really are watering or raising seeds It started from where I made it.

Kato:
And, although it may be funny to say, we are the one who chose this project on the side of the request. There are people who chose this vague seed for the Grand Prize. Then I think that they are willing to draw something with this kind of thing. However, the first thing I said was "Please make it free."

G:
Oops ... ....

Kato:
To some extent, even if there is a minimum core, it is eventually only a seed of a work, so I received a pretend to be "free to raise" freely, so I was worried that the place where I should take what is the most difficult It was. Somehow, I think of various things. For example, I wonder how Mr. Ishihara wants to raise, or the judges who chose the project, I am concerned about what I want to grow up, what is there to do, and so on.

Ishihama:
I want to know.

Kato:
Because I had no chance, I want to know. Even if you are suddenly given a seed and saying "It is OK to raise", "Well ... ... this kind, what is it supposed to be?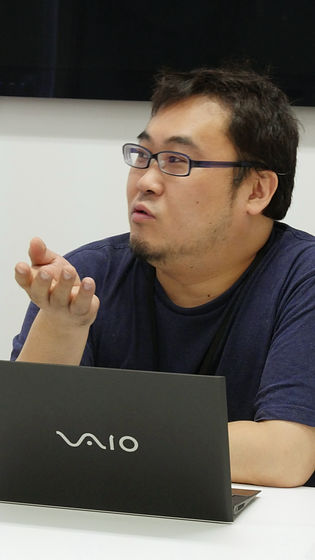 Ishihama:
I feel that there were days when Pony Canyon explored just how to handle that project. How far can you make use of the draft?

Kato:
"To make it free" is really difficult. Works are somewhere somewhere "people who want to do" are there, and they often receive indirectly the thoughts of those people, but when they make it freely, it is quite difficult if they are originators There is "difficulty" that you can not move freely. If you change the way you say it is also "pressure". I will think about it when he says "Please make me free."

Ishihama:
It is a question of who's free.

Kato:
The seeds are prepared, but how do you make it? In my opinion, Mr. Ishihara usually brings in as thoughtfully, so we have to think only about what kind of things Ishihara wants to make, and also director Mr. Ishihama who wants to make it, and if I have something to think about, I will set the direction for raising with such feeling. Anyway, what was the most difficult thing about what to make.

Ishihama:
That's it, although the seeds are sprouting slightly, it was about the freedom being told like "You can take off the buds" (laugh)

Kato:
Although it may be overwhelming, "I am going to be unreasonable" (haha)

Ishihama:
But it was a great experience. I guess it is a pressing from the manufacturer (lol), I think that it was a good opportunity to grow the scene because it is not so much that there is not such a thing. Freedom in having a major premise that "You must sell" means that you do not want to think much about the site, and there are many schemas that "the work site will do its best on the spot". This time it was a slightly different form, so I think that Kato was a considerable pressure.

Kato:
I do not dislike the thought itself, so it's just tough (laugh). Although I go back to the beginning, it was a frank place to say, "What to do ......"

G:
For example, if there is an original book or the like, would you say "Why do you do this," and you are going to roll earlier?

Kato:
I do not say it is easy, but I think there are clear ones. The target layer of the original is also visible, and as long as the scheme is decided to a certain extent, the direction becomes visible, after all it is only decided what to do. Since the answer "original work" is presented about the contents, it is about how to answer as animation to that.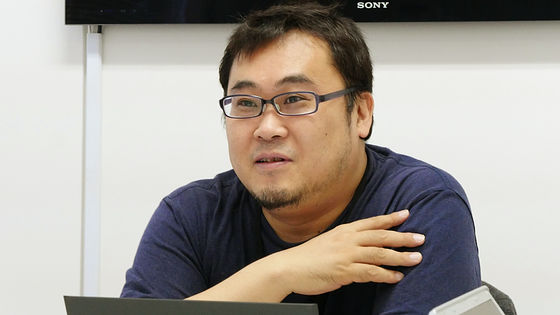 G:
Hmph.

Kato:
I think that the way of making original works is "subtraction". Where will you add plus while subtracting? However, in this case, it is not "subtraction" but first we have to create an expression. Even with the original work, the task of setting 1 to 2 is easy, but the task of setting 0 to 1 is really hard. But that is why I think that the difficulty lies in the fun of the original creative.

I do not have anything to say, but really it is true that the "Anime Award Grand Prize" is a project, "Mr. Ponikan, do not do such a high hurdle's high work". But, if you think about such a tiring story without thinking about it, I always think that I am doing my job, no matter what I should do. Many of the recent works of the original are continued, and works that I am doing have works that continue until the fourth term. That's it, it's amazing as a business, I appreciate it very much but what's the only thing ... what is it? I'm sorry if I hear a lot of works and I heard it in a speechful language, but I think that there are many "work with a sense of deja vu".

G:
I feel very understanding.

Kato:
In fact, if there is room for free creation of challenging works, not "marketing", there is also something mutable, boom spreading, leading to revitalization of the animation industry I wonder if I will do it. So I think that Ponikaan takes the initiative in such a way is very challenging and amazing. From me I can only say "Please do your best and keep going" (laugh)

◆Ishihama was supposed to be the director?
G:
Ishihama was supposed to do this difficult work, but what is the reason why Mr. Ishihama was entrusted with the director?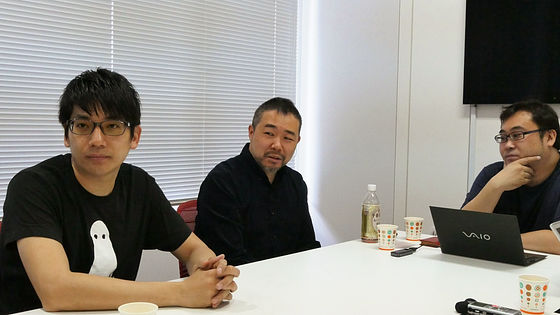 Kato:
I heard that it is not a direct order, but Mr. Yoshinori Furukoshi, president and representative director, and Mr. Ishihama talked about it. Actually, I have not been told so much.

Ishihara:
I also got an answer "I want to go to Ishihama san" from A - 1 Pictures ... ....

Ishihama:
The impression when I was talking with Mr. Etsukoshi was "I finally wanted Ishihama to do the title," I felt. I was being told about the title animated by A-1 Pictures from time to time and I was told something like "I would like Mr. Ishihama if there's anything that might fit". But there was nothing to be stuck at a good timing, while on the other hand the story came from Mr. Ponika came as "This is not good" going out without being able to go around well unexpectedly, I I wonder if he shook it.

G:
Really.

Ishihama:
Yes. I had a plan to attract this successfully, so I think I suggested it to myself. Of course, I did not mean to choose this one at all. But, as for this project, there is nothing as to what animation is made for where to go, in such a state that there is only the premise of "making it animation anyway" ...... the movie, the beginning was the most distant place To do.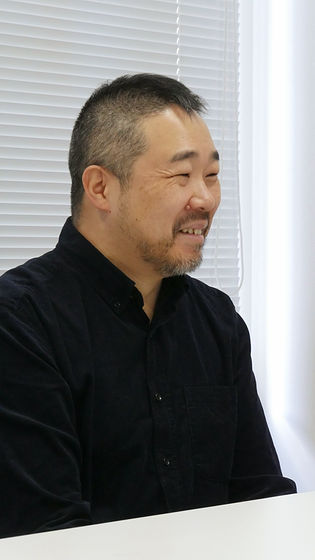 G:
At the time when Director Ishihama listened to the story, "Only to animate it anyway", ... ....

Ishihama:
Well, it was such feeling that "to animate" and then "I do not animate this original as it is".

G:
It is quite absurd.

Ishihama:
So, it was how I felt like "I should do it".

G:
Well, I feel like I've come to such a goal from a great starting point.

Ishihama:
That's right.

G:
When you are told, "Why do not you try to coach?" Which is bigger than expected or anxiety?

Ishihama:
I'm expecting which way. I am a real optimist, so I'm going to say "how can I enjoy it" or "how can I do it funny"? As I become uneasy as I make it, the expectation or pleasure is far greater as my first impression. Because it is only making, there is no need to think about what to do like Kato-kun.

Kato:
I thought of how I should do so because I do not complain about Mr. Ishihara ......

Ishihara:
What are you saying, I am also asking "What to do" while asking (lol)

◆Kato Producer's making things
Kato:
For me, as a final objective I think that it is best to "create works that enhance user satisfaction." But I can not deliver it directly to users, so the first thing to do is to say that in this case the first thing you can satisfy with Mr. Pony Canyon who is the manufacturer leads to user satisfaction, the ultimate goal As I'm thinking, I first have to do it while thinking whether Mr. Ishihara in front of me is satisfied or not. While I am also pretty inside (haha)

Ishihama:
It was such a bullish posture that I was saved, I was thankful for it. Mr. Kato is the only one who protected the scene at the time, various attacks come from Mr. Ishihara. I played all of it and it did not reach the work site.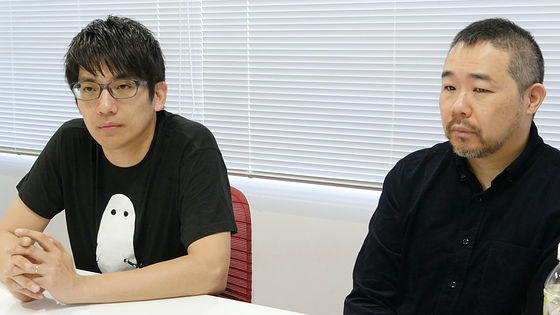 Ishihara:
Because I am in such a position! (Lol)

G:
Just like in the work, there is also a great battle here ...!

Ishihama:
It was a feeling that Kato would do a neat assessment as to battle or how much the site could be drunk to the request.

Kato:
You have to think about various things.

G:
What did you feel about Ishihara-san who leaves them?

Ishihara:
Mr. Kato is a safe producer (laugh) I thought he was doing it properly, so I was not particularly concerned. However, I thought that I had thrown away from here after a while.

Kato:
Such an inspiration will be very positive, so I'd like to take a look at what I can do. Truly, I could not reflect everything. In this way, "being told" itself is a very good thing and the worst thing is thinking that "nothing can be said".

Ishihara:
It's like "Throwing a request, putting out the money and finishing".

Kato:
That is probably the toughest. Although some things may be dropped depending on whether it can finally be done or not, the thing itself can be appreciated.

G:
Indeed, not all of them are "unreasonable", but there are things that glow. If you come, will you first try rubbing?

Kato:
I think that's something like that. I am talking with staff well, but if the position is different, there are interests and relationships will change as well. But, if the vectors "try to improve the work" are together, it should be somewhere. If the vectors are exactly opposite, this is impossible, but if you are facing in the same or near direction, the part you are hitting should be the difference in position. I take a step and finally think about the best within the range that this project can do about something, "I will accept it" or "I'm sorry but it's impossible," I am working with that kind of image. Saying "It was painful to say ~" in a light way, but not always that bad meaning, I always think that I personally can also help people who have done that kind of feeling really.

G:
It is not bumping, but how to improve how it fits.

Kato:
You should take it like that. Of course, I think that there is a possibility of accepting emotional things, but if I do not have a feeling like "It may have been a necessary ritual to go next time, I can not fundamentally make things . In recent years everyone asks for efficiency, so there are many people who care about retaking and returning. It is costly, but it can not be helped, but since making things is a trial and error in the first place, such ideas will certainly come out. But, I thought that it was not making things that I should not do it, if I tried and error like that idea was not good.

G:
Yes.

Kato:
Although it is an idealistic thing, if you do not make a scene while considering such things, such as keeping margins to accept on the way even if such things happen, do you think that intrinsically good things are not easily born ... ... Another person thinks a little difficult things.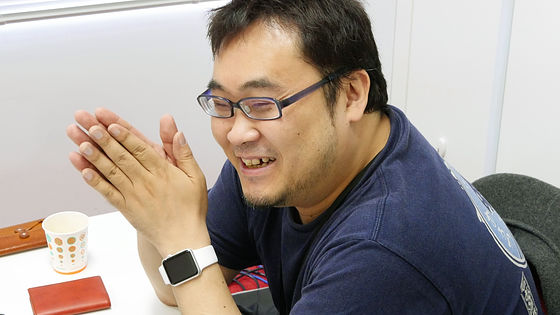 ◆Author is convinced "Glass flower and world that breaks"
Ishihama:
Because Kato is hitting various people with various titles.

Kato:
Everything is not all right.

Ishihama:
However, since "Gala Wow" was basically all positive interactions, I feel that there was nothing to be done. It's only with Pony Canyon and A-1 Pictures. So, although there was something like "everything's desire" to be a good thing but it was exciting wow, things in the minus direction could not be seen at the standing position where I was. For other titles, minus factors will fall down. For example ... ... No, let's stop this (lol) In "Gala stiffness", there was not such a thing at all.

Ishihara:
We are also satisfied with the original bill.

Kato:
Rather, I was concerned about this. It's like "Good, is it!?"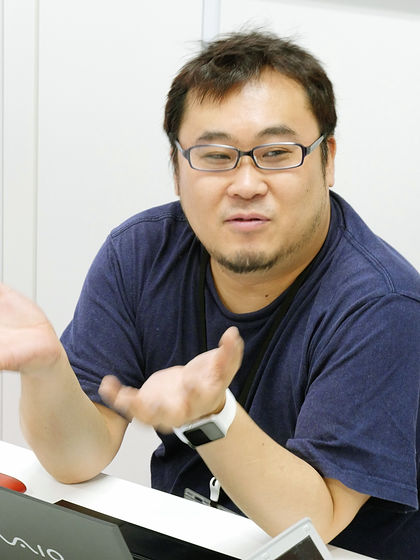 Ishihama:
"You do not have to say more!"

Kato:
"You got a big prize!"

Ishihara:
"We are fine at all."

Ishihama:
It is too painful to say "It's true" because it is too early reply (haha) It is not easy to say that "I do not use it ... ..." that I applied for and won the grand prize, that is the same maker Because I am concerned. However, in Ishihara-san it is said that it is not there because the winning count was in another place.

Ishihara:
For the original draft, since we use the "knowledge box" of this time and make the character "rim" in common, we asked the story that we let you do it freely for the first time, I was fine.

Limo (CV: Yumi Hanamori)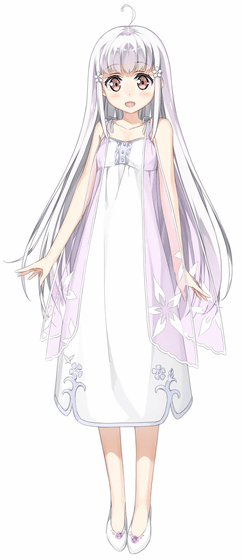 Dual (CV: Risa Taneda)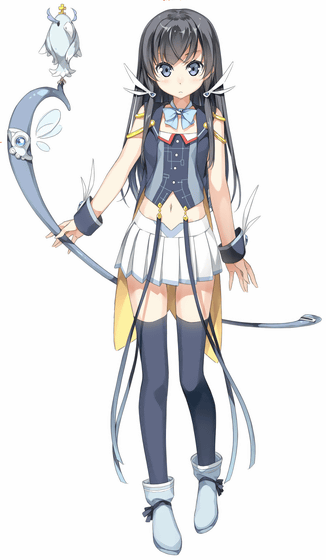 Dorothy (CV: Ayane Sakura)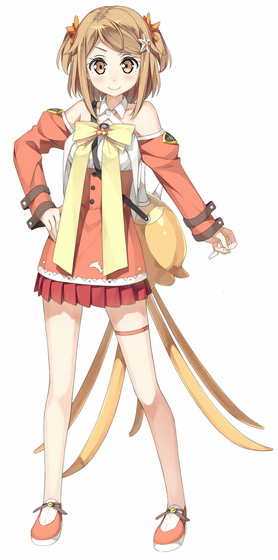 Ishihama:
While Ishihara says "freedom, freedom", it is certain that he wanted to show such a thing properly. Although it is a local part, the things I want to make are clearly clearer, but because the part where there are too many blurred things was said to be a lot of planning, so I am going to explore it ... ... But, Because I said "Because I said, I will not say the answer, it was hard to explore (lol)

G:
Dual and Dorothy entering the movie are not appearing on "Limak's Hako-ni" posted in Po to Maga. But I certainly feel it is one of the worlds of 'Gala Wow'.

Ishihara:
Perhaps, there are boxes of knowledge.

Kato:
The setting is such an image. It's a character in the digital world, so it's a program, so it's nothing strange even if it's like "Remote Copy 1", there's a possibility that there are 100 people in the limits. Although it looks like a negative, "falsification", you can put various kinds of stuff.

Ishihara:
The setting scalability is high. I do not know if what they are saying is true, so it is the way that everything will continue to spread.

Kato:
Though I was watching the film of this animation and thought, the encounter and parting of the three people have been consistently drawn, but there are places where I have noticed the explanation of the world view or the spread There are plenty of possible gaps. In other words, can you spread the world easily?

Ishihama:
Although I did not have to explain, I am getting entangled with blur and fluffy, so it makes me feel that extra.

Kato:
By doing so, I think whether the connection like Ponikaan 's spreading the world with various media seems to be rather reverse.

Ishihara:
I think that the project is in a good shape as a result, is not it?

Kato:
The high degree of scalability of the world view, in other words, there is no fixed rule of this, but there is a lukewarm feeling, but I feel that it is using it well.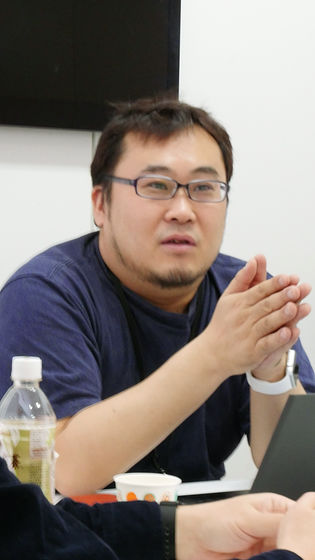 Ishihara:
I truly think that it is a work that puts emphasis on the character, how much the character can see. For that, Screenplay · Shimobu Fumihiko and Character Draft · Kantoku-san.

G:
Mr. Shimo is now serializing the "Daydream Variations" [daydream · variations] "to the monthly new type. Another story of this volume, Lim, Dual, Dorothy has appeared. This is also a work expanding the world, there is much room to fantasize that the part not drawn in the movie is actually like this, I want to think about various things.

Kato:
There is a feeling that I want to see the whole novel and other various media all over and see it. Of course, we would like to see the animation we have created, but it is not only that but we can enjoy the world better by traversing things that are being deployed in other media.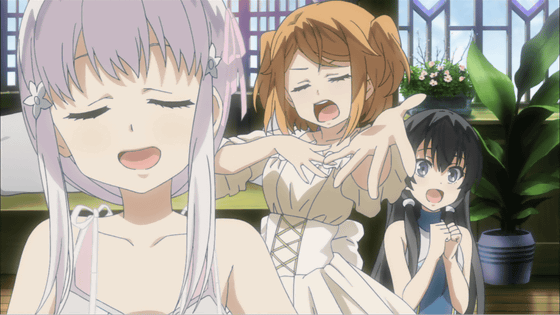 Ishihara:
Of course it feels like each is feeling good outwards, and of course the ones made by the two of Physics Point are authentic "D.backup", but each has a properly weighted media development I feel that it is rather small. It is fundamentally different from saying that there was an original with animation, and the development of the media which is not central is very interesting even though I saw it, I thought it was good.

Ishihama:
Regarding comicalization, it is comicalize of theater animation, is not it?

Ishihara:
G's comic's thing is right.

Ishihama:
I think that it is good at Ponikan after all, and Ishihara was strong in sales as well. Although there are talent of animation producer, sales talent also has high original skill.

G:
Speaking of Mr. Ishihara, it was a publicity about the popular pony canyon.

Ishihara:
I agree,"EcologyHe took a hold of a holding pillow (laugh) was a system that did not understand, but anyway, I thought that it would be advertising activity.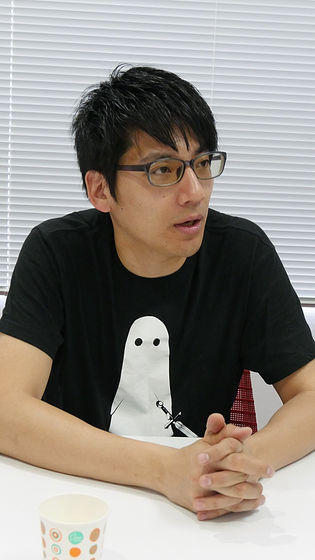 Ishihama:
It is extremely important. Because reaction is very different if you do not do it doing.

Ishihara:
But, I think that the creation in this way means that you can not make animation just by advertising skills.

G:
There is still a producer from publicity.

Ishihara:
Manufacturers are relatively, there are quite a lot of people who enter production from advertisement and become production.

Kato:
Several people will also attend Aniplex. That's it, skills are going to be useful, do not you?

Ishihama:
Skills live depending on the title. Because this time was the title of how important propaganda is important this time. "No one knows" may be overwhelming, but ....

G:
I do not mean "that famous original!"

Ishihama:
That's right. So, there is a place where the publicity is important, but it is good.

Kato:
I thought that it seemed to be a maker. For example, even if the director and character are different Gundam, the name "Gundam" will be succeeded because the first Gundam firmly becomes a core. If it is compared with Gundam, it will be exaggerated, but animation, comics and novels can be expanded as with this time, with limp and knowledge boxes as the core, that can be for school girls and for action items as well. Whether it is such a spectacular scheme, including things like "I want to make an original as a pony canyon", I wonder if I will invest in it.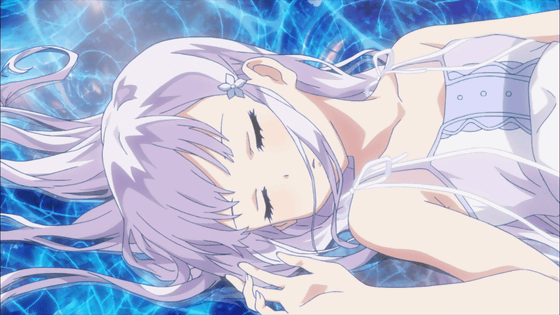 Ishihara:
If you can go, I'd love to go there.

G:
I heard that, it may have been a tremendously brilliant seed to find.

◆Ishihama's job
G:
Speaking of Mr. Ishihama, he is a director of the New World, which was said to be impossible to visualize, including "Yamano Suzume Second Season", "SPEED GRAPHER", OVA "Tamon and Voyers", "Ishihama OP · It was an animator that gets attention as "It was ED", but is there a part this time Ishihama worked as an animator?

Ishihama:
There is no place to be in charge as a so-called animator. As it is only checking as a manager as a director, I am just waving skill as an animator, so there is no way to participate that my part is properly in charge. However, in this animation making, I picked up the layout work of the part which can not be delegated by other people, but since it is different from how to participate as an animator, leave it to those of the drawing as regards the picture You did it.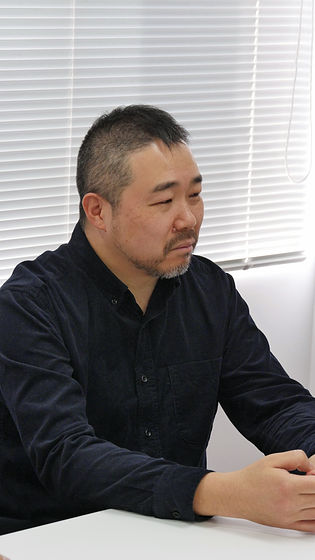 G:
Is there something in the layout that you can not leave it as something that other people can not leave?

Ishihama:
Natural landscaping, overwhelming beauty, or the like, when asking other people will show us the things of that person firmly, but as soon as the answer is different from yourself it will no longer be zero I do not know. If it does not match what you can feel the thing, the work itself is wasted, so it was the way to take over from here from the beginning. In animation, there is a lot of answers about cutting layout in normal assembly, but the answer I'd like to show pictures that I think is still one after all I do not know. I also wanted to unify this time, so I feel like I picked up such a place.

G:
I see. How was the staff at this time?

Ishihama:
In world view, I asked Mr. Shunichiro Yoshihara of Mihon to organize with the opening of the advancing giant. Also, Mr. Shiho Takeuchi entered, I was able to lend the power.

◆World Concept Design · Mr. Mr. Masanagi
Ishihama:
This time, Rokui Nature who was in charge of "world concept design", I love pictures, I have always loved fans and I am a fan. This time, with the project "Gala Wow", as soon as I got to glance at Kato-kun when I was able to ask you, immediately.

Kato:
Mr. Rokuro is a background illustrator and I thought I wondered how I wondered, but when I search for it, I found the person's site and the contact information was on it. So, as soon as you say, "I am such a person, can you listen to just the story," would you please listen to me, let me have an answer soon, I want you to meet and talk to me Baby If you talk, say "I will do something, so I will do it."

Ishihama:
As I talked to Tonkotsuko, I got interested firmly and asked for it, so I thought it was appreciated.

Kato:
I have no other choice but to listen. If there is no interest, there is no use in time, there may be times when the timing does not match, so if you like.

Ishihama:
But it came with a curious feeling of curiosity. Originally it might be like "I'm having a lot of fun!", But that was also a wonderful thing.

Kato:
It was said that this kind of anime's design is the first time.

G:
I was able to bring unexpected people.

Ishihara:
It seems that it seems to me that the illustrations and backgrounds and settings of the game are usually like main.

Kato:
It is always in the corner of my head that I feel like "distinctive sensibility" and I can not get along somewhere.

Ishihama:
It is good that work is fast.

Kato:
It's fast.

G:
In 'Gala Wow' production, everyone who comes out is the only one who tries to make the work headed for good direction.

Kato:
It seems to be making in nothing, so it may be that power works well at that time. It is not easy to do it freely.

Ishihara:
Actually, there are not many places where personality can come out.

Kato:
I think that it was a very easy place for those who like to put out personality. There is almost no restriction to Mr. Rokuro Nature, "Do whatever you want, please draw something you thought anyway!"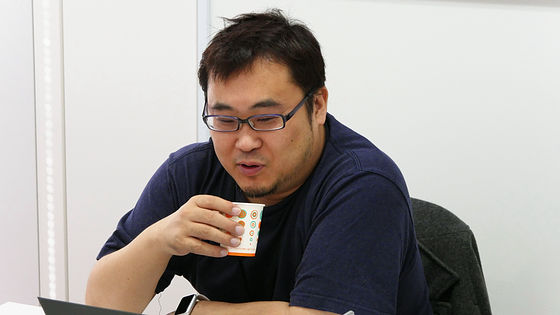 All together
(Lol)

Kato:
At first we ordered a slightly violent order, did not tell only the really rough image of "like this".

Ishihama:
Yes Yes. I can not say Mr. Ishihara's thing (laugh)

Kato:
Because, that is a breast. In extreme terms, regardless of whether they can be used or not, give me anything interesting ideas, images, visuals anyway. Already, really rude, something like a rough picture is okay, so if there is something that sounds interesting, you can draw anything and send it. Then, "How is this?" "How is this place?" Because it was a person of great potential ... ... It was amazing to have given lots of things promptly with ponpons.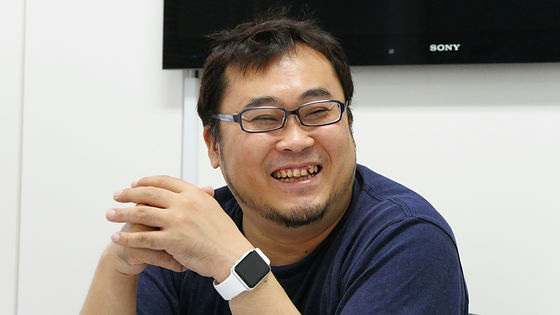 Ishihama:
After all, it is all adopted about the world view. It seems like "How do you make such a thing?"

G:
Oooh, great!

Kato:
I guess you like that, maybe. I guess it was a different feeling than usual.

Ishihama:
I asked for something completely different from drawing the requested picture cleanly, so its skill was also an outstanding person. It was an unknown number.

G:
That fitted perfectly with this work.

Ishihama:
I guess that is what it is as a result. I do not think it is such a dimension, "I do not agree with me".

Kato:
Indeed, with originality, there are not many people in the industry who can show off their jobs. There is a word to say, but ... ....

Ishihama:
Well, there is not almost in the animation industry.

Kato:
So, when you go to the field which is completely different from the game system, people with unique personality and standing together.

Ishihara:
You have it.

Ishihama:
There is a girl.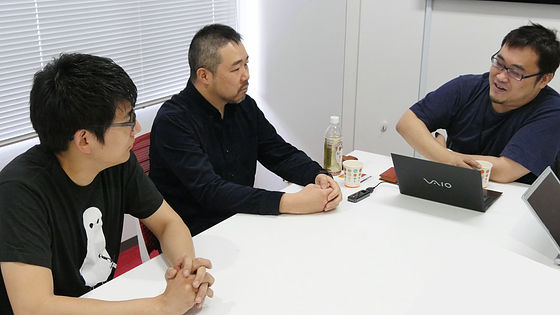 Ishihara:
In the animation industry, after all, there is a feeling that I have seen.

Kato:
Of course, there is no problem at all if you are looking for something like that, not bad. But this time, it was to make a movie from a species that is not anyone, so I would like to incorporate something in there after all.

Ishihara:
Regarding this work, the view of the world, I, I do not give out a lot of NG. Because I told you "freely" separately, I did not endure it, I thought I thought it was a good feeling. Kato thought that it was okay to leave it when it was about when he said, "Mr. Rokuro is quite good for the world view." Because I had a feeling that it was a real positive thing about this work.

Kato:
I understand something about the original atmosphere of the original, everyone, it's such an atmosphere. In the case of this work, art was absolutely important in the future. That's why I decided to consolidate the concept firmly there. I searched and looked at illustrations by Mr. Illustrator on the net. The memory that I examined remains.

◆How to tension each antenna
Kato:
Because I will not create something by myself ... ... Because I am a creator if I can do it (laugh) So it's not only animation, it's real live, music, painting, anything as many as possible I'm trying to put in an antenna as much as possible, as much as possible, such as stretching the antenna and looking interesting.

G:
Does the antenna feel like stretching towards any genre?

Kato:
The ideal is, though. But actually it has not been there.

G:
Which part do you think is better to see this neighborhood as the center?

Kato:
It is already my taste, is not it? However, it is exaggerated to say "strategically", but recently, manga is not read anymore. It is not that I do not see it at all because there are occasions when I'm going to work with manga original or something, but when I'm in the position to chase animation planning etc. from manga, for a professional planning sales producer There is something that is not enemy.

G:
Method

Kato:
For example, the manufacturer's producer and others are absolutely faster. Because there are also connections with people in the editorial department. To put it more, who knows the most interesting things in the original manga is an editor, so a maker producer with a strong pipe with that editor said, "I have not sold so much yet, but I can definitely do this" If you say that, you can negotiate, are not you? Because that is a profession.

G:
surely.

Kato:
We do not have much time to chase because we are concentrating on half a year or a year or so and doing it next time when we are making works. So, I'll leave it to the experts. On the contrary, if an expert like Ishihara-san brings "This is funny", it's interesting. I'd better concentrate on those who think what ideas are needed to shape it, because time is limited.

Ishihama:
Of course. Media is too wide and there is no dirt.

Kato:
For example, if you bring "that is funny", if you are an unknown work, you first hear "tell me something funny". If you can hear it, it will become a hint to make.

Ishihama:
Yeah. If that person knows what is fun and wanted to visualize it, it is a hint or the answer.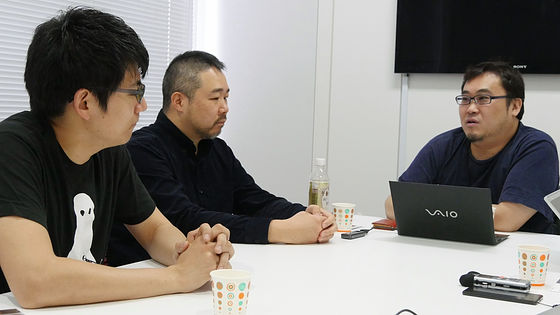 Kato:
It is an answer. Because the direction of production is seen in how to burn the answer to the film. Then, it is possible to make this part like this, or even the director "I want you to do this a little bit more". I feel like wearing puzzles. Then, the first piece should be put on by those who think that this work is the most interesting, as an ideal.

Ishihara:
Well, I guess it only has it.

Ishihama:
Mr. Ishihara was a front swing this time, so there are places that I was saved. Mr. Ishihara in "Pony Canyon" not feeling "I was left to", but I felt like I got into the hand crowding and from there I thought that it was good to be able to start from the state with the answer anymore I will.

◆Each person's "input"
G:
I am going back a little, but I think that it is the output work to draw a picture of animation if it is coach Ishihama for example. Do you do something to input to yourself or something?

Ishihama:
I'm messed up. It is not Kato but basically it is live-action movie and music PV almost. I do not read manga much, and I do not see embarrassing stories and animation, so it is all from the psychological feeling of composition and the composition feeling. Also, all the techniques of how to make Catharsis are there. Hollywood movies are still very good. I really like Japanese movies and French movies, but when it comes to technique, the skill of Hollywood is out of the group, it is a way to show you only the things you want to show, such as the way you want it to be, or animation, Perfectly around that is the input target.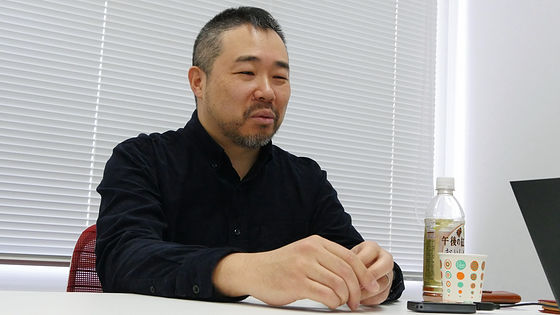 G:
Does it generally agree with what is told that "that movie was funny"?

Ishihama:
I do not. I wonder why ... .... Sometimes I went back to my family with my family who was really excited and got back home as "Hey ......" So, if it says whether it matches the so-called market, that is not the case. Because there is a place saying, "Believe that making your own thing to make is the best," there are no brains to make the same thing because everyone says good. I would like to make something I would like to make if possible and there are not a few places I would like to believe that it is a good one. So, when you do not fit you do not match. I thought hard why there are elements to be hit by transcendence, but it is a work that did not answer after all.

Kato:
I have done a hard analysis.

Ishihama:
What is that?

Kato:
I do not know exactly. But I wonder if I have to think about something by looking at the result of that movie.

Ishihama:
You guys did a hit like that.

Kato:
That is absolutely not to ignore people in the entertainment industry.

Ishihama:
I really want that answer, but it is somewhat too difficult.

Ishihara:
Wow, it is difficult.

Kato:
I think that the way to show and tempo will probably be the ideal type of animation now.

Ishihama:
I think so too.

Kato:
"Avengers" as well, how the talk flows, and tempo.

Ishihara:
Tempo of emotions and so on.

Kato:
That is awfully anime-like. Even if I listen to the various people in the animation industry, I think that animation will be more and more ah.

Ishihama:
But, Japanese people do not have that. To the creator.

Kato:
As aiming direction I'm going in a certain direction. Even if you are doing a real reading recently, the tempo is very conscious. "I do not need this line of words" or something. Although it is established if it is a little ancient animation, now that this line is not necessary for roundabout, let's cut it, it's a tempo. That's quite a lot.

Ishihara:
With a feeling of tempo up like an American comic. After all, everyone started to refer American drama.

Kato:
I often watch overseas dramas well.

Ishihama:
I also often watch overseas dramas.

Ishihara:
Because overseas dramas have a good tempo. I omit a useless explanation with feeling like a character.

Kato:
It is a character.

Ishihara:
That's right. Actually.

Kato:
It is almost a point that almost all characters are used, and ordinary people rarely come out.

Ishihara:
Pretty much everyone is flying away.

Ishihama:
But, honestly I always thought that that was not replaced by animation.

Kato:
So, it is getting like that. Whether it is done is another matter. Everyone is always headed for the aim.

Ishihama:
Actually, live action is difficult to replace with animation. Even a good picture in live action, it's not good at animation. Of course we must pursue elements unique to animation, but its tempo is reasonably helpful.

Kato:
You are often told. I think so too. Perhaps you get bored.

G:
Is there anything particularly stuck to it?

Ishihama:
Anything is interesting, but ... hey, the "Star Wars / Force's Awakening" that I saw just yesterday has good tempo, but I found out what Star Wars fans are and then The feeling that comes, it is already unbearable. As I went back to look at the previous information zero with a thought as if I was going back to the new trilogy from episode 1, I wonder if I could show another "Star Wars", so I was delighted Shift. I thought that to here. That was what I thought was not Han - solo or any more coming out.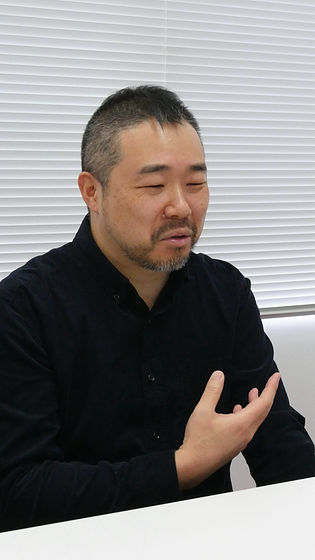 G:
It is completely zero base.

Ishihama:
Although I think that it will not come out at all in Luke, when I go, I will stand at the end. I was crying all the time in my heart. As a movie, if I say that it is established as one work, I do not know it, but after all I thought it was wonderful as a video work. I went to see the dub version together with my son, so there were many children, but the children did not make any noise. In short, there is no scene that makes children fuss

G:
Method

Ishihama:
I understand that the scene where children are making noise in most movies is understood to be going to the cinema, but it is a conversation play at the moment that children do not have any consciousness to overcome at all, but "Awakening of the Force There was not it in the ne. I am doing an action when I have to play a conversation play. Even the "Avengers" where the technique in the neighborhood is the top in recent years, there were several moments when my son got bored a little. What's with Hulk, Scarlett-Johansson ......

G:
Black Widow is not it?

Ishihama:
In explaining the relationship between the two, the children will concentrate. However, there is no such thing about "awakening of the Force". I also saw kindergarten children even like rain and fins' humanistic drama, so .... After all, it is amazing, J · J · Abrams.

All together
(Lol)

Ishihama:
After all, it seems a bit different, the feeling that the viewers are visible is terrible. I do not know who is visible, but it may be a producer, not a director ... .... Well, there are many. It was a bit yesterday, so there are also memories that are strong (lol). Taiwanese movie 'Chef' was also stuck with the beauty of conversational play and video. If you think that there is a bad guy in the character, with all the good guy. I like that kind of place, too. Um, like in the past, it seems like "Team n 'A Team." I really like the feeling of being like dying so that no one will die. I like the pretty harmonious kindness and it may be sweet, but I do not dislike the feeling of saving everyone. Even in that sort of thing, I like being a villain too bad, but I basically want everyone to be a good person. So, Cairo Len is saying Han = Solo .... There is no choice but that can not be helped, but ... it's a bit disappointing.

G:
I see. Kato says that he can watch overseas dramas well.

Kato:
I think that coffee color is probably completely different again. Recently I saw NHK 's big drama "Ryomaden" in about 4 th round of rotation.

G:
Oh, it is amazing! To rotate ... ....

Kato:
I already love that drama. Otomo 's work really liked from long ago, "Vulture" or "Rurouni Kenshin" was the first movie work to be free, but I like the more cool way. I usually look like overseas dramas and "House of cards", but it depends on my mood.

Ishihama:
Oh, there is.

Kato:
It is something to say about doing this kind of work, but I need a great power to see the picture, and when I say extreme things, I get very tired. After all I could not see something lightly shed.

G:
Even while watching it I think a lot.

Kato:
Since I do not want to see it unless it meets the mood at that time, I need a lot of power and mind when I think about seeing it, so it suddenly comes back to us quite a while. Suddenly recently "I want to see Ryumaden again!" Because I am doing for a year, there are about 50 books. Now I finally came half way or so, "Oh, I met the war ship Kao, is it still here?"

Ishihama:
I, because I do not see animation, I am tired.

Kato:
That's why it's the same.

Ishihama:
So, I do not see anything that is tiring.

Kato:
I am using Hulu, Netflix, Amazon prime and so on. Because I am busy, I see it in the middle of the night. It is a distribution system rather than television.

Ishihama:
You can see it anytime, right?

Kato:
Yes, I also saw "Queen's classroom".

All together
Hey.

Ishihama:
This is also subtly old or somewhat subtle.

Kato:
No, I was watching that at that time.

Ishihama:
I understand.

Kato:
But it was about 3 months ago, but I wanted to see it suddenly and I also saw it in a day.

G:
Wow…….

Kato:
Over a period of 8 hours it was a whole course and all the bats.

Ishihama:
I saw it.

Kato:
Yes, I started watching around 10 o'clock in the evening and it was about 8 o'clock in the morning. My wife is asleep after I began to watch, and when my wife got up I'm still watching. I was told that "Are you still watching!?" And it is like "No, just the last round". I see something in Japan. Because Iko well loves novels, I was looking forward to "Downtown rocket" as usual and I am seeing what I really like.

Ishihama:
I only see what I like.

Kato:
I understand, that's what you like, and after that it's not the same as the previous snow but it's somewhat overlooked that this is being received by the world.

Ishihama:
Because I am a producer, I have to look through. I will not let you through, I will not want to see it.

G:
Is there sometime when Mr. Ishihara watches various kinds of eyes?

Ishihara:
You see. More than half of the view is analyzed.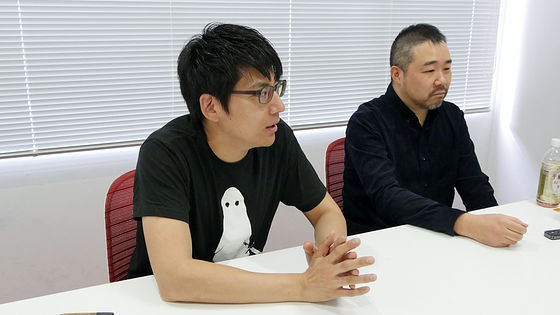 Ishihama:
It's an analysis, do not want it. Because I do not want to analyze, I have not seen anime ... ....

G:
There are also people who are too busy to be able to take much time to watch.

Ishihama:
I'd like to see it.

Ishihara:
Recently I may not watch much animation. It may not be looking other than topics.

Kato:
If you look at headaches a bit ...

Ishihara:
Honestly, since the format of the story has been decided, I do not feel that there is not much to analyze.

G:
What about Ishihara's recent work?

Ishihara:
It has been delayed recently, I finished watching "Breaking Bud" until the season 5, that was a masterpiece.

Ishihama:
I saw that ... ....

Ishihara:
That is an unusual guy, every time he follows the season it gets fun, he says he is not sagging.

G:
It is amazing.

Ishihama:
I wonder if you can make such a thing with animation.

Ishihara:
I'd love to make it.

Ishihama:
It seems to cost money though.

Kato:
I have not seen it ... ....

Ishihara:
I asked J. J Abrams how much it would take a screenwriter, but I'm fantasizing about it recently, but it looks like a series composition.

Ishihama:
Oh, it looks expensive ... ....

Kato:
Even though I'm going to produce with anime, it is such an idea now.

Ishihama:
It is a feeling how to create a source of the original.

Ishihara:
Well, I almost run out of it anymore.

Kato:
Although it has not sold so much yet, there are also many ways to lift the project as well as animating the interesting things.

G:
It is very important to have the original work produced from 1 at the "Anime Prize Grand Prix" and to try and sprout everyone.

Ishihara:
That's right. As we have only risks (laugh), I admit that risk as an acceptable range, and I think that it would be one of the workplaces to create such works. However, because it is a company, it will collapse if it is all in red, so I want to take a good balance there.

Kato:
I think that I really have to create such a place. That is why Ponika thinks that hurdles are high for doing it, I think that it is amazing.

Ishihama:
On the other hand, if there are one and two shackles related to animation making, there are places that can be burned rather.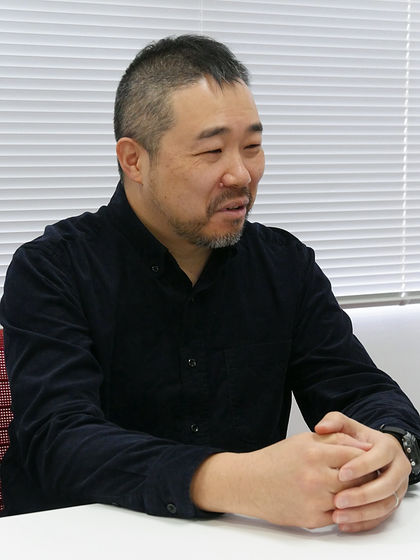 Kato:
There is also it, I think that there are some aspects that can be done creatively if there are some restrictions, so I would like to make it well.

G:
As this animation award grand prix was compared to seeds, I think that it will take time by all means until sprouts come out. In this way the grand prize work announced in 2013 will be made public in January 2016, will there be any plans to cultivate in the future?

Ishihara:
Personally I would like to cultivate, but after that I have judgment of the company, so I can not say anything. However, if I can finish this format successfully, I personally think that I can make work with various people more and more ... but there is not yet the second plan yet.

Ishihama:
There is no answer of 'Gala Wow'.

Ishihara:
Well, if you answer "Gala Wow" and you hit it properly, or if it's about red, I'd like to do the 2nd and 3rd Anime Prize Grand Prix again. Since there are various kinds of red crackers that can not be tolerated anymore, the story goes forward. Well, as a worksite, I think that I want to do feelings.

Ishihama:
Somehow, different talent comes out even in such places.

Ishihara:
I think that it will be easier for you to apply next time by shaping it with a work called "Gala Wow" this time. Something, the Anime Prize Grand Prix was a very dangerous plan. I wondered if everyone was watching with the feeling that it would be 1 minute or whatever even if saying animation, "I thought you might end animation even for 1 minute?" I thought you might end it. But this time, I tried making it in a pretty much marvelous format called the theater 60 minutes, the motivation to apply next time is increasing, I feel that more and more people will be submitted.

G:
The theater 60 minutes is quite good.

Ishihama:
It is a place I have not done quite well. Actually, when I saw the project, I thought that it seems that it seems to be a system that makes the tea turbid with a short 15 minutes or so, even me who is on the scene.

Ishihara:
I think that he probably felt that he was seriously a Ponikan, so I want to continue.

G:
It is not unexpected, it is a serious serious feeling.

Kato:
It was a plan with a dream.

Ishihama:
Actually, it is supposed to be an important title for the animation world too.

Ishihara:
If I succeed in this format, I think that animation can be made very freely than before. Now, since it is an animation industry that is unfamiliar with TV format.

G:
Is it a work I would like you to see by all means whether the theatrical work of 60 minutes in the original will open the wind hole, even in the sense that it will occupy the future animation industry. Thank you for your long time, Mikata this time.

Brochure & limited edition Blu-ray to be sold at the theater. The pamphlet is a volume full of 72P, because it is a content included up to the details so that it will not remain as "I did not understand so well". Since binding and design are also elaborate, please check out those who went to the cinema by all means.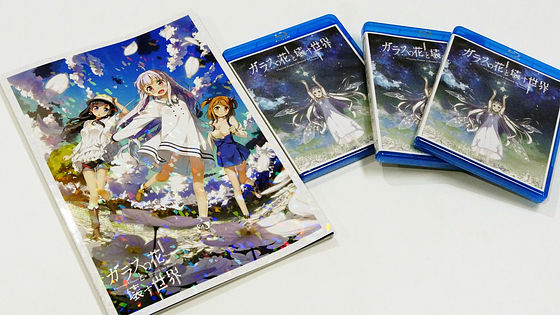 "Glass flowers and the world that breaks" is open from Saturday, January 9th. As "Preview videos" are also made public on YouTube, if you look in advance, various things may come in smoothly.

Theater animation "Glass flower and broken world" Practice video - YouTube


◆staff
Draft: Physics Point "D.backup" (Grand Prize for Animation Award)
Director: Masashi Ishihama
Screenplay: Shimo Fumihiko
Character draft: Kantoku
Character design: Sho Arakawa
Main animator: Toshie Kawamura
World Concept Design: Seventy-seven quality
Screen design: Shiho Takeuchi
Color design: Minako Nakao (Wish)
Art Director: Shoshiro Yoshihara (Mine)
Director of Photography: Kenji Takahashi (Asahi Productions)
Acoustic director: Satoshi Motoyama
Acoustic production: Dachs Productions
Music: Katsu Yokoyama
Music Production: Pony Canyon
Production: A-1 Pictures

◆cast
Limon: Yumihiro Hanamori
Dual: Risa Taneda
Dorothy: Ayane Sakura
Violets: Ai Kinano

◆Synopsis
2100 years human ruin! Is it?

A space-free space where colorful lights are flickering and floating - "a box of knowledge".
Dual and Dorothy were fighting enemies there. Enemy, it erodes the world - the virus. Data that has been contaminated with viruses must be erased.
That was their mission "anti virus program".
Every era and various places on the earth were recorded (backed up) in the "box of knowledge". The existence that collects that data is "Mother".
It was an environmental management program that is running in a system that governs this world called "ViOS". In the world where the human race died, "Mother" kept collecting data.
Sometime dual and Dorothy save a girl attacked by a virus.
A girl named "Limo" had lost most of his memory.
Dual and Dorothy begin to surround this "box of knowledge" to find out the identity of the limits. What is the real intention of "Mother"? Why do viruses occur? What is the real identity of the remote?
- At the end of the trip girls witness the truth.

© Project D.backup