Production I. G · Mitsuhisa Ishikawa President & Bonds · President Minami Masami talks about making a comprehensive business alliance with Netflix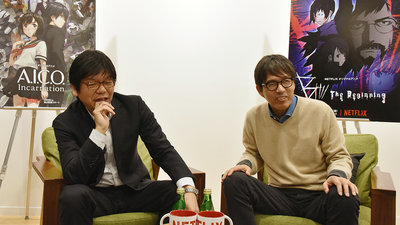 Netflix and animation production company on January 31, 2018Production I. G·BondsA comprehensive business alliance with the company was announced. Just like the two companiesB: The Beginning"When"A.I.C.O. Incarnation"Exclusive distribution started from March, 2018, so I went to ask for a detailed story.

B: The Beginning official website
http://www.b-animation.jp/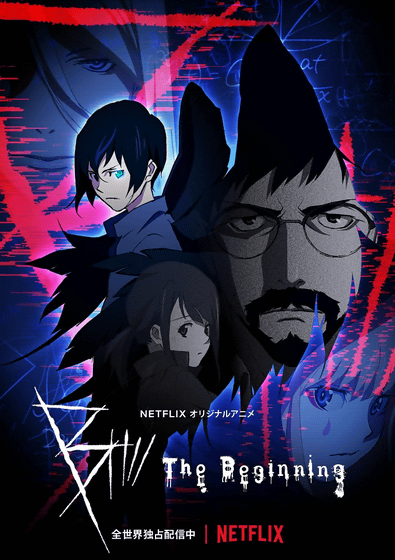 A.I.C.O. Incarnation
http://www.project-aico.com/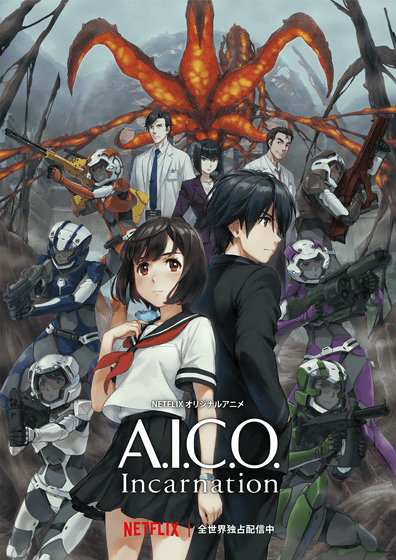 ◆ Comprehensive business tie-up with Netflix
Q:
Please tell me the specific contents of "comprehensive business tie-up" and what is different from business tie-up so far.

Production I. G Mitsuhisa Ishikawa (Ishikawa):
I can not talk about all the contents because there is something confidential, but I think that it is like a difference between professional baseball players 'single year contract' and 'multiple year contract' . Rather than making a result in one year or making a winning story by winning an animation, it takes more than one year to spend more than a year and things that hit including the original work are taken carefully from the planning stage Let's talk and make it. Production I. G and Bonds made comprehensive business alliances this time, but why these two companies were selected is my personal opinion, but I think that there are two reasons. Firstly, it is not the timing that "B: The Beginning" produced by Production IG will be delivered from Friday, March 2, "AICO Incarnation" produced by Bonds from March 9th (Friday) I do not think so. The other is that Production I. G and Bonds were in the United States when I studied 'Animation Production Studio I'd like to see the work'. Other than thatWIT STUDIOYaA-1 Pictures,SunriseAlthough it was included, as for me, it is such a circumstance.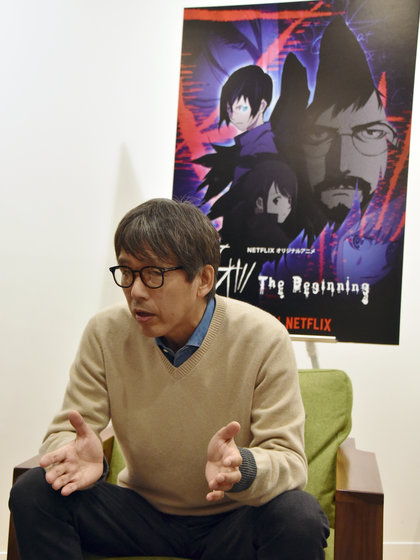 Bonds President Minami Masahiko (South):
I have never done business collaboration in Bonds before, so it was almost always to make a work with the Production Committee system. This time, we are leaving the work to Netflix with "A.I.C.O. Incarnation", and we got a talk on business alliance from there. Netflix is ​​a worldwide simultaneous distribution, with more than 100 million viewers across the screen, it is attractive that you can see our animation in a form that has never been seen before. Regarding 'Comprehensive business tie-up', I do not know how far it is to talk about .... In Japan now, rather than a single year, it is an opportunity to challenge viewers to the world with some works for a long period of time I thought that it was a bit difficult but I decided to challenge this time.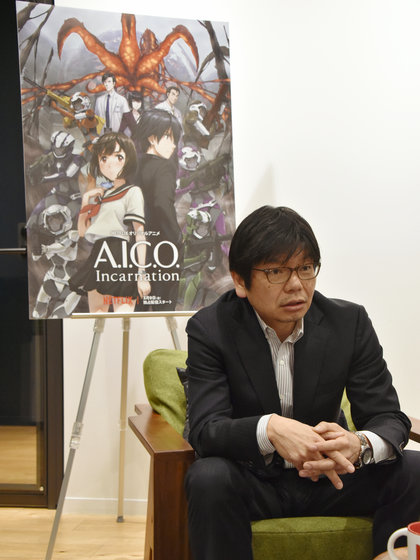 Ishikawa:
For the production committee in Japan, I think there is a good result in the medium to long term, but in the short term there may be negative factors. What I am thinking is just my imagination, though I have raised Bonds and Production I.G so far, I do not think there is no desire to do overseas if it grows up. But, the production committee system is a video gram, in the business of the theme of DVD and Blu - ray recently, making good quality animation, asking customers to purchase and recognize the work. Just being honest, I have been told from two or three years ago, but I think that it is difficult for people to focus on DVDs and other videograms to eat and focus on business. I think that I am at a crossroads in the sense that I will review the production committee system that I have come up with so far. Production I. G and Bonds made comprehensive business alliance with Netflix this time. Both South and Ishikawa are this year, and Bonds and Production I. G have come so far, so we will not be bored now. I think that a chance has come up for a young company and a company that wants the next one.

Minami:
Well, they are years each other (lol)
In the last ten years or so, there has been a change in the animation area's video business. About five years ago there was a story that "the number of animations will decrease," but Chinese capital came in and the number did not decrease. However, the problem of contracts with Chinese capital emerged and it became a trend of "It will not be reduced again". Then, the distribution business targeting the whole world, such as Netflix, came on and it is said that "It may increase again", and there are parts that are very confused as animation industry and production site.

Among them, I think that as a production company there is a chance to challenge new ones. Production I. G and Bonds have produced animation about the original work and have been exploring the environment that can be continuously produced. I got a voice from Nettflix in there. From now on, many companies will challenge and you will not see the work making breakthrough beyond the frame of "planning animation business in Japan" that you have never seen before. Cow.

Production I. G's "B: The Beginning" and Bond's "A.I.C.O. Incarnation", which began distribution in March 2018, are both original works. How do people all over the world feel and how do they make noise? I am looking forward to the impact on the animation business surrounding us.

Q:
How is communication done with Netflix, an animation production company, animator?

Ishikawa:
In terms of company and animator, Ishikawa serves as representative of Production I. G, thus he is president and producer, but as a member of the surrounding officersTakayuki Goto,Kazuya Kanase,Tetsuya NishioI'm getting into an animator such as. "Painting work" is the most difficult thing in animation production, because it affects the quality of the work. In that respect, Production I. G and Bonds may be similar?

Minami:
Well, the main point of making a work is animator, a person who draws a picture. By the way, how was the response when we made this story three?

Ishikawa:
After all it is a human being who makes things "If it were, please make my work" (laugh)

(All lol)

Ishikawa:
However, this time the directorKazuto NakazawaMr. Since it is an animator and character design also comes in and it has strength, three people also had a tendency to "cooperate even if not his work if he is".

Q:
Did you order from the Netflix side to the direction of the work?

Ishikawa:
In that respect I remember "It is hard to understand a scenario a bit". "B: The Beginning" was the original crime suspense stuff, the content was difficult and difficult to understand, so at the time of the screenplay, "If the first episode is not fun on the TV series, you can not get the channel matching after the second episode As you can say, run from the beginning with top gear. " I remember being emphasized that the grabbing is important anyway.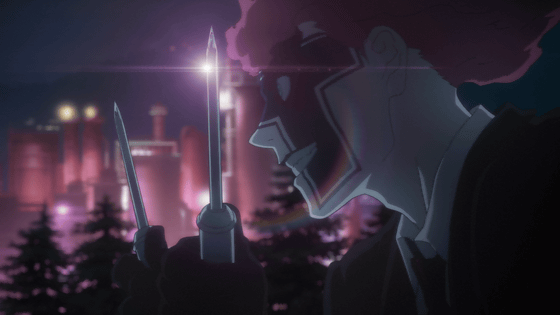 Minami:
"AICO Incarnation" is a scenario work being advanced considerably at the time of talking with Mr. Netflix, "Since it was bringing in from this place" why not combine with the original work of such a form by all means " I did not say anything.

Ishikawa:
My part is touched part of the head, that is the first story or the first half. After that there was no such thing as "I believe in the workplace" or brakes. Originally, as it was scheduling to deliver full stories before delivery, it was to do subtitling and dubbing afterwards, so in the case of "B: The Beginning", the project began to proceed three years ago. Thanks to that, I was able to devote to development for about a year, I was able to use the full amount of eyes for painting work to make 12 episodes, and then I was able to enter work such as retaking and dubbing. Perhaps, it is not the current TV series that it was with all the talk colors at the time of dubbing. As for music, like film scoring, for those whose paintings are all completed and after-recording is overIkehiro IkeHe makes luxury making music turn on. Although it is a TV series, it was made with a stance like a movie version.

The scenario has changed considerably at the stage of the contest. There was also a puzzle solving thing, as Nakazawa's director seemed to have decided the last part, as you can see from the 11th episode · the 12th episode, I think that it will be finally four patterns Last was prepared and it was not decided which to do. At the stage when dubbing up to the tenth episode was over, "It is this, let's do" and it was decided to the present form.

I do not say what happened to the last of "B: The Beginning", but I think that it is important for those who saw that "I'd like to see season 2 if this is the case" I think is important to have become rising. As a meaning of making an original work, it will be a pity for both the viewer and Netflix to end in season 1, so if you can ask for continuation, it is a pleasure as a creator.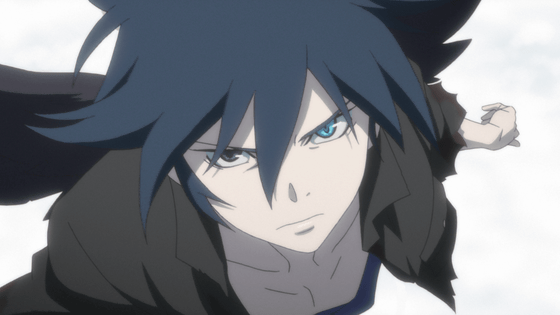 Q:
I heard that there were many patterns of deployment at the end of "B: The Beginning", but when deciding on one, did you decide with consultation with Netflix?

Ishikawa:
I got them to take the initiative at the scene. I try not to say things that are too stuffy, but one character changes greatly with the number of talks on the way. It was not decided that this would be the case at the time of setting, but as I was making it, it gradually became that direction. I think that it was possible to make such a way because it is original. This is a serious thing if it is an original work.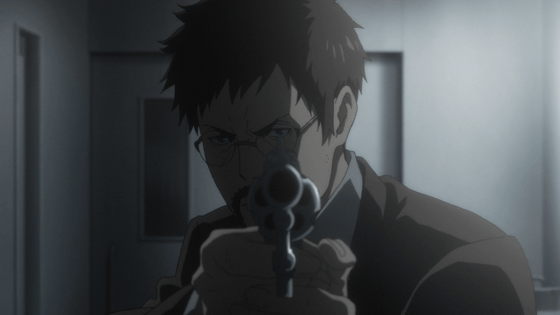 (All lol)

Ishikawa:
It is best to have this already seen. I admired that "I made this kind of thing well." I thought that it was a big hit by looking at one episode, but there was no unevenness in quality even if you looked at 12 episodes ... ... Netflix is ​​delivering "NarcosThere is a drama depicting Columbia's gang, but it was the same feeling as when watching that. It is a work that can be seen at once.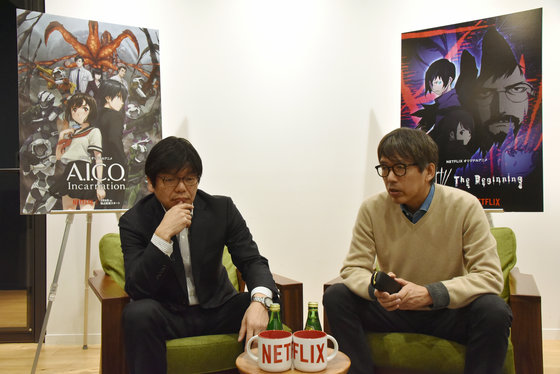 Minami:
"A.I.C.O. Incarnation" isMurata KazuyaThe director worked on it. Mr. Murata knows Mr. Ishikawa, too, does not he? "Gargantia on the Verdurous Planet"of.

Ishikawa:
He is a tremendous 'orthodox' coach to make a theatrical version of Studio Ghibli on a TV series. It is my responsibility to make a detailed retake with the director I knowHiroyuki OkiuraMurata coach or something.

(All lol)

Minami:
I am doing precise calculations from the beginning to the end. It may be a different part from Mr. Nakazawa 's point of entering the work of the field after creating a production plan in him until the last scene.

Ishikawa:
It seems to be a textbook, and Mr. Murata's work is a very fine acting. The original draft characterNaruko HanaharuAnd a cute girl comes out, but I am making it with a tremendous admiration. Because you are watching from the yeast and you will get a retake called "What is the matter of what is a retake?" It is made up of precise production in a really fine movement. Especially professional, do not you feel that frightening?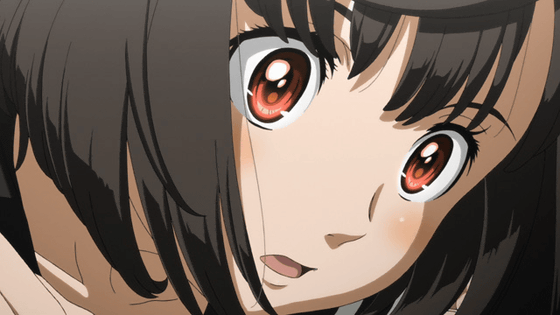 Minami:
Although "AICO Incarnation" may not be as large as "B: The Beginning" in terms of number of copies, it is precisely assembled with human patterns and actions with matters while keeping moving for the purpose all the time, Since I am challenging to fuse CG and animation, I think there is something going on. Along with that, as for the hero of Aiko ... Although I can not say too much detail (lol), I think that her secret is very sensational and I think that it is in line with this era, I think that you can feel "another world beside viewers". It is one real pleasure to be able to have a new theme original.

On production, the suits worn by divers acting with Aiko are in trouble .... From the animator I was told that "there are many lines" (laugh)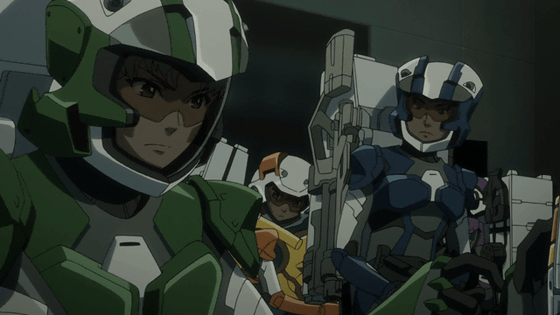 About the reputation of animation overseas
Q:
Netflix's "Animate Slate" event showed that Japan's animation is seen 90% in countries other than Japan. What kind of impression do the two people receive after listening to such information?

Minami:
There seems to be a problem of the population there, but we are not surprised as much as we are preparing an environment where Japanese animation can be watched overseas accordingly. Because Mr. Ishikawa and I have this industry for a long time, I am making animation from "The age when there is no animation by video gram". At that time, the sales of programs to overseas was about 30,000 yen per work, it was not very business, it was domestic only business. Moreover, business like image itself was not established like now. TV animation was a propaganda tool for selling toys. Mr. Ishikawa said "Red Light bullet Zillion"(Tatsunoko Pro Production Production Bloc Era) and others, and because I was a sunrise,"Mobile Suit Gundam"is not it.

From that point on, it is now time to see the image itself. I am "Cowboy Bebop"When participating in an overseas event for the first time, when I thought that a strong foreigners came and came" to be angry ... "after the screening was over," It was awesome " I was surprised that so many people were pleased. "Cowboy bebop" was not made especially conscious of overseas, it was made by thinking about new and interesting viewers for domestic viewers. I think that it is wonderful that we can expand ourselves rapidly from there and see our work by many people all over the world.

Ishikawa:
I thought that the southern producer "Cowboy Bebop" is amazing, and of course I've always thought that it is a rival and I've come so far.

Minami:
I wonder what I'm saying ... (laugh), I am trying to keep track of Mr. Ishikawa's ass.

Ishikawa:
Japanese animation that influenced overseas is called "AKIRA","GHOST IN THE SHELL / GHOST IN THE SHELL"... And then,Yoshiaki KawashiraMr. violence depiction and sexual part tends to walk alone, but even if anything is picked up, it is a work that will not fade even now. "Cowboy Bebop" there, and in Production I. G "Ghost in the Shell STAND ALONE COMPLEXHowever, there are things that have appeared in the world as a work and have expanded customers. Bebipp is also watching the director of the live-action movie closely, and it seems that I immediately feel that things that were an edge of the underground, as animation, became subjects to be respected.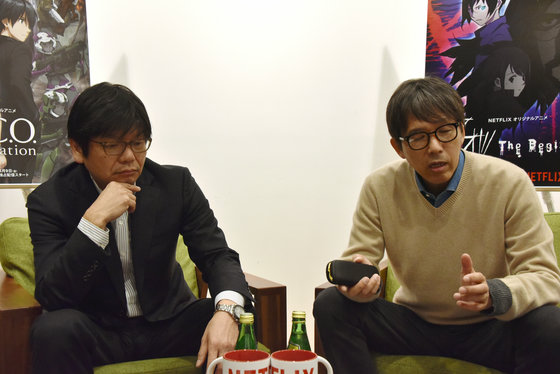 Speaking of why "B: The Beginning" is Nakazawa Ichiro, heQuentin TarantinoThe movie "Kill · Building"I directed the animation sequence. At the time before I was in charge, Tarantino did not know the name of Nakazawa Kazuto, but he trusted Production I. G and left it for stuffing. This is because "Ghost in the Shell" and "BLOOD THE LAST VAMPIREThanks to you being doing. However, Nakazawa's power is amazing what I got up.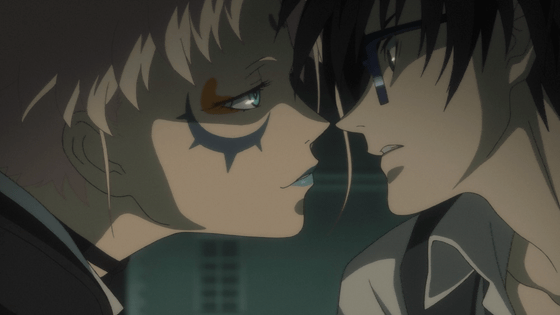 Production I. G has a headquarter and a studio, but we always keep it in mind that both the look and the equipment are making the studio better. Previously it was in Kokubunji, but at that time the head office was cheap in a cloud building and it was not cost money, but consciously spent money on the studio where Animator san entered. So over 10 years, 20 years, works created with hundreds of books are accumulating. Of course, in Japan, passion for work is also highly appreciated overseas, especially the evaluation for "not fading" is very high. That is why, if there is something that accumulates it will be a strength when I do it overseas. In Japan it is quite difficult to keep one work, movie or TV series in the middle and long term. "Evangelion"Is continuously attracting customers, attracting customers, which is also important, overseas one piece is valued and the value of the thing built in is recognized , There is an image that the eye to see is fertile. how is it?

Minami:
Well ... was it last year?WOLF 'SA RAINAbout the work aged more than 10 years ago, I was surprised that "I will up-convert to Blu-ray in the US so please check it" and "What? What?" In Japan, it was until the DVD - BOX appeared, but being able to do the costly thing called upconversion is that there are some people who are saying that they want to see it with a new clear image . There seems to be some colors that are good at the studio where upconversion work is done, and it seems that it will be done at about 3 studio, but I was surprised at that stuff and I thought that it was a very happy work.

About Mr. Ishikawa, Minami and animation industry
G:
I mentioned earlier that Mr. Ishikawa was following Mr. Ishikawa, but what was your impression of each other when you first met?

Minami:
I think that Mr. Tomioka Hideyuki who is a senior managing director of Israel and Mr. Ishikawa are good friends and I met you for the first time on that edge. I was a producer of a very pointed work called "Red Light Bullet Jillion" and I was also in Sunrise, so I wanted to make original things, I thought that I would like to compete in video I longed as a pioneer.

Ishikawa:
As an impression, I thought that it was a type of athlete and type that brings passion to the front. From Tomioka I heard the story "There are funny guys who make the work seriously," it was fascinating and cheeky to say something quite unexpectedly, but it is actually interesting. In terms of the two companies Bonds and Production I. G,Studio colorAnnano Hideaki coined a name like "Bonds and Production I. G if I were to work at a Japanese animation company," I thought that it seems that hurdles are likely to be high, being pleased, while meeting expectations.

G:
I think that there is a lot of thought that "The problem must be managed as an industry" as the whole animation industry as a whole, what is the feeling that I feel that I have to take action as soon as possible What?

Minami:
It is "work way reform". The creative part, the part to make things and the part to do as a job is an environment that has a part that is both contradictory and partly contradictory. Because creating things is not something that can be separated by numbers or time, it is our job to balance that. I have to think about how to make a good film and how to make a good working environment.

Ishikawa:
Well, the biggest thing is "working hours". This is a very difficult thing, but it is no longer the era of "No, it can not be helped". How will you make time to concentrate with the worksite and creators? Cost problems are also involved, so I think that it is important to work together with the base to be convinced of everyone else.

G:
Thank you very much.