Interview with the two producers who created 'revisions', and the work resonates with the soul's 'I want to create an epoch'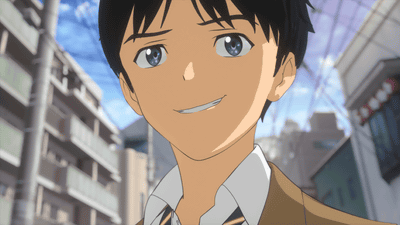 On the air from January 2019 Youth ' disaster ' Group drama '
Revisions
'.
Director: Goro Taniguchi & CG director: Takakawa Hirakawa
,
producer of the
white set in charge of animation production:
Kazuhiro Ide Producer & director of photography: Kazuhiko Takahashi & Animator, Maiko Ochiai
We interviewed Mr. Akiaki Obata, a producer of Curve. How was the story moving in the early stage of the project, and how the white group was added and the project progressed, asked the producer of the white group and Ide to be present, and ask them to reveal various circumstances Yes.
TV anime 'revisions revisions' official site
http://revisions.jp/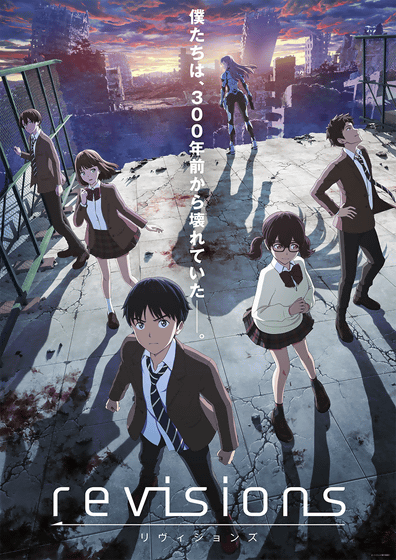 GIGAZINE (hereinafter, G):
Slow Curve is in charge of planning 'revisions revisions'. What kind of form was the 'start of movement' of the plan?

Slow Curve Ohata Akiaki Producer (following, Obata):
The plan came up from our company
Taichi Hashimoto
who is jointly credited as a series composition. There was also a scenario and so on, as he was a type who wrote down a story, such as a concept. I forgive it and put it into a plan that is appropriate for collecting creators as a business.
G:
In the first release released, as the words of the producer Obata 'The formation of the plan was talking with director Taniguchi about a project with such a strength as continuity and addictive of overseas drama about two and a half years ago. It started from the point that it would be interesting if the boys and girls were thrown into the time paradox disaster.The setting is a time SF, so an esoteric setting comes out from the beginning, but regardless of such a thing, an event happening there And I want you to enjoy it without holding it, as it is designed to be put directly into the feelings of the character and so on. "Why did you choose Taniguchi?
Obata:
Originally I like the work of director Taniguchi, such as '
Planetes
'. The biggest thing is that you are experienced with the original.
Makoto Fukami
and Hashimoto, who are also part of the series, are also the type that writes sharply, so if you can tune it well, look through the whole, and do originals, you're still Taniguchi. In addition, I thought that Taniguchi was appropriate in that there was something that came out, drawing out human-like parts and human-like areas well.
G:
Did you know about Taniguchi before?
Obata:
When I was helping with Toho-san's work, I joined the '
Fantastic Doll
'. I have been acquainted since I was in
GONZO
, my previous job, but the first thing I did at work was "Fantage Star Doll".
G:
The project 'revisions revisions' is that Mr. Obata called out to Mr. Ide. Why was '
White group
'?
Obata:
Before launching this project, there was a talk about having another project together. At that time, I saw various PVs, and I saw the style of production, but the biggest one was Ide-san ... You can say this, right?
(All laugh)
Obata:
He said, '
I want to go further with the studio brand named Hakugumi in the TV series
.' ... 'I would not
like to go out of control,
' but '
I wanted to create something epoch
' (laughs), but I heard that and I thought 'by all means, if you have such a soul'. It was like that, right?
Shiragumi Ide Kazuya Producer (below, Ide):
I feel like that. Another project was more than three years ago, and it has been a while since it was gone. Next was this 'revisions revisions' that I had a story, there is a director Taniguchi further .... That will also increase your motivation.
Obata:
That makes me happy.
Ide:
We decided at a stretch 'Let's do it' because 'It's good!'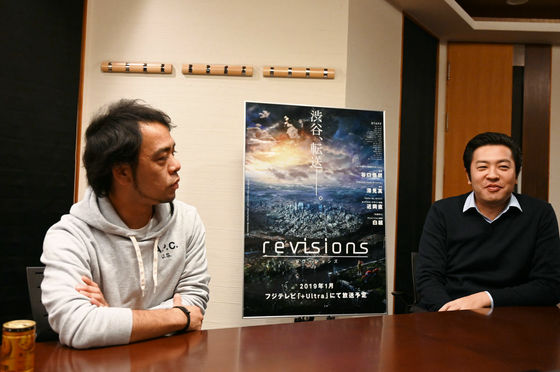 G:
Not just 'revisions', do you decide what point to look at if it is an original work?

Ide:
First of all, I think 'Is there an element to challenge as a white group?' While there is a big point whether it is worth doing in the image side, if the plot is catchy, since the scenario will be made after this if it is an original.

G:
In 'revisions revisions', where was the point considered to be worth doing as a picture?

Ide:
At the time of receiving the talk, there was no concrete scenario that "Shibuya was transferred", but it was in the state of the concept that "humanity is divided in half". That it was interesting as a story, and because it was a work in which many characters appeared at once, I thought, 'Let's try how far we can do with our present power.' Because I thought that 'there are many characters' can be done if you are good at CG production. For example, mobs use a real-time engine to perform crowd simulation. Overseas, it was a common practice, and in Hakugumi, '
Man named Pirate
' directed by
Takashi Yamazaki
used crowd simulation, so let's try 'Revisions' as well.
Mob characters will appear in school scenes and city scenes during the film.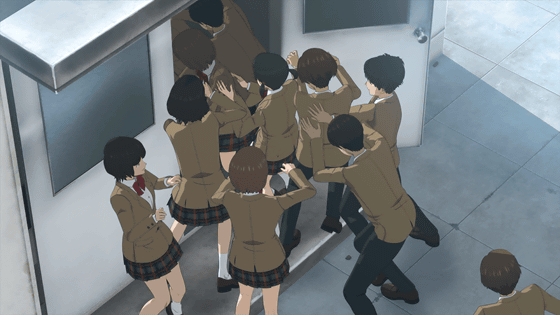 Obata:
The plan is the order in which we made a prototype "I want to do something like this," brought it to Director Taniguchi, and then went to Mr. Ide. After that, they discussed what kind of person they should be, and Fukami-san and Chikaoka- san were decided. In Slow Curve, you decide the director first, and then you decide the core members that the director thinks like this, then the scriptwriter and character designer are often decided.

G:
When you decided to be Fukami-san, were there any strong reasons?

Obata:
I think that the reason why Fukami-san received it is that he liked the project. Somehow everyone was like 'if you were Fukami-san ...', right?

Ide:
There were several candidates for the series configuration, but it was great that Fukami-san was able to do ' Psycho-Pass Psycho-Pass ' as an image. Speaking in order, it may have been a little earlier for Naoka Chika of character design to be determined.

G:
It is a story that the screenplay conference was difficult.

Obata:
It was serious. Actually, Slow Curve was in charge of the script conference this time, but as a result of trial and error, I tried an unusual way. In the usual case, I decide that 'this number of stories is this person' for each story, but this time I took the style of finishing with multiple people.

Ide:
There is a part of the original that is delayed by trial and error, and there is a delay in the schedule.

Obata:
A call was received almost every week, whether it was October-November 2017, and a phone call threatened, 'Oobato-san, I'll fall.'

(All laugh)

Ide:
At that time, it became a story that the broadcast would be one cool early, and September was the deadline. What has to be raised in September is pushing more and more. Originally, CG animation is pretty cool at the point when the script is not up one year before delivery time.

G:
How did Obata receive the call?

Obata:
I consulted with Hashimoto and Tobori who were present at the script meeting, and they were desperately asked for a drive to rebuild and progress the script.

G:
Was this 'all 12 episodes' decided from the beginning?

Obata:
Yes, basically I decided to do it with one cool thing.

G:
You mentioned that Fuji TV was part-time participation, but wasn't Netflix doing global expansion from the beginning?

Obata:
The plan itself, apart from Netflix, has a desire to be accepted from all over the world. Just half of the finances had been completed, and I received a talk from Fuji TV, who had a deep relationship with him, to create a frame for the whole world.

G:
Did you say that Taniguchi was thinking about the development of the whole world from the beginning?

Obata:
Yes, there is such a side.

G:
How was the reaction when you screened Episode 1 abroad?

Obata:
There is an impression that the points that laughed were very rich and that there was a great response.

Ide:
Overseas people were laughing at the scene where Daisuke Douga got irritated. Laughter will occur if Osuke tackles it in vain. As it was the part that I made as a hook, I felt the response with the reaction.

Osuke who has a lot of unreasonable behavior. There are also many things that move too much on their own.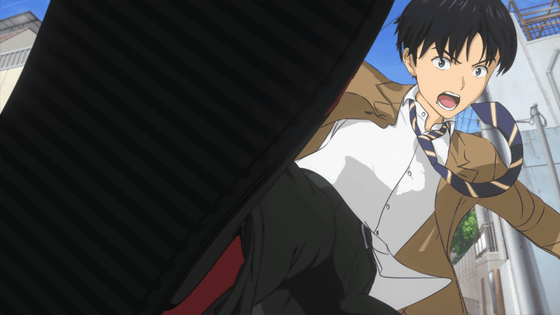 Obata:
I was relieved half because there was a proper reaction. As for the other half, it's important whether you can keep watching the series, so I want you to keep watching. It was both.

G:
It was to be released to the world after ' Ingress ' as the second ' + Ultra '.

Obata:
I also love Ingress, a fairly hard science fiction. Because 'revisions revisions' is more animated, I look forward to the reaction. I think that '+ Ultra' should be able to bring out the unexpectedness that it is not limited to works like 'Ingress'.

G:
Have you been involved since the beginning of the project's birth, and are you still expecting to see when the work comes out to the world? Or 'anxiety'?

Obata:
In my case it is 'anxiety'. I also promote films, but I can not see the theater seating on the first day or the first day of the show. I do not want to ask too much the number of tickets sold. It may be close to it. Even if the reaction is good in the preview, the reaction when the customer actually received it is different again, so that's anxious ....

Ide:
As a producer, the quality concerns are first of all, so that's the same. As a white group, feelings also go to the place 'How is it seen as a picture?' I wonder if you would be told 'CG, baby shit' .... And, in terms of the production committee, there is a way to develop as a business, so the reaction of the viewer is regarded as important. If you do that, you will feel that you are more anxious. Of course I'm hoping ...

G:
I can not be optimistic.

Ide:
I can not do it ....... Although director Taniguchi stands up, in a lot of works in one cool, I am very uneasy about whether you can see it first.

G:
How do you see recent films and animations for the eyes of the two producers?

Obata:
I feel that the level of the image is really high no matter where it is produced. I think the quality itself is rising anyway.

Ide:
...... I think I should not fall well.

(All laugh)

Ide:
I can't do that because I have a white set of signs. That's why I am very stuck with the schedule.

G:
What is the cause of the fact that there are works that are high quality but still work according to the schedule?

Obata:
Just as Mr. Ide is very particular about the schedule, there is an aspect of 'depending on the producer'.

Ide:
Well ... 'Revisions Revisions' Taniguchi also because it is a person to cherish the schedule, I was able to communicate that 'I can not do what I can not do and where should I put the most effort' if you do. On that, I asked Mr. Obata to say 'I'm sorry' for the script.

G:
The problem of communication seems to be big.

Ide:
It's strange that I, who is a person in a production studio, says that studios say 'I can do it'. Taniguchi said in the schedule that 'it is important that production does not have a lie', but if communication can not be made well throughout the production studio, 'If I tried to open the lid, I could not do it.' It will be.

G:
The director's remarks are connected there.

Ide:
I think that there are a lot of TV animations 'matching the book bottom while on air'. 'Even originally, you had to draw this animation, but the previous cool part is not over'. However, if delivery gets involved, it will not be permitted in the future, so it will be more difficult. Of course not all sites are.

Obata:
It is also big that there are many animations. No matter how you think, the number of studios and the number of lines is large.

G:
Is there a lot from the whole industry?

Obata:
I think that there are many.

G:
When the information of the new work is put together in the reorganization period, the work which is not inferior to 50 works is beginning .... Why are so many animations being broadcasted?

Obata:
The way of collecting expenses has changed with the times. The first is 'toy' and then 'videogram' such as DVD and Blu-ray. Now that it's coming to an end, it has become a 'delivery' and 'game'. If it is a toy, a toy company, a package maker when the package is sold, and a distribution company and a game company are becoming main players now, but this player is increasing now. Then, planning will naturally also increase, so I think it may be a factor to increase the number of productions. As an example, I think that it is a state of 'the work that delivery companies and game companies are working on fill in the' holes 'as the package maker reduced the number, or rather it is increasing'. It is a good thing that new works are being produced, but I think the customers and production studios have not kept up with the current environment.

G:
Then, 'revisions revisions' is a form that is running at the forefront. Please let me know what you are expecting from this work called 'revisions revisions'.

Obata:
There is also the time SF and time paradox, the stage equipment that "Shibuya flies over 300 years ahead", but basically it depicts the bonds and growth of boys and girls. One thing is that I hope you get empathy with it. Also, even on days without broadcasts, it would be nice if you could talk about the characters of 5 people or talk about how the characters were like with each other in the sense of extracurricular activities. The broadcast is already in the second half, but I think that it would be nice to be able to provide something even after the broadcast is over in March, and I hope that it would be nice if you could get it in everyone else.

Ide:
Similarly, I think it would be nice if the person who saw it talks on SNS etc. As it is an original 1 cool work, it will be over when it runs 12 episodes, but since it is SF, I would like you to think about the contents and follow fans because you want to continue.

G:
Thank you for telling me about 'revisions revisions' and things that are not directly related.

'Revisoins Revise' is broadcasted every Wednesday at 24:55 on Fuji TV '+ Ultra', and in addition, Kansai TV, Tokai Television, TV West Japan, Hokkaido Cultural Broadcasting, and BS Fuji are also broadcasted, and Netflix We are in the process of broadcasting all Japan precedents.

Episode 8 ' Operation Nephilim ' will be broadcast at 25: 5 starting 10 minutes delayed on Wednesday 27th February. The subheading 'Operation Nephilim' is a special attack operation based on SDS for revitalizing the artificial quantum brain at the base of Revisions and returning to modern times. However, Revisions welcomes Osuke and others with cruel treats ....

Keio's uneasy expression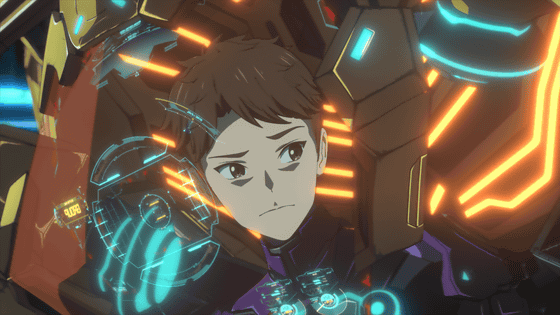 Revivals Chiharu & Muq



How is the success or failure of the strategy?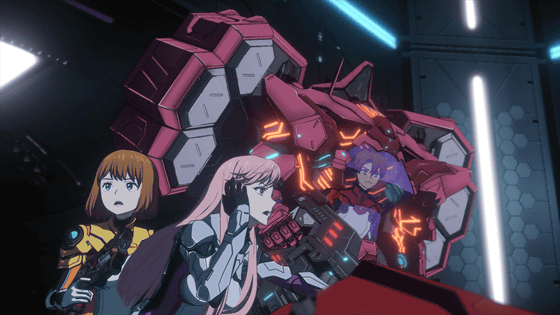 And what is waiting ...?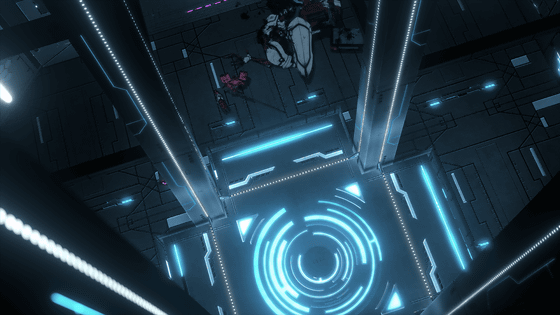 © Revisions Production Committee